Chocolate Chip Banana Bread
If  you're family is like mine…. we LOVE banana's
– yet they always seem to get too ripe before we can eat them all.
I'm starting to believe my family has a strategy
– if we don't eat the banana's – Mom will make banana bread!
and they LOVE my banana bread!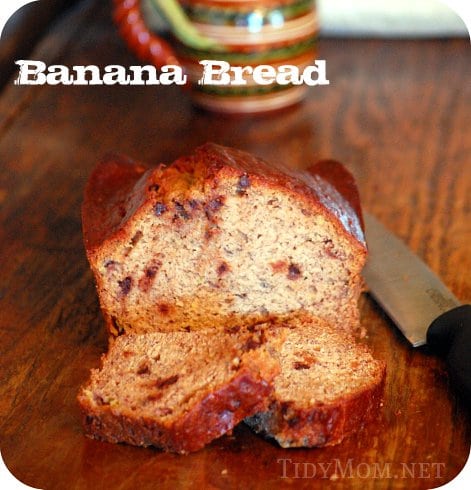 You can tell a favorite recipe by how often it is used, and this recipe is one I return to again and again, and is the one recipe I'm asked for more than anything I've made!
The cinnamon and chocolate chips are the surprise flavors in this quick bread!
Chocolate Chip Banana Bread
Ingredients:
1 1/4 cups sugar
1 1/2 cup butter, softened
2 large eggs
1/2 cup milk
3-4 mashed bananas
1 teaspoon vanilla
2 1/2 cups flour
1 teaspoon salt
1 teaspoon baking soda
1  1/2 teaspoon cinnamon
1/4 – 1/2 cup mini chocolate chips
walnuts if desired
Directions:
Preheat oven to 350 degrees and grease loaf pan.
Cream together sugar and butter, add eggs one at a time. Mix in milk, bananas and vanilla. Stir in dry ingredients. The important thing is you do not want to over mix the batter. You don't want it smooth. Over mixing the batter will give you tough, rubbery bread.
Pour into greased loaf pan.
Bake until bread is golden brown and a toothpick inserted in the center comes out clean, about 60 mins for regular loaf pan, or 30 mins for mini loaves.
Making this recipe? Share it with us on Instagram using the hashtag #TidyMom so we can see what you're creating in the kitchen!
Want more great recipes like this? Follow my TidyMom Easy Recipes Pinterest Board