Strawberry Gooey Butter Cake with Oreo Cookie Layer
This Strawberry Gooey Butter Cake is a simply delicious dessert bar with an unexpected Oreo cookie layer. If you are a fan of strawberries and gooey butter cake, you will love this easy dessert recipe.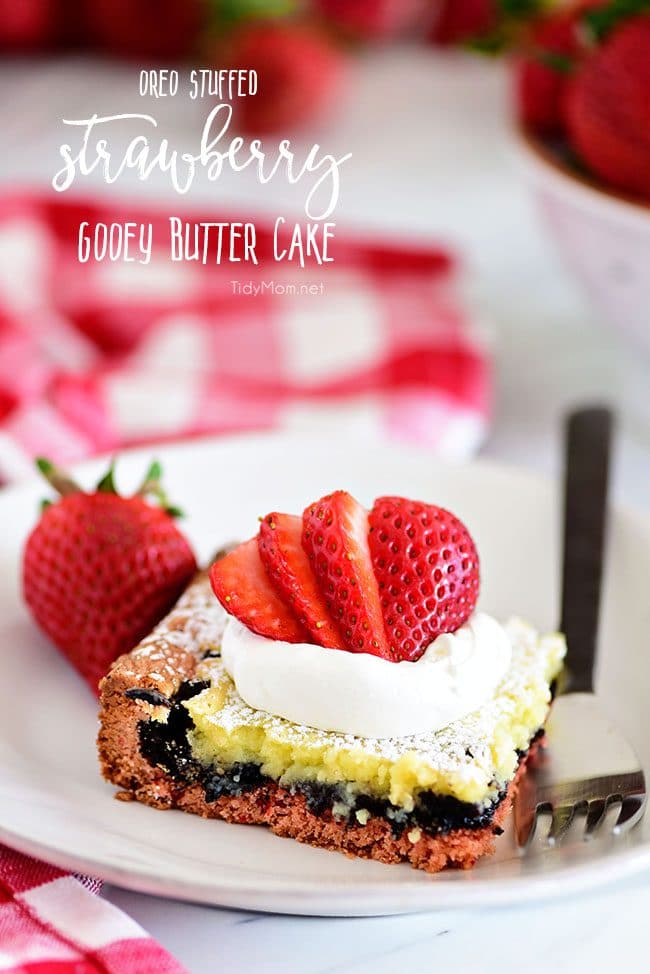 If you don't know by now, my family loves gooey butter cake! I grew up in St. Louis where we not only bought gooey butter cake from the bakery but more often, we made homemade St. Louis gooey butter cake.
It wasn't until I was married with children of my own that we started to experiment with other flavors, like chocolate chip gooey butter cake and our very favorite Nutella gooey butter cake.  As well as peanut butter gooey butter cookies, red velvet gooey butter cookies, and even a gooey butter cake milkshake!
Today I'm sharing our latest version, Strawberry Gooey Butter Cake with an Oreo Cookie Layer!!  Top it with whip cream and fresh strawberries and it's like a strawberry shortcake on steroids!!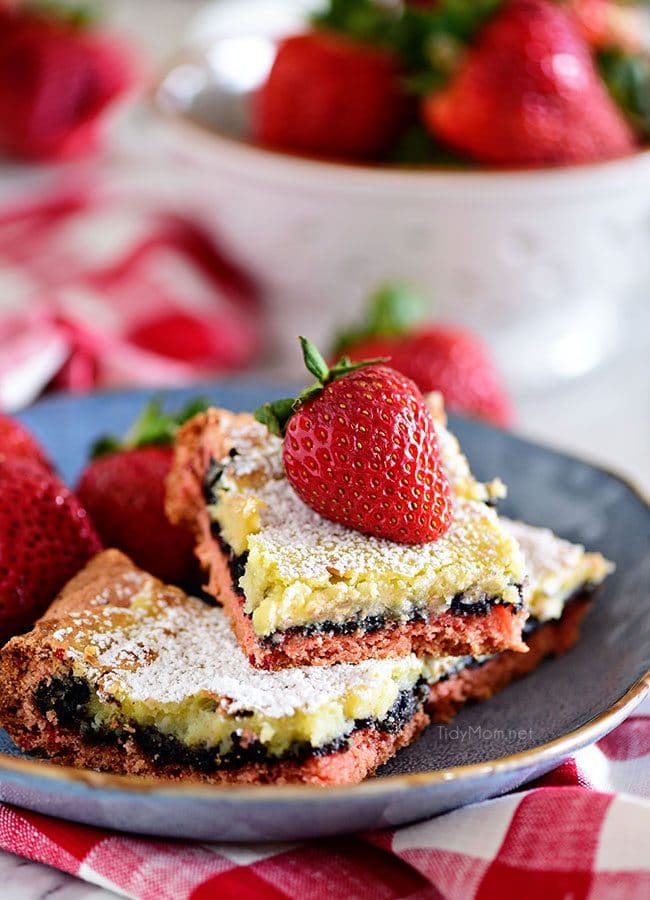 This post may contain affiliate links. Please read my disclosure policy here.
Strawberry Gooey Butter Cake Is Easy To Make
The best part about any gooey butter cake variation is how easy they are to make!
Gather your supplies
9×13-inch cake pan (I prefer one with a lid)
mixing bowl (if using a hand mixer)
mini food processor or rolling pin
Chances are you may even have everything you need to make the classic gooey butter cake. Basically, all you need is a box cake mix, eggs, butter, cream cheese and powdered sugar.  You will also need Oreo cookies for this gooey butter cake variation.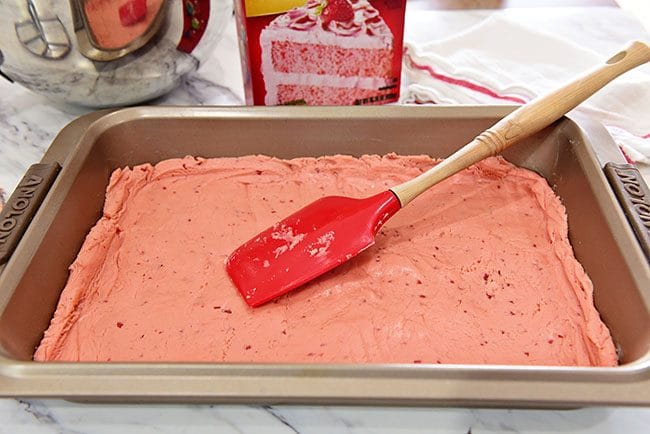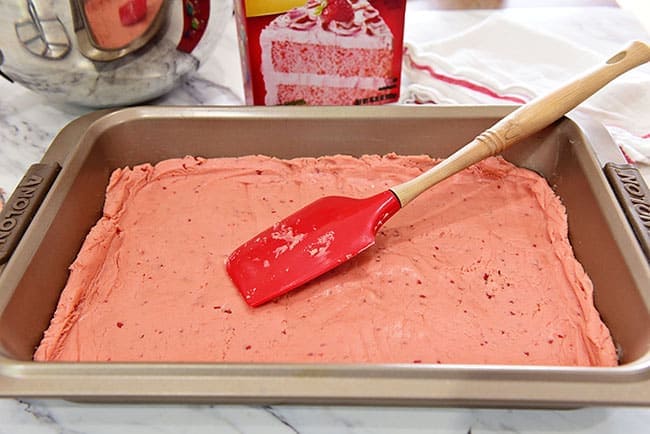 The cake mix is used to make the "butter cake crust".  You do NOT follow the direction on the box.
You will simply combine the cake mix with an egg and melted butter until it forms a thick dough, similar to cookie dough.
Then you will press the dough into a 9×13 inch greased cake pan.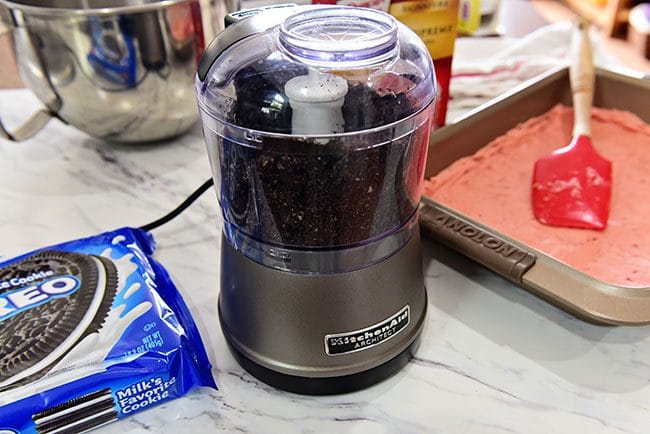 For the Oreo cookie layer, you will crush about 15-20 cookies.
I used my little food chopper, but you can also place the cookies in a zip-top bag and crush the cookies using a rolling pin (or glass) over the bag of cookies.
Then spread the crushed cookies over the cake crust.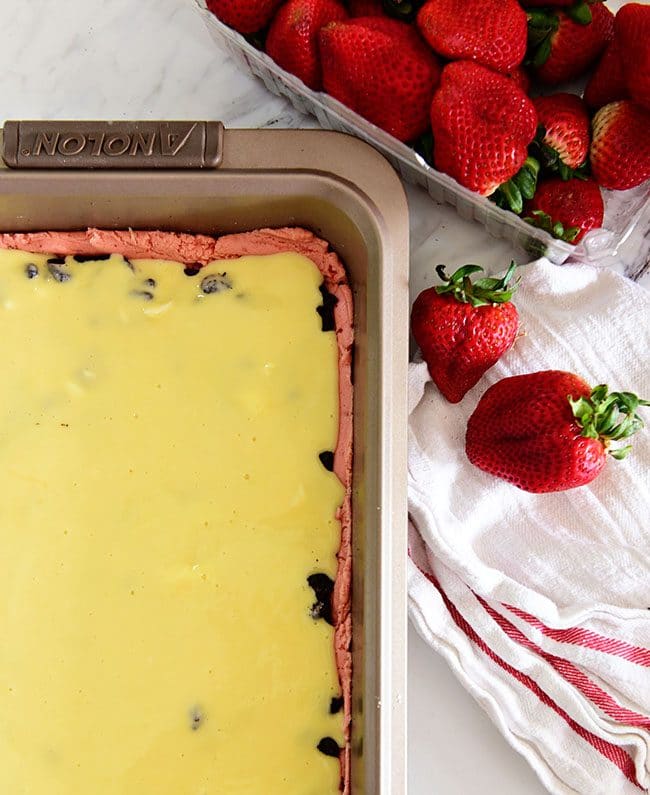 Next, combine cream cheese, eggs, and powdered sugar with an electric mixer until well combined and pour over cookies and crust.
Then place the cake in a 325° F oven for about 40-45 minutes.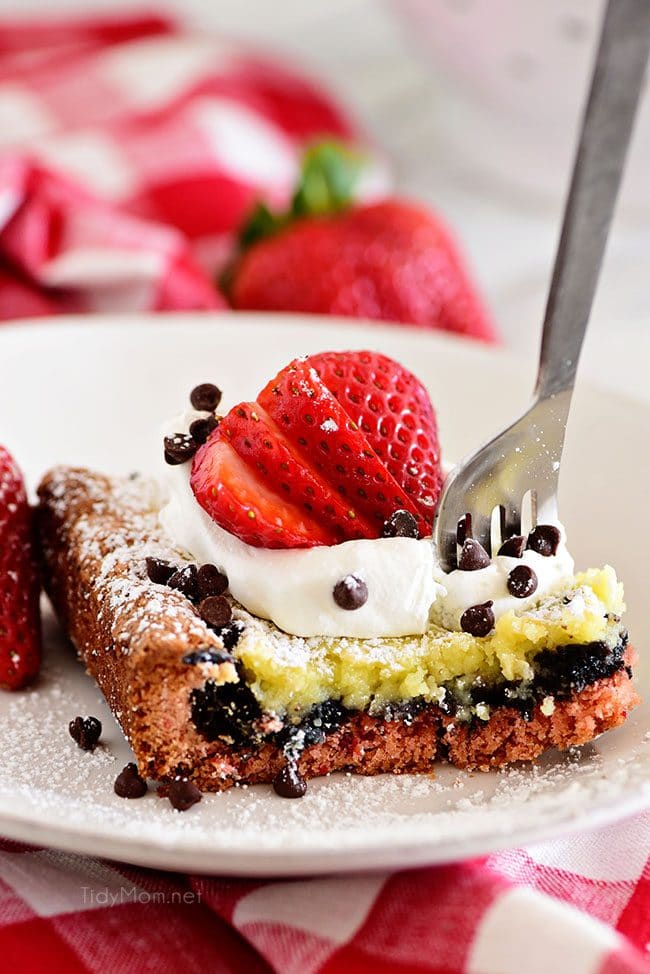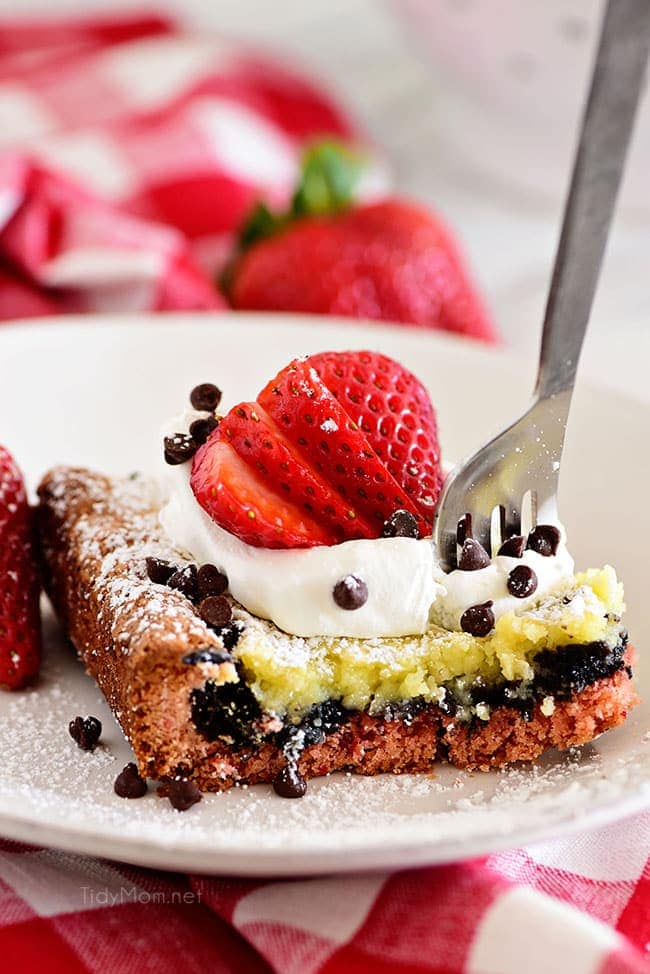 Let the dessert cool completely before serving.
I served ours with whipped cream, fresh strawberries, and just a few mini chocolate chips.
How Do You Store Gooey Butter Cake?
We actually prefer gooey butter cake when it's a day or two old.  Making it a great choice for a make-ahead dessert for a pot-luck or party.
I just cover the cake pan with the lid, or aluminum foil and leave it on the counter.  I will keep for about 4-5 days on the counter.  You could also cut the cake into bars and store in an air-tight container.
You can also store it in the refrigerator for up to a week (or freeze for 3 months).  I would suggest bringing to room temperature for serving.
NOTE:  Garnish with homemade whipped cream (or even chocolate whipped cream) and strawberries when ready to serve, not when storing.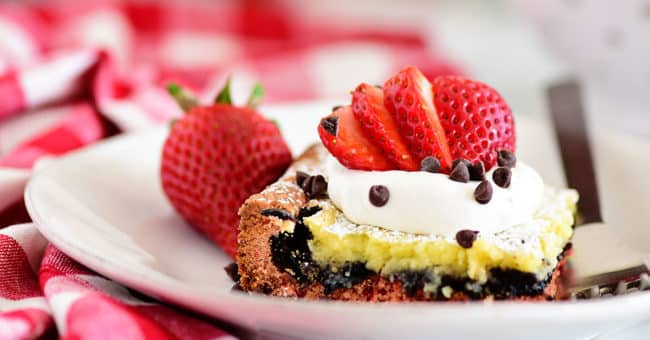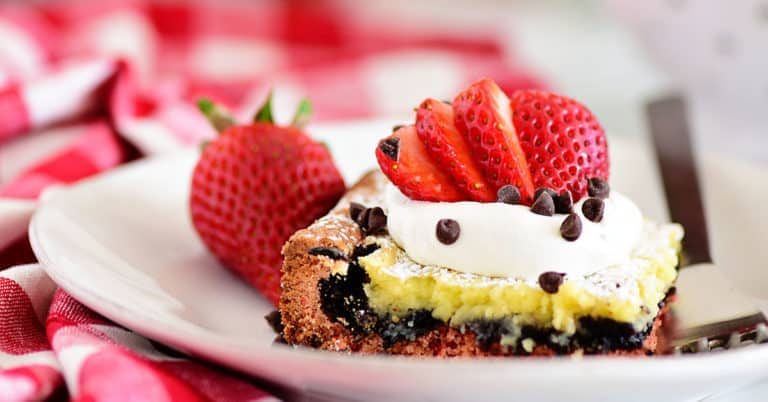 Strawberry Gooey Butter Cake makes a wonderful spring or summer dessert for when you are craving something a little fruity……especially STRAWBERRIES!
FYI we enjoyed this just as much without the fresh berries and whipped cream.  It just makes it a little fancier for an impressive dessert.
A big thanks to our friend Rachel for telling me how she put Oreo cookies in her Strawberry Gooey Butter Cake!!  She topped her cake with sliced strawberries and drizzled with melted chocolate. YUM!!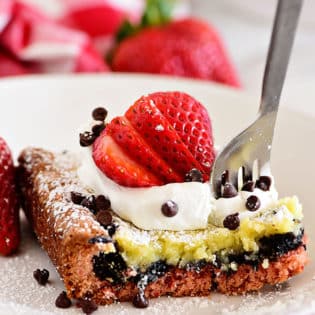 Strawberry Gooey Butter Cake
Ingredients:
For the Cake Crust
1  Box Strawberry Cake Mix
1 large Egg
1/2 cup butter, melted
15-20 oreo cookies, crushed
For Gooey Filling
8 oz cream cheese, softened
2 large eggs beaten
1 teaspoon vanilla extract
2 cups powdered sugar
Optional Garnishes:
whipped cream
fresh strawberries
chocolate chips
Directions:
Heat oven to 325° F and lightly grease 13x9-inch pan
Using an electric mixer, combine cake mix, 1 egg and melted butter until well incorporated. Press into bottom of greased pan with fingers.
Sprinkle crushed Oreo cookies evenly over crust layer.
Using an electric mixer, blend softened cream cheese, 2 beaten eggs, and vanilla. Then slowly add powdered sugar and beat until smooth.
Spread filling over cookies and bake for 40-45 minutes, or until edges are brown. (Do not over bake, the center should be a little gooey)
Dust with powdered sugar on top after the cake has cooled.
If desired, garnish when serving cooled cake with whipped cream, fresh strawberries, and mini chocolate chips. (or top cooled cake with fresh strawberries and drizzle with melted chocolate)
Making this recipe? Share it with us on Instagram using the hashtag #TidyMom so we can see what you're creating in the kitchen!
Want more great recipes like this? Follow my TidyMom Easy Recipes Pinterest Board
Like this Strawberry Gooey Butter Cake Recipe? Pin It!