Pumpkin Spice Cookies with Chocolate Chips
Bring a taste of fall to your chocolate chip cookies thanks to a box of pumpkin spice pudding mix. These Pumpkin Spice Cookies are soft, delicious and loaded with chocolate chips and pecans. If you haven't had a pudding cookie, you don't know what you're missing.
I love having homemade cookies in the house.  They are the perfect treat when my sweet-tooth strikes. Today I'm sharing a cookie recipe for all the pumpkin spice lovers out there!!
Earlier this year I shared a recipe for Pistachio Cookies with Dark Chocolate and Sea Salt. Not only were they incredibly soft, buttery and almost addicting, but they get their pistachio flavor from a box of instant pudding mix in the cookie dough!
With pumpkin on the brain lately, I thought why not take that same pudding cookie recipe and swap out the pistachio for the seasonal pumpkin spice instant pudding mix and pecans!! Let me tell ya – pure pumpkin heaven!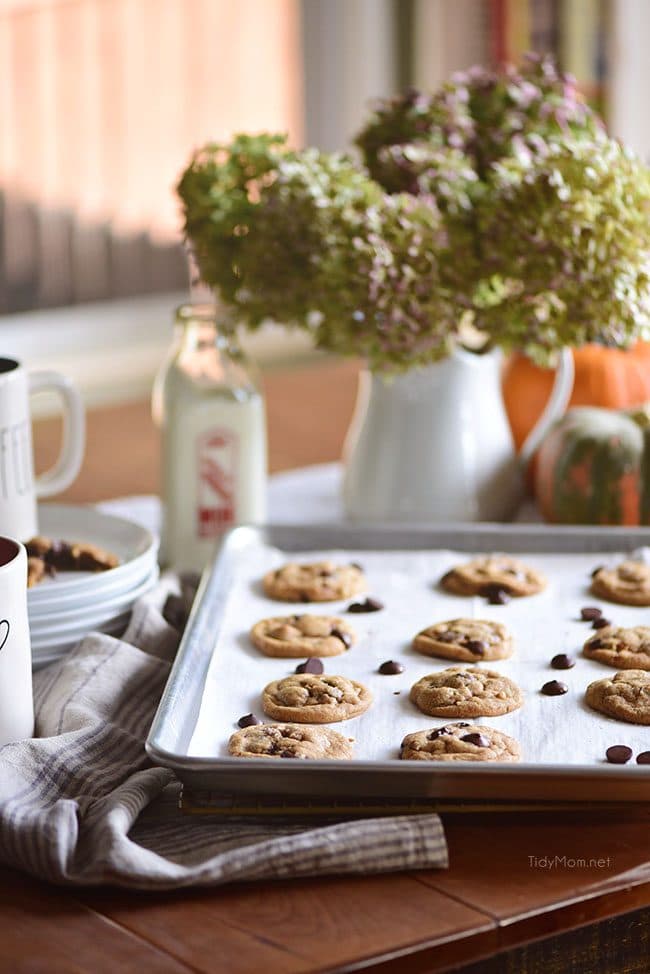 This post may contain affiliate links. Please read my disclosure policy here
PUDDING MIX PUMPKIN SPICE COOKIES 
I'm going to warn you……pudding cookies can become an obsession!!  The flavor possibilities are endless. If you've never had a pudding cookie, it's going to rock your cookie world. The texture and flavor that is added to cookies with pudding mix makes them melt-in-your-mouth delicious.
I used JELL-O Instant Pumpkin Spice Pudding Mix for these Pumpkin Spice Cookies, and the pudding mix can be a little difficult to find.  So if you do find it, you may want to grab several boxes, because you will want to make these soft pumpkin cookies all season long, as well as my Vanilla Pumpkin Cupcakes with Cinnamon Buttercream.
click here to find PUMPKIN SPICE PUDDING MIX on Amazon (just note, it's much cheaper at your grocer, if you can find it)
However, if you just can't find the pumpkin spice pudding mix, you can make these pudding mix pumpkin spice cookies with vanilla instant pudding and increase the pumpkin pie spice mix in the recipe!
These cookies are soft, moist with just a hint of pumpkin spice and chocolate-y goodness. The pudding mix keeps them soft until the last cookie is gone and the sea salt on top, in my opinion, makes them hard to resist. A definite keeper!
For more pumpkin spice recipes check out Pumpkin Spice Carmalitas and Pumpkin Spice Cheesecake Shooters. This Pumpkin Spice Pudding Cake and Pumpkin Spice Snowballs are both on my must-try list.
Kitchen Tip:  I use these pans to bake my cookies.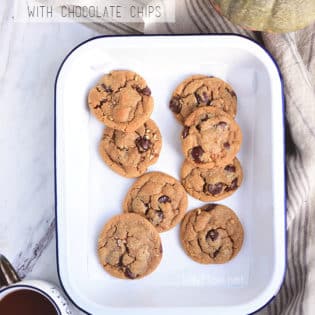 Pumpkin Spice Cookies with Chocolate Chips
Ingredients:
1⅔ cups all-purpose flour
1  (3.4 ounce) box JELL-O instant *pumpkin spice pudding mix
1 teaspoon baking soda
½ teaspoon pumpkin pie spice
½ teaspoon salt
 ½ cup light brown sugar, packed
½ cup granulated sugar
¾ cup unsalted butter, softened
1 teaspoon vanilla extract
1 egg, room temperature
1 cup dark chocolate chips
½ cup chopped pecans
sea salt
Directions:
In a large bowl, whisk together flour, pudding mix, baking soda, pumpkin pie spice and salt and set aside.
In another large bowl, cream sugars and butter together using an electric mixer until light and fluffy.
Add egg and vanilla and beat until well blended.
Gradually add dry ingredients and mix on low just until combined.
Fold in chocolate chips and pecans. Refrigerate dough for at least 30 minutes.
Preheat oven to 325F.  Line cookie sheets with parchment paper or silicone baking mat.
Roll cookie dough into 1½-inch balls and place on prepared cookie sheet.  Sprinkle each cookie with sea salt.
Bake for 11-13 minutes or just until they are set. Remove from oven if you see edges turning brown.
Cool on baking sheet for several minutes before moving to a wire rack.
*if you have trouble finding JELL-O instant pumpkin spice pudding mix, you can use vanilla instant pudding mix and increase the pumpkin pie spice to 2 teaspoons.
Making this recipe? Share it with us on Instagram using the hashtag #TidyMom so we can see what you're creating in the kitchen!
Want more great recipes like this? Follow my TidyMom Easy Recipes Pinterest Board
Like this Easy Pumpkin Spice Cookies Recipe? Pin It!