Pumpkin Spice Carmelita Bars
with recipe video
Whether for dinner guests, an after-school snack, or even a late night treat, these Pumpkin Spice Carmelita Bars are the perfect way to satisfy a sweet tooth.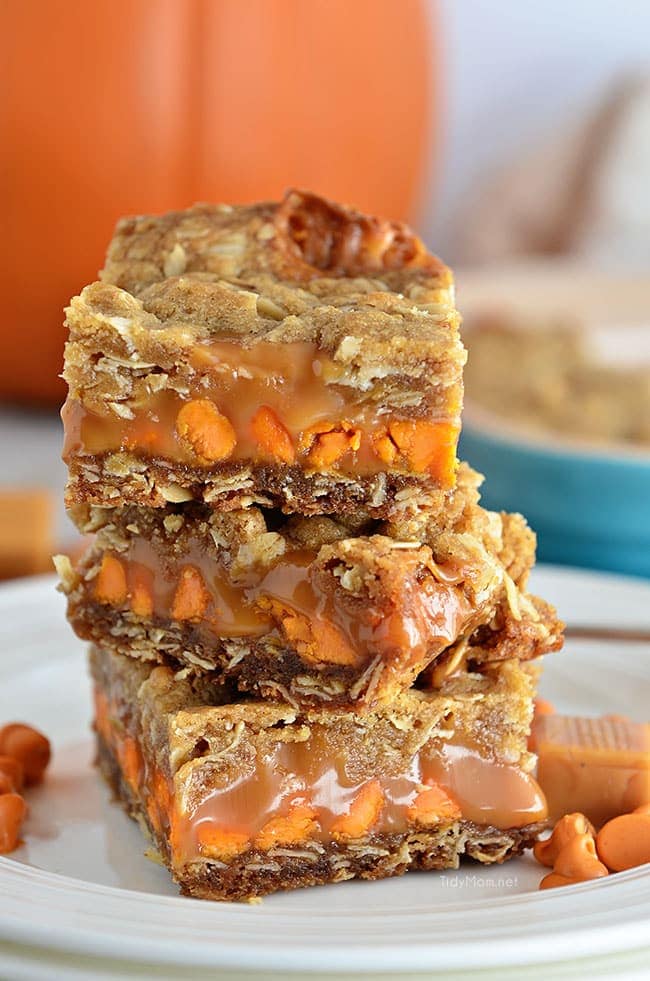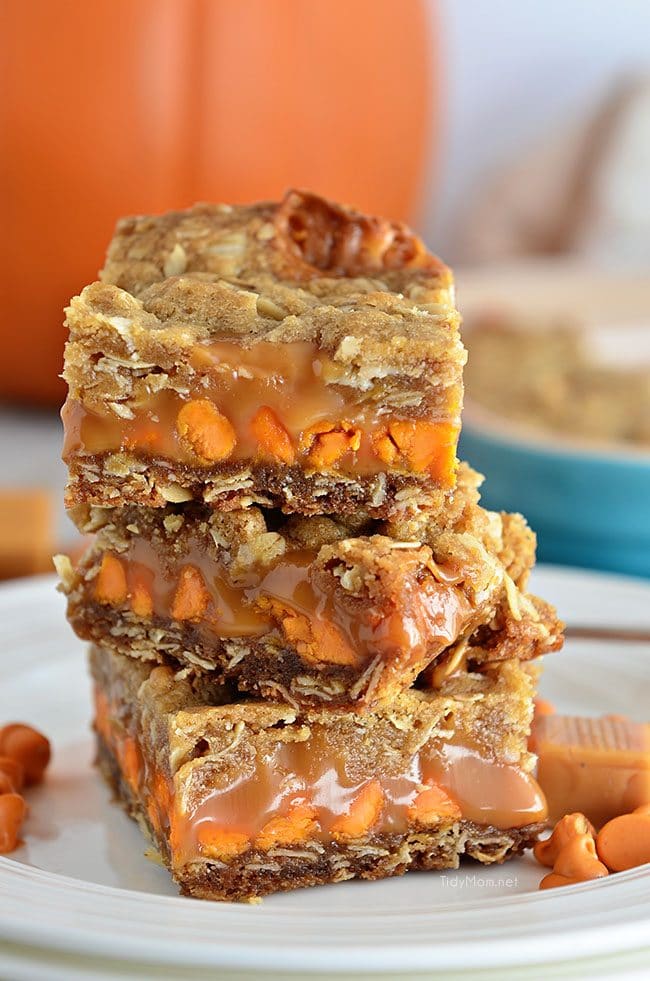 Carmelita bars have been a favorite at our house for a long time.  They start with a brown sugar oatmeal cookie-like base, which is baked then topped with caramel candies melted into heavy cream. For these Pumpkin Spice Carmelita Bars, we replaced the chocolate chips that we normally use, with Pumpkin Spice baking chips.   The chips are sprinkled over the gooey caramel and the entire pan is topped with another layer of oatmeal crust for an ooey-gooey bar that's hard to resist. Carmelitas are super simple..hello! no mixer required, hold well and are ridiculously delicious…..so you may want to make a double batch.
I have to tell you, I think I like the pumpkin spice caremelita bars even more than the chocolate!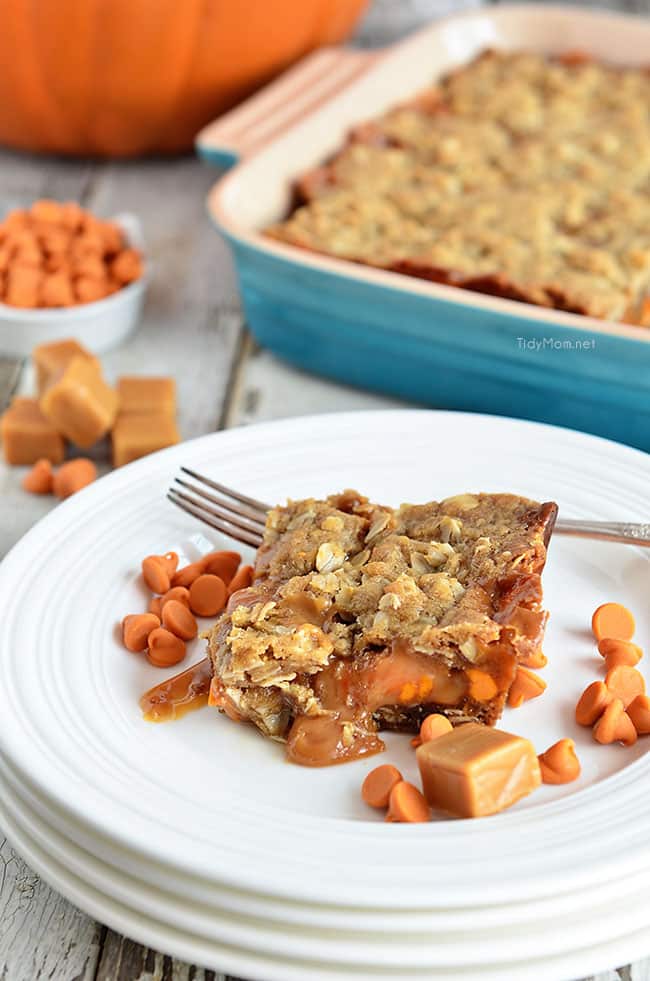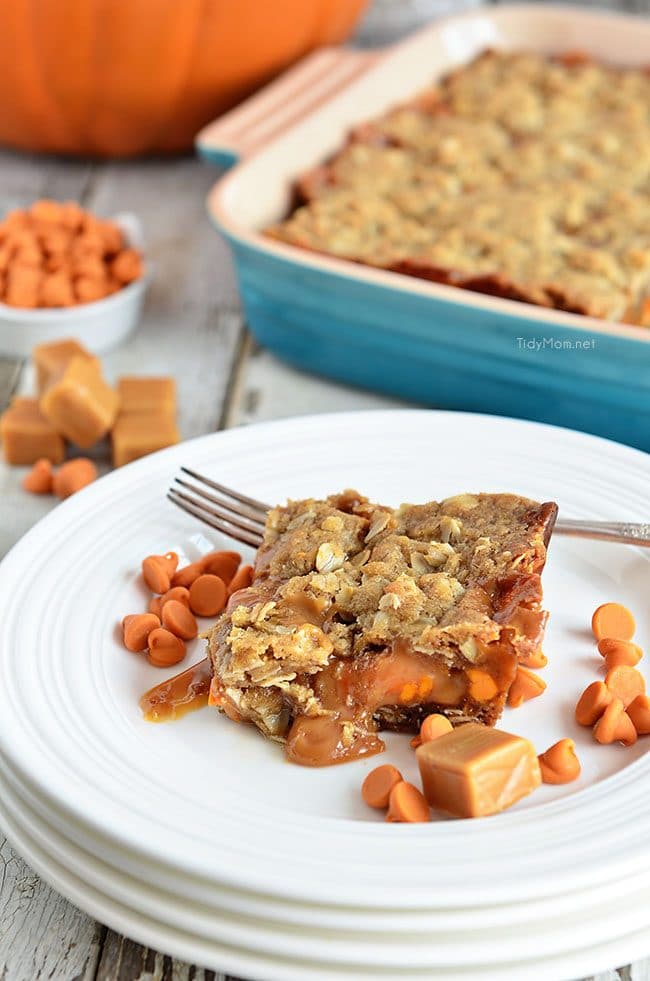 One tip when making carmelita bars, let them cool completely or they will just be a delicious gooey mess.  We usually make them the day before, but if you are in a big hurry, you can put them in the fridge for a few hours to cool.
Pumpkin Spice Carmelita Bars are loaded with everything you could ask for in a fall flavored cookie bar.
CHECK OUT HOW EASY THIS PUMPKIN SPICE CARMELITA BARS RECIPE IS TO MAKE! WATCH THE VIDEO!
click to see more of my recipe videos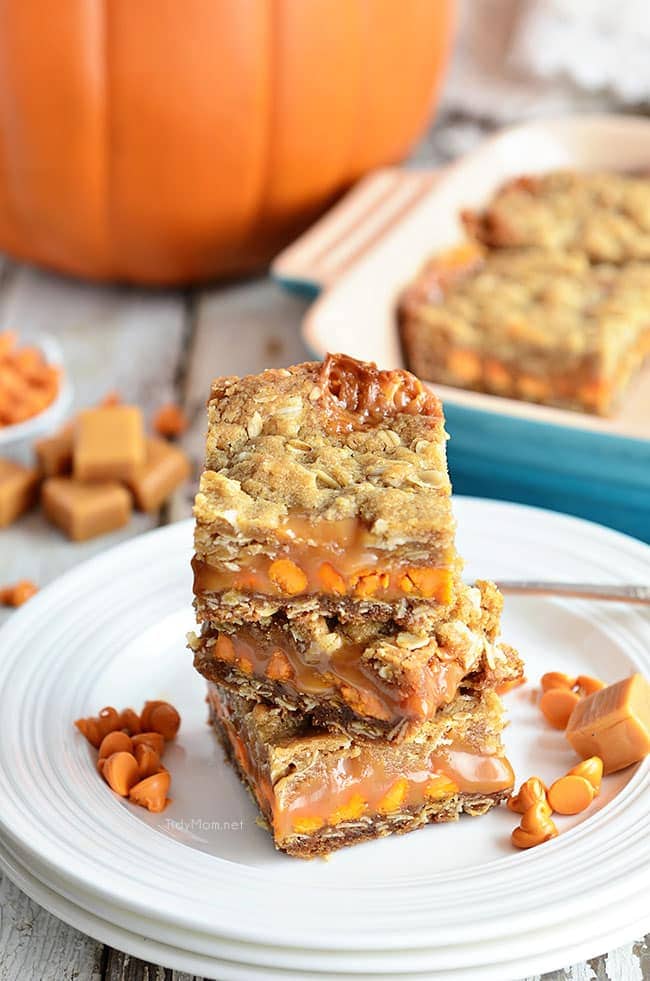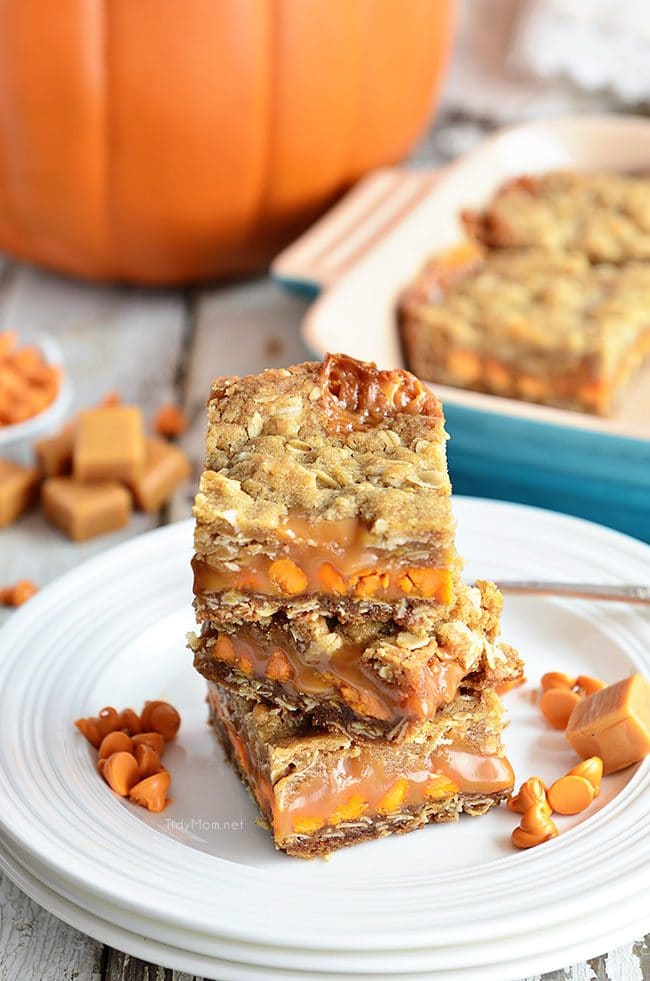 But they are way more than just a dessert cookie bar……. anything with that much oatmeal = breakfast in my book. Am I right?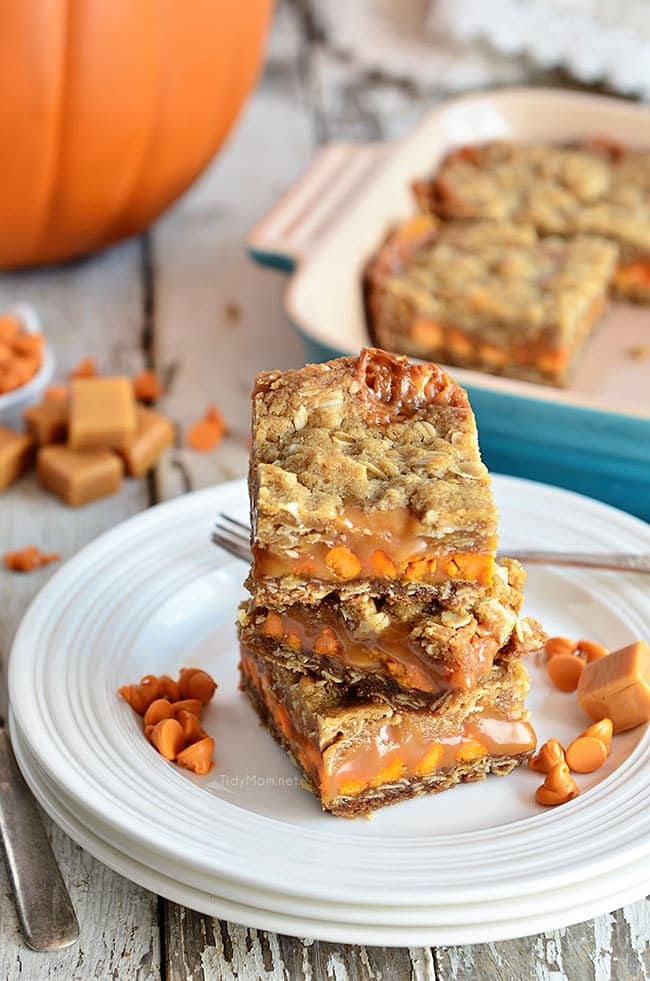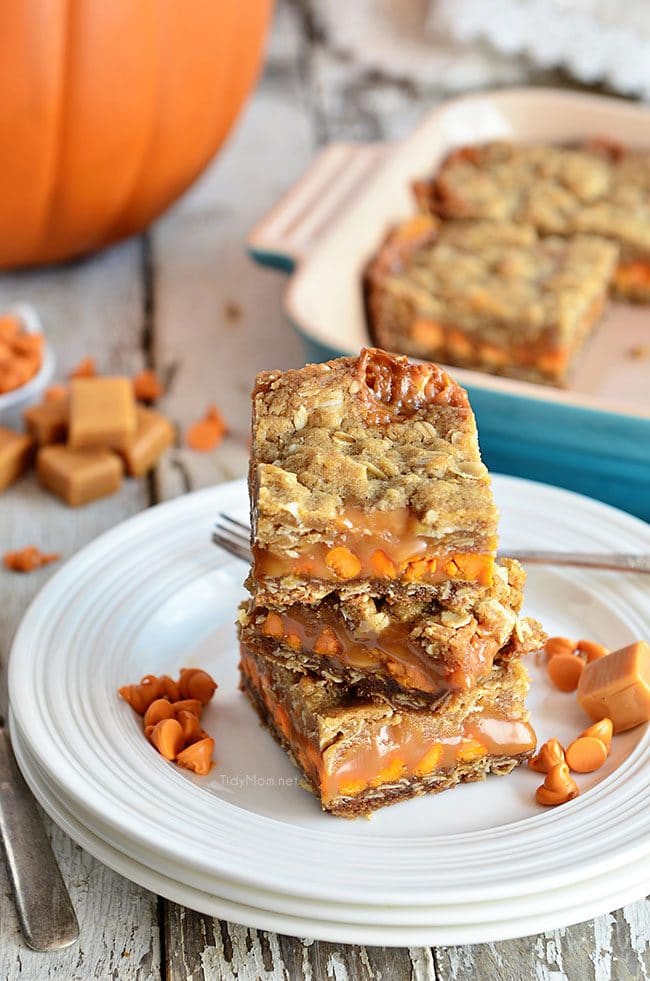 Pumpkin Spice Carmelita Bars Recipe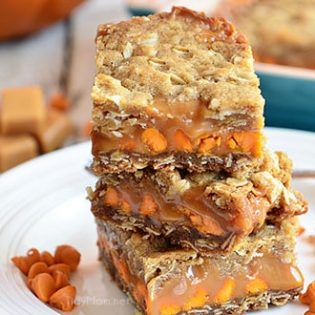 Pumpkin Spice Carmelita Bars
Ingredients:
3/4 cup butter, melted (that's 1.5 sticks or 12 tablespoons)
3/4 cup brown sugar, packed
1 teaspoon vanilla extract
1 cup flour
1 cup old-fashioned rolled oats
1 teaspoon baking soda
1/4 teaspoon salt
11 ounces caramel candies, unwrapped
1/2 cup heavy cream
pinch of sea salt
1 cup pumpkin spice baking chips
Directions:
Preheat oven to 350F. Line an 8 or 9-inch baking dish with enough foil to hang over the edges.  Spray foil with cooking spray and set aside.
Using a large bowl, whisk melted butter, brown sugar and vanilla until smooth.  Add the flour, oats, baking soda, and salt, stir just until combined.
Transfer approximately half of the dough mixture to the baking dish, use the back of a spoon or a clean hand press the dough down firmly and create an even, flat layer. Bake for 10 minutes and remove from oven.
While crust is in the oven, make the caramel sauce by combining the heavy cream and caramels in a small saucepan over medium-low heat. Stir the mixture constantly until all the caramels are melted and you have a thick sauce. (or microwave on high 4-5 minutes until creamy and smooth - stopping at 1 minute intervals, to stir.) Stir in sea salt and set side to cool.
Once cookie crust is removed from oven, sprinkle pumpkin spice chips evenly over crust. Then carefully pour caramel sauce over the top, use a spatula to gently spread it to an even layer.
Sprinkle remaining half of oatmeal mixture over the caramel layer.  Return dish to oven and bake for about 15 to 17 minutes or until the topping is lightly browned.
Allow to cool in pan to room temperature or overnight. (you can also cover and chill in the fridge for at least 4 hours).  Cut into 2-inch squares and serve. Store leftovers in an airtight container at room temperature or in the refrigerator.
When ready to serve, use the foil overhang to remove carmelitas from pan. Place on a cutting board, remove foil and cut into squares. Store in airtight container for up to 1 week, or tightly wrap and freeze for several weeks.
Making this recipe? Share it with us on Instagram using the hashtag #TidyMom so we can see what you're creating in the kitchen!
Want more great recipes like this? Follow my TidyMom Easy Recipes Pinterest Board



more carmelita bar recipes you might enjoy:
Twix Carmelitas recipe at Oh Sweet Basil
Caramel Chocolate Oatmeal Bars recipe from Roxana's Home Baking
Oatmeal Carmelitas recipe from Buns in My Oven
Caramel-Chocolate Oatmeal Bars {Caramelitas!} recipe from Our Best Bites