No-Bake Raspberry Cheesecake with Backyard BBQ Tips
  No-Bake Raspberry Cheesecake with Cookie Crust is the perfect make-ahead dessert for a summer BBQ or potluck.  A thick chocolate chip cookie crust with a layer of fluffy no-bake cheesecake is topped with raspberry gelatin for a crowd-pleasing treat.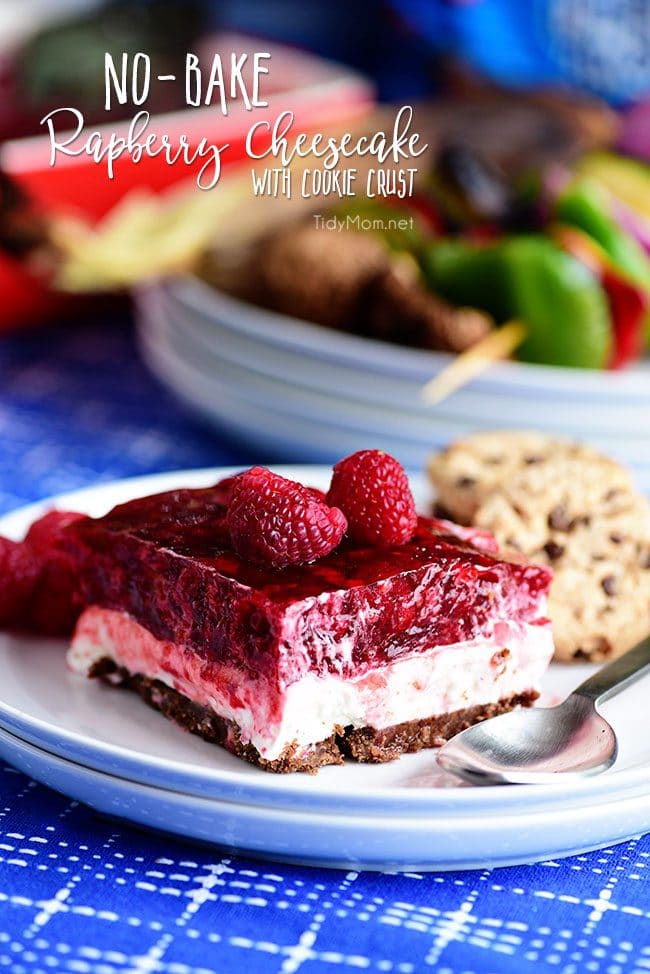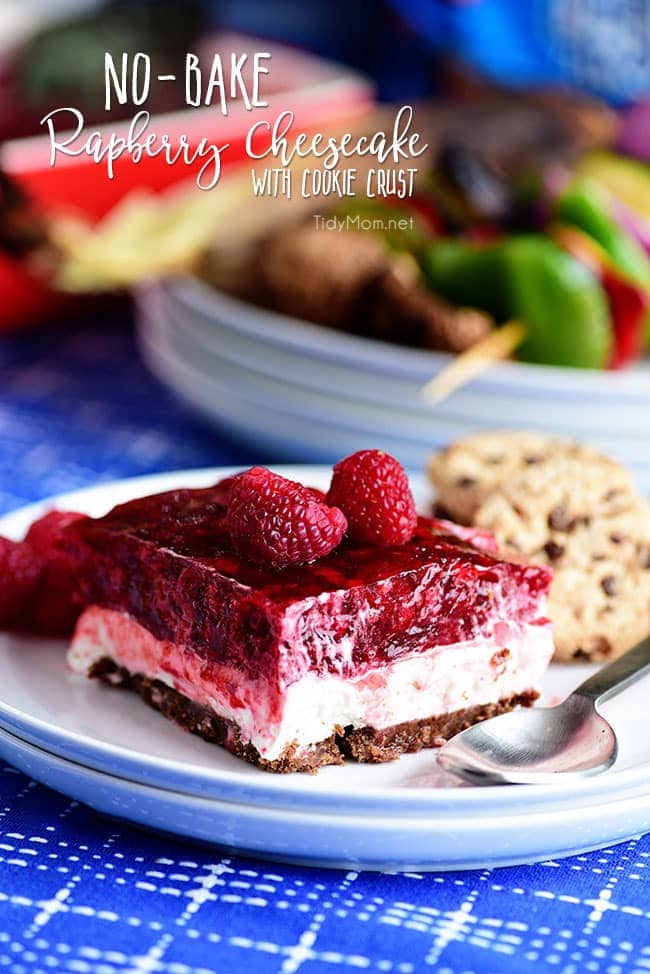 This post is in partnership with NABISCO.  All views, opinions, and love of chocolate chip cookies are my own.
Summer is in the air, and with it comes longer days, lounging by the pool, relaxing on the porch, and the excitement of throwing backyard BBQs with family and friends.
I've partnered with NABISCO to share some easy Backyard BBQ Entertaining tips along with a remixed BBQ remix dessert using CHIPS AHOY! Cookies.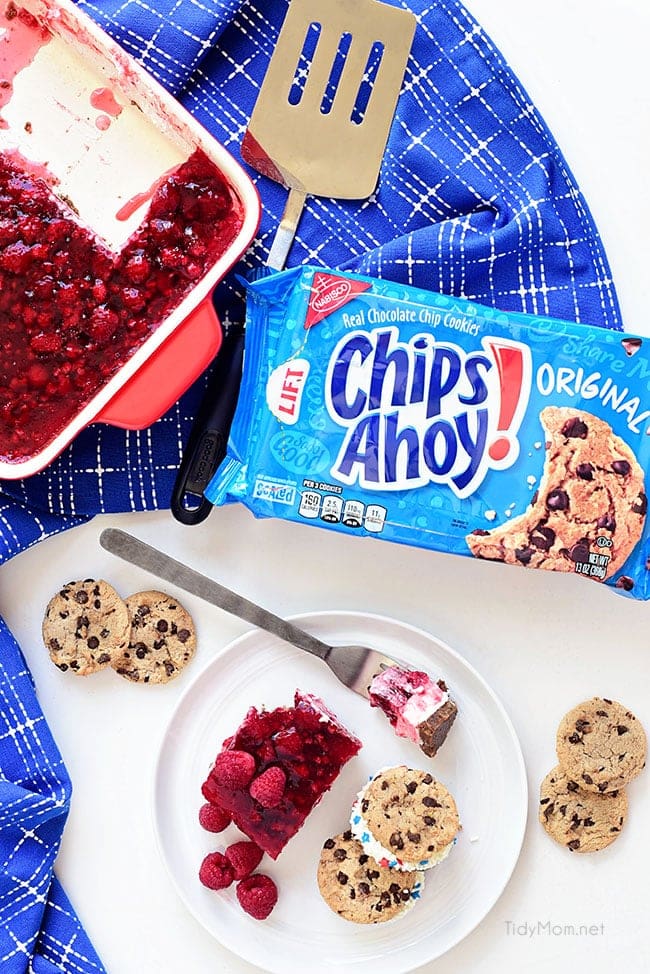 This raspberry cheesecake recipe is a remix from the classic Strawberry Pretzel Salad that's been around forever. If you've never had strawberry pretzel salad I'm sure you're wondering "what in the world"????  There's a good reason why this dish is a favorite at church picnics and barbecues.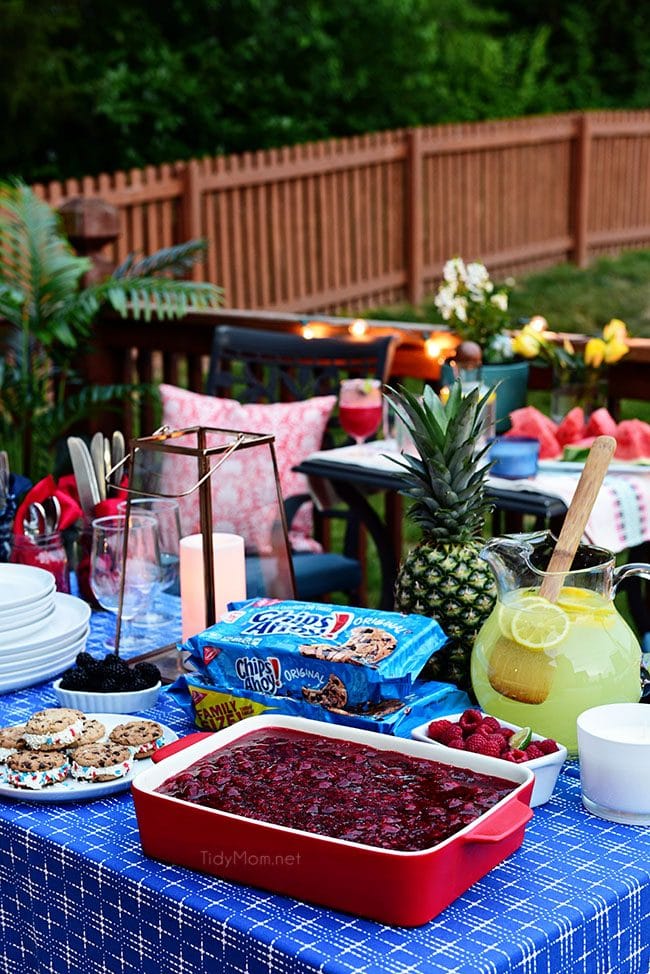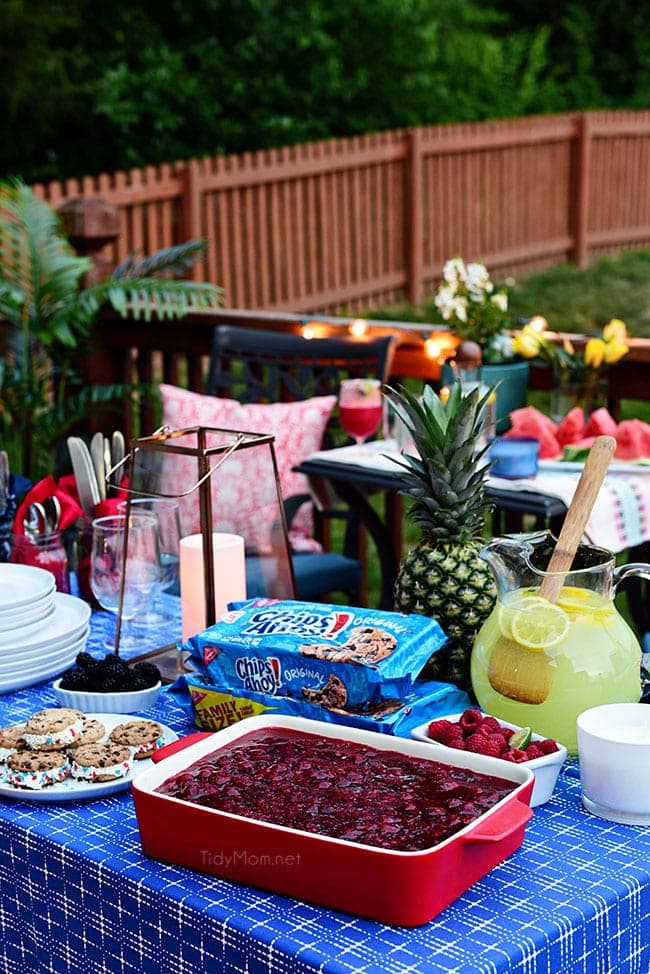 BBQ Remix Entertaining: No-Bake Raspberry Cheesecake Dessert
It's not your typical salad: It consists of a pretzel crust, a layer of sweetened cream cheese and whipped topping, then a layer of strawberry gelatin. To make my remix version I ditched the pretzel crust and made a CHIPS AHOY! Cookie crust and switched out the fresh strawberry with frozen raspberries (because I love all things raspberry).  The frozen fruit helps the gelatin layer set up quickly making assembly a snap.  Oh……and I dropped the "salad" in the name 😉  It's a dessert in my book!
This No-Bake Raspberry Cheesecake is party perfect since you make it a day ahead.  There are several steps to the recipe, but it's all super easy and can be ready for the refrigerator in 20 minutes.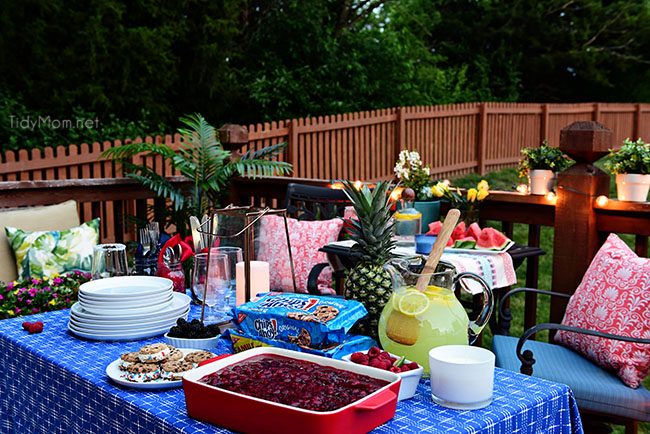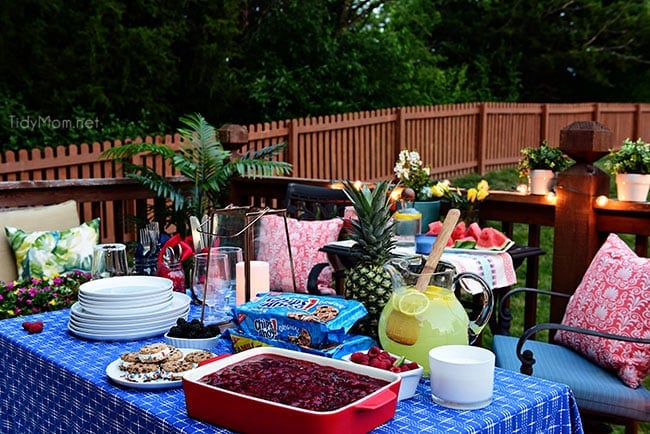 Now that you have your dessert, it's time to dust off the grill for some backyard entertaining.
OUTDOOR ENTERTAINING TIPS
KEEP MOSQUITOS AWAY:  Nothing ruins an evening quicker than pesky mosquitos!Set up fans and decorate tables with jars of basil.  The fans will keep guests cool and the bugs away.  The jars of basil smell great and repels mosquitoes.
MAKE THEM COMFORTABLE:  Make your outdoor furniture as comfortable as your indoor furniture. Cushions and pillows will ensure guests are comfortable, making them more likely to mingle into the evening.
AMBIENT LIGHTING: Add a glow to the evening with lights, lanterns, and candles. Hang strings of lights on the deck, the fence, even trees. Place candles with citronella and battery powered candles/lanterns around on tables.  I love how magical the deck looks after the sun goes down and it's all lit up!
MASTER THE MUSIC:  After the lighting, the next mood-setting must-have is music.  Plan a playlist for 3-5 hours. Keep it upbeat, and mix in some newer tunes with classics that everyone knows. Spread speakers out above ear level (if you can) so they're not blasting at your guests head and set the volume to low.
MAKE SIMPLE BUT UNIQUE RECIPES:  Easy, make-ahead (or prep-ahead) dishes are a must when it comes to outdoor entertaining. You don't want to be stuck in the kitchen while everyone else is outside!  Kabobs are easy to prep for the grill the day before, hot dogs for the kids, plus my make-ahead Asparagus Pasta Salad, and corn on the cob can be tossed on the grill.  Easy doesn't have to mean boring, mix it up a bit, especially with dessert — cookie sandwiches (see below) and no-bake raspberry cheesecake and you're set!
ENTERTAIN THE KIDS:  If you'll have kids at your party, you'll want to have some diversions for the kids, so the grown-ups can kick back with a raspberry margarita.  Have a basket of blowing bubbles, set up a sprinkler or have some games ready (see below).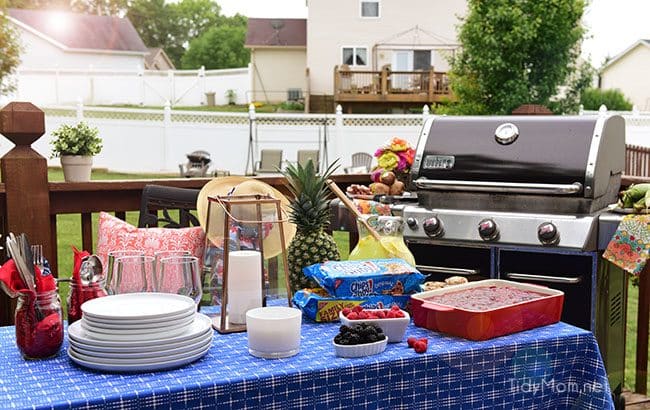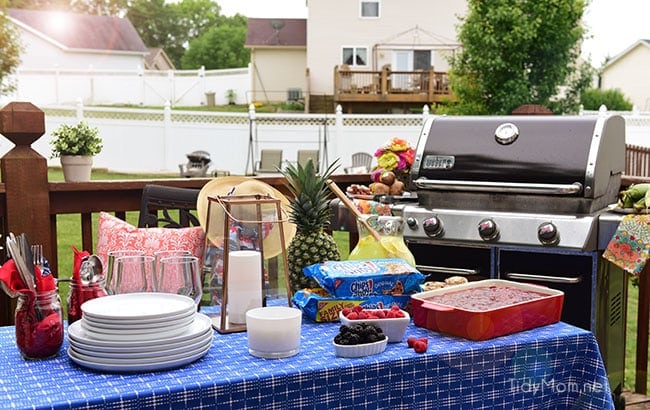 SUMMER BBQ GAMES
BEANBAG TOSS
Rinse and clean 6 metal cans and paint in bright summer colors using acrylic paint for a quick and easy game of beanbag toss.  Stack the cans in a pyramid and toss beanbags to knock them down – whoever knocks the most down wins!
WATER-BALLOON DODGEBALL
Form two equal groups. Fill lots of balloons with water place in several buckets or bins on each side of the playing field.  Participants can throw the balloons at each other.  If you get hit, you are out of the game. The last one standing is the water-balloon dodge ball champ.
SQUIRT TAG
Kick up the old game of tag a notch with water! One participant is armed with a spray bottle or a water gun. The first person squirted, becomes "it" and takes over the sprayer.  Last dry one standing wins!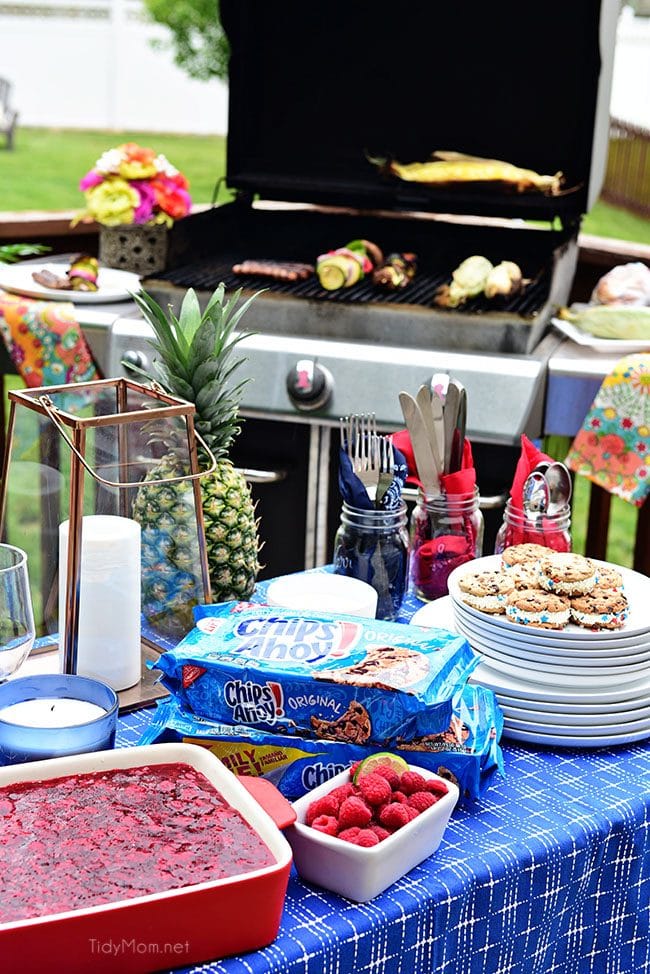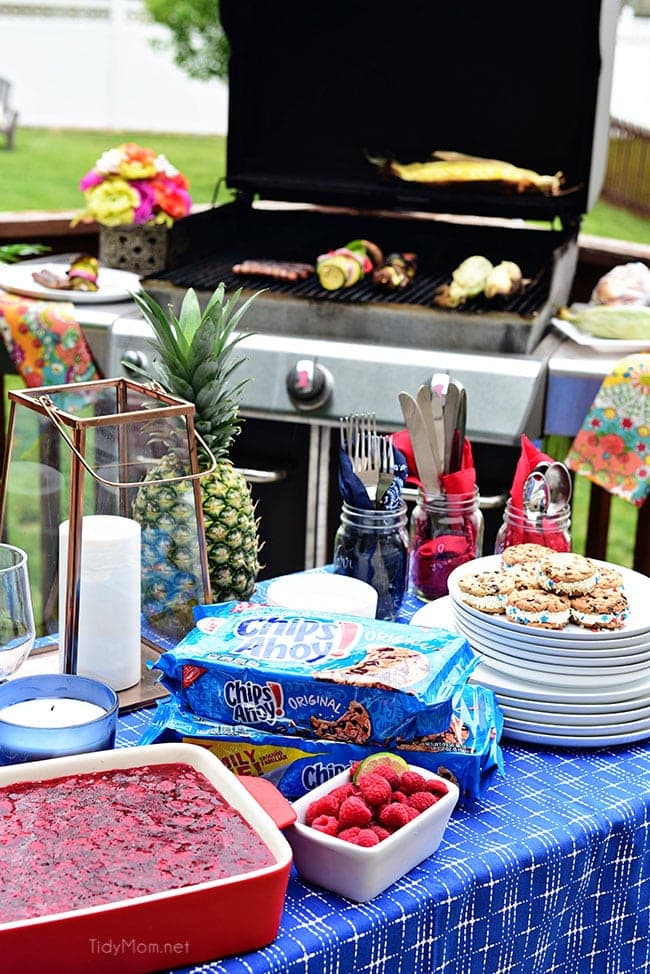 For another quick, make-ahead treat I made Chocolate Chip Cookie Sandwiches!  Kids of every age love them!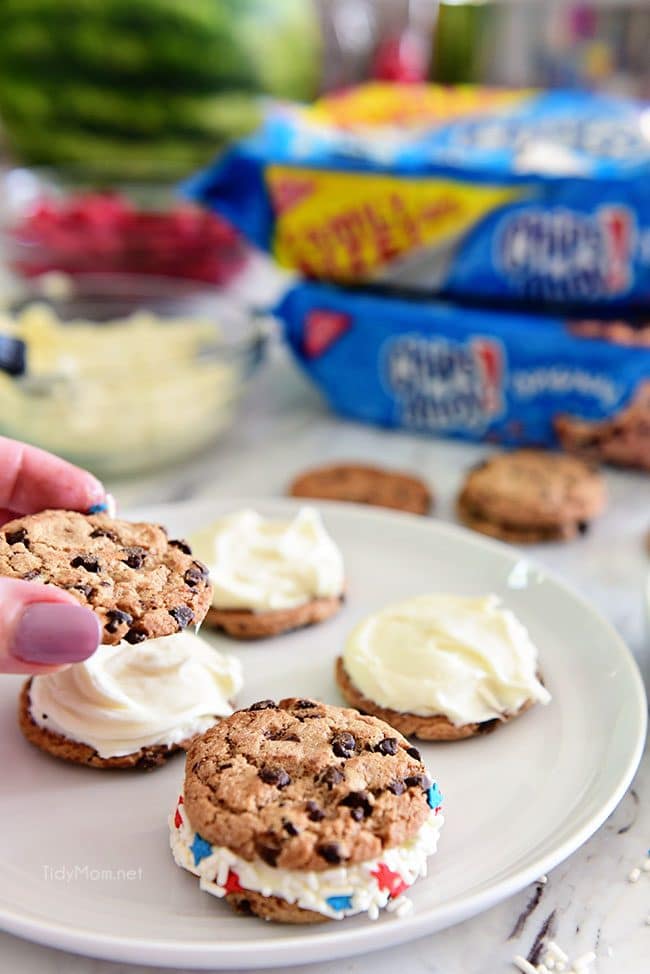 Simply top a CHIPS AHOY! Cookie with store-bought canned frosting and top with a second cookie.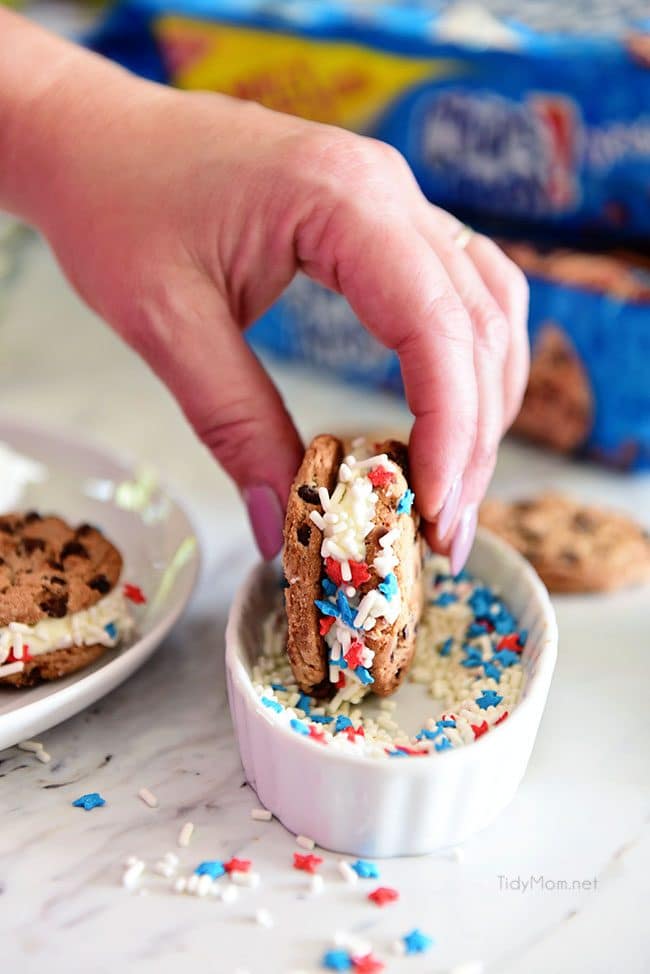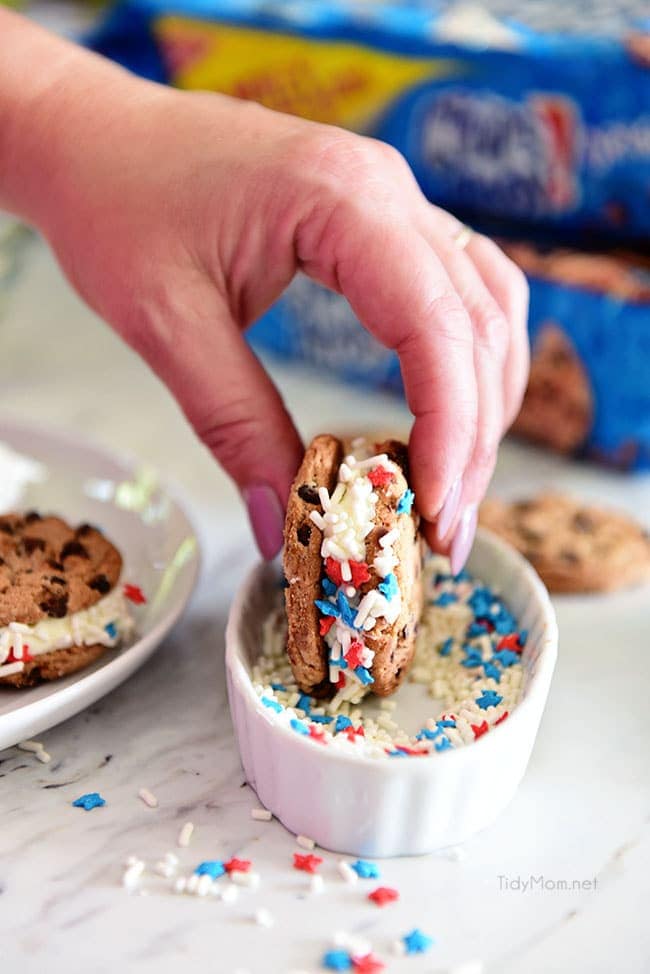 Fill a small bowl or plate with sprinkles and roll the cookie sandwich in the sprinkles.  — get the kids to help with this!
This my friends is a whole new level of goodness!!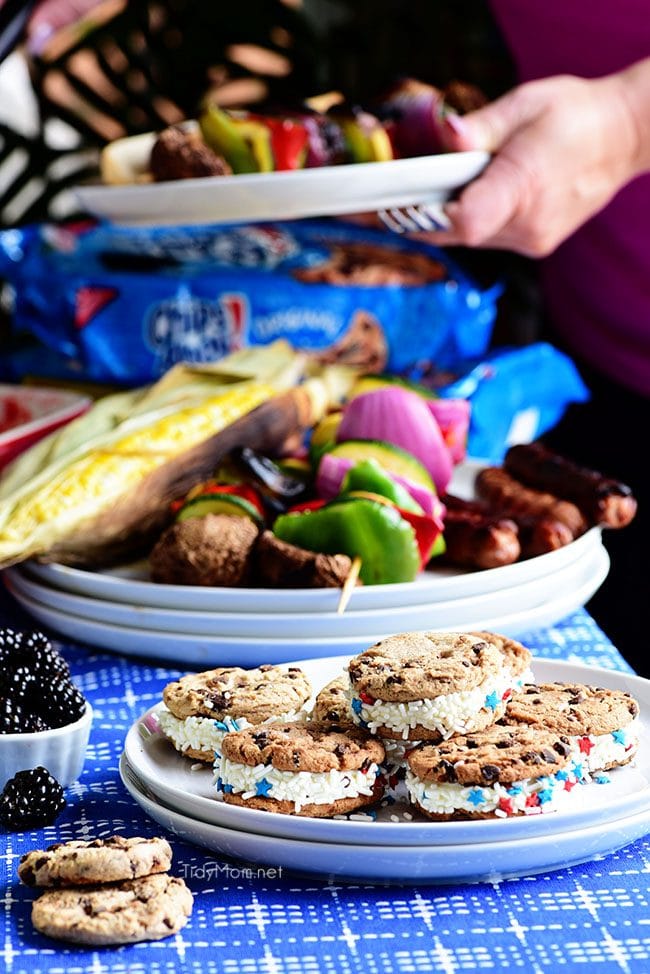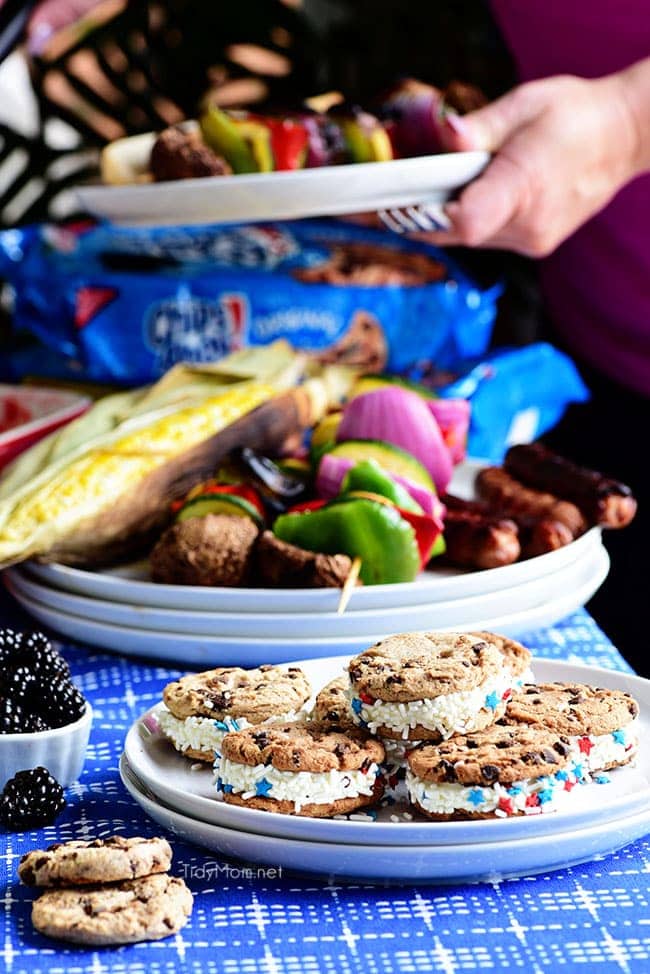 BAM! Two simple delicious make-ahead desserts for your party!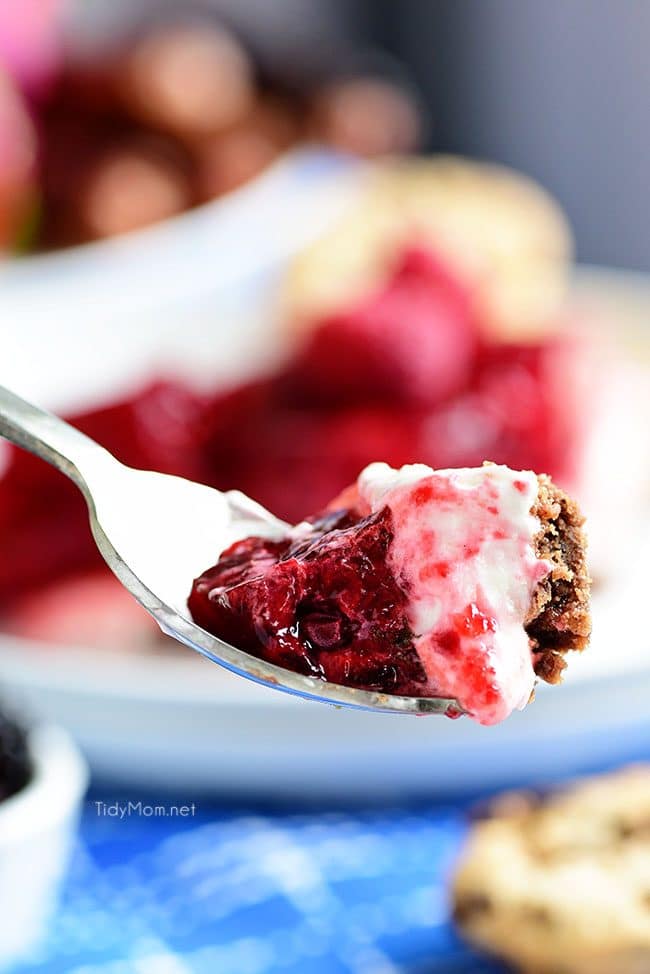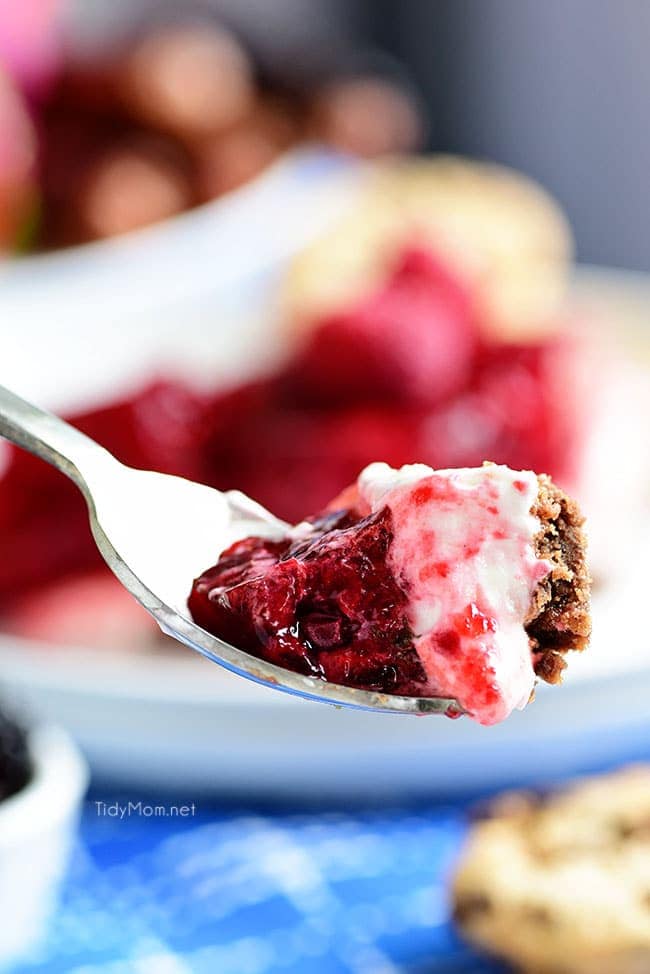 Let's make cheesecake, shall we?!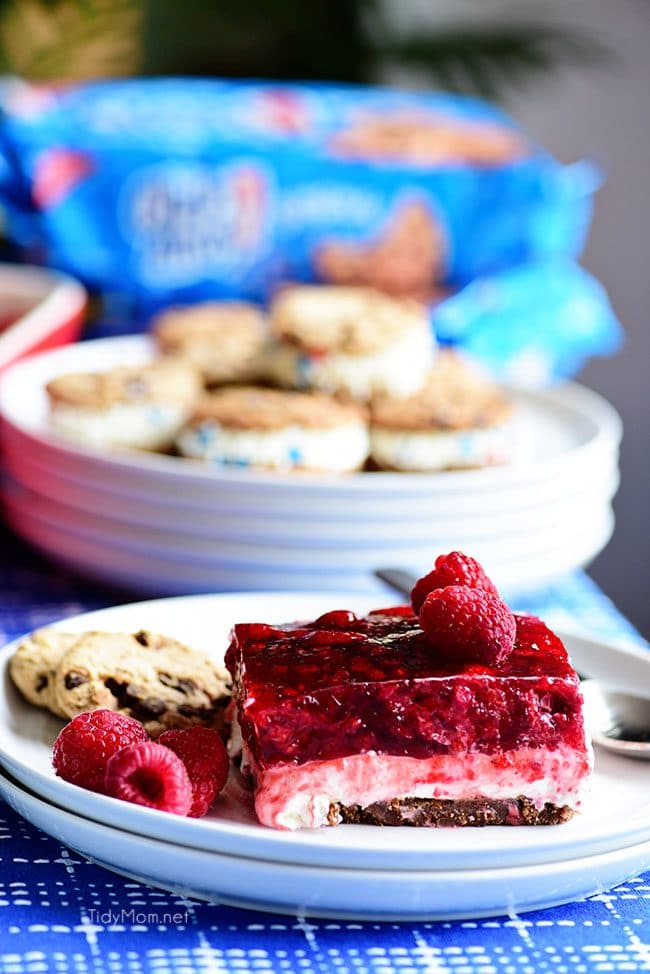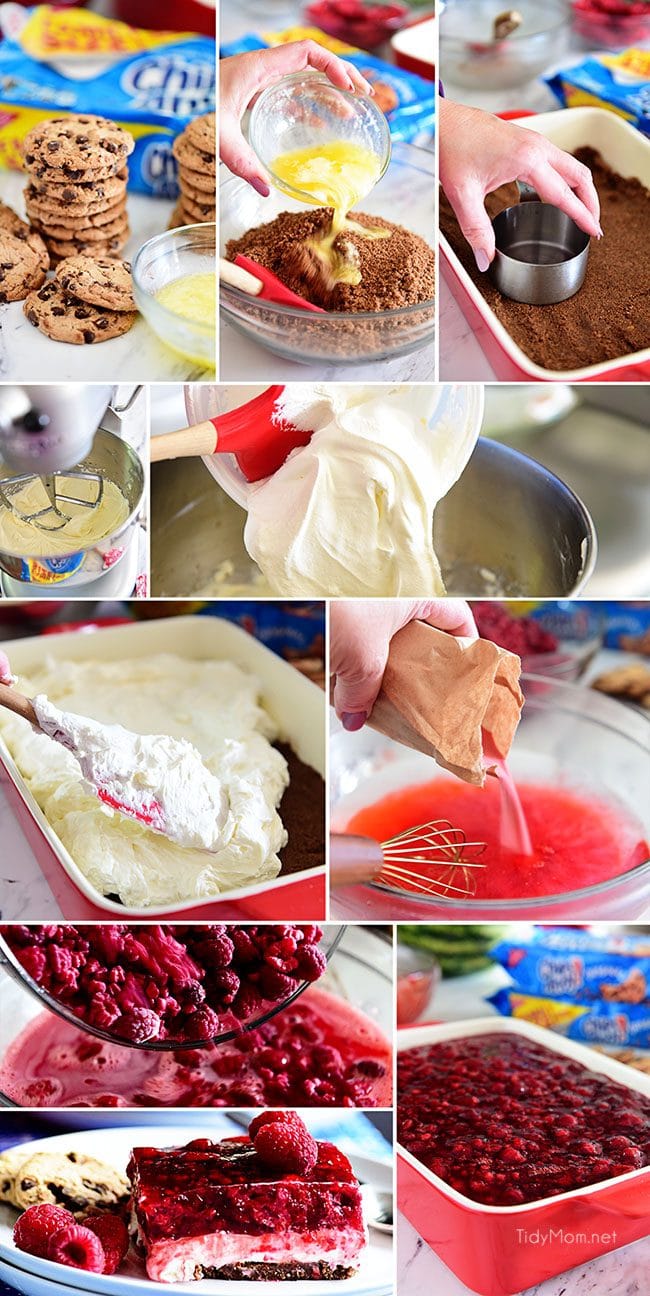 Want more great recipes like this? Follow my TidyMom Easy Recipes Pinterest Board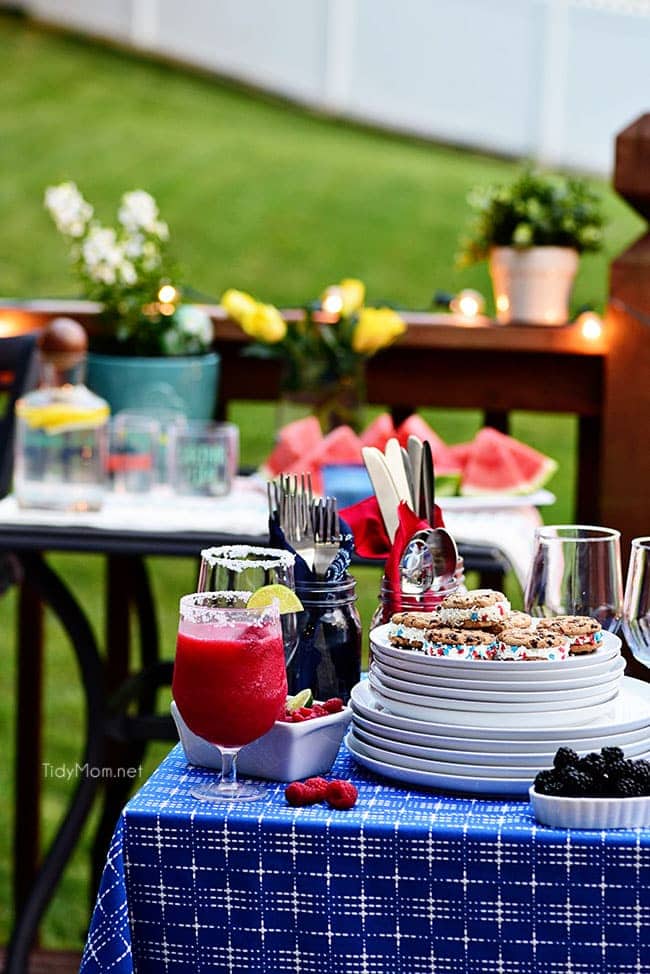 Win a VIP Trip to a Lady Antebellum Concert in Nashville, TN
NABISCO® wants to make sure your summer hits all the high notes.  Enter the NABISCO Remix Your BBQ Sweepstakes for a chance to Win a VIP Trip to a Lady Antebellum Concert in Nashville, TN including airfare for 4 people, hotel concert tickets and more. Plus, 10 will win a Remix Your BBQ Prize Packs sure to put more sizzle in all your BBQs and cookouts.
Share your remixed NABISCO recipe concepts and BBQ party planning tips using the hashtag #NABISCO #BBQRemix social media or in the comments below!