Frozen Raspberry Margarita – Party Perfect Cocktail
Don't settle for the same-old margarita this summer.  Fire up the blender, grab some raspberry sorbet and make a Frozen Raspberry Margarita.  A quick refreshing party cocktail they will love.
Since this weekend is the un-official start of summer and you might have a cook out or two in your weekend plans, I thought I'd share a delicious cocktail with you! If you follow me on social media, you may know I've been really hooked on Strawberry Basil Moscow Mules lately.  I've been making them for everyone who has come to visit 😉  While they are super tasty and cold in a gorgeous copper mug, nothing beats a frozen cocktail in the summer!
The other day I picked up a few pints of raspberry sorbet and thought I'd use it to make a quick and easy Frozen Raspberry Margarita. Margaritas are so flexible, there are so many combinations you can make with different flavors and serve blended and frozen or just on the rocks.  I generally like to drink margarita's on the rocks (with salt….always with salt 😉 ) but sometimes I want a refreshing blended drink and this was one of those days.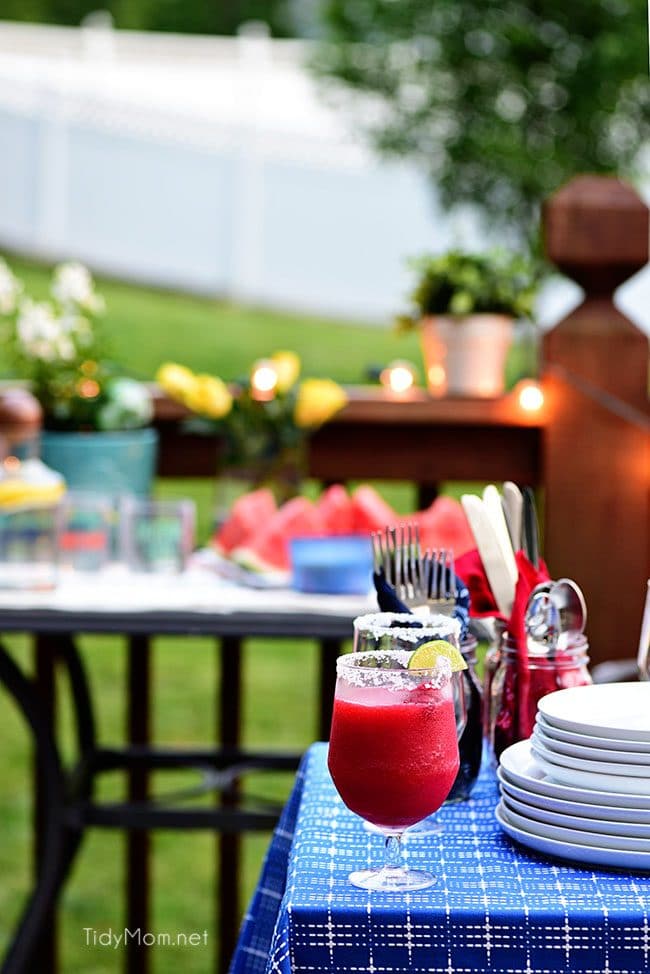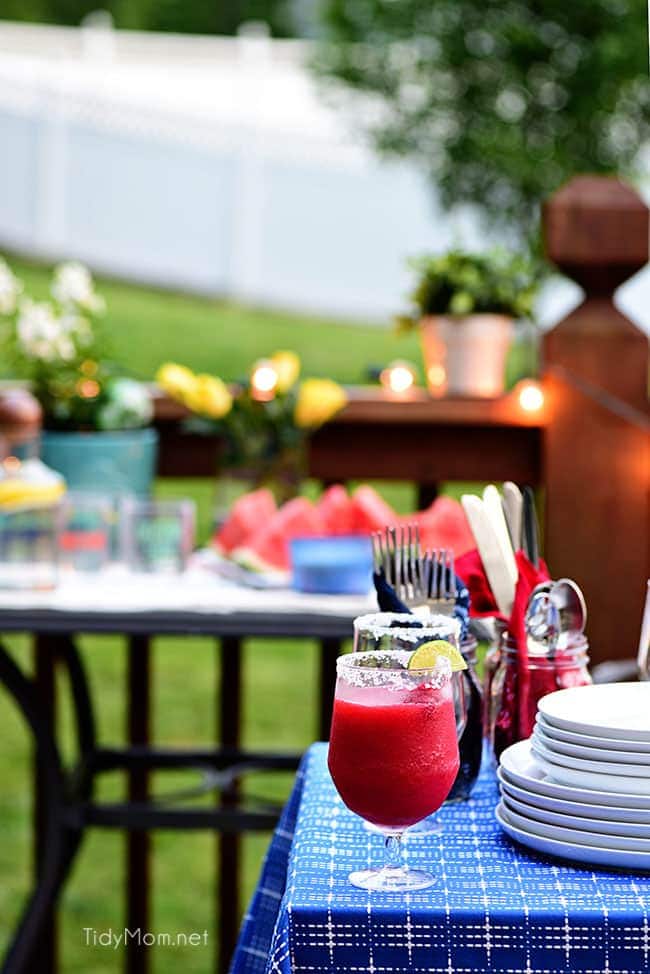 Summer evenings in the backyard are made for sipping cocktails with friends.  Am I right?!!
I just got back from a weekend in Sacramento with a small group of blogging friends. My friend Dorothy of Crazy for Crust was generous enough to open up her home to 13 of us. We had the most wonderful relaxing time hanging out at her house, talking video, learning/sharing all things blogging, cooking for each other (we made and served recipes from all the blogs) and enjoyed wine and cocktails.  There was lots of laughing, hugging and bonding going on.  I can't tell you how important it is to have women who get what you do and are so generous with their knowledge and experience.
"I urge you to make plans and just make get-togethers happen with ladies you love, and always include a couple you don't know super well, but would like to get to know better. If you are not feeling connected within your community (business, church, or simply your town), then you need to make the plans yourself. You'll be so glad you did!" ~Glory of Glorious Treats
Such a great reminder of how much we all need to connect IN PERSON in our life. and don't just sit around waiting to be invited….make it it happen!  Make plans, for coffee or a whole weekend with a few friends…..get the ball rolling! You'll be so glad you did!!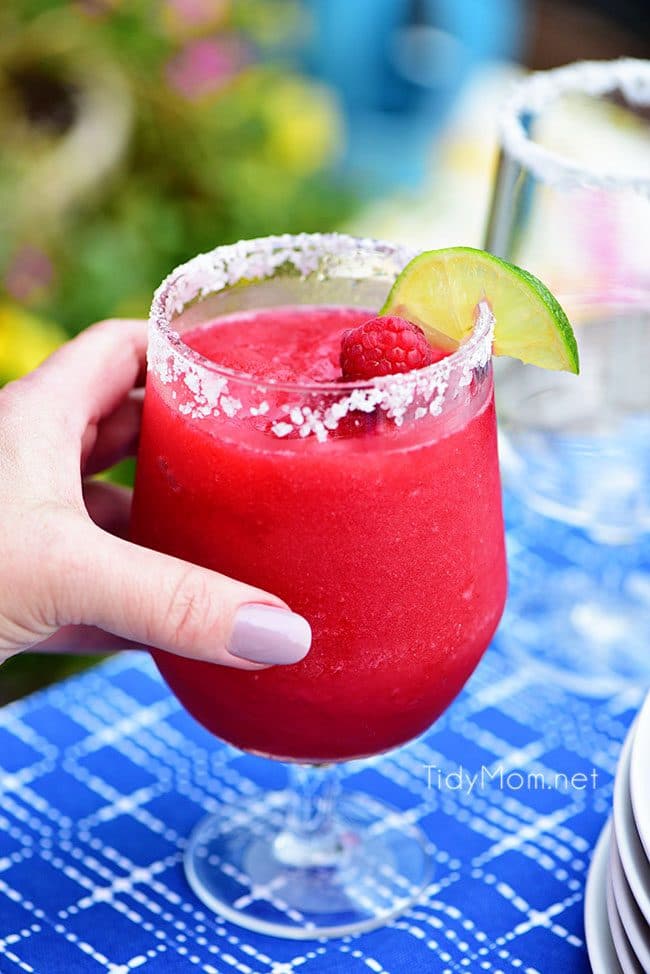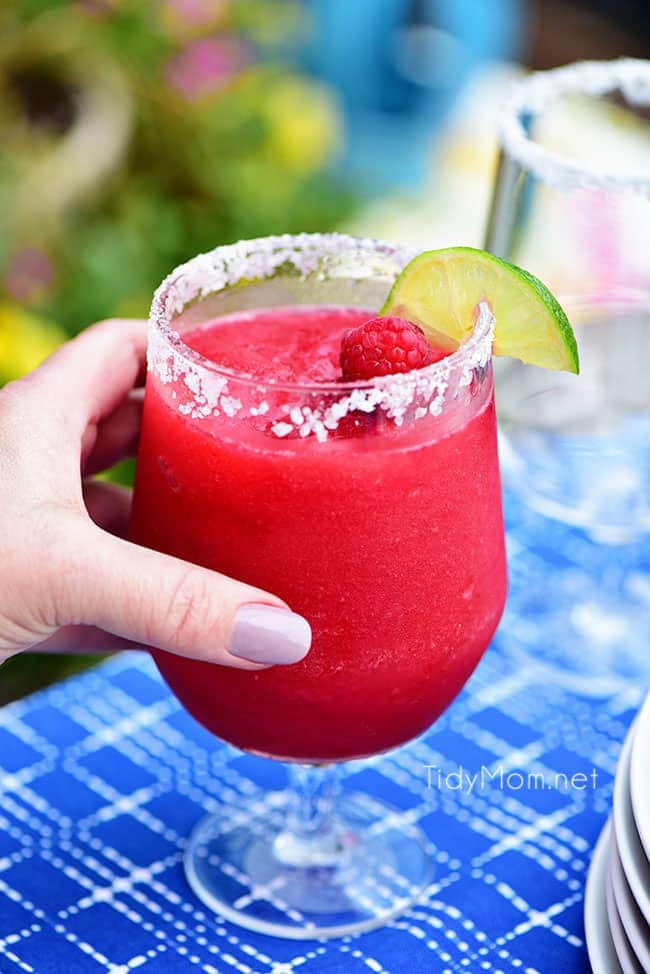 Let's Make a Frozen Raspberry Margarita
If you're looking for something to serve your friends this summer, Frozen Raspberry Margaritas is sure to be a hit!  It doesn't get any easier than tossing some raspberry sorbet, lime juice, tequila and ice in a blender! So delicious, they are almost creamy!! You could even toss in some frozen raspberries if you want.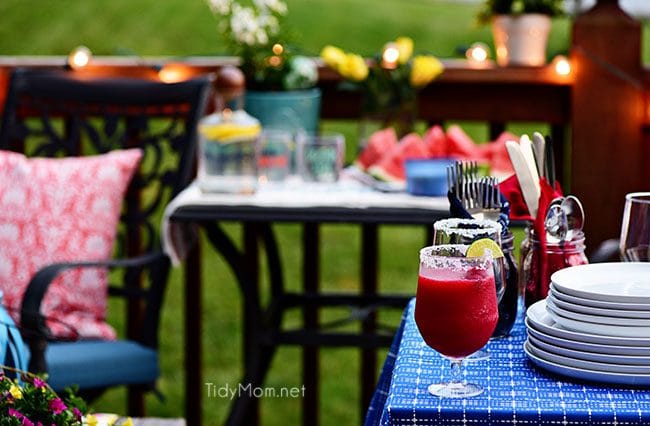 This post may contain affiliate links. Please read my disclosure policy here.
Shop This Recipe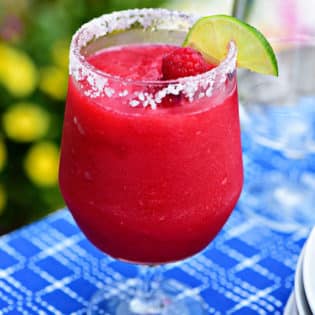 Frozen Raspberry Margarita
Ingredients:
2 very generous scoops of raspberry sorbet
2 cups ice
juice from 2 small limes (extra for garnish)
4 ounces silver tequila
salt for rim
fresh raspberries and lim slice for optional garnish
Directions:
Add sorbet, ice, lime juice and tequila to blender and blend until smooth
Rim glasses with lime and salt and pour into two margarita glasses*
Garnish with a lime slice and a few fresh raspberries.  Sip and enjoy!
*this recipe only made 1-1.5 drinks when poured into a large wine glass, like i did.
Making this recipe? Share it with us on Instagram using the hashtag #TidyMom so we can see what you're creating in the kitchen!
Want more great recipes like this? Follow my TidyMom Easy Recipes Pinterest Board
Looking for more drink recipes for this summer?  Check out these fabulous recipes from my friends that I spent the weekend with.  Click around on their sites, they are all incredibly talented!
Like this Frozen Raspberry Margarita Recipe? Pin It!