Toasted Coconut German Chocolate Cake
A sweet  chocolate cake is paired with rum infused toasted coconut pecan frosting and chocolate ganache.  Jaw dropping gorgeous Toasted Coconut German Chocolate Cake.
If you like my Upside Down German Chocolate Cake, your going to love this cake recipe I have for you today!!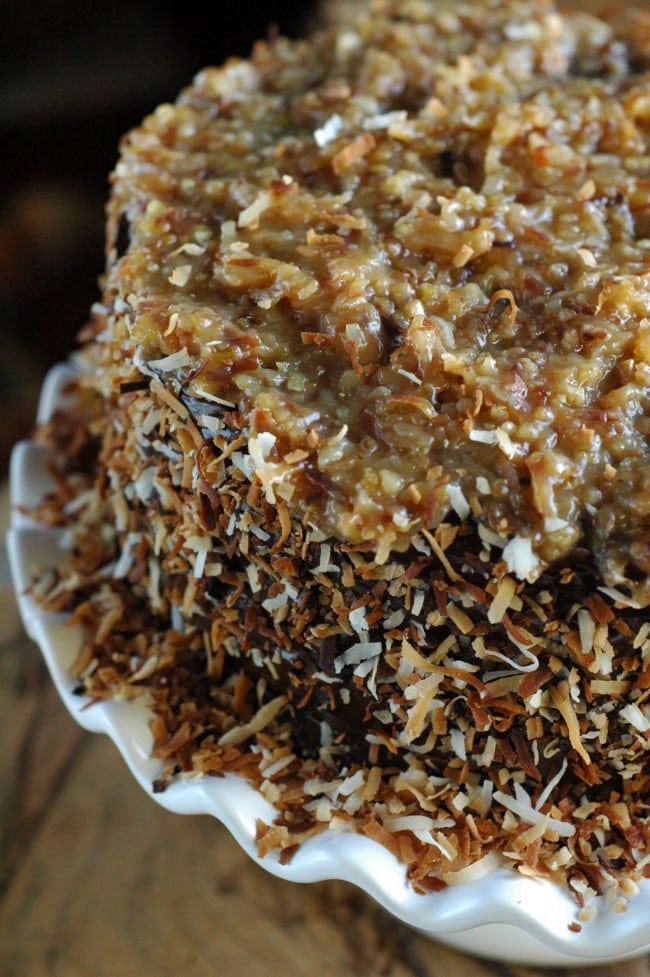 Hi there! I'm Dani and I'm so excited to be visiting here at Cheryl's blog today! My husband Kevin and I write the blog The Adventure Bite where we share our favorite recipes, tutorials on fermented foods & beverages and stories from our adventures in micro farming. We are big believers in eating real whole foods that your grandma would recognize….including desserts! I am thrilled to be sharing one of our new favorite cakes with you this morning.
Do you love German Chocolate Cake? If you do, I hope you don't mind that you may never make your current recipe again after you try this one. And if you don't, I can confidently tell you that you'll be ready to reconsider that choice after you are done reading.
Can I tell you a secret? Until I made this German Chocolate Cake I pretty much always avoided said cake if I had the choice. I so wanted to like this cake. The chocolate, the gooey filling, the pecans…all of these things rank high on my list of delicious things. It was just the darn coconut that got me.
I know that all the coconut lovers just gave me the evil eye. But to my credit I do like the flavor of coconut, it's the almost waxy like texture that ruins it for me. 
It's been almost seven years since my first "adventure bite" and there are still a small handful of things that I haven't been able to convince my mouth to like. Coconut up until this week was on that list. But my dad's favorite cake is German Chocolate Cake so I set out to see if there was a way to make it palatable for both of us.
I am happy and somewhat embarrassed to tell you that I ate three substantial pieces of this cake in its very short lived life. I mean really look at this cake….how could this not taste good?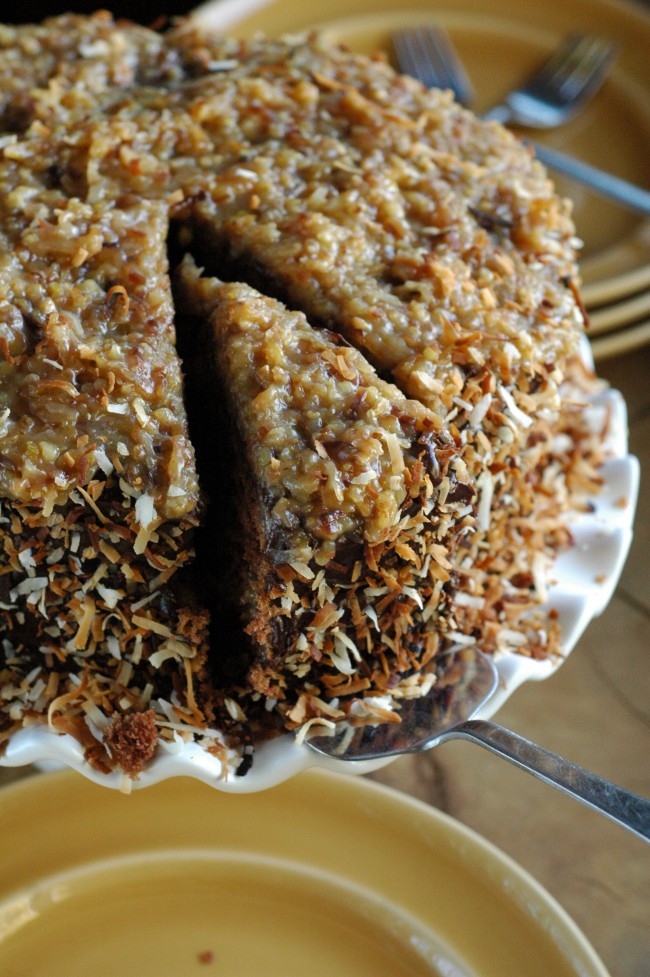 Toasted Coconut German Chocolate Cake
The secret to this magical transformation is two things…..rum (because what isn't better with rum?) and perfectly toasting your coconut.
You may have discovered already that roasting root vegetables magically transforms them from a rather boring side dish to something that steals the show. Fortunately for us this principle holds true for coconut, changing from a waxy chewy substance to a light slightly crunchy heavenly smelling I-had-to-make-more-because-I-ate-3-handfuls kind of delicacy.
Seriously! Me a coconut hater eating coconut by the handful has to prove something!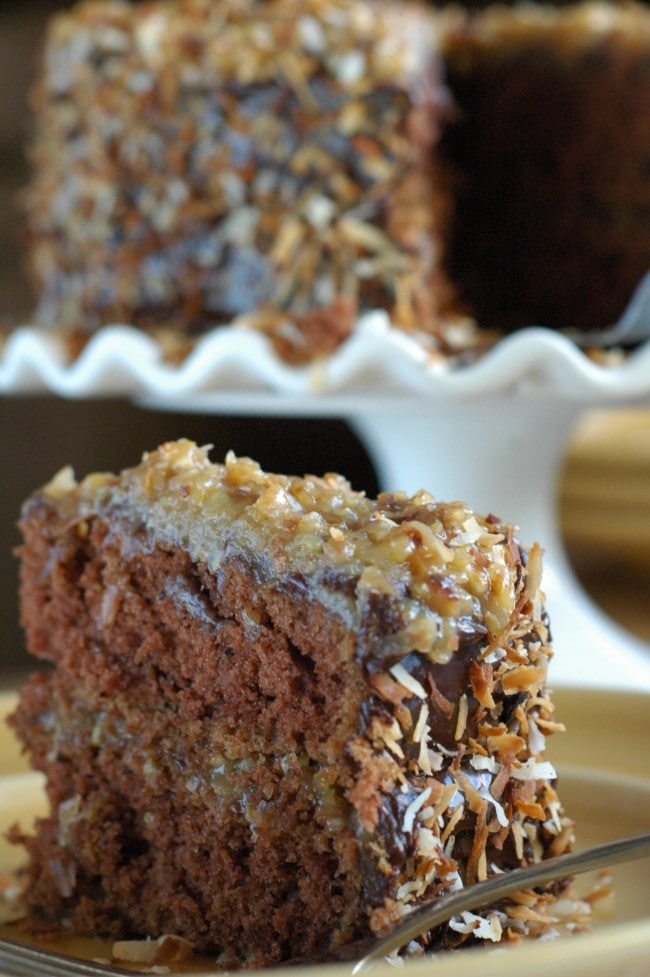 Making a multi-layer cake from scratch can seem like an overwhelming task, but it's actually really just 3 simple recipes. You can make the cake part a day or two ahead of time and wrap it in cellophane to stay fresh, and each frosting can be made ahead of time too if needed!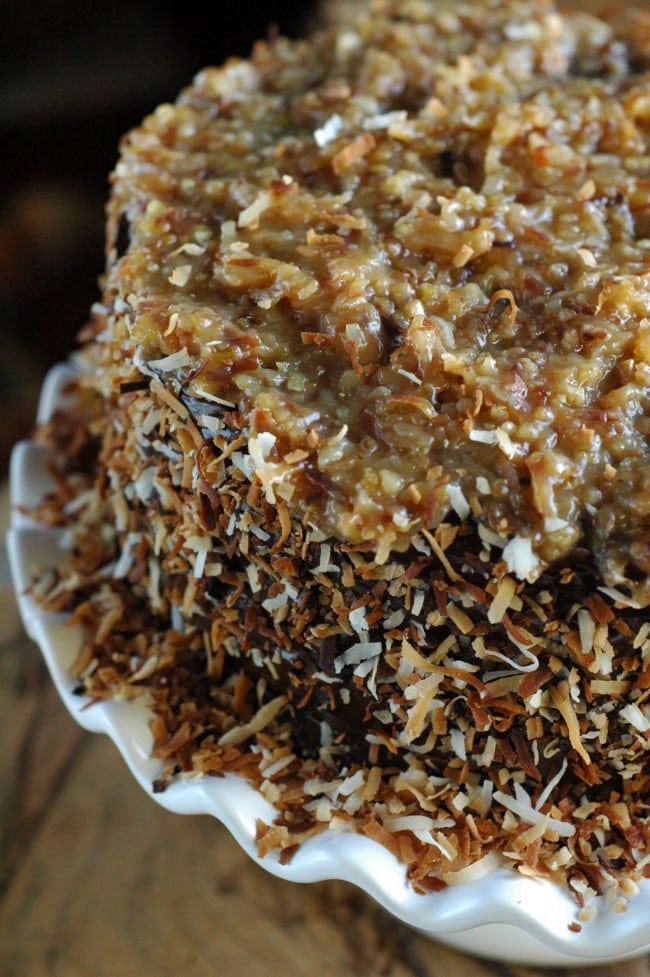 You are guaranteed to wow some dinner guests with this beauty!
You may have leftover ganache so I won't judge if you feel the need to help yourself to some of that too on your slice. One can't ever have too much chocolate…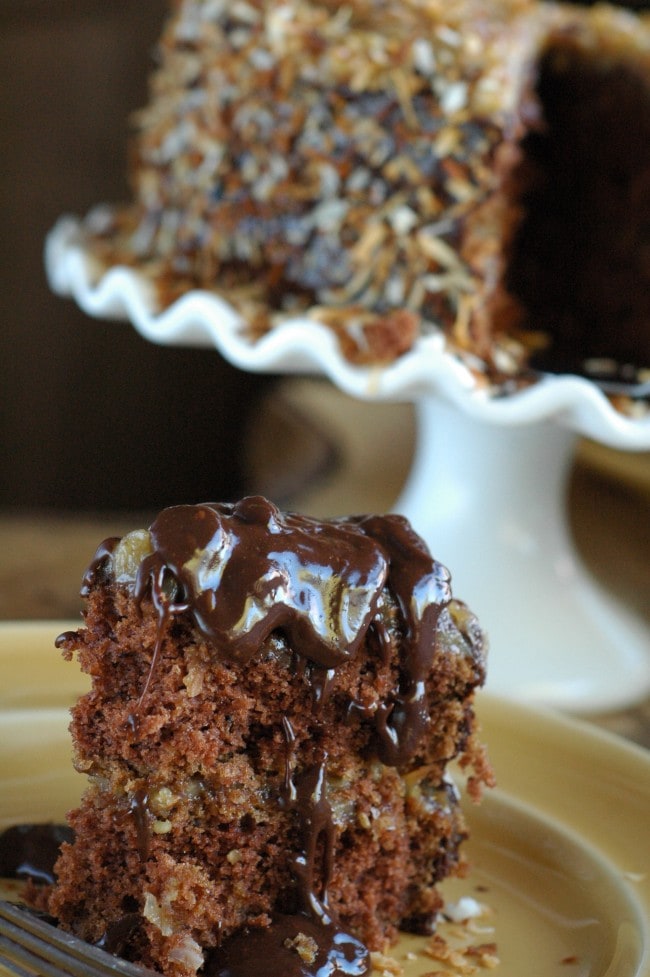 I should also tell you that leftover ganache turns into chocolate truffle filling when it gets cold….I'm not admitting to it but someone in our house has been sneaking spoonfuls out of the leftover container whenever they have needed a chocolate fix this week.
Thanks so much for letting us visit with you today and be sure to come over to the blog to say hi! Thanks again to Cheryl for being such a gracious and generous host to us!
Want more great recipes like this? Follow my TidyMom Easy Recipes Pinterest Board
ABOUT THE ADVENTURE BITE 
We welcome you to come visit our little corner of the web where we share our journey with food, fermenting anything we can, micro farming and choosing an intentionally simple life with our young family. The table's always open so come on over! →VISIT OUR BLOG

Facebook | Twitter | Pinterest | Instagram