Strawberry Milkshake Cupcakes
The addition of diced fresh strawberries makes this Strawberry Milkshake Buttercream the perfect complement to the french vanilla cake beneath in these Strawberry Milkshake Cupcakes!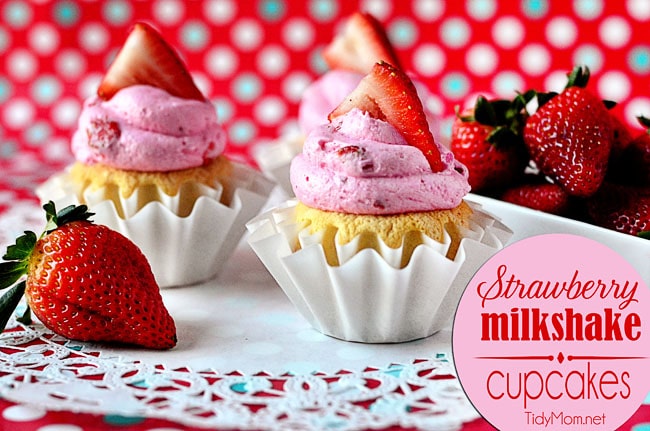 I wasn't planning on posting these cupcakes when I started to make them.  I made them on a whim last week when I was craving a cupcake.  They are so simple, yet turned out to be one seriously delicious cupcake!
I was browsing thru several "new to me" blogs one day, and someone had mentioned frosting that tasted just like a strawberry milkshake.  I didn't bookmark it or pin it……but couldn't get those words out of my head.  Then I started searching for the post, I couldn't even remember what blog I was on.  I don't even think the post was about the cupcakes, maybe they just mentioned cupcakes they ate somewhere.
I started searching frosting until I found one that sounded good – with strawberry jello in it!  I wanted to try it with Nesquik Strawberry Milk, but I didn't have any, so I stuck with the jello.
One bite into these cupcakes, I realized that they taste amazingly like strawberry milk or milkshake — flashback to my childhood! I remember coming home from school, making myself strawberry milk and settling down to watch The Brady Bunch.
Not only do these Strawberry Milkshake Cupcakes take you back to being a kid, the vanilla cake makes the perfect partner to the dreamy  strawberry frosting.  Best of all, you could easily tweak this recipe if you are more of a chocolate strawberry lover, by using chocolate cake!………oh I think I see another batch in my future, you know….to compare and see which is better! 😉
I used my favorite Duncan Hines French Vanilla Cake mix, doctored up like I usually do, with butter in-place of the oil and a little less water.
I raided my cupcake liner stash, and found these adorable liners I picked up at Michaels a few weeks ago.  I don't know who makes them, or what they are called exactly, I can't find them on the Michaels website, and I don't see them on Amazon.  But they sure are pretty aren't they?  I do remember they only came in solid colors.
These would make perfect Valentines Day treat, if you're looking for something easy and delicious!  If you're a chocolate lover, I would use Duncan Hines Dark Chocolate Fudge Cake Mix.
*this post is NOT sponsored by Duncan Hines, I just love their cake mixes 🙂

Want more great recipes like this? Follow my TidyMom Easy Recipes Pinterest Board
Like These Strawberry Milkshake Cupcakes? Pin It!
More Strawberry Cupcake Recipes you might enjoy:
Chocolate Covered Strawberry Cupcakes
Strawberry Cupcakes with Strawberry Meringue Buttercream
Chocolate Strawberry Cupcakes with Mascarpone Frosting
Chocolate Covered Strawberry Cupcakes
Chocolate Covered Strawberry Cake Balls
Are you a fan of Strawberries and vanilla or chocolate?  Do you have plans for Valentines Day?