Buffalo Chicken Chili
Buffalo chicken lovers will line up for this zesty chili. With two types of beans, chicken, hot sauce, and even blue cheese, this meal is sure to be a new favorite.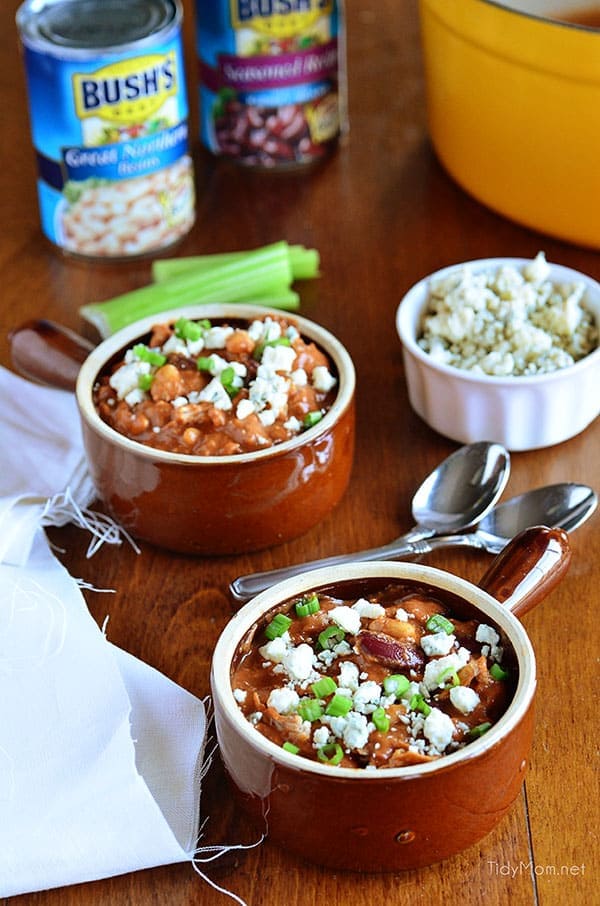 Chili is one of those great "One pot" dishes.   This time of year a flavor packed chili is not only perfect for knocking the winter chill off your bones, but its so easy to put together. Other than a cutting board and knife, only a single pot ends up in the sink.  And I don't know about you…….but having less dirty dishes is always a plus in my house. 
Buffalo Hot Wings are always a favorite with my family.  Big surprise right?  I mean I'm pretty sure we aren't the only ones.  Buffalo Chicken Chili brings all the flavors of our favorite appetizer to the table with out missing a beat!  If you are looking for a mild chili, you'll want to move along.  This zesty chili starts out with a base of onions, carrots and celery, just like what is often served along side buffalo wings. From there, the chili is seasoned with warm spices and of course, plenty of your favorite hot sauce, while the addition of cream cheese adds an unexpected creaminess. The chili is bulked up with two varieties of Bush's Beans, Great Northern Beans and Kidney Beans, as well as tomatoes and of course chicken.  – I used a rotisserie chicken I picked up at the deli to make it super easy.  Serve the chili pipping hot topped with crumbled blue cheese for a true buffalo chicken wings experience. 🙂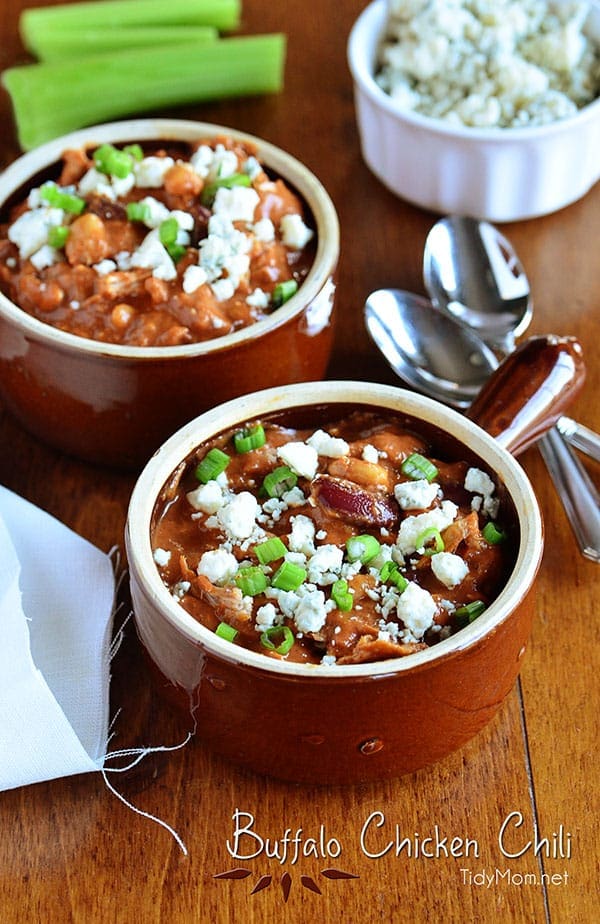 You can certainly adjust the amount of hot sauce to make sure that it has the right level of heat for you.
This Buffalo Chicken Chili refrigerated and reheated nicely so it would work well for making a day ahead. Making it perfect for when we feed a crowd, especially for game-time and Super Bowl parties.
Buffalo chicken lovers will line up for this zesty chili. With two types of beans, chicken, hot sauce, and even blue cheese, this meal is sure to be a new favorite.
Ingredients
2 tablespoons olive oil
1 large onion, diced
1 rib celery, diced
1 large carrot, peeled and diced
3 cloves garlic, chopped
5 tablespoons chili powder
2 teaspoons ground cumin
1 teaspoon smoked paprika
1 pound chicken, cooked and shredded (I used a rotisserie chicken)
1 (16 ounce) can BUSH'S® Kidney Beans, drained
1 (15.8 ounce) can BUSH'S® Great Northern Beans, drained
2 (15 ounce) cans tomato sauce
1 (15 ounce) can crushed tomatoes, undrained
1/4 cup your favorite hot sauce (I used Franks Hot Wings sauce)
4 ounces cream cheese, softened
crumbled blue cheese (optional)
Instructions
Heat oil in a 4-quart saucepan over medium heat. Add onion, celery and carrot. Cook 5 minutes; stir often.
Add the garlic and dried spices and cook until fragrant, about a minute.
Add chicken, beans, tomato sauce and crushed tomatoes. Simmer 20-25 minutes.
Stir in hot sauce and softened cream cheese until smooth.
Serve topped with crumbled blue cheese, if desired.
Notes
https://tidymom.net/2013/buffalo-chicken-chili/
Copyright© 2009-2013 TidyMom.Net
NEW FEATURE: Save recipes to your personal recipe box with the

Once you have your favorite recipes in your Recipe Box create a Meal Plan with them and the ingredients will automatically be added to a Grocery List!
10 More Buffalo Chicken Recipes you might enjoy: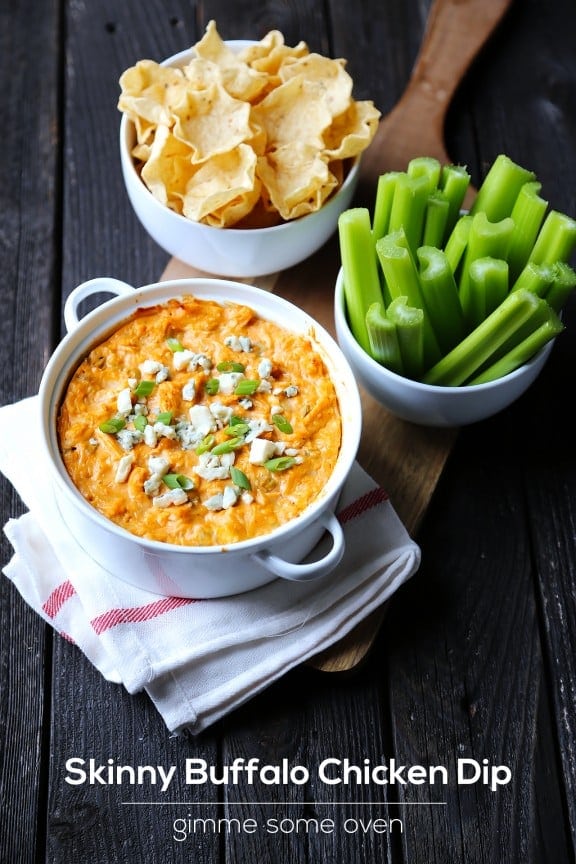 Buffalo Pulled Chicken Sandwich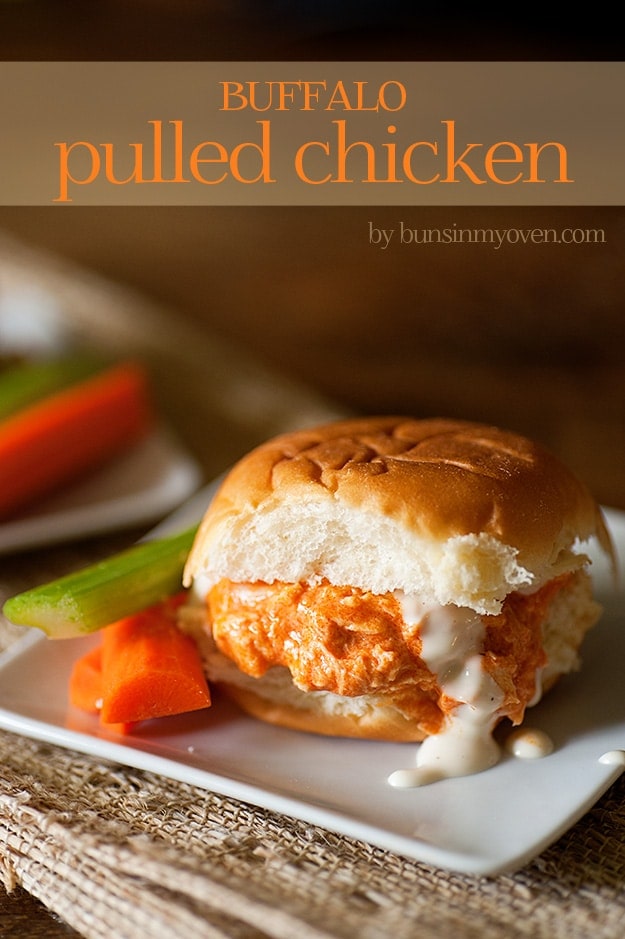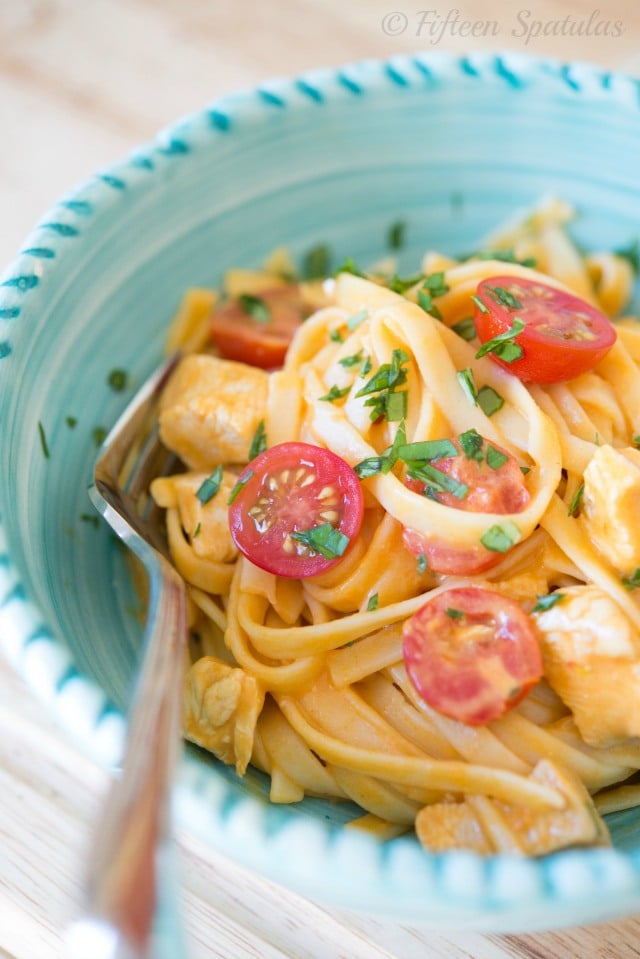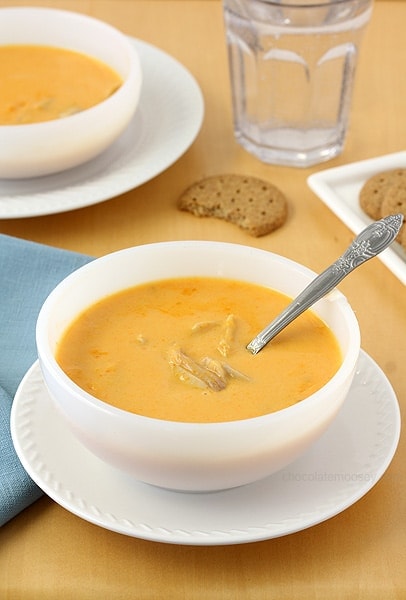 Buffalo Chicken Pull-Apart Bread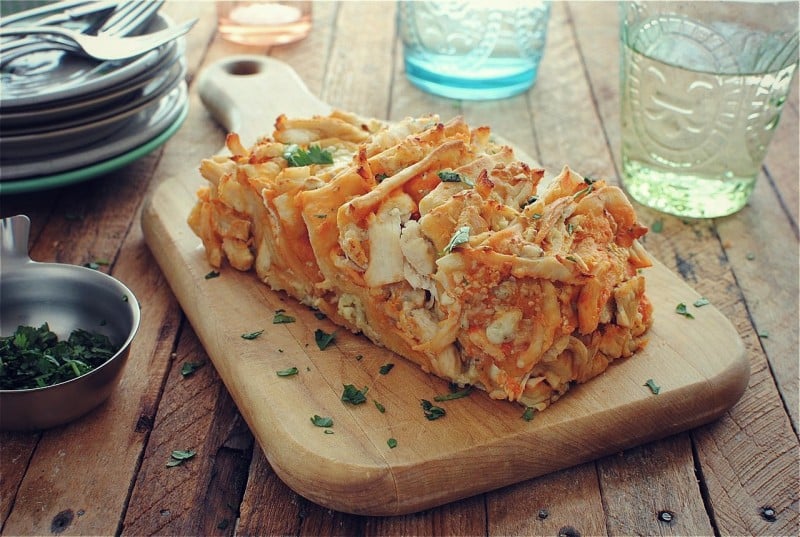 Buffalo Chicken Cupcakes (you know you want to go look)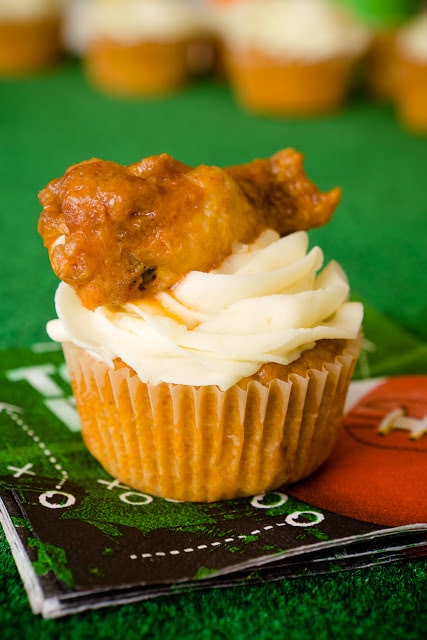 Disclaimer:  I grew up in a house that used  Bush's Beans. I am now fortunate to have an ongoing relationship with them as a brand ambassador. This post is sponsored by Bush's Beans, but as always, all opinions are my own.