Roasted Parmesan Asparagus
Do you know that I never ate Asparagus until I was in my 30's….and then I never even cooked them until last year?
They are now one of my most favorite vegetables.
I found out at Easter my mom doesn't like them, so she never fixed them when I was growing up.
They're so simple to fix like this and packed with flavor! We will often eat them two or three nights a week!
I found these directions online a year or so ago, I believe the recipe came from ~ Ina Garten the Barefoot Contessa.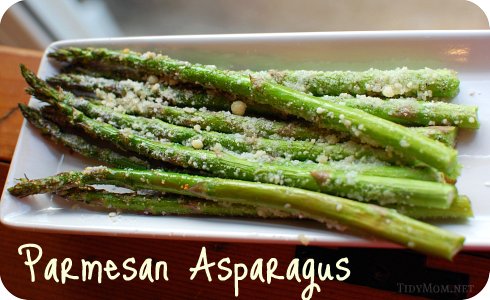 Roasted Parmesan Asparagus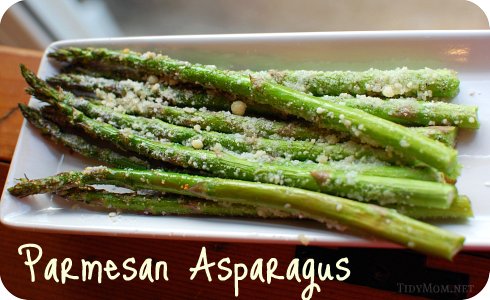 Ingredients
Asparagus
Olive oil
Salt and pepper
Parmesan cheese
Instructions
Preheat Oven to 400°
Cut off about an inch from the bottom on the stalks.
Lay asparagus in a single layer on a cookie sheet.
Drizzle with olive oil and sprinkle with coarse salt and pepper.
Place in oven to roast for approximately 10 min. - thinner asparagus may need less time.
Remove pan from oven and sprinkle with Parmesan cheese and return to oven for one to two mins until the cheese melts and turns a little brown.
Notes
The thinner ones like above I only roast for about 7-8 mins. but when I get the big fat ones I roast them for the full 10 mins.
https://tidymom.net/2010/roasted-parmesan-asparagus/
Copyright© 2009-2013 TidyMom.Net
"Like this recipe? Add it to your personal recipe box to make later or add the ingredients to your online shopping list to make it this week. Just click the Save Recipe button to get started."
Do you like Asparagus? If so, do you have a favorite way to fix them?