Lemon Burst Cake Mix Cookies You Can't Say No To
Enjoy the burst of lemon flavor from these light and soft baked cookies. Lemon Burst Cake Mix Cookies taste just like spring in a cookie!

click to see more of my recipe videos
I had a nice response last week with the Funfetti Cake Mix Cookies we made.
One of my fabulous readers, Alicia  shared another cake mix cookie recipe with me in the comments. Lemon Burst Cake Mix Cookies are just as easy and involves a lemon cake mix and cool whip.
I'm a HUGE fan of lemon, and Heather wanted a special treat to take into work for a co-worker's birthday ……… easy and delicious was all I had time for.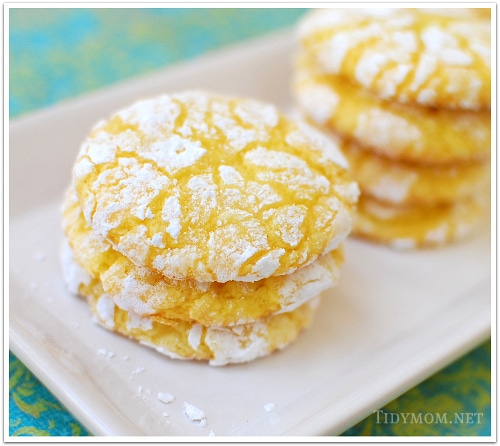 This post may contain affiliate links. Please read my disclosure policy here.
Tips for Lemon Burst Cake Mix Cookies
This cookie dough is a little easier to handle if you refrigerate about an hour before dropping in powdered sugar, but it's not required.
You don't want to make these cookies too big, the key is to keep them small.
Since the cookie dough is sticky and to keep your cookie size small and consistent, try using a small cookie scoop to drop cookie dough into powdered sugar, for easier handling.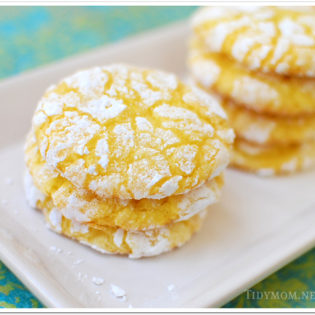 Lemon Burst Cake Mix Cookies
Enjoy the burst of lemon flavor from these light and soft baked cookies.
Ingredients:
1 box Lemon* Cake Mix (with pudding in the mix)
1 (8 ounce) container Cool Whip, completely thawed
1 large egg, beaten
1/2 cup powdered sugar (for rolling)
Directions:
Preheat oven to 350°
In a medium bowl combine dry cake mix, and beaten egg. Mixture will be crumbly. Fold in thawed Cool Whip until well combined. Dough will be thick and sticky.
Drop by teaspoonfuls into a bowl of powdered sugar and roll to coat.
Place on cookie sheet lined with parchment paper or silicon baking sheet. Bake for 10- 12 minutes or until slightly set and tops are cracked. Cool on pan for 5 minutes then transfer to wire racks to cool.
*Try making these cookies using strawberry or orange cake mix for variety.
Making this recipe? Share it with us on Instagram using the hashtag #TidyMom so we can see what you're creating in the kitchen!
Want more great recipes like this? Follow my TidyMom Easy Recipes Pinterest Board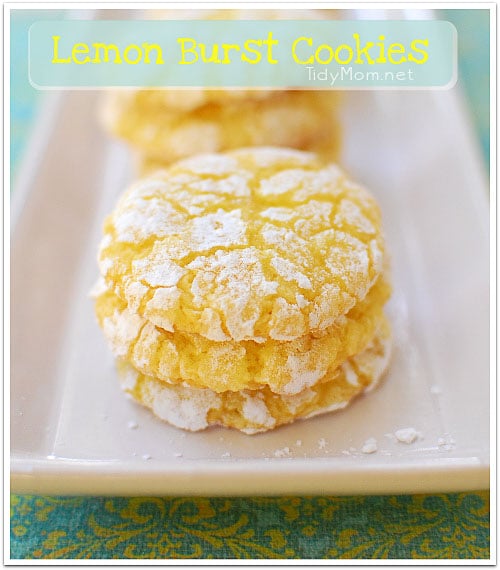 You Might also enjoy these lemon recipes:
Like this Lemon Burst Cake Mix Cookies recipe?  Pin it!