White Bean Chicken Chili
This White Bean Chicken Chili is, hands down, THE most requested meal at our house for the last 15 years! It's a hearty one-pot meal is made with white chili beans, chicken, peppers, and lots of spices that you can have on the table in under an hour. It's even better the next day!
If you love great chili recipes that are even better the next day, you'll want to check out my recipes for Buffalo Chicken White Chili and Creamy Taco Chili, and Pumpkin Chili.
Be sure to sign up for my email… to get new recipes and ideas in your inbox!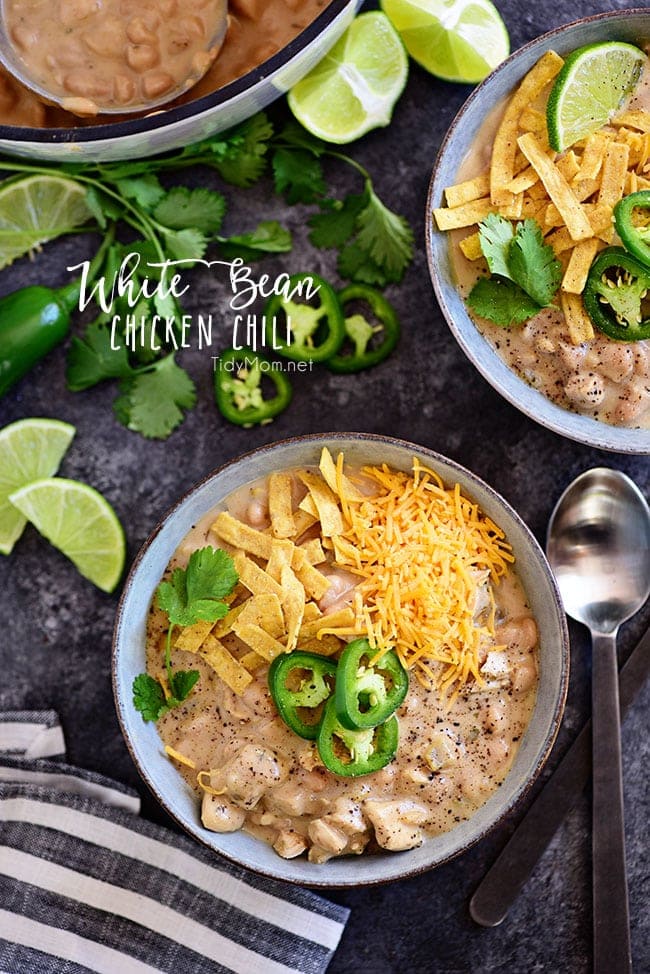 Click HERE to save recipe to Pinterest!
There's just something about windy chilly fall days!!!
It's truly my favorite time of year!
Our temps have been in the 60's and dinner time has had me in the mood for my " first of the season" pot of chili – White Bean Chicken Chili that is!!
This one is a favorite around our house!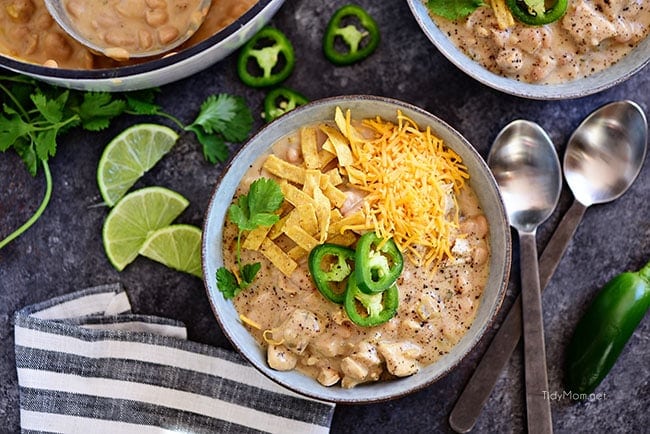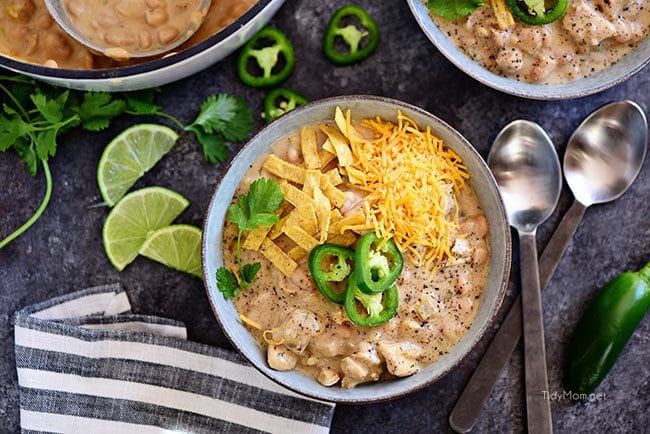 EASY WHITE BEAN CHICKEN CHILI
It's easy to cook a big pot of this family favorite white chicken chili, and it's the absolute best! White chili beans, tender chicken, green chilies, cream, chicken broth, and spices are all you need for this winning chili recipe.
The chicken is sauteed in the pot with spices like cumin, tarragon, crushed red pepper, and garlic. Once the chicken is cooked, you add the beans, chilies, broth, and cream and let it simmer! It doesn't get any easier than that!!
It's such a simple recipe, the only problem I have with it is, it's never quite enough!
You may want to double the recipe, we only get about 5 servings out of one batch – and this is something that is DEFINITELY good left over!
Edited December 8, 2017: While I used cannellini beans in this recipe for years, I started using Bush's White Chili Beans several years ago and love them! They make our favorite white bean chicken chili even better. They slow cook great northern beans until they're tender, then simmer them in a white chili sauce perfectly seasoned with garlic, cumin, and onion.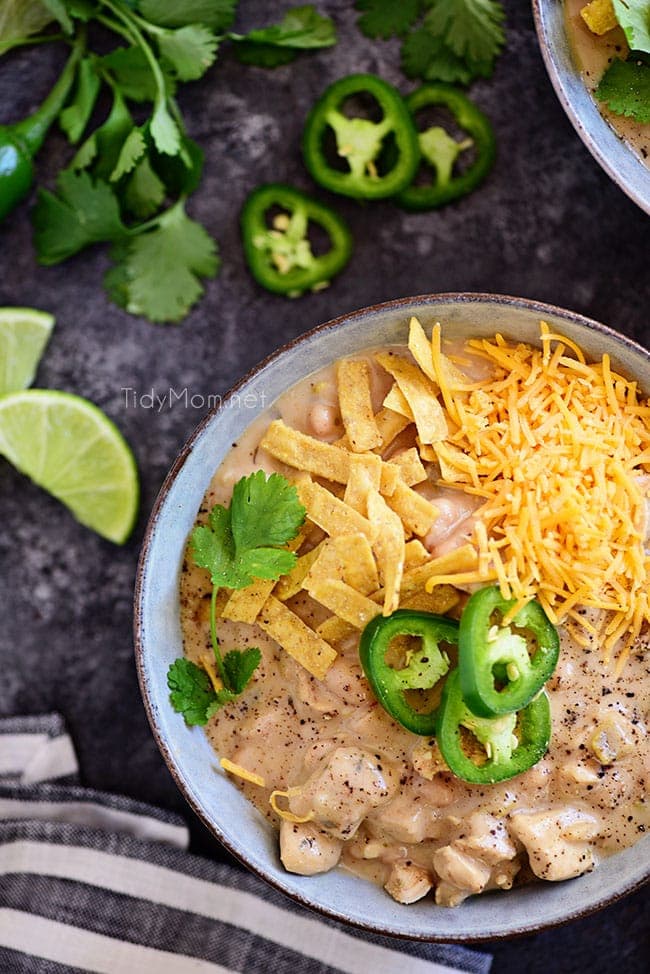 This Hearty Pepper Chili, Smoked Bacon Chili, and Chili Con Carne are on my radar to try soon too. I love having a tasty selection of chili recipes in my recipe box. I don't think it could ever be possible to have too many chili recipes.
LIKE THIS WHITE BEAN CHICKEN CHILI RECIPE? PIN IT!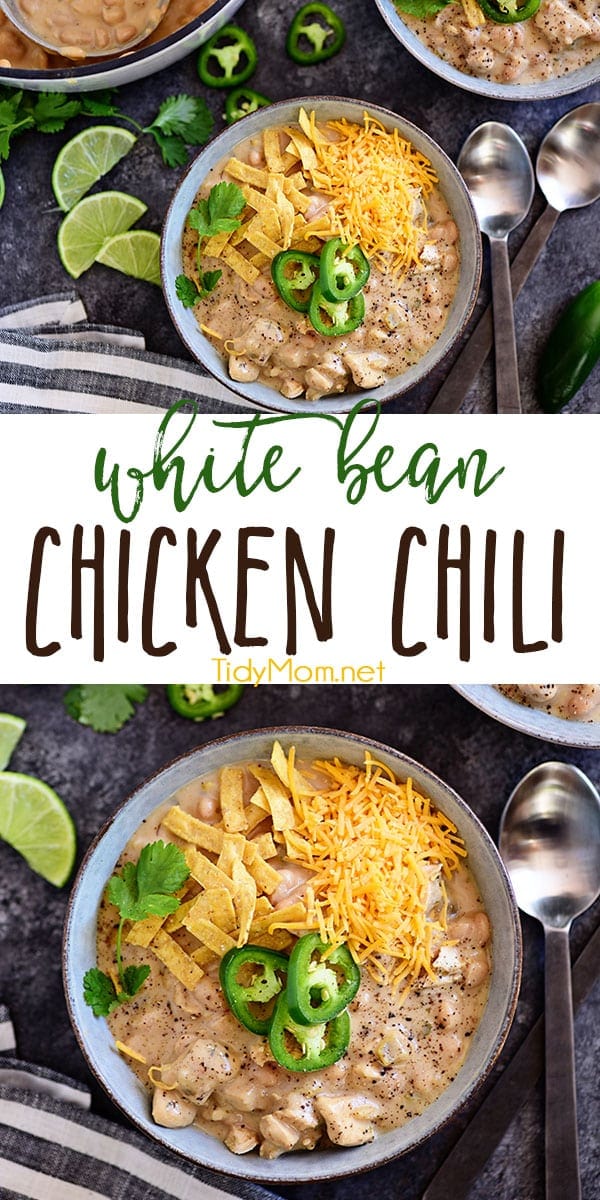 *This would be a great chili recipe for National Chili Day on February 24
Is it cool where you are yet?
What's your favorite "first cool day of the season" dish to make?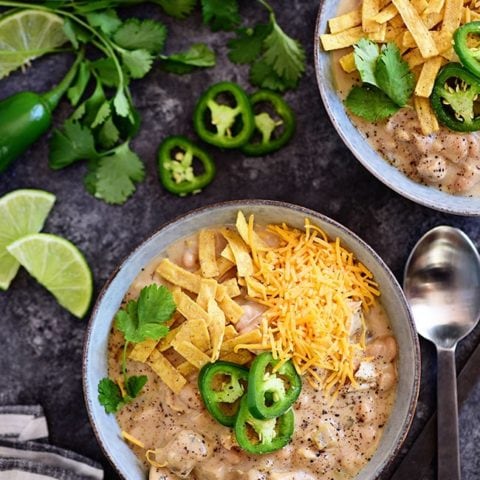 White Bean Chicken Chili
Yield: 5-6 servings

Prep Time: 5 minutes

Cook Time: 40 minutes

Total Time: 45 minutes

This White Chicken Chili is ready in about 45 minutes, but can be prepared a day ahead – it's even better the second day!
Ingredients
2 tablespoons veg oil
4 large garlic cloves, chopped (I use the minced in the jar)
1 tablespoon ground cumin
1 teaspoon dried oregano
1/2 teaspoon tarragon
salt & pepper to taste
1/4 to 1/2 teaspoon dried crushed red pepper (if you don't want it as HOT use 1/4)
1 pound boneless skinless chicken breast, cut into 1-inch pieces
1 cup chicken broth
1 (4.5-ounce) can diced green chilies
1/2 cup whipping cream
Grated cheddar cheese (optional)
Instructions
Heat the oil in a dutch oven (or large heavy pot) over medium heat, add garlic, cumin, oregano, tarragon and red pepper. Saute for about 3 minutes. While that is sautéing, season cut chicken with salt and pepper and add to the pan. Saute for an additional 5 minutes, until chicken is cooked through.
Add beans, chicken broth, green chilies and cream to pot, stir to combine. Simmer for about 10 minutes, then cook on low for at least 30 mins. If you can let it simmer for a few hours it's even better!
Serve in a bowl and top with cheese.