Recipes
Lemon-Raspberry Coffee Cake
Brighten your morning with this tart coffee cake bursting with sweet raspberries.
One of my favorite parts about the change of seasons, besides the weather, is the change of flavors!  and Spring is all about lemon!  It's bright, vibrant color, fragrance and flavor just scream spring.  Pairing lemon with raspberries…….well that's just a match made in heaven!  Spring to summer heaven.
I was recently going thru some recipes I have bookmarked and knew now was the perfect time for this Lemon-Raspberry Coffee Cake!  It's tangy sweet, moist, and everything I could wish for in a cake.
If you like cake for breakfast,this is going to be your favorite coffee cake recipe ever.. This breakfast cake is tender with a bright tartness that will make your lips pucker just bit……when suddenly it's bursting with sweet raspberries.
Let's start at the bottom. Classic buttermilk coffee cake holds it all together. Smooth lemony cheesecake filling next sandwiched in between another layer of the buttery cake.  Baked right on top, sweet raspberries are placed half way thru baking, and the whole thing is sprinkled with powdered sugar and served warm!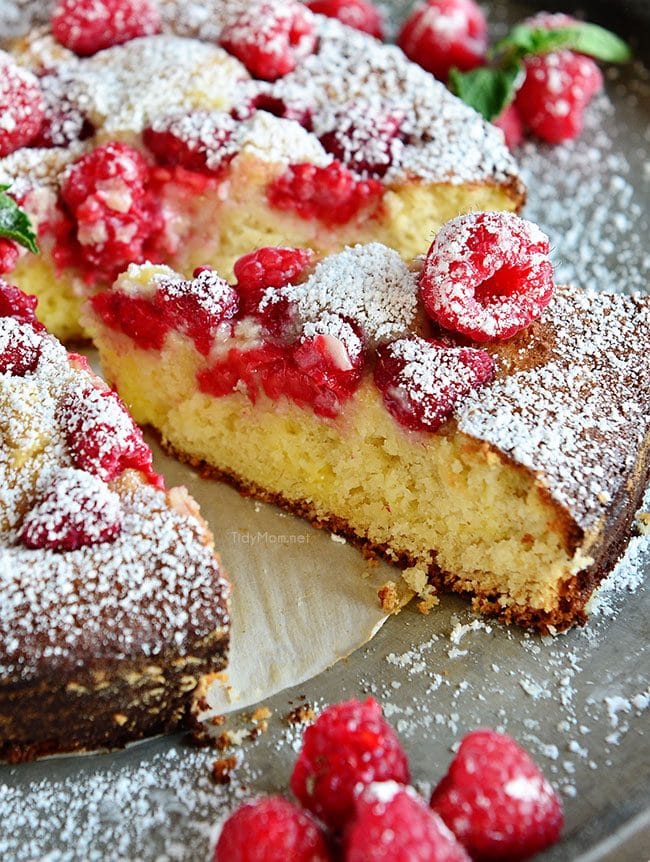 This is by far my favorite coffee cake I've had in a long time!  But, you don't have to save this lemon raspberry coffee cake for breakfast, it would also be the perfect dessert after a BBQ or any meal. It blows all of those decadent chocolate desserts out of the water. It's light, citrus-y, fruit-y, just the right amount of sweet …..a spectacular way to end a meal.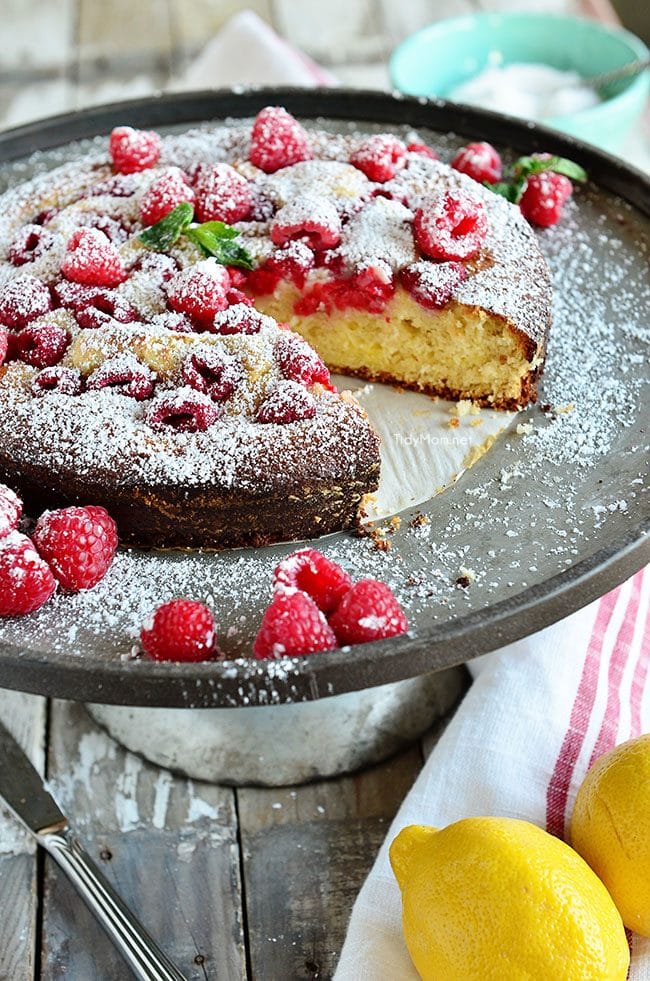 Speaking of, I think I'll go have a leftover piece right now.  🙂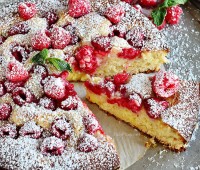 Lemon-Raspberry Coffee Cake
Brighten your morning with this tart coffee cake bursting with sweet raspberries.
Yield: 10 servings
Prep Time: 15 minutes
Cook Time: 45 minutes
Total Time: 1 hour
Ingredients:
1 1/2 cups all-purpose flour
1 1/2 teaspoons baking powder
1 1/4 cups granulated sugar
3 ounces cream cheese, softened
1-2 teaspoon finely shredded lemon peel
1 cup fresh or frozen raspberries
Powdered sugar and fresh raspberries (optional for garnish)
Directions:
Preheat oven to 375 degrees F. Lightly grease the bottom of a 9 inch round cake pan and line bottom of pan with parchment. Grease and lightly flour pan; set aside.
Combine flour, baking powder, baking soda, and salt in a medium bowl, and set aside.
Using an electric mixer, beat 1 cup of the granulated sugar and butter on medium to high until combined. Add 1 egg and vanilla. Beat on low to medium for 1 minute. Alternately add flour mixture and buttermilk to sugar mixture, beating just until combined after each addition; set aside.
For cheesecake filling, in a small mixing bowl beat cream cheese and remaining 1/4 cup granulated sugar with electric mixer on medium to high until combined. Add lemon peel and remaining egg; beat until combined.
Spoon half the cake batter into the prepared pan, spreading to edges. Pour filling over batter, spreading to edges. Dollop remaining batter on filling, carefully spreading to edges of pan.
Bake for 20 minutes or until puffed. Gently press raspberries into cake. Bake 25 to 30 minutes more or until a toothpick inserted near center comes out clean. Cool in pan on wire rack for 10 minutes. Loosen edges of cake from pan; remove from pan. Serve warm, sprinkled with powdered sugar and topped with additional raspberries.
This recipe says to serve warm, which is absolutely delicious warm, but it's ever bit as good room temperature or cold.
Making this recipe?  Take a picture and share it on Instagram! Make sure to tag it #TidyMom so we can see what you're creating in the kitchen!


 What's your favorite flavor for Spring?
More Lemon Raspberry Recipes You Might Enjoy:
Raspberry Lemonade Bars at TidyMom
Raspberry Lemon-Glazed Muffins at The Food Charlatan
Spiked Raspberry Lemonade at Recipe Girl
Raspberry Lemon Icebox Cake at Kitchen Treaty
Raspberry Lemon Cream Tarts at Lauren's Latest
Black Raspberry & Lemon Crush Ice Cream Cupcakes at TidyMom
Lemon Raspberry Cheesecake Bites at Shugary Sweets

You May Also Like...