Nutella Gooey Butter Cake
Just let that picture soak in a minute.
I wish I could send smell over the computer  – because this Nutella Gooey Butter Cake made my house smell incredible!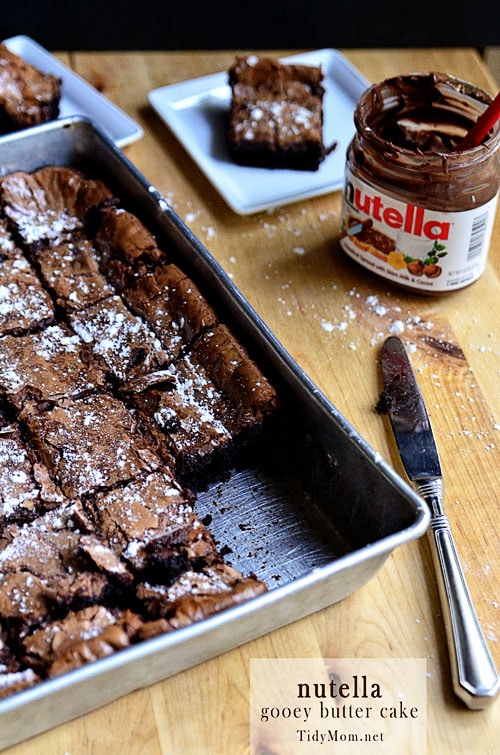 This past weekend was Allison's Homecoming Dance.  There was a little mixup with dinner reservations, so since all the kids were planning to meet at one house to take pictures, they decided to just have dinner there, and everyone could bring a dish.
Of course Allison signed up for dessert and quickly informed me that anything Nutella would be a HUGE hit!  Since Gooey Butter Cake is a dessert that we often make for parties or pot lucks, she wanted to know if we could try Nutella Gooey Butter Cake! I said, "I don't see why not!"
I just switched out the yellow cake mix, for Duncan Hines Dark Chocolate Fudge Cake Mix and added a cup of Nutella and a little vanilla to the filling.
They look like brownies, but they are WAY better than any brownie you've ever eaten!  If you never had Gooey Butter Cake, it's a flat dense cake with a gooey cream cheese filling on top, and a perfect sugary crisp crust forms over the filling,  that's usually garnished with a sprinkling of powdered sugar.
It's a dessert with a St. Louis origin, and can be found in most every St. Louis grocery store and bakery.  Gooey butter cake is now widely available outside of the St. Louis area.  Thanks to Paula Deen,  you can find recipes for many varieties, such as  Pumpkin Gooey Butter Cake.
But Nutella? Genius I tell you!  Someone needs to package the smell!  I'm pretty sure my neighbors were blessed with the sweet chocolate and hazelnut aroma wafting from our open windows.
The Nutella Gooey Butter Cake and Chocolate Chip cookies I made were devoured!
and the kids…………they had a great time!
Nutella Gooey Butter Cake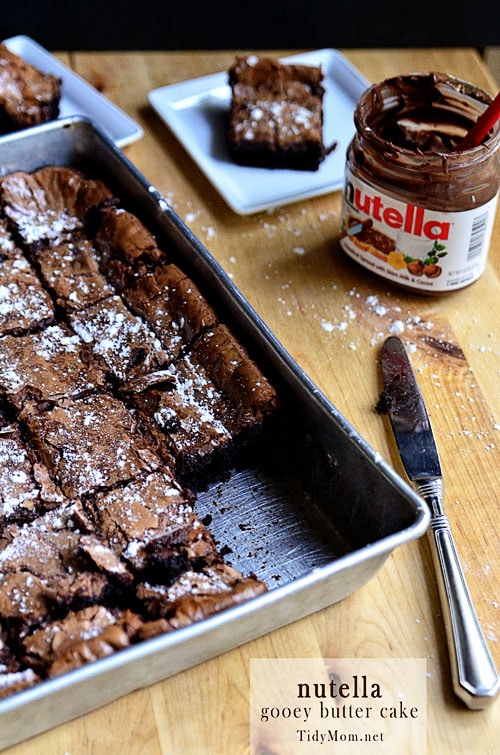 Nutella adds a delicious twist to a St. Louis tradition, where the cake becomes the crust and holds a gooey cream cheese and Nutella filling. It's a great addition to parties or potlucks and can be prepared up to three days in advance, getting better with time.
Ingredients
For the Cake

1 (18-1/4 ounce) Box Duncan Hines Dark Chocolate Fudge Cake Mix
1 large Egg
1/2 cup butter, melted

For Filling

8 oz cream cheese, softened
2 large eggs beaten
1 cup Nutella
1 teaspoon vanilla
2 cups powdered sugar
Instructions
Heat oven to 325° F and lightly grease 13x9-inch pan
Using an electric mixer, combine cake mix, 1 egg and melted butter until well incorporated. Press into bottom of greased pan with fingers.

For Filling:

Using an electric mixer, blend, cream cheese, 2 beaten eggs, nutella and vanilla. Then slowly and powdered sugar and beat until smooth.
Spread filling over cake batter, and bake for 40-45 minutes, or until edges are brown. (Do not overbake, the center should be a little gooey)
Dust with powdered sugar on top after cake has cooled.
Notes
http://tidymom.net/2012/nutella-gooey-butter-cake/
Copyright© 2009-2013 TidyMom.Net
You may also enjoy these recipes