Home and Garden
Cleaning with Vinegar – I'm Lovin' It
One of my favorite cleaning "products" is distilled white vinegar.  It could possibly be the only cleaning product you will ever need!!  It's powerful, economical and best of all, natural!
The uses for distilled white vinegar are nearly endless, but I thought I'd share my Top 10 tips on How to  Clean with Vinegar: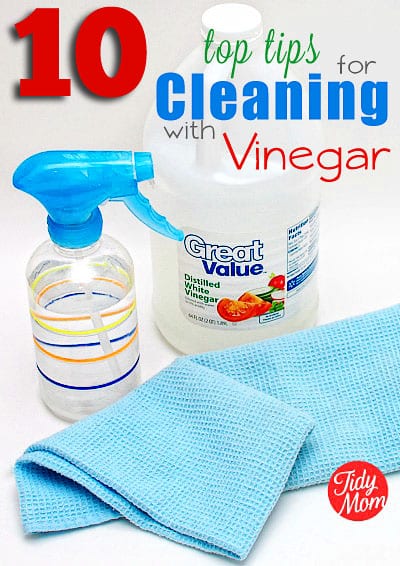 1. Cleaning Windows. I keep a spray bottle filled with half vinegar, half water then wipe clean with either newspapers or lint free cloth.
2.  Dusting. For daily dusting I keep a spray bottle filled with half vinegar, half water and lightly spray a cloth diaper and dust all surfaces in my house.
3.  Carpet spills. First I  use a cloth to soak up as much of the liquid as possible. Next, I spray a bottle filled with a mixture of half vinegar, half water. Let stand for about two minutes, then blot with towel or sponge. Repeat as needed.
4.  Clean Hard Water Build Up. We have hard water, so things like faucet and shower heads get gunked up.  I remove the heads and soak in a bow of vinegar in til loose, then scrub with a brush.  They will then look brand new!
5.  Clean Coffee Maker. Again, the hard water builds up in my coffee maker, making it take much longer to brew a pot of  coffee.  Fill coffee pot with 1/2 vinegar and 1/2 water and pour thru machine (no need to turn it on, it donesn't have to heat up).  I then run about 4-5 pots of clear water thru to clean out all traces of vinegar. I make coffee daily, so I do this once a month.
6.  Clean No-wax floors. Using a solution of 1 cup vinegar per gallon of water clean no-wax floors for a shiny surface.
7.  Prevent Mildew in Shower. I spray shower walls and shower curtain with half vinegar  and half water to help prevent mildew.
8.  Remove odors from kitchen sink. I wipe down entire sink with straight vinegar (great for removing waterspots too) then pour one cup of vinegar down drain, wait one hour before rinsing.  (I throw a towel across the faucet to help me remember not to use it)
9.  Clean and deodorize microwave. Using a microwave-safe bowl, fill with 1/2 cup of vinegar and 1 cup water.  Place in the microwave, and cook long enough to boil. Let it sit in microwave while it cools.  You can then easily wipe down inside of microwave and  lingering odors should disappear.
10.  Clean refrigerator. Mix a gallon of warm water and 2 cups of vinegar to wipe down inside of refrigerator, including shelves, walls, and jars.  Your refrigerator will be clean and smelling clean with out harming any food.
I'm Lovin' Cleaning with Vinegar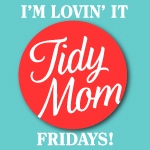 Now it's your turn!  Please remember to link back to Tidymom.net
Let us know what you're lovin' this week!
If you have something to share with us on your blog, add your link below.
*Don't forget to come back over the weekend for the I'm Lovin' It Wrap Up post……where I feature a few of the great links!!
What is I'm Lovin' It Fridays? get all the info, how to's and button here

You May Also Like...