Vanilla Pumpkin Cupcakes w/ Cinnamon Buttercream
The perfect cupcakes for the season, a moist Vanilla Pumpkin cake topped with Cinnamon Buttercream frosting.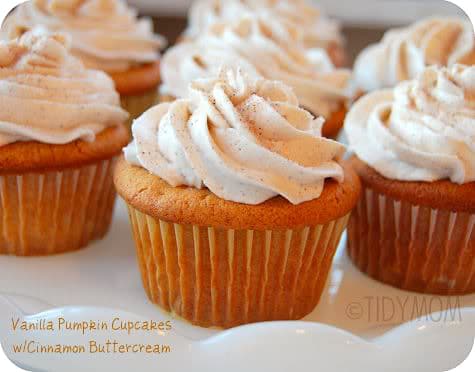 If you've been reading my blog for any time, you know my love affair with anything pumpkin. So when I spied Kraft's Jello Instant Pumpkin Spice Pudding Mix I just KNEW I had to make something with it!! – not a pie, although they do have a yummy Triple Layer Pumpkin Spice Pie recipe on the Kraft website
I had visions of cupcakes! A soft moist vanilla cupcake with just a hint of pumpkin! And why not top it off with Cinnamon Buttercream Frosting!……and hey, sprinkle a little cinnamon and sugar on top!!
Oh YUM!!! these cupcakes turned out even better than I had dreamed!?
I'm making another batch for thanksgiving!! What a great treat for the young, and not so young!
Grab up a few boxes of the Kraft Jello Pumpkin Spice Instant Pudding mix on Amazon or if you see it at your local grocer, it's only available for a limited time!
Vanilla Pumpkin Cupcakes w/ Cinnamon Buttercream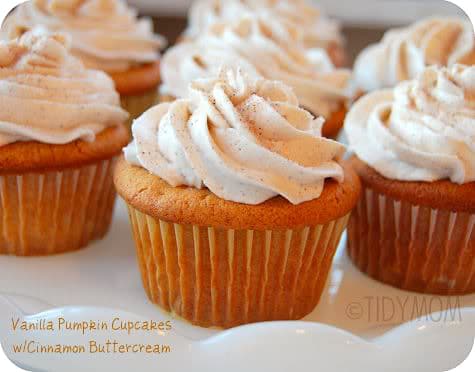 Ingredients
Vanilla Pumpkin Cupcakes

1 Box Betty Crocker Super Moist French Vanilla cake mix
1 pkg. Jello Instant Pumpkin Spice pudding mix
1 cup sour cream
1 cup softened butter
4 eggs
1/2 cup milk
1 tsp vanilla
1/2 tsp Pumpkin Pie Spice

Cinnamon Buttercream Frosting

1 cup real butter (softened)
1 cup vegetable shortening
1 pinch of salt
1/4 tsp vanilla extract
4 cups powdered sugar
1 tsp cinnamon
1/3 cup heavy whipping cream
Instructions
Vanilla Pumpkin Cupcakes

Preheat oven to 350° F. In a large bowl mix all ingredients, batter will be very thick.
Bake cupcakes 23 mins (test with toothpick)

Cinnamon Buttercream Frosting

In a mixing bowl, blend butter and shortening until smooth. Add a pinch of salt, vanilla and cinnamon. Continue mixing until well blended. Gradually add powdered sugar 1 cup at a time, beating well after each addition. Eventually you will have a very thick gooey mixture. On the highest speed of your mixer, stream in the heavy whipping cream- pour nice and slow.
Continue beating on high speed until frosting is fluffy.
Sprinkle tops with cinnamon and C&H sugar!
Notes
*my first batch of cupcakes fell – not sure why because I don't think they could have baked any longer – but they still tasted great and you couldn't tell with the frosting on top!
http://tidymom.net/2009/vanilla-pumpkin-cupcakes-w-cinnamon-buttercream/
Copyright© 2009-2013 TidyMom.Net
NEW FEATURE: Save recipes to your personal recipe box with the

Once you have your favorite recipes in your Recipe Box create a Meal Plan with them and the ingredients will automatically be added to a Grocery List!
ENJOY!