Strawberries and Cream Magic Bars
Strawberries and Cream Magic Bars made with fresh glazed strawberries and a sweet cream cheese layer with a Golden Oreo cookie crust! Chill for a tasty summer dessert!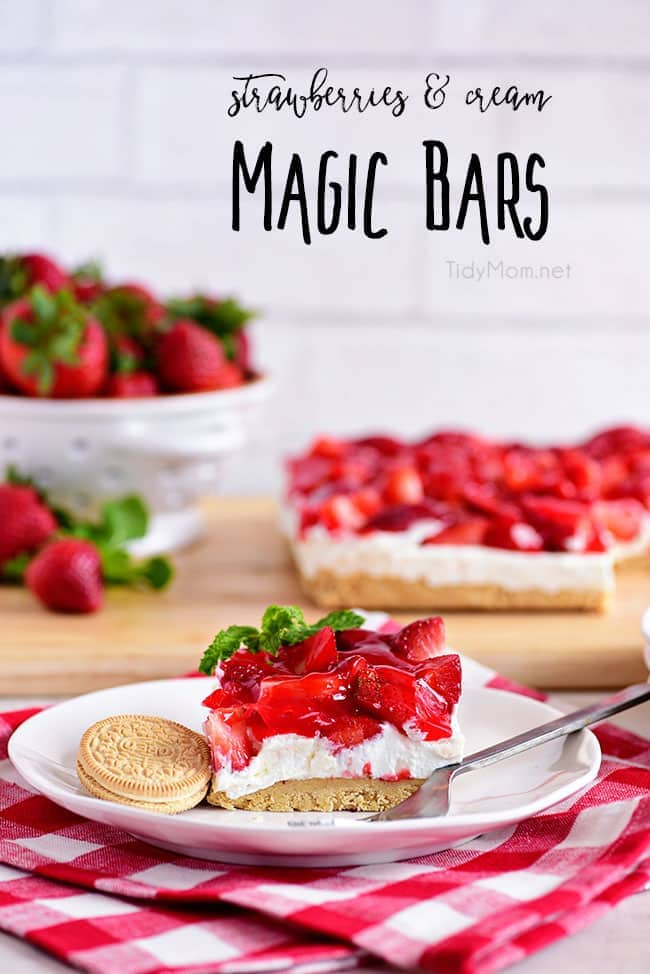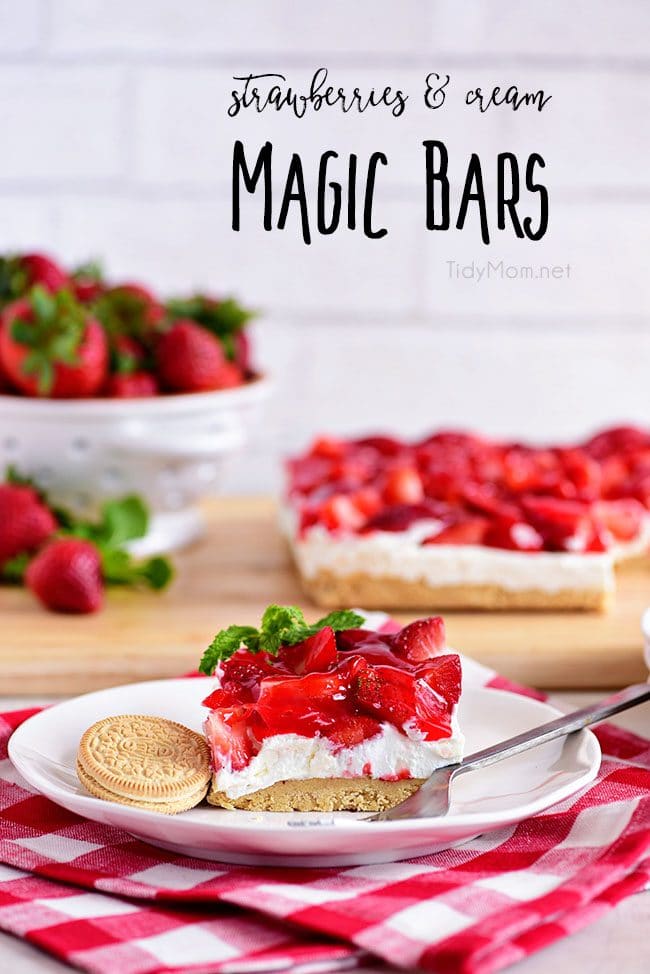 Strawberries and Cream Magic Bars
Fresh fruit… homemade whipped cream… oreo cookie crust… Dessert doesn't get any more magical than that. Each layer in these Strawberries and Cream Magic Bars come together in harmony for a dreamy and refreshingly light dessert bar.
I like to call this the dessert for when you can't decide on one dessert. You'll feel like you're getting a three for one dessert special with every bite, and I'm not sure about you, but I'm here for it!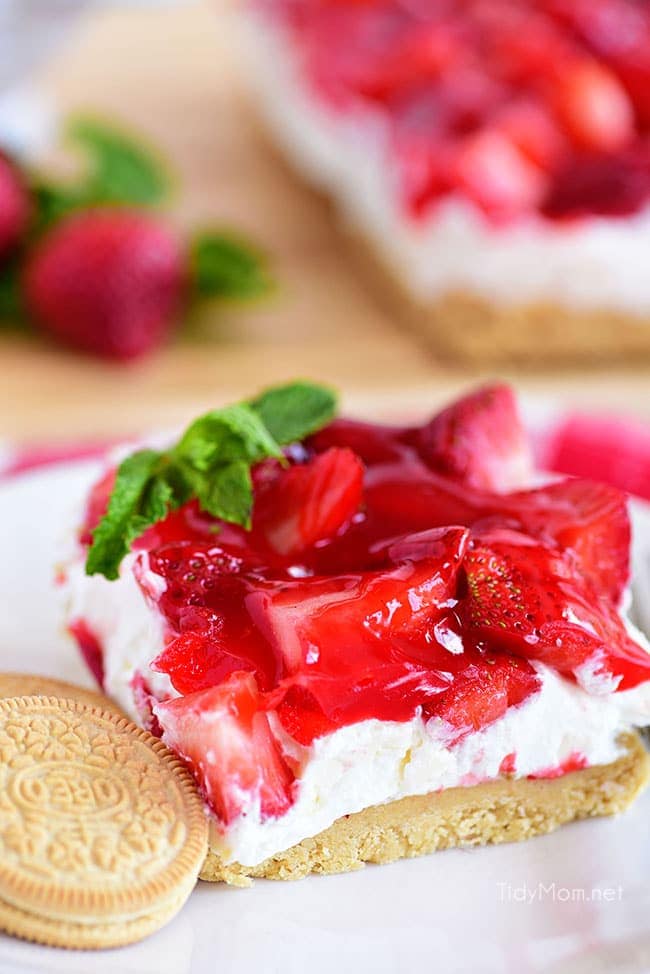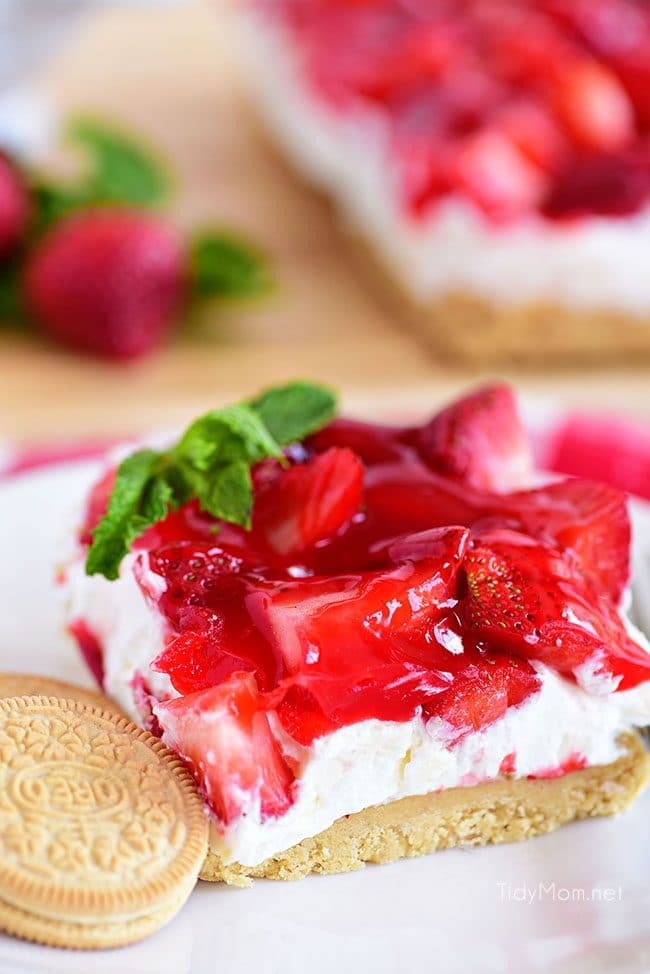 What's In Strawberries and Cream Magic Bars?
Whats amazing about these magic bars is that every layer brings its own completely different flavor to the table, then they all work together to create one amazing dessert.
First, you start with your cookie layer, followed by cream cheese whipped cream, topped off with the fresh strawberries and glaze mixture.
Don't be intimidated by several layers though, each layer is very simple, and the whole thing can be put together in 30 minutes or less. It's the perfect recipe for any novice baker that wants a show-stopping finished product!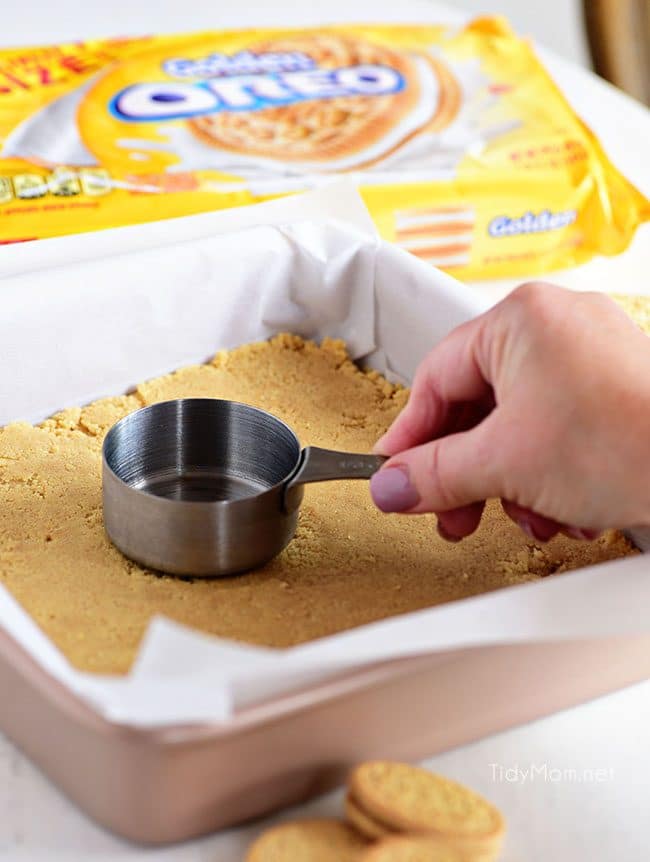 How to Make A Cookie Crust For Magic bars
You honestly can't go wrong with a cookie crust when it comes to any dessert. My motto is when in doubt, add a cookie crust. Now don't get me wrong, I never discriminate when it comes to a cookie crust. All flavors, shapes, and sizes are welcome in my book.
With that being said though, I have a serious addiction to anything with crust using Golden Oreos. I don't know what it is, but they are honestly just a game changer. If this one recipe isn't enough to make you believe me, go check out my Double Berry Cheesecake Lush, you won't be disappointed.
I'm sure you're like okay, I get it cookie crusts are awesome, now tell me how to make it. Your wish is my command. This crust is incredibly easy. First crush up your cookies, filling and all, using a food processor, or a zip-top bag and a rolling pin.
Combine the crushed cookies with the butter using a fork, then press the mixture into the bottom of the prepared pan. A pro tip I always follow is to use a measuring cup to get an evenly pressed crust layer. It avoids the mess of using your hands and gives a prettier finished look.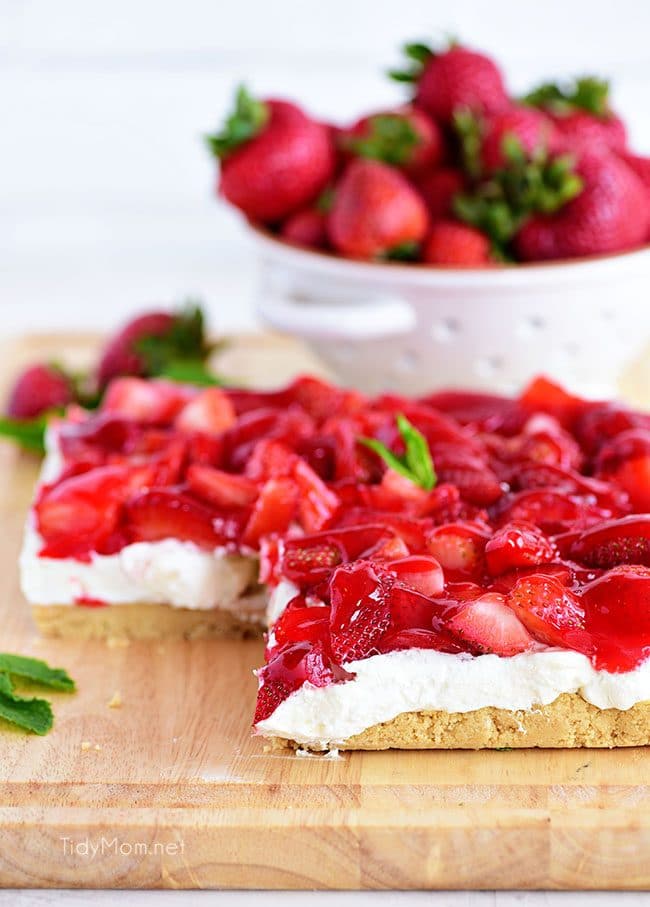 Tip For Serving the Best Magic Bars
With any dessert that looks as good as this one, it's hard to wait to eat it. You're going to want to grab a fork the minute you get that last strawberry poured. I hate to be the Debby Downer here, but I'm going to have to ask you to refrain for at least one hour while it chills.
This is only for your own good. The chill time will allow for those perfectly cut pieces and more delicious combined flavors. To really make the look pop, garnish with some fresh mint, and add a cookie on the plate for an extra treat.
Bring these bad boys to any backyard party, or make it the perfect ending to your weeknight dinner.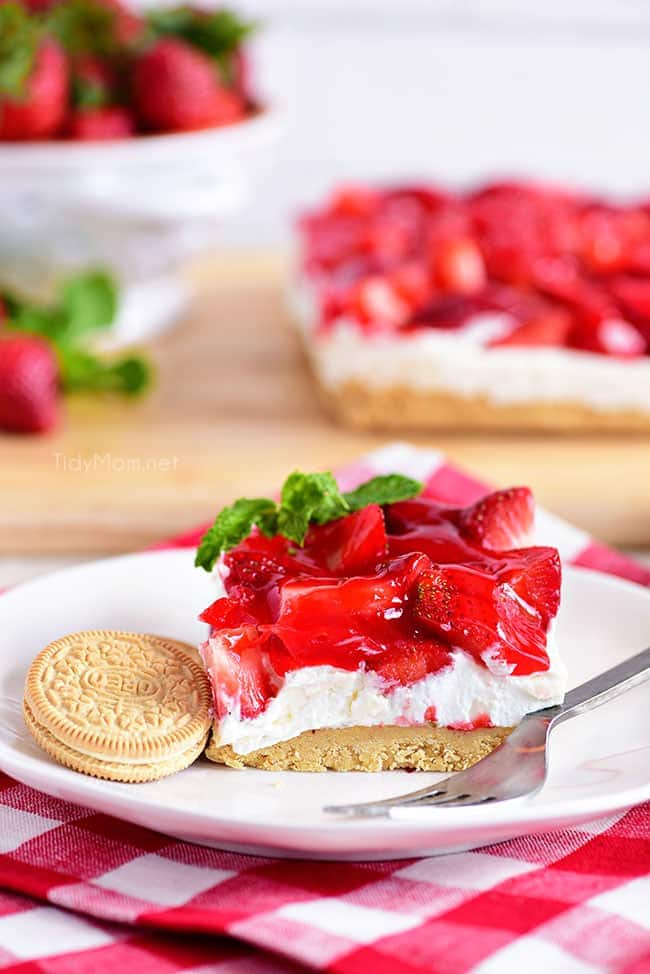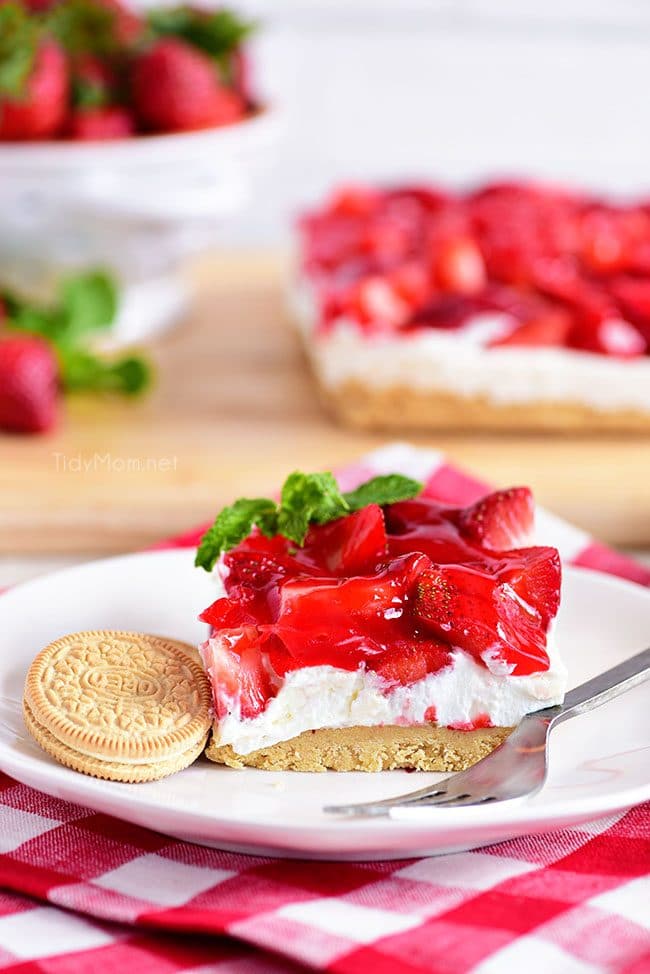 Strawberries Galore!
We all know that summer is the best time to get all your strawberry fix in, and if you're like me, you love to go a little crazy. I'm pretty sure my family has made one or two comments that they think my skin is going to turn red from all this strawberry intake. If it happens I'll embrace it because I can't stop, won't stop until strawberry season is dead and gone.
Since I've been around the strawberry recipe block a time or two this season, it would just be cruel to keep all my finds to myself. So, here are some of my favorite strawberry recipes of all kind.
Strawberry Chicken With Avocado
Crustless Strawberry Pie with Jello
Strawberry Gooey Butter Cake With Oreo Cookie Layer
Like This Strawberries and Cream Magic Bars Recipe? Pin it!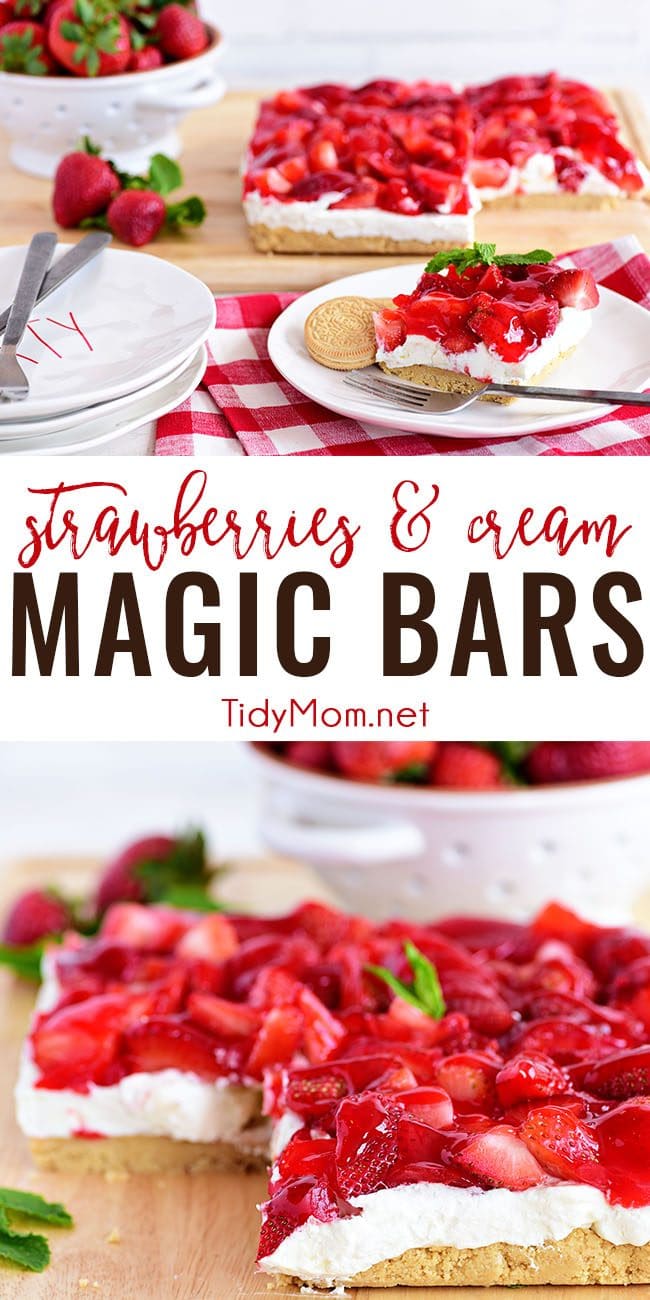 Strawberries and Cream Magic Bars To Remeber
Why just take my word for how good these magic bars are? Try them and see for yourself and don't forget to share some with your friends too! I won't blame you if you decide not to though, some things are too good to share.
Whether or not you decide to share your finished product, don't skip sharing your thoughts with me! Comment what you thought of them, or tag me on Instagram when you snap that perfect pic. I hope you love them as much as my family did!
Strawberries and Cream Magic Bars
Total Time:
1 hour
30 minutes
Strawberries and Cream Magic Bars made with fresh glazed strawberries and sweet cream cheese layer with a Golden Oreo crust! Chill for a tasty summer dessert!
Ingredients
40 Golden Oreos
1/2 cup (1 stick) butter, melted
1/2 cup water
1 tablespoon cornstarch
1/3 cup sugar
1 small box (4- ½ cup servings size) strawberry gelatin
2 cup sliced strawberries
8 ounces cream cheese, softened
1/2 cup powdered sugar
1 cup heavy cream
Instructions
Line a 9-inch square pan with parchment paper, leaving a 2-inch overhang on each side. Lightly grease with cooking spray and set aside. For crust:Using a food processor finely crush cookies (do not remove cookie filling). If you don't have a food processor, place the cookies in a plastic zip-top bag, remove excess air and seal the bag. Crush cookies by using a rolling pin over the bag until cookies are finely crushed.
In a medium bowl, using a fork combine cookie crumbs and melted butter until combines. Press crust mixture into the bottom of prepared pan. Chill for at least 30 minutes before filling.
For Strawberry Layer:Using a small saucepan combine water, sugar, and cornstarch over medium-high heat. Whisk and bring to a simmer.
Once simmering, add gelatin and whisk to combine. Remove from heat and allow to cool for about 15 minutes (be careful that it doesn't set up)
For Cream LayerUsing the whisk attachment on an electric mixer, beat cold heavy cream until still peaks form and set aside.
Using a clean bowl and electric mixer beat cream cheese until smooth. Add powdered sugar and vanilla and continue beating until combined and creamy. Carefully fold whipping cream into the cream cheese mixture.
AssembleSpread cream mixture over chilled cookie crust.
Assemble sliced strawberries over cream mixture, then pour glaze over strawberries.
Chill for at least 1 hour in the refrigerator before serving.
Remove from pan by lifting out parchment paper. Place on cutting board, slice, serve and enjoy!
Notes
For a crunchier cookie crust; bake the crust for 8 minutes at 350°F then cool completely before filling.
recipe adapted from The Seaside Baker