Sprinkle Donut Macarons
This post may contain Amazon or other affiliate links. As an Amazon associate, I earn from qualifying purchases.
Is it a breakfast cereal? a sprinkled donut? a cookie? Sprinkle Donut Macarons combine the flavors of the childhood cereal Cap'n Crunch with a fun sprinkled donuts for a delicate and delightful macaron cookie.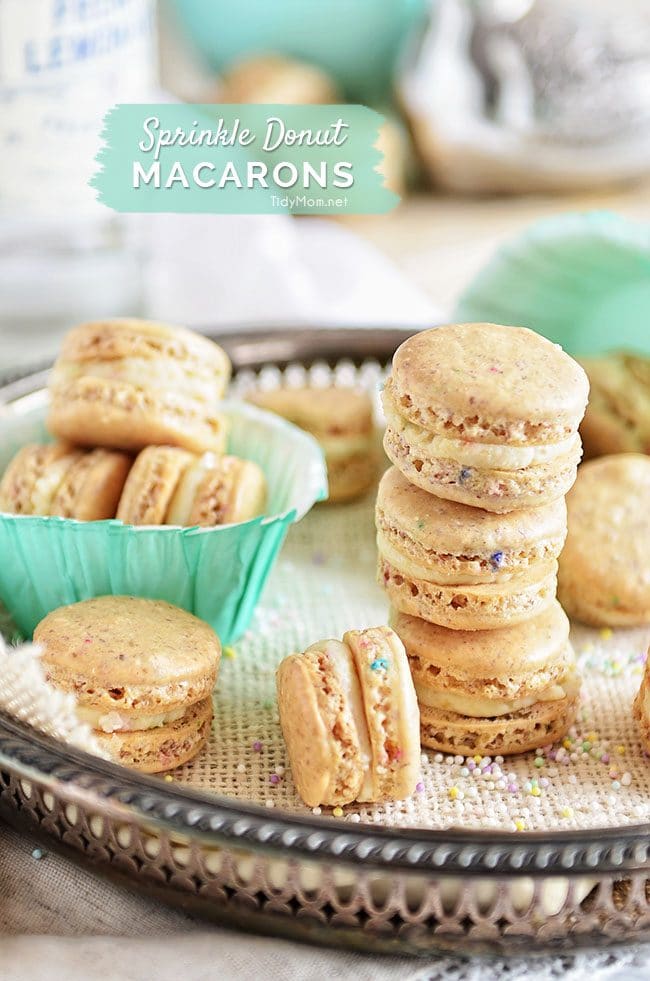 Macarons have been on my baking bucket list for quite some time. I love love love eating them, but I know macarons can be a little tricky to make. They have a reputation for being "difficult" and high maintenance. You have to sift, and age, weigh not measure, don't over mix or under mix, don't bake on a humid day…..yadda yadda yadda.
Quite intimidating for such a delicious little treat!! If you've never had a macaron, they are delicate, soft and chewy but slightly crispy with a creamy filling.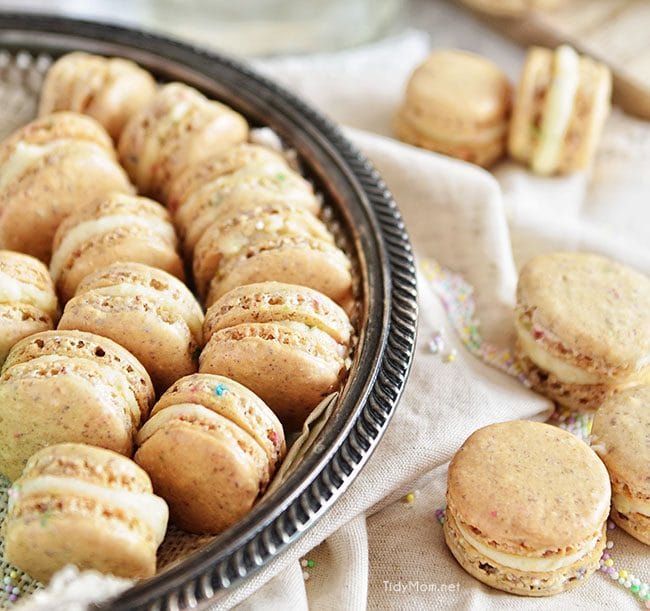 Nearly 2 years ago Jenny posted about making macarons with a few shortcuts. I knew when I was ready to try my hand at making macarons, I would try some of the shortcuts Jenny talks about here. No need to age the egg whites, don't worry about their temperature or humidity and drying out piped macarons…..fugetaboutit
The one thing you will definitely not want to skip out on is having a digital food scale. When making macarons you want to weigh, not measure your ingredients. I got my food scale several years ago and love it! it's one of those kitchen items that once you have it, you wonder how you ever lived with out it. If you bake a lot, weighing your ingredients is much more accurate. I also use it when I need to divide batter, or when I want to make all of my chocolate chip cookies the same size.
I'll be honest, I had some trouble, and my first batch of macarons didn't turn out so pretty. The upside is, even if your macarons don't turn out pretty, they still taste delicious. But while I had everything out, I wanted to try again. So I texted Shaina and Amanda a picture and asked for help!! Apparently I had whipped my egg whites too long, they were too stiff. So I turned to youtube where I found this fabulous video with macaron tips and troubleshooting, The video shows you exactly what every step should look like.
**notice (below) I did not do a very good job sifting my almond meal, powdered sugar and cereal in my second batch – so my tops are a little lumpy, but still fabulous tasting! No one said "no thank you, I don't eat lumpy macarons" 😉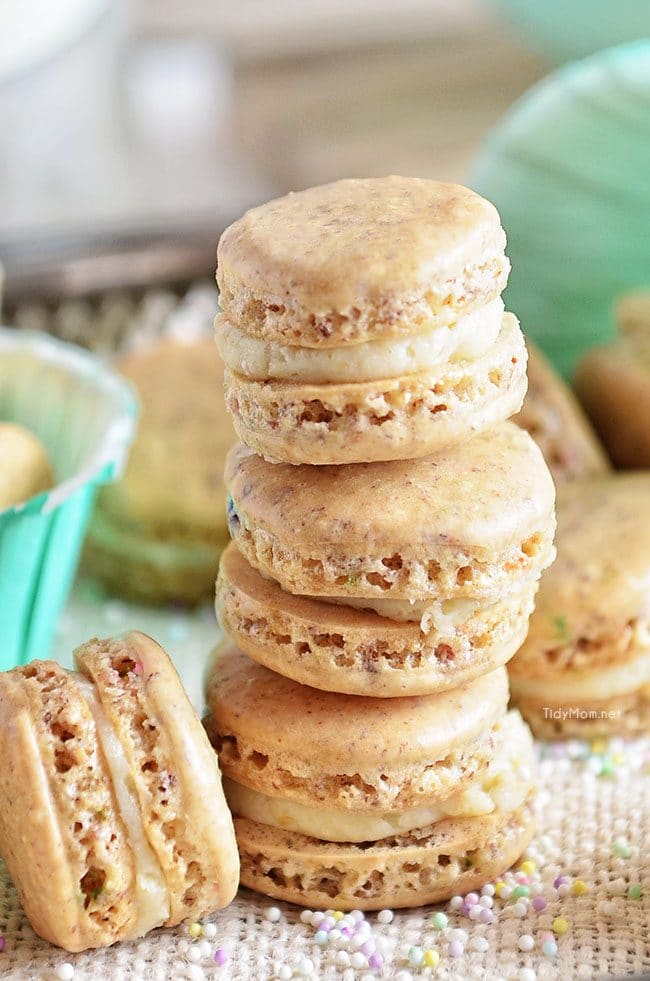 Now that I have the basics down, I can't wait to experiment with more flavors! For this batch I used crushed Cap'n Crunch Sprinkled Donut cereal in the macaron batter and in the filling! There were a HUGE hit!! Next up…..raspberry and chocolate,pistachio, lemon, the list goes on and on. If you're feeling intimidated by making macarons, please don't be. I'm kicking myself for not trying them sooner. You just need to take your time and pay attention to details. They're actually pretty simple, as long as you follow the directions perfectly.
If you want to do a little more studying before you jump in, Stella from Brave Tart is a macaron magician. Her posts on macaron making take the scary out of the equation .
Before we get started with the recipe, there are a few
supplies you will want for making macarons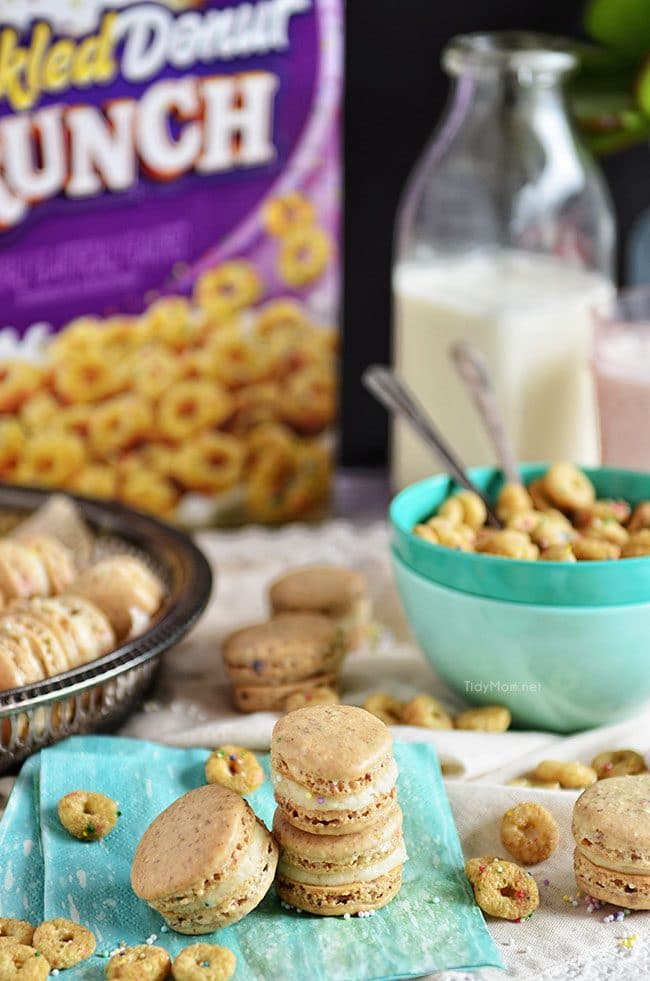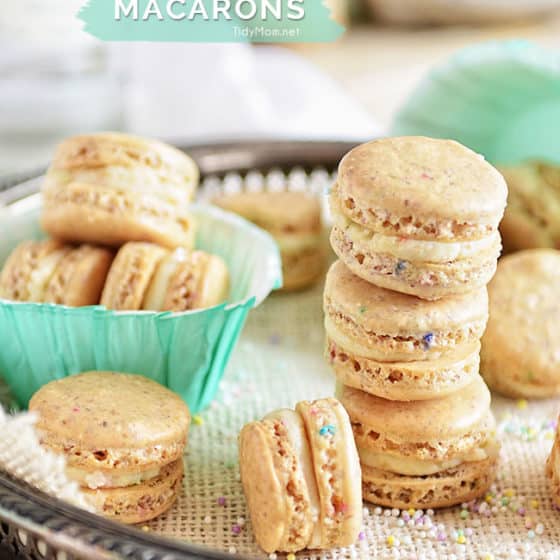 Sprinkle Donut Macarons
Yield: about 24 macaron sandwich cookies
Kick up the flavor of macarons by using Cap'n Crunch Sprinkled Donut cereal
Ingredients
95 grams egg whites (about 3 large egg whites)
65 grams almond meal/flour
200 grams powdered sugar
25 grams granulated sugar
45 grams finely groundCap'n Crunch Sprinkled Donut Cereal
Sprinkle Donut Buttercream
1 stick softened unsalted butter
1 cup powdered sugar
1/4 cup finely ground Cap'n Crunch Cereal
1/2 teaspoon vanilla extract
1/4 teaspoon kosher salt
Instructions
Preheat oven to 300F degrees, line two baking sheets with parchment paper and weigh out all your ingredients.
In a stand mixer with the whisk attachment beat egg whites until foamy, then add granulated sugar and beat on medium-high until stiff peaks form, this should take about 5-8 mins. Set aside.
Sift almond flour, powdered sugar and finely ground Cap'n Crunch together into a large mixing bowl (discard larger lumps that wont go thru sifter). Using a rubber spatula, gently fold in the egg whites to the dry ingredients, mixing only until just combined. Be careful not to over-mix or under-mix here. Generally 65-75 turns of your spatula when folding is a good rule.
Transfer macaron batter into a large pastry bag with a large round tip attached. Pipe one-inch rounds, about 1/2 inch apart onto a parchment lined baking sheet. Lift the baking sheet up a few inches and give it a hard tap on the counter least 2-3 times to release the air bubbles. This will prevent the tops of your macaroons from cracking.
Next, you can either pop them right in the oven for 20-22 minutes. Or, some people say let them sit out for 30-60 mins to allow them time to dry out a bit before hitting the hot oven. When they dry out they can't spread out in the oven, and are forced to rise up. That's what creates the feet! - but other's say this step is not necessary.
To prepare buttercream; Whip butter with an electric mixer until pale and fluffy. Slowly add sugar, vanilla and ground Sprinkled Donut Cap'n Crunch and beat on medium high until well combined, scraping down the sides of the bowl as needed.
Place buttercream into a large pastry bag with a large round tip attached. Reverse cookie shells on their backs and pipe a small mound of buttercream frosting on the center of a macaron shell and top with a second shell and very gently press together. Macarons are delicate, so be sure to handle carefully
Serve room temperature. Store any remaining macarons in the refrigerator.
**Making this recipe? Take a picture and share it on Instagram! Make sure to tag it #TidyMom so we can see what you're creating in the kitchen!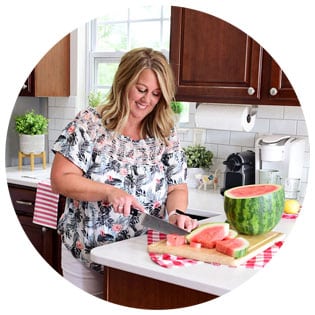 Hi there, I'm Cheryl!
As a wife, mom, and caffeine enthusiast, my journey has taken me from bustling mornings with my family to sharing delicious recipes, home care tips, and heartfelt decorating insights with wonderful readers like you. My love for baking, photography, and tidiness shines through every post I craft. Dive into my world and discover the art of homemaking, one tidy moment at a time. Read more...
Tidymom is a participant in the amazon services llc associates program, an affiliate advertising program designed to provide a means for sites to earn advertising fees by advertising and linking to Amazon.com.
Please respect my work, recipes and photographs. If you do use a recipe in your own writing, please give proper credit and link back to the original post.