Sprinkle Donut Macarons
Cap'n Crunch Sprinkled Donuts cereal isn't just for breakfast!
Is it a breakfast cereal? a sprinkled donut? a cookie?  Sprinkle Donut Macarons combine the flavors of the childhood cereal Cap'n Crunch with a fun sprinkled donuts for a delicate and delightful macaron cookie.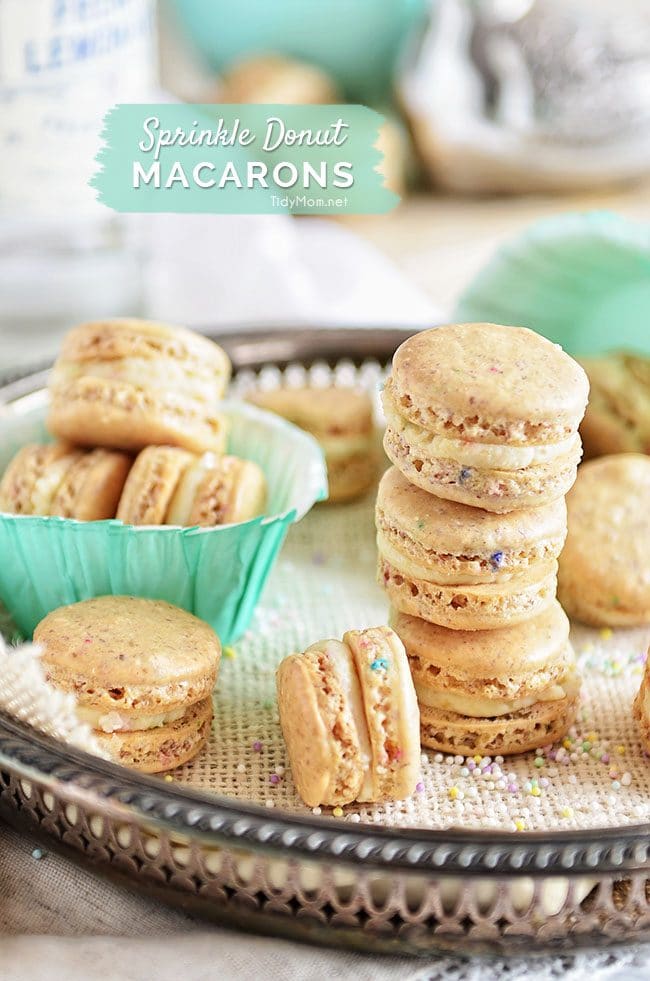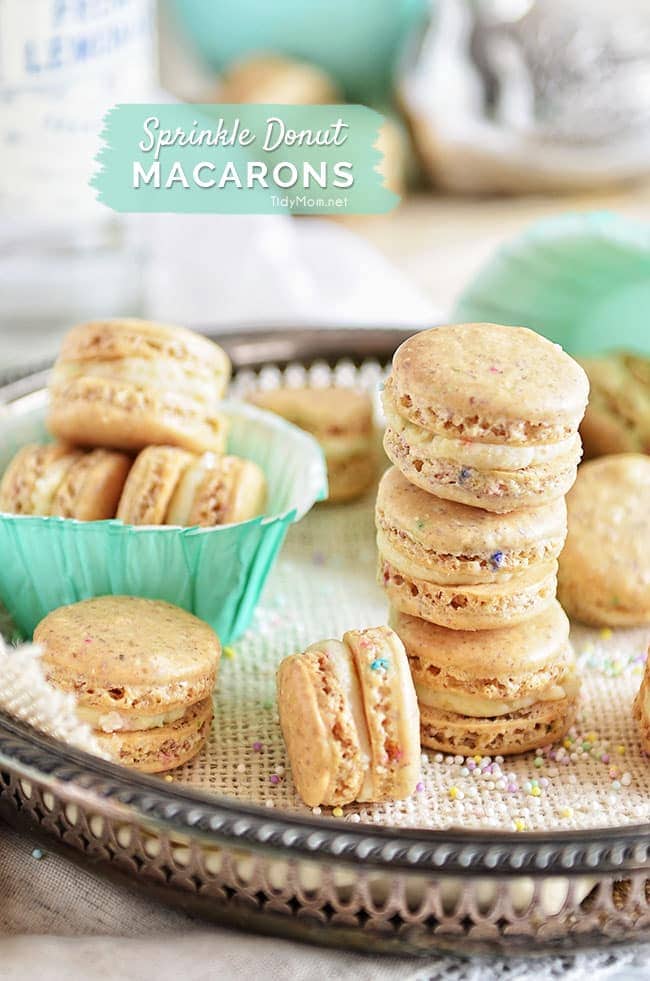 Macarons have been on my baking bucket list for quite some time.  I love love love eating them, but I know macarons can be a little tricky to make.   They have a reputation for being "difficult" and high maintenance.  You have to sift, and age, weigh not measure, don't over mix or under mix, don't bake on a humid day…..yadda yadda yadda.
Quite intimidating for such a delicious little treat!!  If you've never had a macaron, they are delicate, soft and chewy but slightly crispy with a creamy filling.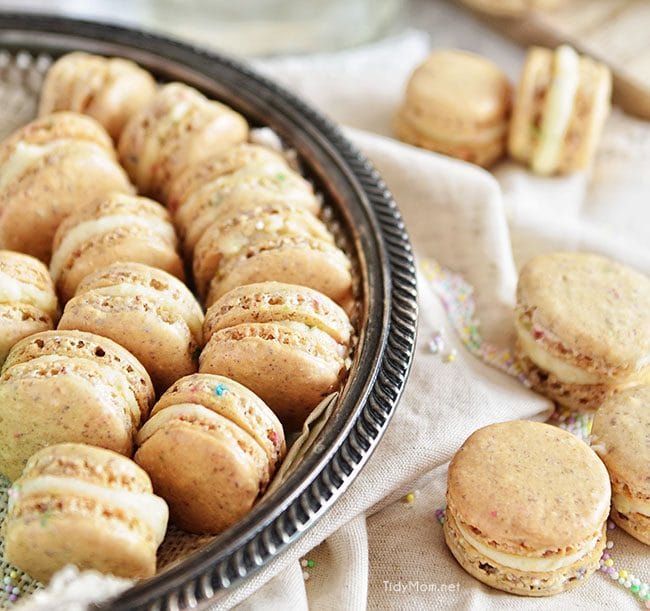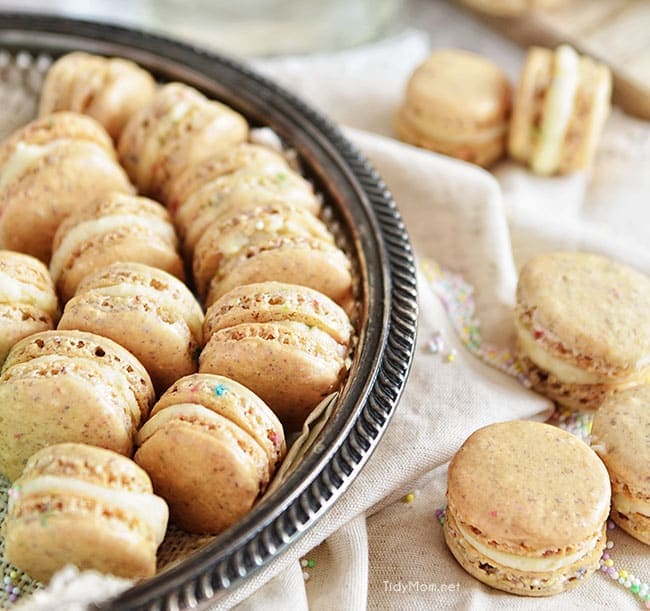 Nearly 2 years ago Jenny posted about making macarons with a few shortcuts.  I knew when I was ready to try my hand at making macarons, I would try some of the shortcuts Jenny talks about here.  No need to age the egg whites, don't worry about their temperature or humidity and drying out piped macarons…..fugetaboutit
The one thing you will definitely not want to skip out on is having a digital food scale.  When making macarons you want to weigh, not measure your ingredients.  I got my food scale several years ago and love it! it's one of those kitchen items that once you have it, you wonder how you ever lived with out it.  If you bake a lot, weighing your ingredients is much more accurate.  I also use it when I need to divide batter, or when I want to make all of my chocolate chip cookies the same size.
I'll be honest, I had some trouble, and my first batch of macarons didn't turn out so pretty.  The upside is, even if your macarons don't turn out pretty, they still taste delicious.  But while I had everything out, I wanted to try again.  So I texted Shaina and Amanda a picture and asked for help!!  Apparently I had whipped my egg whites too long, they were too stiff.  So I turned to youtube where I found this fabulous video with macaron tips and troubleshooting,  The video shows you exactly what every step should look like.
**notice (below) I did not do a very good job sifting my almond meal, powdered sugar and cereal in my second batch – so my tops are a little lumpy, but still fabulous tasting!  No one said "no thank you, I don't eat lumpy macarons" 😉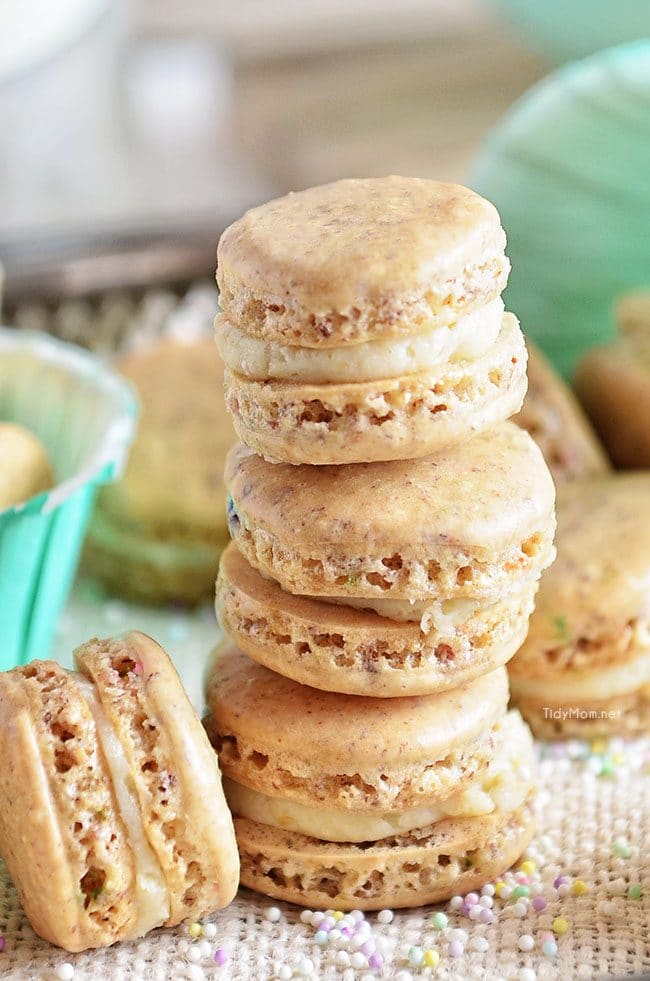 Now that I have the basics down, I can't wait to experiment with more flavors!  For this batch I used crushed Cap'n Crunch Sprinkled Donut cereal in the macaron batter and in the filling! There were a HUGE hit!! Next up…..raspberry and chocolate,pistachio, lemon, the list goes on and on.  If you're feeling intimidated by making macarons, please don't be. I'm kicking myself for not trying them sooner.  You just need to take your time and pay attention to details.  They're actually pretty simple, as long as you follow the directions perfectly.
If you want to do a little more studying before you jump in, Stella from Brave Tart is a macaron magician. Her posts on macaron making take the scary out of the equation .
Before we get started with the recipe, there are a few
supplies you will want for making macarons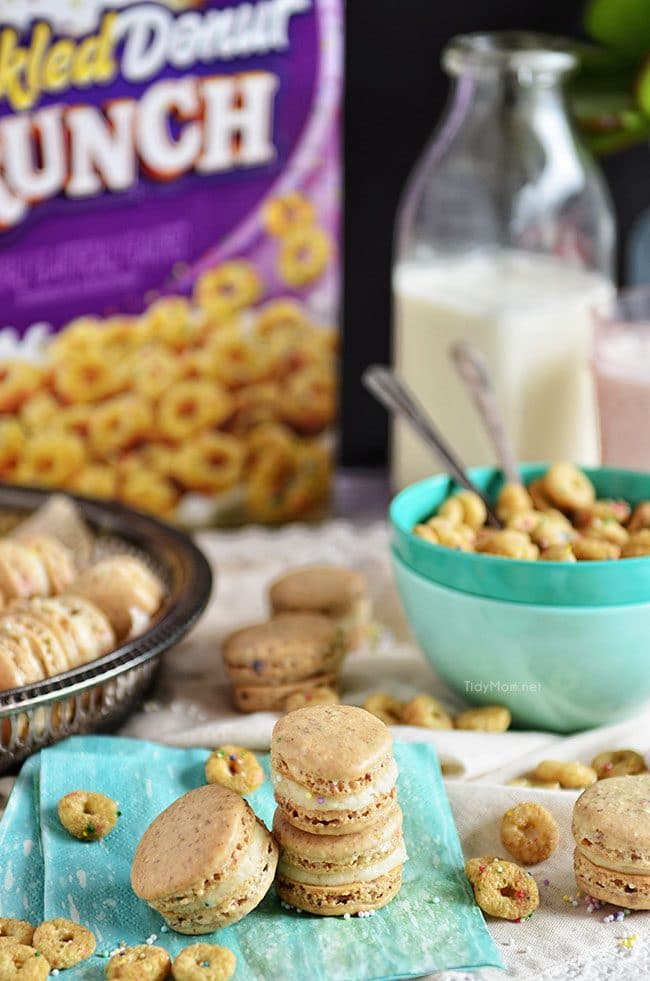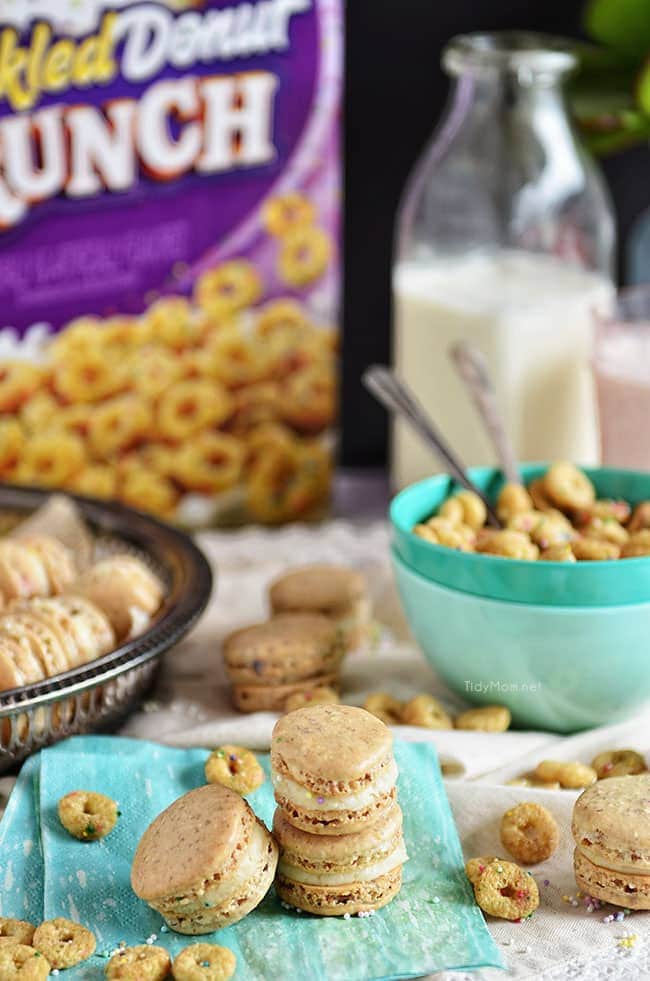 Want more great recipes like this? Follow my TidyMom Easy Recipes Pinterest Board
**Making this recipe?  Take a picture and share it on Instagram! Make sure to tag it #TidyMom so we can see what you're creating in the kitchen!