Real Life Pantry Organization
This post may contain Amazon or other affiliate links. As an Amazon associate, I earn from qualifying purchases.
Now that spring is officially underway and 'fresh starts' are on everyone's mind, thoughts naturally gravitate toward spring cleaning and getting organized. One of the toughest places to keep tidy and functional is the pantry. Today I'm sharing my Real Life Pantry Organization – no fancy expensive jars and labels filled with colorful beans, spices, rice and flours. No matching fancy pants containers or baskets to hide snacks and gravy mixes. No chalkboard labels, pretty stencils or wallpaper……just a real life pantry.

When did pantries become so tricked out? If you spend any time at all on pinterest or on blogs, you know what I'm talking about. Don't get me wrong, I love to look at a gorgeous, well contained and organized pantry. But I also know, it's not realistic for me. I'm guessing it may not be very realistic to a lot of people. Buying all those jars, bins, baskets and tags can be expensive. I like to see what food I have on hand, not hide it (isn't that why we have a door on the pantry? Trendy paint colors, wall paper or stenciling is pretty, but lets be real….who is going to see it? How often does someone come to your house and get into your pantry? So today, we are talking real life pantry organization! are you game?
Prior to moving to our current home 1.5 years ago, we lived in a house for 16 years without a pantry. I used a freestanding cabinet for a pantry. So when we moved to this house with a small walk in pantry, I thought I hit the jackpot! I distinctly remember the day we moved in, I was SO overwhelmed with the pantry and had no idea how I wanted it organized – so we just tossed things in figuring I would set up a system later. Well, later turned into more than a year and a half and I'm embarrassed to show you what became of our pantry.
**hangs head in shame**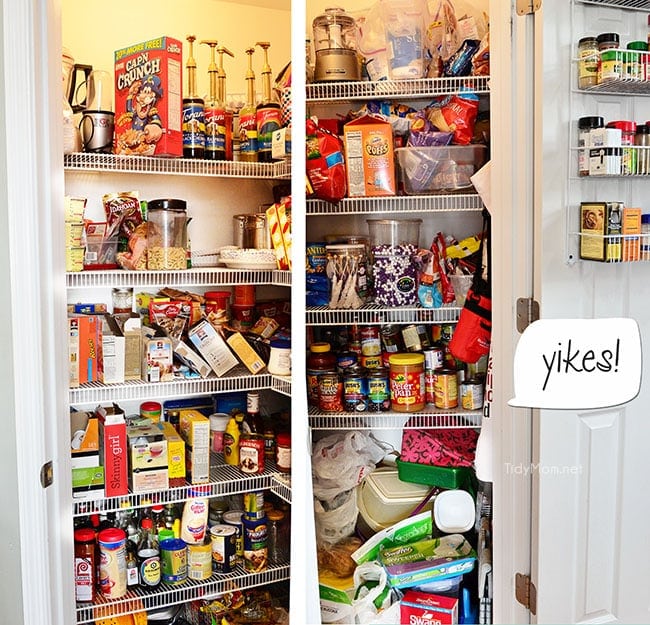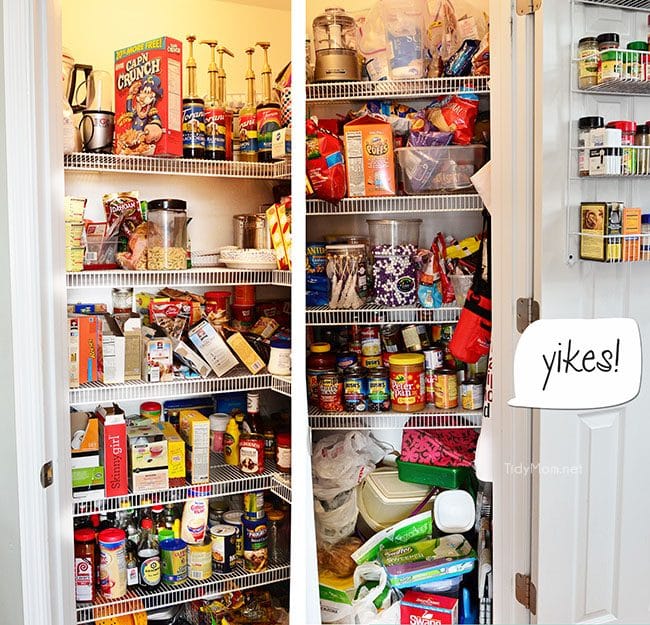 It was complete and utter chaos. Meal prep was hard, because I had no idea what we had and didn't have. Grocery shopping made it worse, I would often buy things I already had, because I didn't know they were in the pantry. Our pantry was also being used to store non-food items, such as some of my small appliances. The applinaces were all over the pantry, from the top shelf (back corner) to the floor. Most were hard to get to because things were piled on top or in front of them.
A few weeks ago I decided I had had enough! It was time to dive in and get the pantry organized.
Real Life Pantry Organization Planning:
Before the big day, I did a little planning. I took a good look at our pantry, and even took a picture with my phone and went shopping for a few things that I thought might be useful
wire shelves – the shelves were not going to be changed, so I knew I needed to find something that would make the wire shelves more versatile, aka solid surface
the floor – find a few large containers to keep the floor organized. They need to be easy to access and be able to see what is in them
air tight containers – I knew I didn't want to fill the pantry with containers, but I did have 2 containers for powdered sugar and flour that I liked – look for more of the same container for the rest of my dry "baking goods"
cans and jars – I had one shelf organizer, but it wasn't enough – need a few more.
shop our basement for pantry organization items I've purchased in the past and already had on hand – I had several cabinet shelves and lazy susans.
get a few inexpensive bins to corral chips, and packets
Having a picture of my pantry while I shopped really helped me visualize what might work. I made sure to hold on to my receipts so I could return anything that didn't work or I didn't use.
Once I had all of my supplies, I was ready for the big day!I threw on some comfy shoes, put my hair up, turned on Pandora and opened the pantry.
Let's get it done!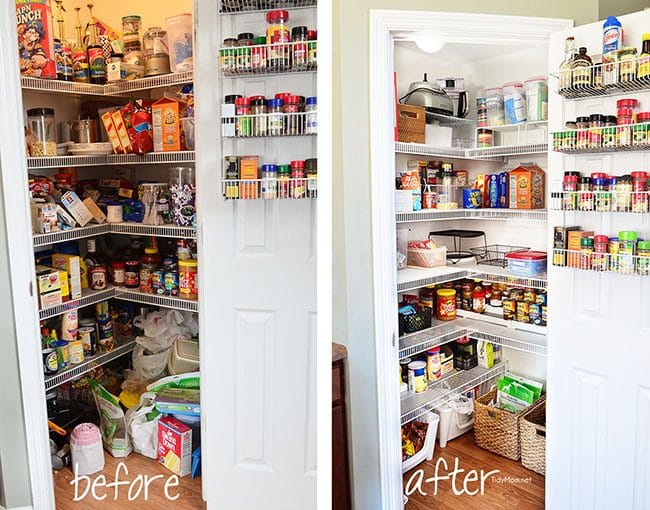 CLEAR & CLEAN THE SPACE
First, remove everything from the entire pantry
Thoroughly attack the pantry with duster, starting with the ceiling (check the corners for webs) and moving down until you get to the floor.
Wipe-down shelves with soap and water.
If you're not going to paint, wipe down the walls with a damp cloth, use a Magic Eraser for tough spots
Vacuum and mop the floor
line shelves with contact paper if you have solid shelves. I purchased some elfa translucent shelf liner sheets when we first moved into this house and they worked wonderfully! I didn't have enough for the whole pantry so I had picked up a roll of easy liner which worked good too, but I do plan to pick up more of the elfa sheets.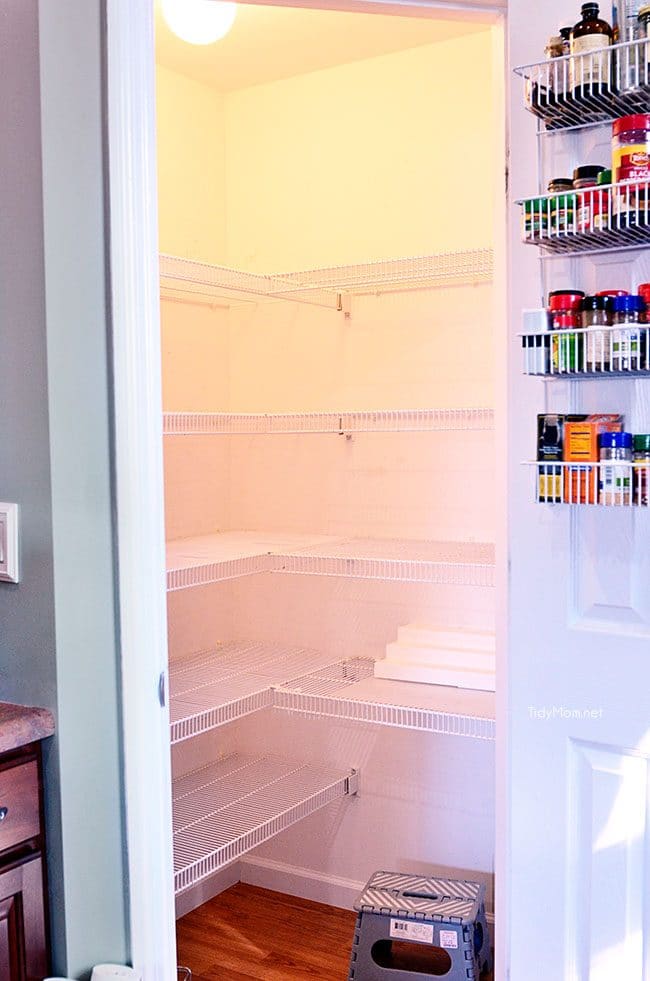 DIVIDE AND PURGE
Take a step back and admire your empty pantry and hard work, so far. Yes, I know, all the food is all over the kitchen. I was shocked at how much I had once it was all pulled out.
Sort everything. Grab a box or bag and remove expired food (use for compost or throw it), food that you are not going to use that is still good, put in a donation box.
I also went thru everything that did not HAVE to be in the pantry – I found a new home for a lot of my small appliances in the antique jelly cabinet by the table, cleaning supplies went in the garage or laundry room, I cleared out a small kitchen cabinet near the stove for my sprinkles and extracts. (I have a spice rack on the pantry door for all of my spices, but not enough room for those)
Are you starting to see some progress? By now you have a clean empty pantry, you've removed everything that is not going back in the pantry and if you are feeling really motivated, you could now put all like items together on the counters, if they aren't already.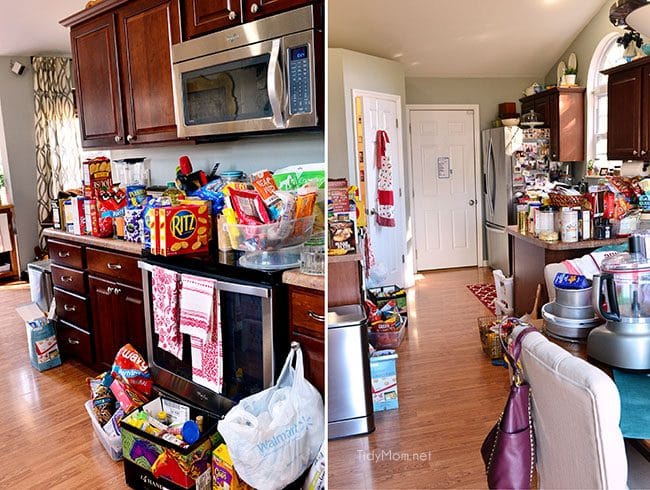 CREATE ZONES & STORAGE
Now it's time to put it all back in.
Think about what was not working in your pantry (and what was working), how you use your food, and what items you'd like to have near each other.
For us, our shelves were deep enough, that things were getting lost (especially in the corners) so I needed to "go up" create multi-levels on the shelves to make visibility better.
*Make your pantry items accessible and easy to "see"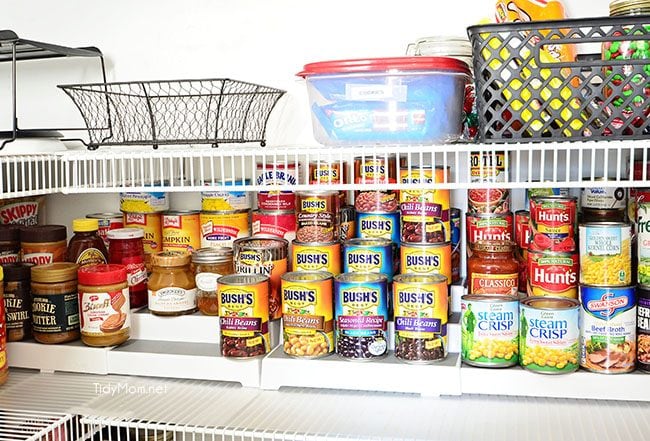 Three expandable shelf organizers made a huge difference! Previously I only had one, and my cans and condiments were a mess. Now it's super easy to see that I have enough Bush's White Chili Beans for our favorite Chicken Chili , seasoned black beans for Mexican Pizzas or even baked beans now that we are getting into grilling season!
The black storage containers (similar) were from Walmart, I picked up 2 sizes. The smaller ones for holding packets and the medium size for chip bags and other snacks. I like that the they have a lose weave, making it easy to see what's inside.
I also wanted to corral some items, but I also wanted to be able to easily see what was in the container, and store all of my dry goods in air tight containers to keep them fresh and easier to stack and store.
I had a few Sterilite storage containers for my flours and sugars so I picked up enough for all of them. Not only does it keep them fresh, but they are much easier to keep organized in the containers. I used my label maker to mark the containers.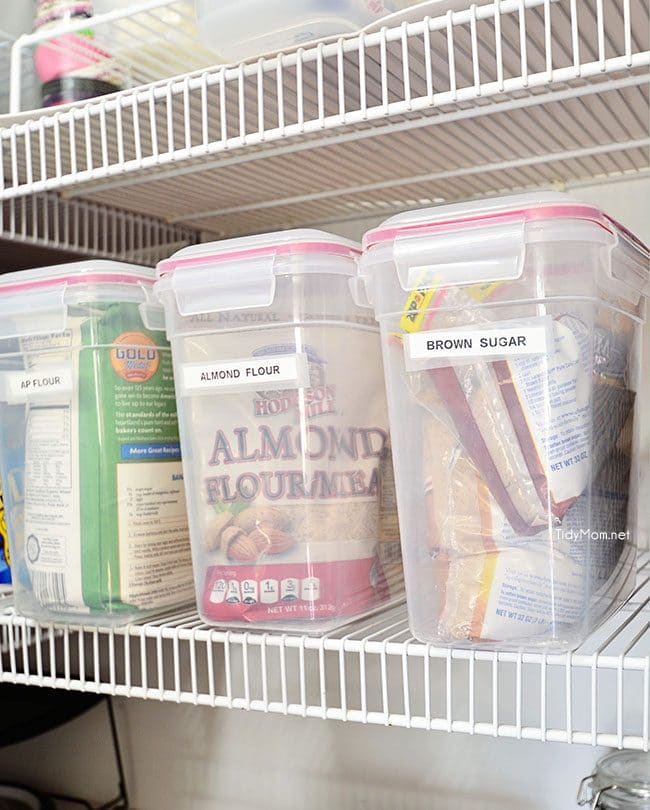 The shelf liners made it possible to add a few cabinet shelves to my wire pantry shelves, which doubled my space on some shelves, and helps make items more visible.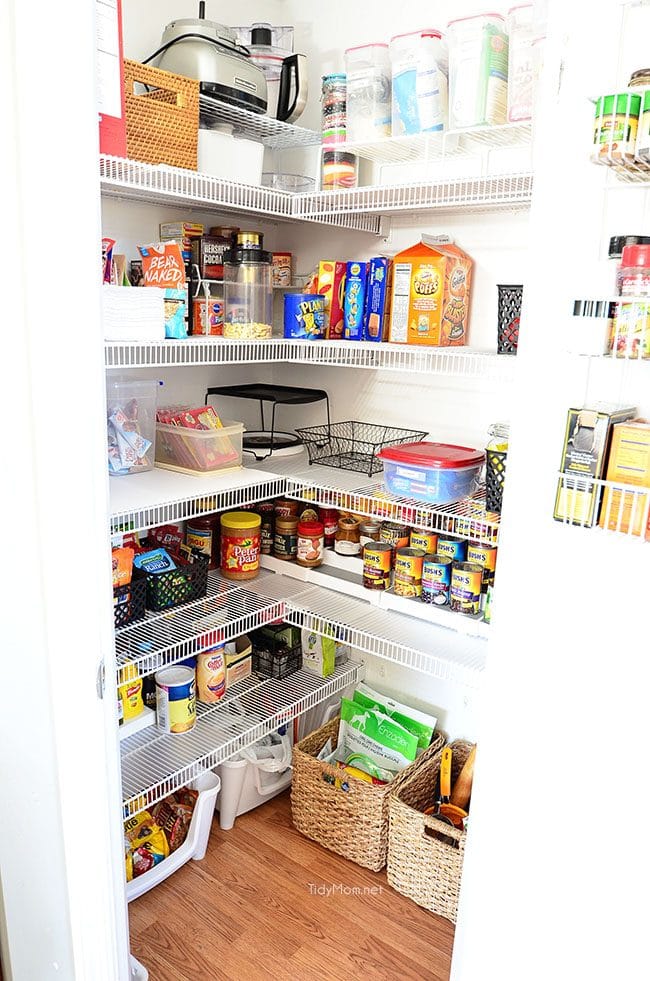 The floor used to be covered in stuff and you could barely walk into the pantry. Now, you can actually see it! A few bins and baskets on the floor made a huge difference!! I can now walk in to our 'walk-in pantry'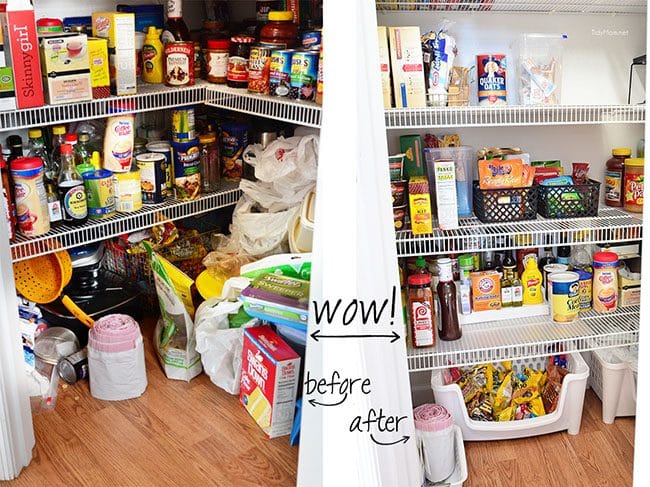 Baskets and decorative boxes will be your saving grace for small items and can also be visually appealing
I can't even begin to tell you how good this makes me feel. I even have empty space! It may not be the prettiest pantry on the web, but it makes MY heart race! Sometimes I just go and open the door and stand and look and listen to the angels singing 😉 . Meal planning and shopping have been a lot easier, since I now know what I have.
I left the lazy susan, wire basket and cabinet shelf, just incase I find a need for them later.
So there you have it! No need to get all fancy……. you just want to make YOUR pantry work for YOUR Family!
Make Organizing a Routine
To maintain order and tidiness, reevaluate your pantry every six months, check for expired food, what's still working and not working. For small pantries, a monthly check-in may be in order. Just like doing the dishes or cleaning the bathtub, a pantry needs to be tended to on a regular basis. Take the time to put things away properly—it really makes all the difference and keeps everything organized.
What kind of shape is your pantry in? when was the last time you cleaned it out?
Now I can't wait to tackle a few of the bedroom closets!!
How to Organize and Cook Daily in a Small Kitchen
Tips for a Well Organized Refrigerator
8 Smart Tips for Organizing the Kitchen
Organizing Your Kitchen with Vintage Finds

Disclaimer: I have a working relationship with Bush's Beans, but as always, all views and opinions are my own. This post contains affiliate links.
linked up at work it wednesday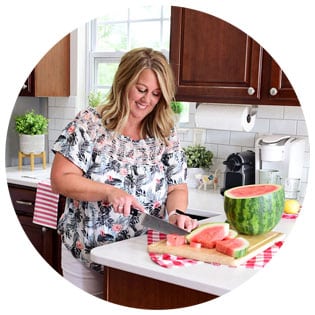 Hi there, I'm Cheryl!
As a wife, mom, and caffeine enthusiast, my journey has taken me from bustling mornings with my family to sharing delicious recipes, home care tips, and heartfelt decorating insights with wonderful readers like you. My love for baking, photography, and tidiness shines through every post I craft. Dive into my world and discover the art of homemaking, one tidy moment at a time. Read more...
Tidymom is a participant in the amazon services llc associates program, an affiliate advertising program designed to provide a means for sites to earn advertising fees by advertising and linking to Amazon.com.
Please respect my work, recipes and photographs. If you do use a recipe in your own writing, please give proper credit and link back to the original post.