The BEST Chocolate Chip Cookie Recipe
The search for the absolute best chocolate chip cookie recipe has ended with the New York Times Chocolate Chip cookie recipe adapted from Jacques Torres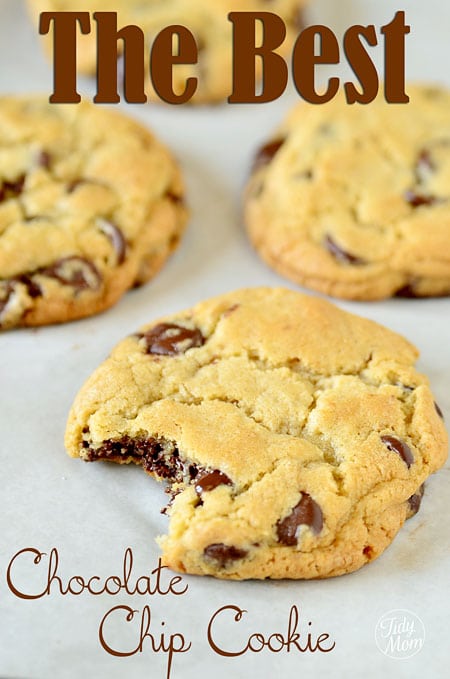 I think it's pretty fair to say that when most of us think of making chocolate chip cookies, we look on the yellow Nestle bag for the Toll House Cookie recipe.
Recently my friend Kim had a chocolate chip cookie fail!  She asked me "What happened? What did I do wrong"  I made a few suggestions off the top of my head, but it got me thinking.  I wanted to search for the BEST, no fail, Chocolate Chip Cookie recipe.
Surely the Nestle Toll House recipe is the best known, but did you know there is a science to all that flour, sugar, eggs and chocolate?  That's why some times your cookie may come out perfect and the next time they don't.  Or wonder about flat cookies vs fluffy cookies?
In my search for the best chocolate chip cookie recipe, it appears that The New York Times had the same question I did a few years ago, and set out on a quest for the best chocolate chip cookie recipe!  It's a great read if you have ever wondered why you have cookie making "issues".
I also discovered, that I must be one of the only bloggers that had not heard about this recipe! HA!  Julie, Maria, Jamie and a whole slew of others have written about it, while I had my head in a hole!  So I'm asking…no BEGGING you……don't ignore this post as "just another chocolate chip cookie recipe"!
If I can help just ONE person discover it, my job will be done!  Seriously, my search is over this IS the BEST Chocolate Chip Cookie Recipe.  This is not a recipe you want to adapt, and you want to follow the directions precisely the first time.  Trust me on this, I followed it to a "t" because I wanted to see if it really lived up to it's name!
A little planning and patience is needed with this recipe . You will need cake and bread flour and a minimum of 24 hours to chill…..but SO worth it!
The size of this cookie plays a big roll as well.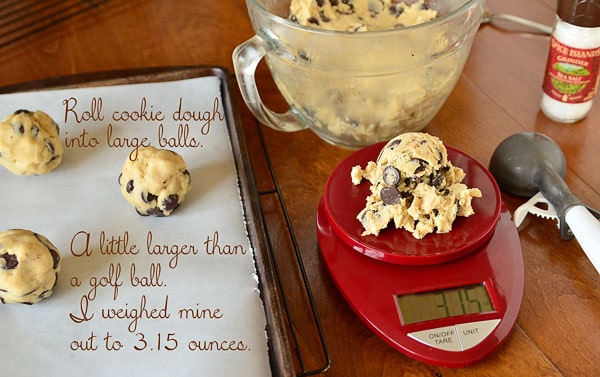 The instructions say to form the dough into a ball a little larger than a golf ball, suggesting 3.5 ounces (I used a cookie scoop and my kitchen scale and made mine 3.15 ounces)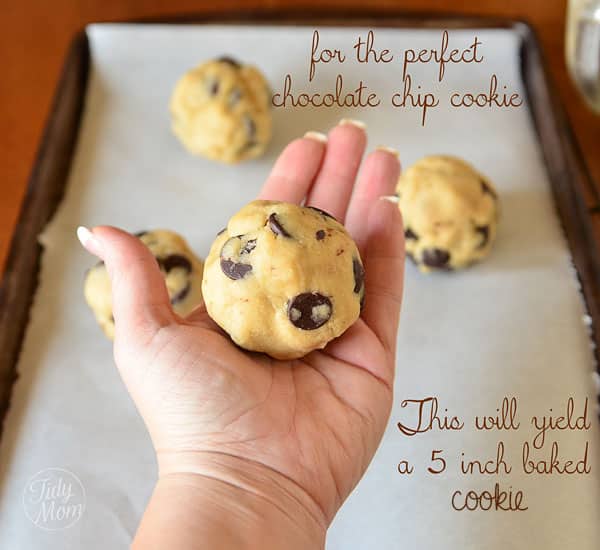 I wanted to show you how big these look in my hand! lol  Do me a favor, try it!! you will LOVE the look on their faces when you bake them a big chocolatey perfectly chewy cookie.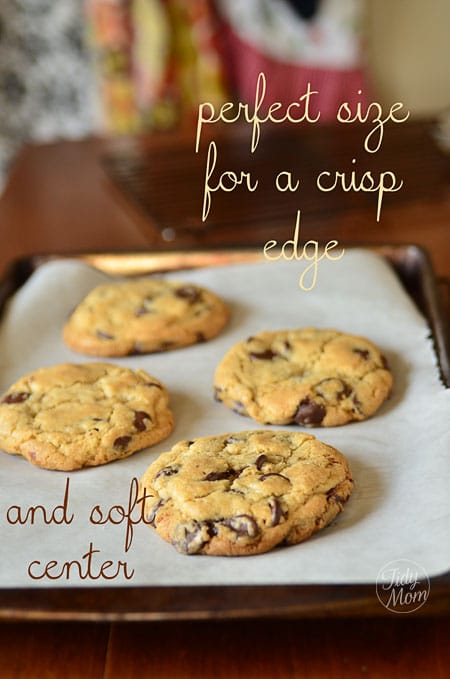 "Their larger size allows for three distinct textures. First there's the crunchy outside inch or so. A nibble revealed a crackle to the bite and a distinct flavor of butter and caramel. Then there's the center, which is soft. A bull's-eye the size of a half-dollar yielded easily.

But the real magic is the one-and-a-half-inch ring between them where the two textures and all the flavors mix." ~ Maury Rubin, City Bakery, on West 18th Street, NY
The BEST Chocolate Chip Cookie Recipe | New York Times Chocolate Chip Cookie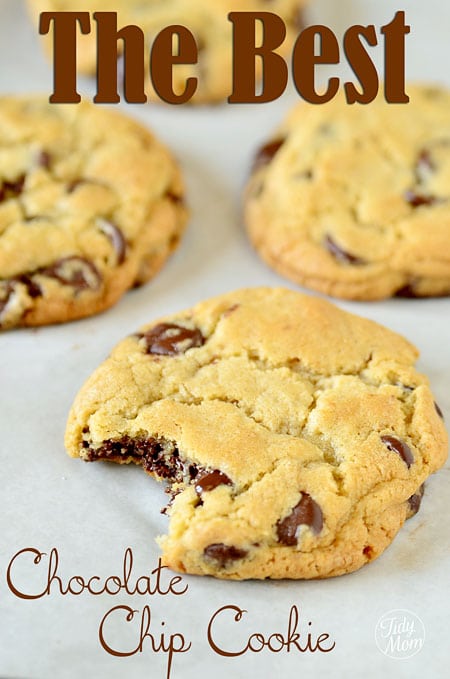 Absolute best chocolate chip cookie you'll ever eat!
Ingredients
2 cups minus 2 tablespoons (8 1/2 ounces) cake flour
1 2/3 cups (8 1/2 ounces) bread flour
1 1/4 teaspoons baking soda
1 1/2 teaspoons baking powder
1 1/2 teaspoons coarse salt
2 1/2 sticks (1 1/4 cups) unsalted butter
1 1/4 cups (10 ounces) light brown sugar
1 cup plus 2 tablespoons (8 ounces) granulated sugar
2 large eggs
2 teaspoons natural vanilla extract
1 1/4 pounds bittersweet chocolate (I used Ghirardelli chocolate chips )
Sea salt
Instructions
Sift flours, baking soda, baking powder and salt into a bowl. Set aside.
Using a mixer fitted with paddle attachment, cream butter and sugars together until very light, about 5 minutes. Add eggs, one at a time, mixing well after each addition. Stir in the vanilla. Reduce speed to low, add dry ingredients and mix until just combined, 5 to 10 seconds. Drop chocolate pieces in and incorporate them without breaking them. Press plastic wrap against dough and refrigerate for 24 to 36 hours. Dough may be used in batches, and can be refrigerated for up to 72 hours
When ready to bake, preheat oven to 350 degrees. Line a baking sheet with parchment paper or a nonstick baking mat. Set aside.
Scoop 6 3 1/2-ounce mounds of dough (the size of generous golf balls) onto baking sheet, making sure to turn horizontally any chocolate pieces that are poking up; it will make for a more attractive cookie. Sprinkle lightly with sea salt and bake until golden brown but still soft, 18 to 20 minutes. Transfer sheet to a wire rack for 10 minutes, then slip cookies onto another rack to cool a bit more. Repeat with remaining dough, or reserve dough, refrigerated, for baking remaining batches the next day. Eat warm, with a big napkin.
Notes
https://tidymom.net/2012/best-chocolate-chip-cookie-recipe/
Copyright© 2009-2013 TidyMom.Net
Want more great recipes like this? Follow my TidyMom Easy Recipes Pinterest Board
Follow Cheryl Sousan | Tidymom.net's board TidyMom.net easy recipes on Pinterest.
Don't be the last person to try these!  I promise you! THIS is The Best Chocolate Chip Cookie Recipe (don't change a thing!)

My sweet friend Lisa has post the BEST Gluten Free Chocolate Chip Cookie Recipe if you'd like to check that one out too!
I'm Lovin'……Chocolate Chip Cookies

Now it's your turn! Please remember to link back to http://TidyMom.net
Let us know what you're lovin' this week!
Share your recipes, crafts, diy's, photography, printables, products..anything you are loving!
If you have something to share with us on your blog, add your link below.
*Don't forget to come back over the weekend for the I'm Lovin' It Wrap Up post……where I feature a few of the great links!!

What is I'm Lovin' It Fridays? get all the info, how to's trouble shoot and button here