Spiced Mocha Cupcakes
I'm Lovin' It {linky party}
Those who know me well, know I'm an avid coffee drinker.  Not the fru-fru "pretend coffee" drinker…..a nice fresh brewed cup of joe with cream x 4-5 cups each morning drinker.
Now don't get me wrong, I LOOOOVE my frappes, and lattes but to me, those aren't "coffee".  Those are dessert coffees……and what do I love almost more than a dessert coffee?……how about a coffee dessert!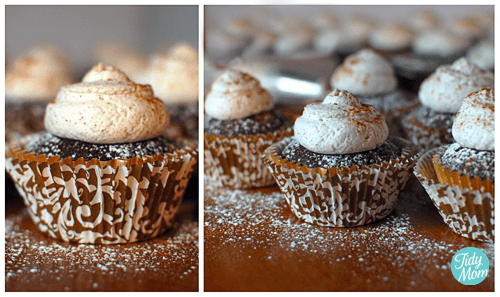 Last week my oldest asked if I would make a yummy dessert she could take to work for one of the other stylists who was having a birthday. – She wanted chocolate and only likes "fluffy whipped cream like" frosting.
I thumbed thru some of my bookmarked recipes and found one I've been dying to make!  It's a cake, but I made cupcakes..and I think they turned out every bit as delicious as I had imagined.
If you're not a huge coffee fan, don't worry, the coffee flavor is not over powering!—–and, I would keep this in the refrigerator because of the whipped cream on top……or you could keep the cupcakes out and top with whipped cream right before serving.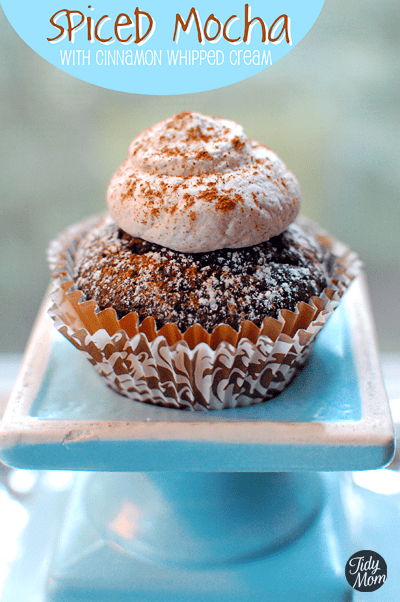 Supplies I used:
Gold and Brown Damask Cupcake liners found at Michaels
I'm Lovin' It – Spiced Mocha Cupcakes
Ingredients
4 (1 oz.) squares unsweetened baking chocolate
3 tbsps. butter
1 cup hot brewed coffee
2/3 cup instant mashed potato flakes
1 1/2 cups sugar
1 tsp. ground cinnamon
1/8 tsp. cayenne pepper
4 large eggs, separated
1 tsp. vanilla extract
1/2 cup all purpose flour
1 1/2 tsps. baking powder
1/4 tsp. salt
Powdered sugar (to garnish)
1/2 pt. whipping cream
3 tbsps. powdered sugar
1 tsp. ground cinnamon
1/4 tsp. vanilla extract
Instructions
Heat oven to 350°F. Line cupcake pan with paper liners. Coat cupcake papers with no-stick cooking spray.
Place chocolate and butter in medium microwave-safe bowl. Microwave on 50% power 45 to 60 seconds, stir and repeat until chocolate is melted and smooth when stirred.
Combine coffee, potato flakes, cinnamon and cayenne pepper in large mixing bowl, stirring until moistened.
Blend in sugar and vanilla.
Blend in chocolate mixture and egg yolks.
In a medium blow, stir together flour, baking powder and salt. Gradually blend into chocolate mixture.
Beat egg whites on medium speed of electric mixer until stiff.
Add to chocolate mixture and blend on low speed until completely blended, scraping sides and bottom of bowl frequently.
Fill cupcake liners 2/3 full with batter.
Bake 20 minutes or until set in center.
Cool completely in pan on wire rack. Remove from pan. Sprinkle liberally with sifted powdered sugar.

Cinnamon Whipped Cream

Combine whipping cream, powdered sugar, cinnamon and vanilla in medium mixing bowl. Beat on medium speed of electric mixer until stiff.
Pipe on top of cupcakes.
Notes
https://tidymom.net/spiced-mocha-cupcake/
Copyright© 2009-2013 TidyMom.Net

I'm Lovin….Spiced Mocha Cupcakes

Now it's your turn! Please remember to link back to http://Tidymom.net
Let us know what you're lovin' this week!
Share your recipes, crafts, diy's, photography, printables, products..anything you are loving!
If you have something to share with us on your blog, add your link below.
*Don't forget to come back over the weekend for the I'm Lovin' It Wrap Up post……where I feature a few of the great links!!
What is I'm Lovin' It Fridays? get all the info, how to's trouble shoot and button here
*Having trouble linking up? you MUST be entering a permalink (link directly to your post, NOT your main blog address) AND you MUST link back to https://tidymom.net in your post