An Organized Kitchen with Lori Lange of Recipe Girl
This post may contain Amazon or other affiliate links. As an Amazon associate, I earn from qualifying purchases.
A few weeks ago Aimee was my first guest in the Organized Kitchen series. Today I'm excited to have Lori from Recipe Girl here sharing some of her kitchen organization! Lori's fabulous site, Recipe Girl houses over 2,500 recipes, so you know this girl has GOT to have a system that works in her kitchen! I think I screamed out loud when I opened this post and saw her ideas! I'm going to let Lori share now…………..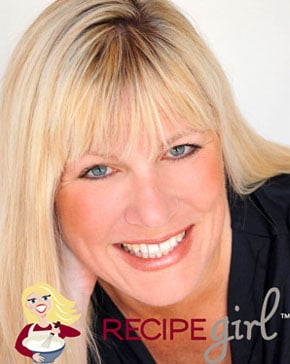 I've always been a little obsessed with organization and neatness. The clothes in my closet are neatly arranged by color. The toys in my son's playroom are all arranged in tubs (by type… superheros in one box, knights in another, etc). In my utensils drawer, rubber spatulas, whisks and wooden spoons have a specific place to gather. And when I was an elementary school teacher years ago, it wasn't unusual for me to spend the weekend driving around San Diego County hunting down sets of matching baskets or tubs to use in my color-themed classroom. I'm loving TidyMom's organizational tips. Allow me to show you how I organized my rather hectic spice cabinet…
Organize Spice Cabinet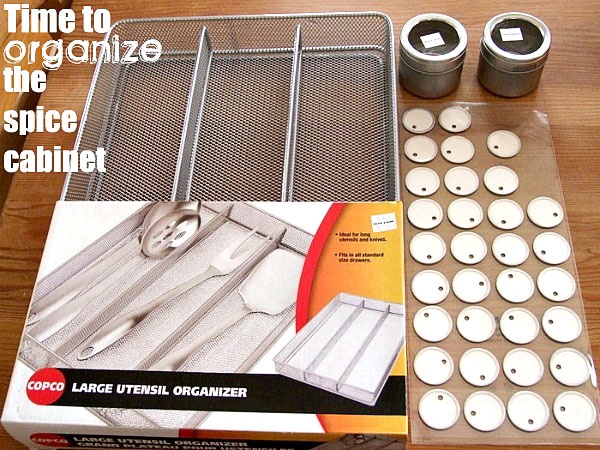 I cook a lot. Like "I'm in the spice cabinet every day" a lot. So I had a need to get my spices off of the bottom of my cupboard and up where I could easily see them. The obsessive neat-freak in me also wanted to have them in matching containers.
I bought two metal large utensil organizers (Check Bed Bath and Beyond or Amazon), metal containers with magnetic bottoms (expensive, but I used my BB&B coupons and bought them over a few weeks' time), and sticker labels.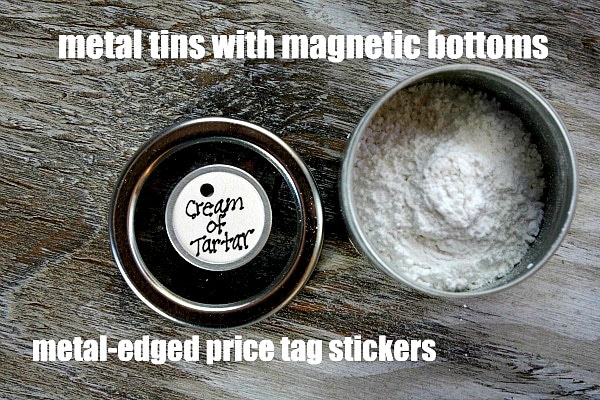 I labeled the spices in a decorative way– my "teacher" writing, knowing that I'd have to look at them for a long time to come. I like these little price tag stickers (purchased at Michael's) because they are three-dimensional, and the metal edge matched my spice tins.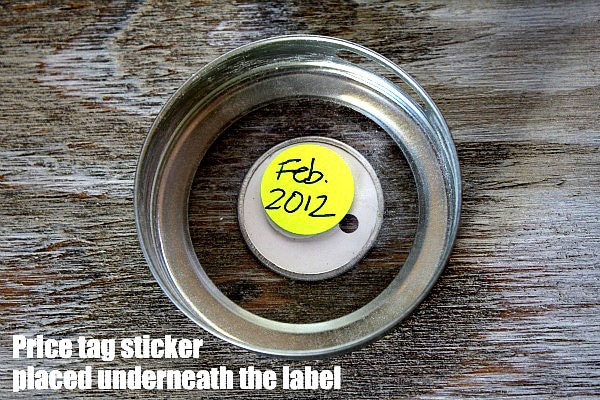 Once the label was adhered, I flipped the lid over and added a round sticker to the other side. This is the date that the spice was purchased. If you're unsure, you can just write the current date. And if you think your spice is really, really old, you should dump it and buy a new jar! Ground spices are good 2 to 3 years, herbs like oregano and basil are okay for 1 to 3 years, and whole spices, seeds and extracts are good for 4 years (vanilla extract keeps forever though). Adding a labeled date will help you remember when it's time to replace that spice.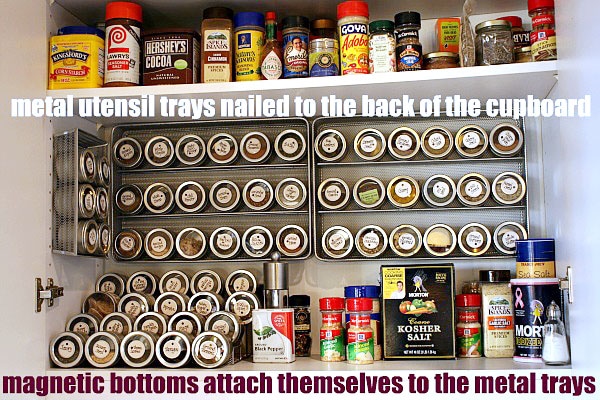 I nailed my trays horizontally into the upper part of my cupboard. The spice tins fit perfectly on their sides on the trays. The magnetic bottoms cling to the back so they won't want to fall forward. Since I had more spices than trays, I attached a smaller basket on the left-hand side where I put my lesser-used spices. And I used a matching mesh stair organizer on the bottom. All is organized alphabetically and easy to locate!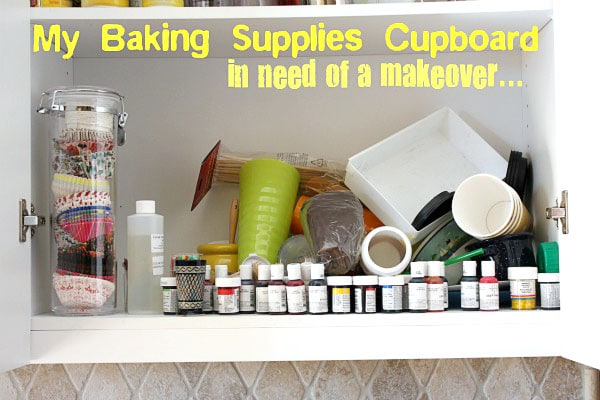 This past weekend I took a peek at my baking supplies cupboard. For an ultra-organized person, this system was not working for me at all! In fact, it has been stressing me out for a LONG time. Then TidyMom comes along and says, "Hey, let's get organized!" Thank goodness.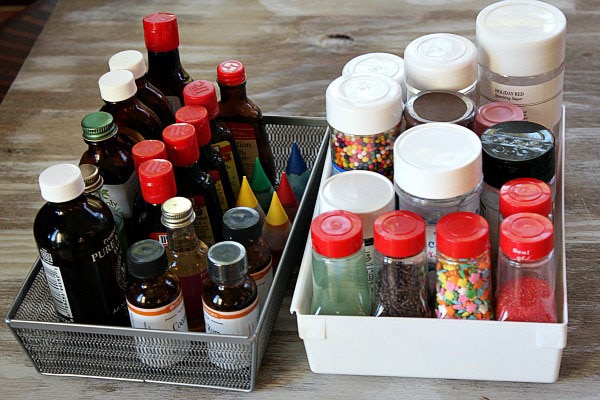 Since I bake a lot, I wanted to have access to things easily without having to tear apart the cupboard to find what I'm looking for. I used a couple of trays (eek! They're aren't matching!!… I'm sure I'll definitely be picking up another mesh basket soon to correct that). The trays are nice because when I need a certain kind of extract or food color, I can just take the basket out of the cupboard, find what I need and then put it back.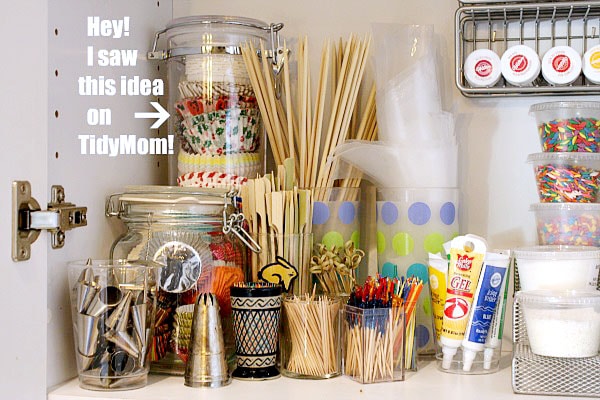 I love TidyMom's idea for storing cupcake wrappers in a tall spaghetti jar. I put all of my mini cupcake wrappers in a shorter jar. My toothpick and skewer collection was placed into individual containers- mostly candle votives. I used clear plastic cups to store my decorating tips and gels, and a tall cup to store my disposable piping bags.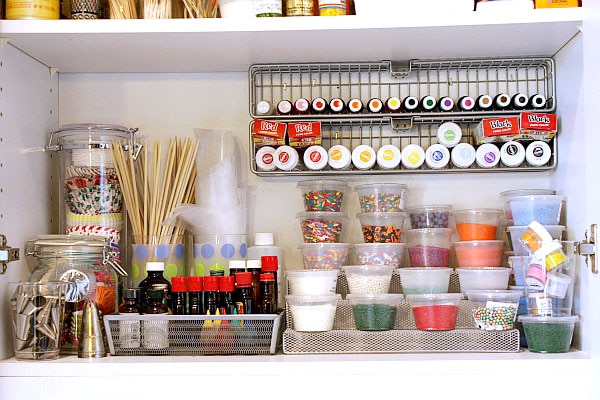 The metal utensil trays weren't going to work for what I needed in my baking cupboard, so I purchased these spice rack singles at The Container Store instead. My husband used the staple gun to attach them to the back of the cupboard. I chose to store my decorating colors up there, arranged by rainbow (ROYGBIV) so it's easy to see exactly what I have. My sprinkles and decorating powders, etc. are arranged on another one of those wire mesh step organizers. I purchase all of my sprinkles at a baking supply store, and they are sold in these little plastic containers. That's it! My nice and tidy cupboards.
Hope I've inspired you to do some organizing too. It sure makes working in the kitchen so much easier. How do you organize your spice cupboard?
Thanks for letting me a "TidyMom" today! 🙂 For recipes and entertaining ideas, be sure to visit Lori on RecipeGirl.com. You'll also find her on Twitter, Facebookand Pinterest
Lori IS………a TIDY MOM!
Are YOU a Tidy Mom? Do you have a great way to organize spices and baking supplies? If so, I'd love to hear about them! – feel free to post pictures on the TidyMom Facebook page of what works for you!
**Reminder!! I'll be throwing a party with Clorox Bleach TOMORROW, February 8th! Write a post about YOUR MESSY MOMENTS, link up here at TidyMom and you could win some fun prizes from Clorox! Or enter to win $25,000! All the details here.
__________________________________________________________

Lori Lange (aka "RecipeGirl") left the elementary school classroom in 2005 to start RecipeGirl.com, which houses over 2,500 original and adapted recipes. Lori now spends her days developing recipes and photographing food. She creates and delivers recipes that inspire novices and veterans alike and thinks cooking should be easy and fun. Lori cooks from her kitchen in Southern California, where she lives with her husband and child- and she is at work on her first cookbook: The Recipe Girl Cookbook, which will be published by Wiley in Spring 2013. Follow Lori on Twitter, Facebook and Pinterest
// ]]>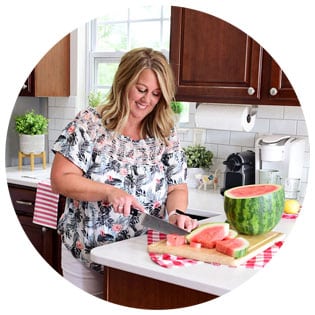 Hi there, I'm Cheryl!
As a wife, mom, and caffeine enthusiast, my journey has taken me from bustling mornings with my family to sharing delicious recipes, home care tips, and heartfelt decorating insights with wonderful readers like you. My love for baking, photography, and tidiness shines through every post I craft. Dive into my world and discover the art of homemaking, one tidy moment at a time. Read more...
Tidymom is a participant in the amazon services llc associates program, an affiliate advertising program designed to provide a means for sites to earn advertising fees by advertising and linking to Amazon.com.
Please respect my work, recipes and photographs. If you do use a recipe in your own writing, please give proper credit and link back to the original post.