An Organized Kitchen with Aimee Wimbush-Bourque of Simple Bites
This post may contain Amazon or other affiliate links. As an Amazon associate, I earn from qualifying purchases.
You all loved last week's post with 8 smart tips on organizing your kitchen. I thought it might be fun to peek inside the homes of a few well loved food bloggers and see how they organize their kitchens!
First up, is Aimee Wimbush-Bourque. Aimee is an inspiring writer, chef, and the talented editor behind Simple Bites, a food blog that provides practical cooking tips, nourishing recipes, and an encouraging perspective to help the everyday parent provide great food for the family.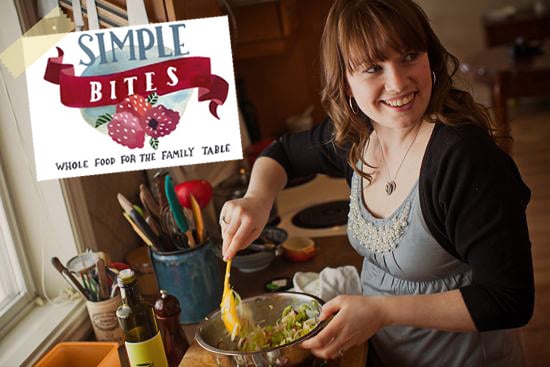 photo copyright Tim Chin
Your resume doesn't have to read Martha Stewart Living for you to have an organized kitchen. There are simple actions everyone can take to stay on top of clutter and keep even the most unruly of spaces in apple-pie order.
Cupboard and pantry 'sprawl' used to be one of my biggest organizing issues. I lived with it for far too long; but then one day I discovered some mysterious 'critters' in my dried goods and decided that was that.
I found that using containers to categorize items is one easy way to establish a degree of orderliness to all areas of my kitchen and pantry, not to mention, keep things air-tight and free of invaders!
Containers help organize because they group items and help combat the sprawl that tends to happen behind closed doors – and drawers. By confining items to one place, they make clean up less of a chore because that container can quickly be removed and washed under. Also, with proper labeling, containerizing can prevent ingredients and items from getting misplaced.
What qualities should a container have? Here are three that I look for:
Durable. A container should be sturdy enough to hold up to repeated use and be suitable for the task.
Spacious. Be sure your container has ample room for the items you wish to store and that the lid closes properly.
Charming. Choose containers that you love, have sentimental value or add aesthetics to your kitchen.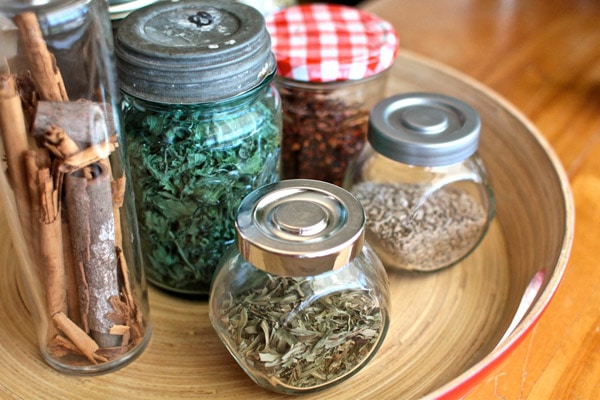 Work with what you have before you go out and purchase containers. For example, a large Christmas cookie tin that sits unused for most of the year can house cookie cutters or baking ingredients from January to November.
Think outside the box–literally–when scouting for a container; glass, metal, plastic, wooden or cardboard containers can be square, round, rectangular or freeform and all can find their place in your kitchen cupboards.
Here are ten of my favorite containers for keeping my kitchen items in check. Some traditional, some out of the ordinary, all are helpful for organizing the kitchen.
10 Container Ideas for your Kitchen
1. Tins. Square or round, large or small, tins are ideal for containing small, easily scattered items like rubber bands or piping tips or even bulkier things such as cookie cutters.
2. Jars. When I share How to Store Pantry Food for Maximum Shelf Life, you'll see that most of my dry pantry items are stored in glass jars; they are great airtight storage and ideal for showcasing their contents.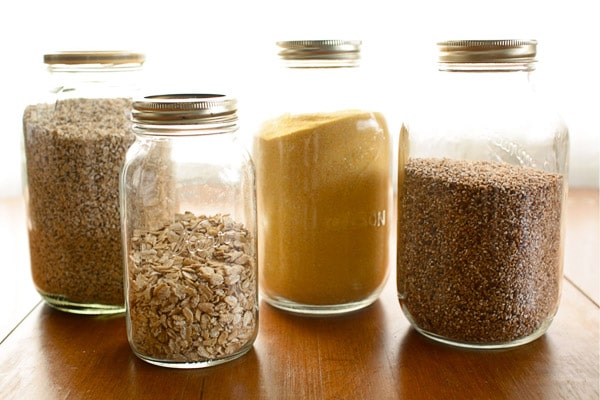 3. Jugs & Canisters. Counter-top canisters keep kitchen counters neat and tidy by grouping frequently used utensils together and keeping them handy for everyday tasks. And you can use a summer juice jug to stash away wooden spoons, plastic cutlery or those pesky fondue forks that you seldom use.
4. Baking Pans. The antique loaf pan holds some of my smaller cake decorating supplies. It does a fine job of preventing them from getting strewn about the cupboard, and they are still easily accessible.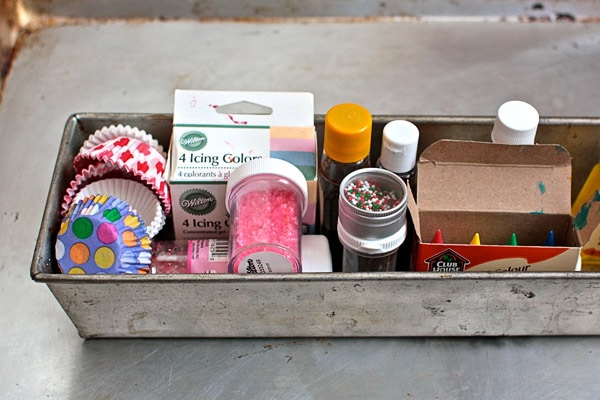 5. Can racks. A worthwhile investment if you stock up on canned goods, a heavy wire can rack holds most sizes of cans and is a lot safe than stacking cans three high.
6. Pot lid rack. Ikea has nifty wire pot-lid racks that house ones pot lids neatly, as opposed to strewn around the cupboard.
7. Tupperware & RubberMade containers. There's no question Tupperware rules when it comes to pantry storage solutions. It's expensive, but durable. I love Tupperware's Modular Mates for stuffing pretty much anything in, but mostly for those items that tend to get scattered over the pantry such as crackers, granola bars, dried fruit, and the like.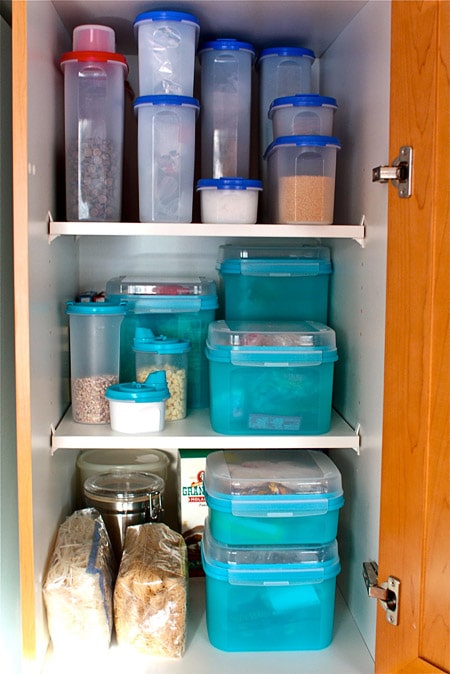 8. Cutlery holder. Not just for forks and knives anymore, pick up an extra cutlery tray for your 'junk drawer' and sort those tacks, pens, twist-ties, clothespins and AA batteries.
9. Plastic Bag Dispenser. Mount this cheap and simple organizing tool inside a cabinet or pantry door and keep those billowing plastic bags in check.
10. Baskets. Baskets can have many uses in a kitchen from housing bags of spices to folded cloth napkins. They are also an ideal choice for kitchens with open storage or for grouping dried foods on pantry shelves.
I hope this has inspired you to tackle your kitchen and bring it to order. Remember, start small, one drawer or cupboard at a time, and have fun!
Aimee IS………a TIDY MOM!
Are YOU a Tidy Mom? Do you use containers in your kitchen? If so, I'd love to hear about them! – feel free to post pictures on the TidyMom Facebook page of what works for you!

__________________________________________________________

Aimée Wimbush-Bourque is a food writer and expectant mother of two, living in Montréal. She draws from her rural, whole foods upbringing as well as her professional training as a chef to prepare simple, unprocessed home cooking on a daily basis for her family. On her award-winning food blog, Simple Bites, she chronicles her kitchen experiences with stories, cooking tips and recipes. For more whole food inspiration and everyday delicious chit-chat, follow Aimée on Twitter and Facebook.
// ]]>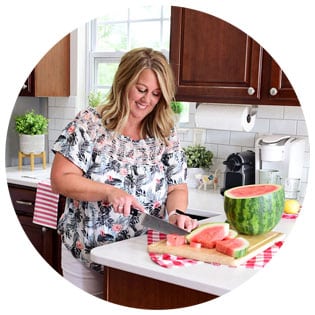 Hi there, I'm Cheryl!
As a wife, mom, and caffeine enthusiast, my journey has taken me from bustling mornings with my family to sharing delicious recipes, home care tips, and heartfelt decorating insights with wonderful readers like you. My love for baking, photography, and tidiness shines through every post I craft. Dive into my world and discover the art of homemaking, one tidy moment at a time. Read more...
Tidymom is a participant in the amazon services llc associates program, an affiliate advertising program designed to provide a means for sites to earn advertising fees by advertising and linking to Amazon.com.
Please respect my work, recipes and photographs. If you do use a recipe in your own writing, please give proper credit and link back to the original post.