Kitchen Organization with Vintage Finds
This post may contain Amazon or other affiliate links. As an Amazon associate, I earn from qualifying purchases.
Today we are peeking inside another well loved food blogger's kitchen to see how she organizes her kitchen with vintage finds!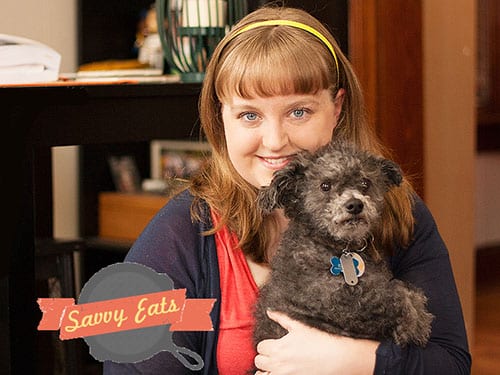 Julie Grice believes in pursuing your passions and doing what makes you happy. On her blog Savvy Eats, she uses her food science & engineering background to teach readers about making the most of their time, money and ingredients with weekly menus, experiments on the best way to store foods and canning and freezing instructions. She believes in an organized home and finds unique ways to give all those vintage finds in her Victorian home double duty by using them to organize her kitchen! Let's see how she does it………
I'll admit it: I'm a bit obsessed with keeping the house organized, especially when it comes to the kitchen/dining area and the office. I feel so much better when I know that everything has its place, and it makes it easier to keep track of what I have to work with, too! And when it comes to decorating our 19th century Victorian, I tend towards the rustic farmhouse vibe.
I've found that by repurposing some goodies from the flea market and antique store, I can both get my space organized while still keeping up the farmhouse-feel. But even if that isn't your style, there are tons of ways you can get your kitchen organized using your favorite vintage finds – just choose your purchases according to your style! Here are some of my favorite ideas:
Decorated bulk ingredient containers
Probably ¾ of the food I buy that isn't fresh produce or meant to be refrigerated/frozen comes from the bulk section of our market. Over time, I've stocked up on plenty of clear plastic and glass containers to hold my ingredients so that I can easily see what I have on hand.
But shortly after we moved into our house, I realized that my jars needed a labeling system. There is a long open shelf along one wall of our kitchen that I use to store some of my most-used grains, nuts and beans. Barley looks an awful lot like farro, and all of the different rice varieties look close to identical. It is easy to get things mixed up!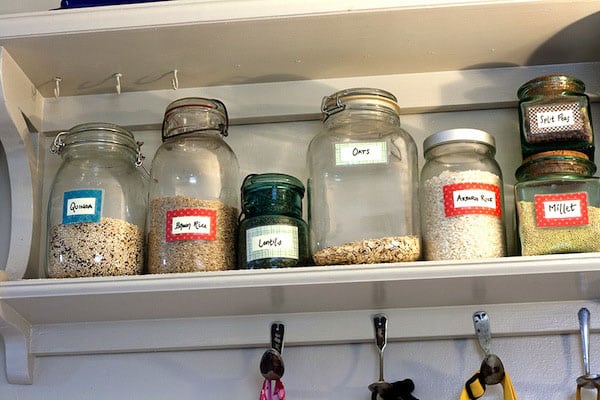 So I broke out some contact paper and cute patterned scrapbook paper to make some easy DIY labels. Now, if I were to make new labels for my containers, I'd probably stamp out the names so that they match the labels on our card catalog (more on that below!), but I'm still pretty happy with how these turned out!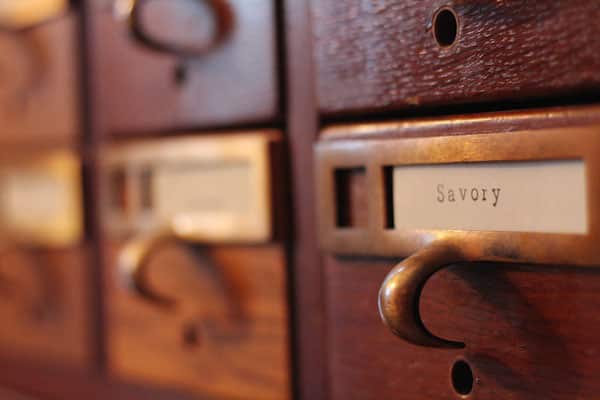 Antique spoon apron hangers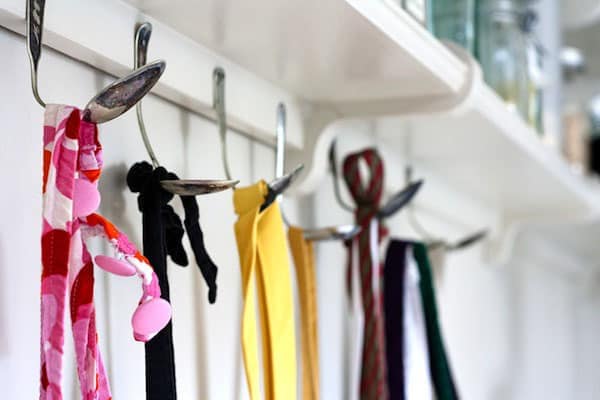 I've been gifted several gorgeous aprons as wedding, birthday or holiday gifts. While I'm not exactly great at remembering to put an apron on before the bacon grease starts splattering (I always think I'll be fine without an apron…and that is very rarely true!), I do make a point to keep them easily accessible.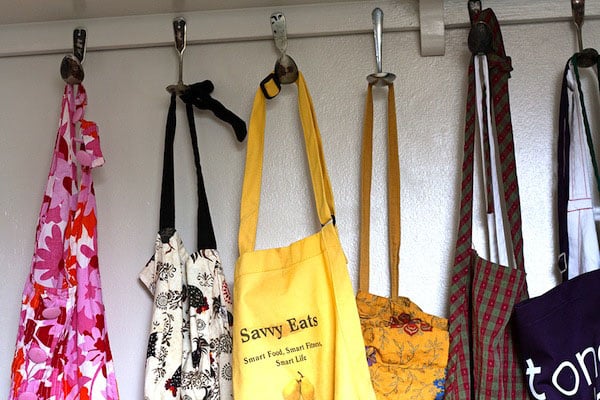 Most of my aprons are too cute to be shoved in a drawer, so I found a way to display them in the kitchen. I bought a pack of mismatched spoons at our local antique store for $3 and turned them into apron hooks for the kitchen wall. They were cheap and easy to make, keep my aprons within reach, and add a little vintage flair to the kitchen! Here's how to make vintage spoon hangers.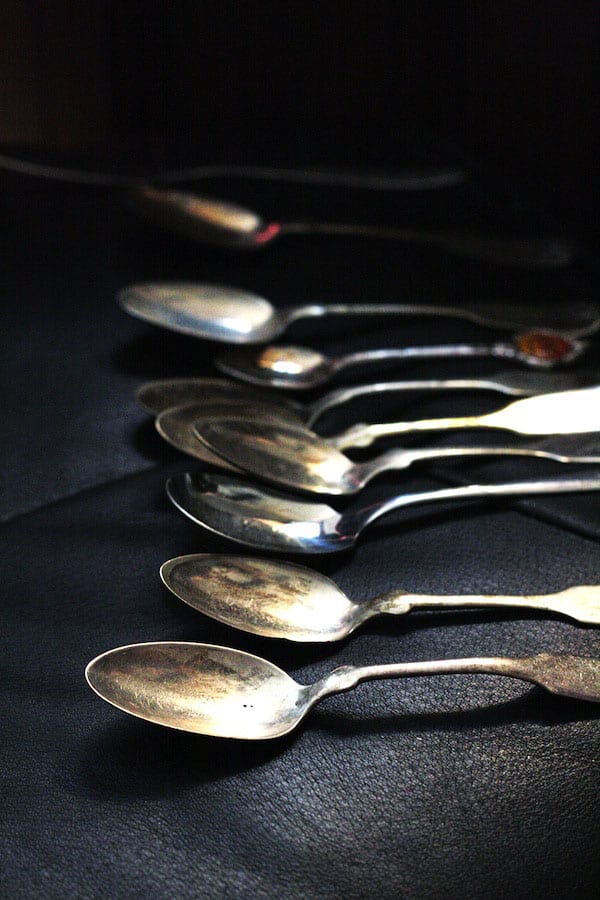 Turning freestanding closets into a pantry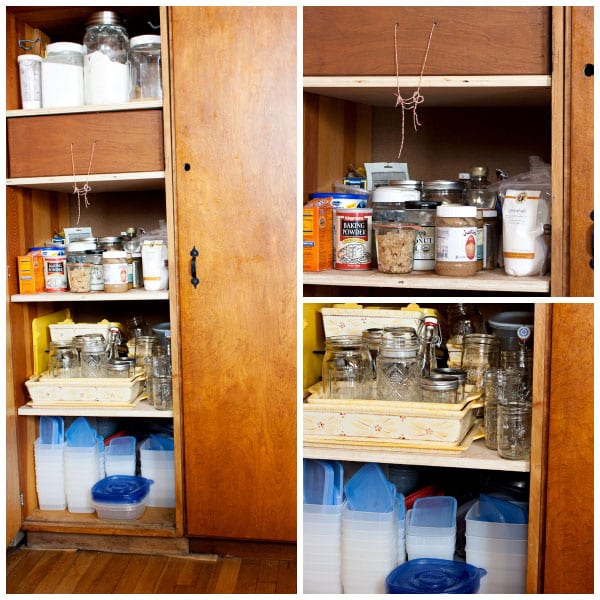 One of the downsides to living in a 120+ year old house is that there is very little storage space, especially in the kitchen and dining area. Lucky for us, the previous homeowners left some old hardwood closets in the garage. We brought them inside, cleaned them up and added some shelves, and now we have at least five times the storage space we had before. Since I know most people won't have old closets lying around in their garage (we were only lucky because the previous owners kept EVERYTHING, including all the old windows, which I turned into cold frames for the garden), try searching your nearest reuse store for cabinets and closets! See how we turned the old closets into a pantry.
Little drawers for small item storage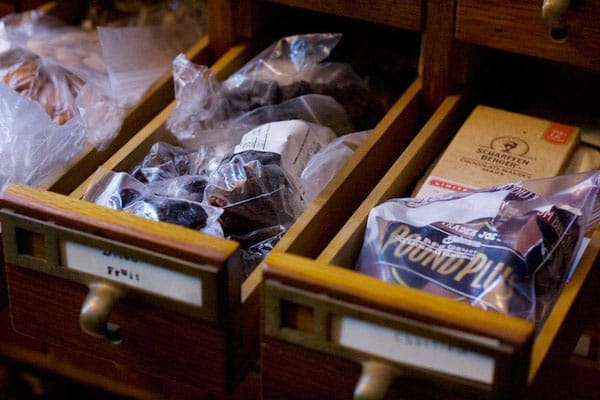 Admittedly, it was a bit difficult to make this one happen. We searched for years for a card catalog that wasn't ridiculously expensive (apparently, they are in high demand around here!), but I am so glad we kept up the search. This card catalog lives in our dining room, which is just off the kitchen, and keeps my silverware, utensils, spices and other small ingredients sorted.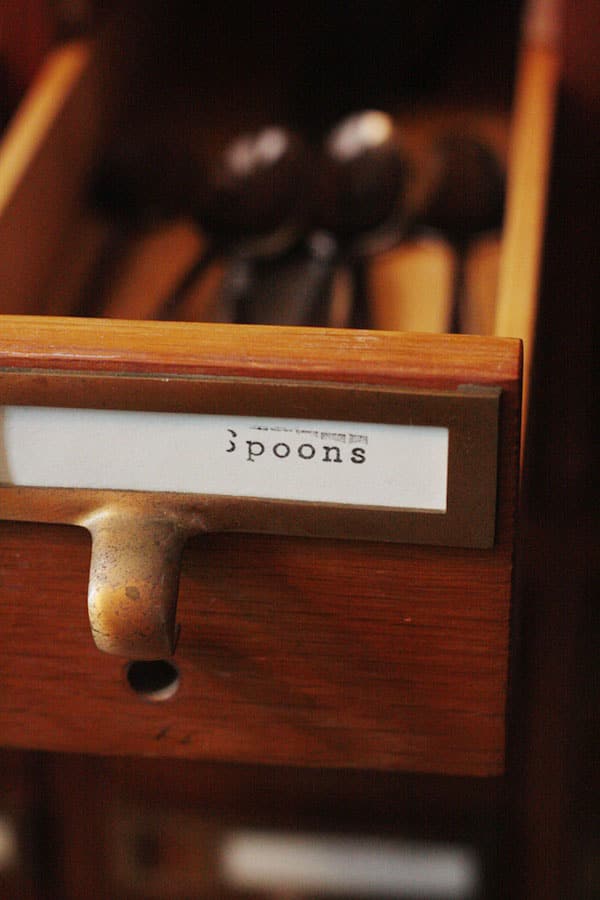 To give the card catalog more of a vintage library look, I stamped out the labels for each drawer using stamps with a typewriter-style font. Looking for cinnamon? Try the sweet spices drawer. Wine opener? That would be under "openers."
So what are you waiting for? This weekend, take yourself to your nearest flea market or antique store, and search out some vintage goods you can use to get your kitchen more organized!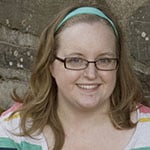 Julie Grice is the blogger behind Savvy Eats, where she uses her food science & engineering background to teach readers about making the most of their time, money and ingredients with weekly menus, experiments on the best way to store foods and canning and freezing instructions. She also blogs about gardening, recipes and appreciating the little things in life. Julie also helps run the Healthy Living Summit and is a co-host of the Best Life Ever podcast.
Blog: Savvy Eats | Healthy Living Summit | Podcasts | Twitter | Facebook | Pinterest | Instagram
Using Containers to Organize your Kitchen
6 Tips for a Well Organized Refrigerator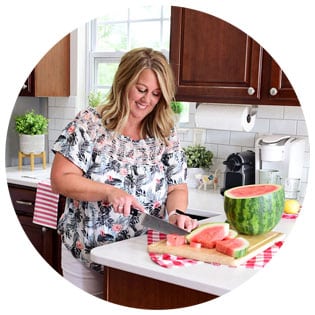 Hi there, I'm Cheryl!
As a wife, mom, and caffeine enthusiast, my journey has taken me from bustling mornings with my family to sharing delicious recipes, home care tips, and heartfelt decorating insights with wonderful readers like you. My love for baking, photography, and tidiness shines through every post I craft. Dive into my world and discover the art of homemaking, one tidy moment at a time. Read more...
Tidymom is a participant in the amazon services llc associates program, an affiliate advertising program designed to provide a means for sites to earn advertising fees by advertising and linking to Amazon.com.
Please respect my work, recipes and photographs. If you do use a recipe in your own writing, please give proper credit and link back to the original post.