Quickles! Easy Refrigerator Pickle Recipe
This post may contain Amazon or other affiliate links. As an Amazon associate, I earn from qualifying purchases.
Crave tangy, crisp pickles? This quick, no-canning Refrigerator Pickles recipe delivers! Slice cucumbers, mix brine, refrigerate, and enjoy homemade goodness in hours. Get pickling now!
Be sure to sign up for my email… to get new recipes and ideas in your inbox!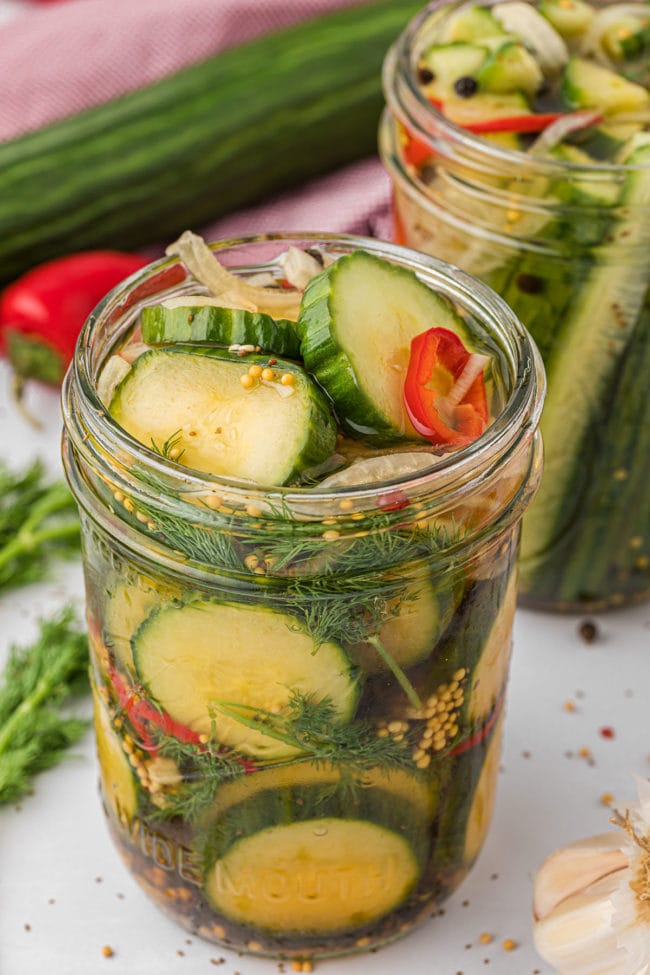 What Are Quickles?
A quickle by any other name is a refrigerator pickle, quick pickle, icebox pickle, quick-process pickle, and other variations. Frankly, a "quickle" can also be an umbrella term for any quick-pickled vegetable, like quick-pickled carrots or onions.
Quick-process pickles are made using vinegar to create an acidic brine that makes fresh, pickled cucumbers in a matter of hours. Regardless of the name, this delectable and versatile refrigerator cucumber pickle recipe does not require water bath canning. Yay for us!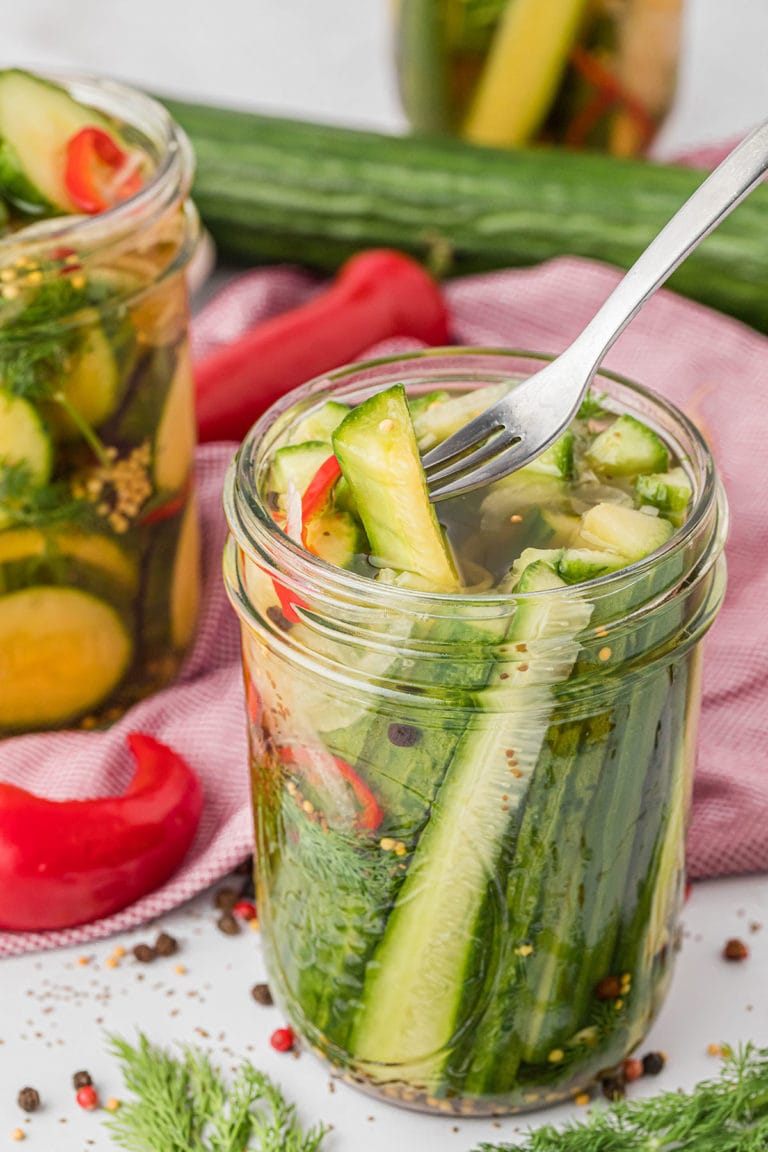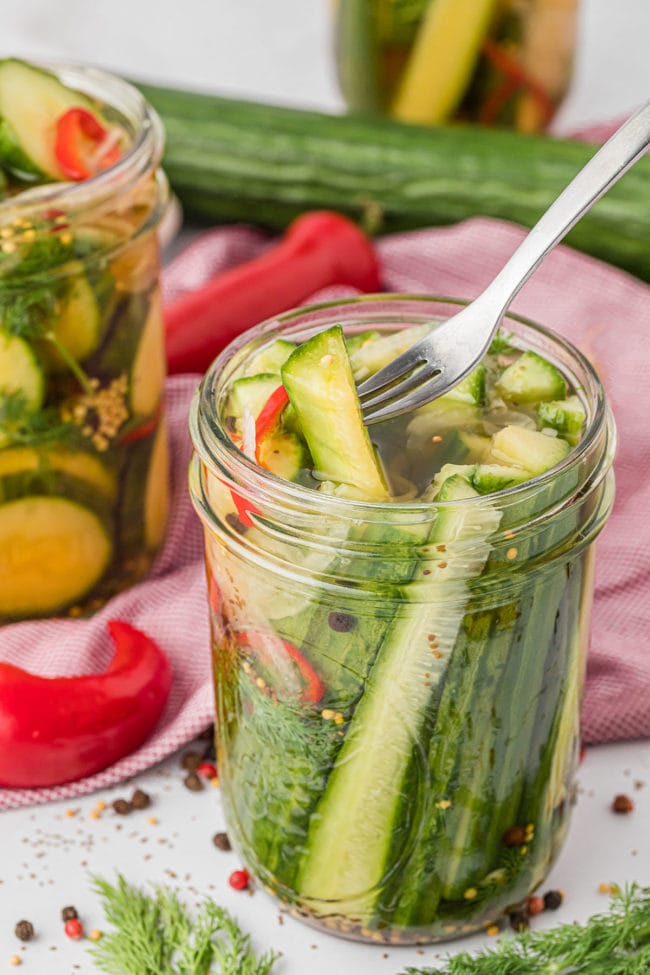 Why You'll Fall In Love With Fridge Pickles
I love making this easy recipe, and you will too, if just for the satisfaction of making homemade pickles and controlling the quality of the ingredients.
Nutrients: Quick pickles are actually a great source of vitamin K plus fiber, calcium, and potassium.
Ingredients: All you need are cucumbers, water, vinegar, herbs, spices, and salt.
Economical: Cucumbers and pickling ingredients are relatively inexpensive; you probably have most of the pickling spices you need in your pantry.
Customizable: They can be tailored to your taste and dietary needs. Adding a variety of spices, herbs, or vegetables to the pickling liquid creates a plethora of flavors.
Versatile: Fridge pickles are a great low-cal snack and can be used as a side, a relish, or in a variety of dishes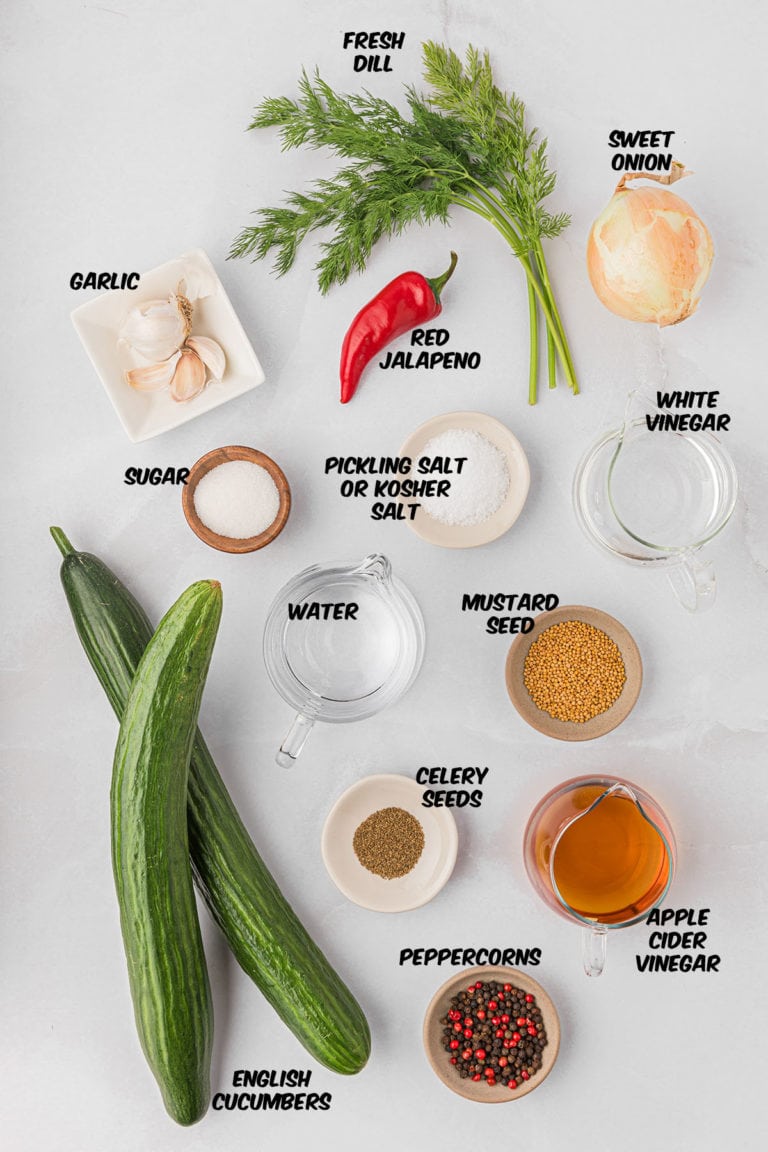 Ingredients
A quick pickle recipe is simple to follow and requires only a few vegetable ingredients and pantry staples. Fair warning, they are addicting!
For specific amounts, please refer to the printable recipe card at the bottom of the post.
Brine Ingredients
Water – demineralized, filtered, or purified will give the best results. Both mineral-rich hard water and heavily chlorinated water can play havoc with quick process pickling. (taste and color)
White Vinegar – 5% acidity is the key to properly preserving quick pickled vegetables. Vinegar is also responsible for changes in taste and texture.
Apple Cider Vinegar – Cider vinegar has a mild, sweeter flavor than white vinegar but can give a darker result if used alone for pickling brine.
Canning & Pickling Salt – is pure sodium chloride, NaCl, optimum for pickling cucumbers. You'll need ¼ teaspoon more kosher salt per teaspoon pickling salt if using Kosher salt.
Recommended Seasonings – Peppercorns, Mustard Seeds, Celery Seeds, and Sugar.
Ingredients For Quick Pickles
English Cucumbers – make excellent quick pickle rounds due to their thin skin and almost seedless texture.
Red Jalapeno – Completely deveined and deseeded, with nothing left in the red shell, will reduce the heat. Wash the inside of the pepper under running water with enough friction to remove residual oils, then slice.
Sweet Onion – One small onion sliced into thin rings and halved.
Garlic – Fresh cloves are best for quick pickles, but you can sub-in jarred minced garlic in a pinch.
Fresh Dill Sprigs – Washed, patted dry, and roughly chopped.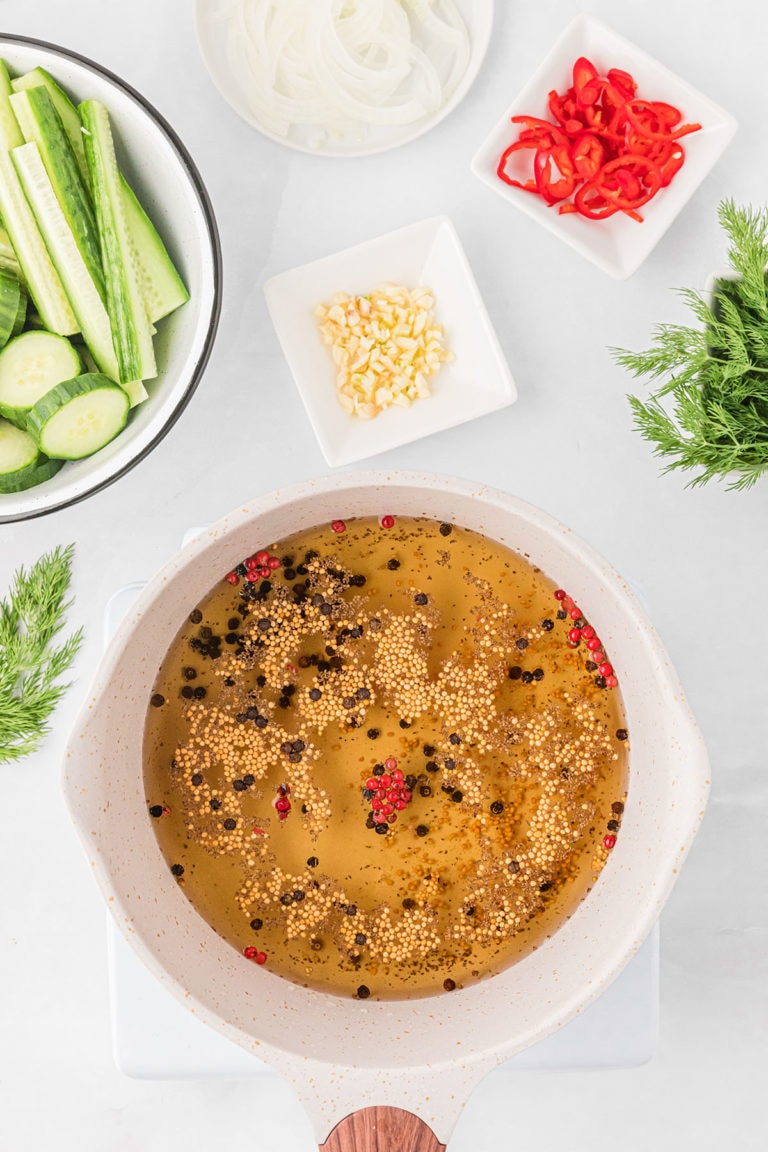 This post may contain affiliate links. Please read my disclosure policy here.
How To Make Easy Refrigerator Pickles Recipe
When you are making these homemade pickles, you'll want to use the full recipe at the bottom of the page.
Quick pickles are easy to make and don't require a whole mess of prep tools, either! Grab a saucepan, a couple of very clean jars with tight-fitting lids, a sharp knife, a cutting board, and a pair of disposable gloves for the jalapeno prep!
Simmer the pickling brine ingredients over medium heat until boiling, then cool while you prepare the vegetables.
Tightly pack prepared vegetables in a very clean jar.
Pour cooled brine over cucumbers, submerging everything and leaving 1-inch headspace.*
Wipe rims, close jars, let cool, and refrigerate for 1-3 hours or overnight.
*Note: Headspace is the empty space at the top of a jar that is left to allow for the expansion of the food as it ferments.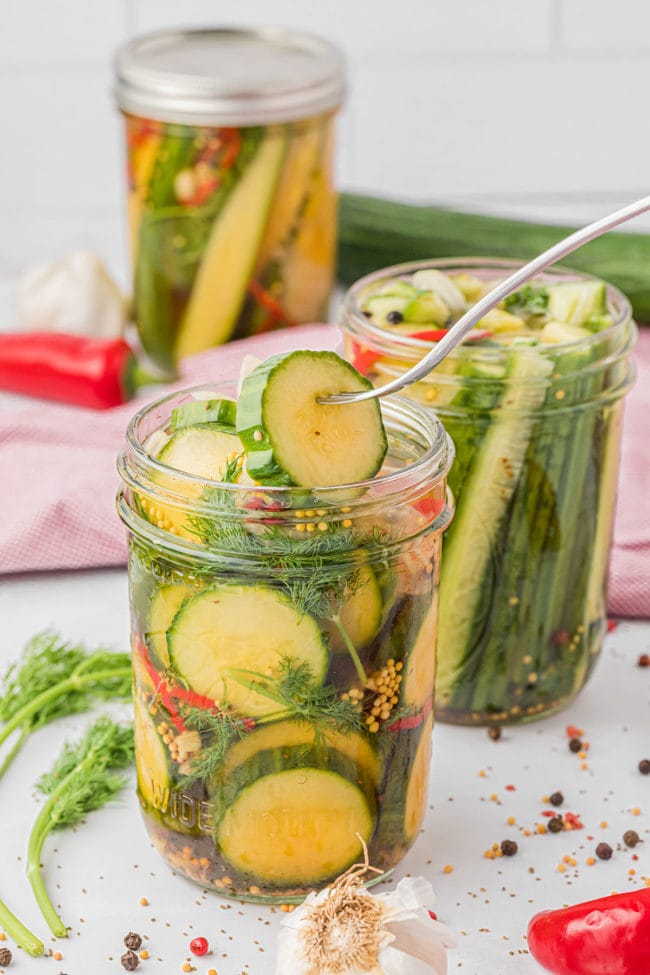 Recipe Notes and Tips
Salt is a crucial component of many pickling processes and flavor enhancements. Use only canning, pickling, or kosher salt in a quick process pickle.
Avoid salts that have iodine, silica, or any other non-caking material. These additives in the salts will cloud up the brine, including mineral-rich sea salt and pink salts.
Pick cucumbers that are fresh, firm, and free of soft spots or broken skins.
The blossom end of a cucumber carries enzymes residue from the blossom that causes pickles to soften, so trim an ⅛-inch piece.
Slice washed cucumbers into ¼ to ½ inches thick rounds, or cut them lengthwise into quarters and then slice each quarter into spears.
If your spears are too long for the jar, cut them in the middle to fit.
Wear food-safe gloves* to prep the jalapeno!
For proper pickling/preservation to occur, quick pickle ingredients must be fully submerged to be in contact with the acids.
To crunch or not to crunch? English cucumbers have delicate skins and a crisp texture. Pouring hot brine over the prepared cukes for quick pickling can soften them even more.
Transfer the brine into a large glass measuring cup or use a canning funnel to make pouring it into pickling jars easier.
If you have leftover brine, instead of throwing it away, refrigerate it to use it for inspiration to pickle other vegetables later.
On the other hand, if you're short on brine, mix equal parts vinegar and water, then add until the quick pickles are covered.
*Critical Prep Tip: Don't touch any part of your face when prepping jalapenos; those oils are hardcore and even harder to get off once a reaction starts. Remove the glove by peeling it into itself, and discard it immediately. You won't need to thank me later because you won't know what it's like to have your hands, nose (from itching), or other body parts on fi-re! (you're welcome)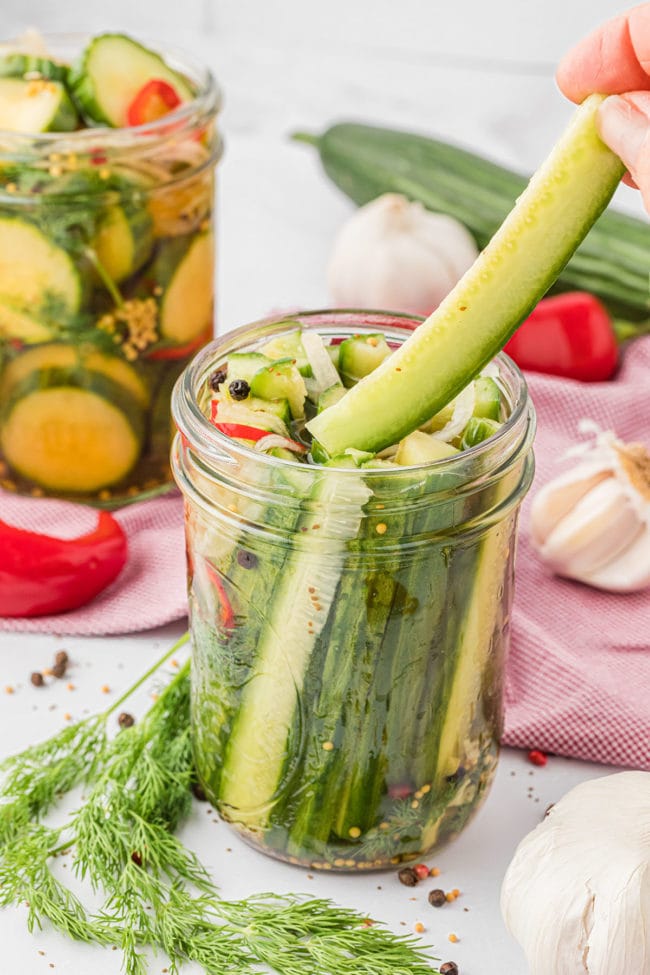 Quick Pickling, Safety First:
Always start any fridge pickle recipe with clean jars and lids. Run through the dishwasher or hand wash with soap and rinse in hot water; air dry.
Use non-reactive pans like stainless steel, glass, or unchipped metal when heating pickling liquids.
Avoid aluminum, copper, and brass in brine. They react with acids or salts to create discoloration or undesirable compounds.
***This recipe is not safe to can in a water bath. It has not been tested for safety and should not be attempted. Please use a recipe that has been specifically designed for canning.***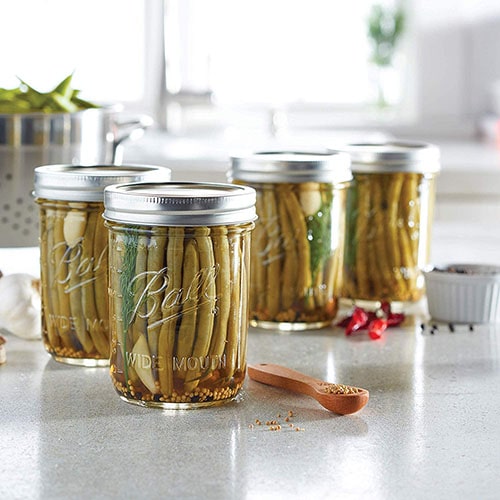 Ball Wide-Mouth Pint Mason Jars
16 oz mason jars can meet most of your canning food-making, storage, and DIY needs.
How To Store This Recipe
This may come as a shock, but fridge pickles have to be stored in the refrigerator! Lol. They can keep for up to 3 months in a sealed, unopened jar. Nice, right?!
Once you start snacking on quick pickles, you'll want to consume them within 1-2 weeks for the best quality.
Some say fridge pickles can last up to a month, but I've no proof of that since they are gone by then around here!
These tasty cukes are perishable and need to remain refrigerated for the duration.
How do I know if my quick pickles are still good?
The quality of refrigerator pickles will deteriorate as they age. Once your fridge pickles lose their crispness and the brine becomes murky, it's time to use them up or discard them.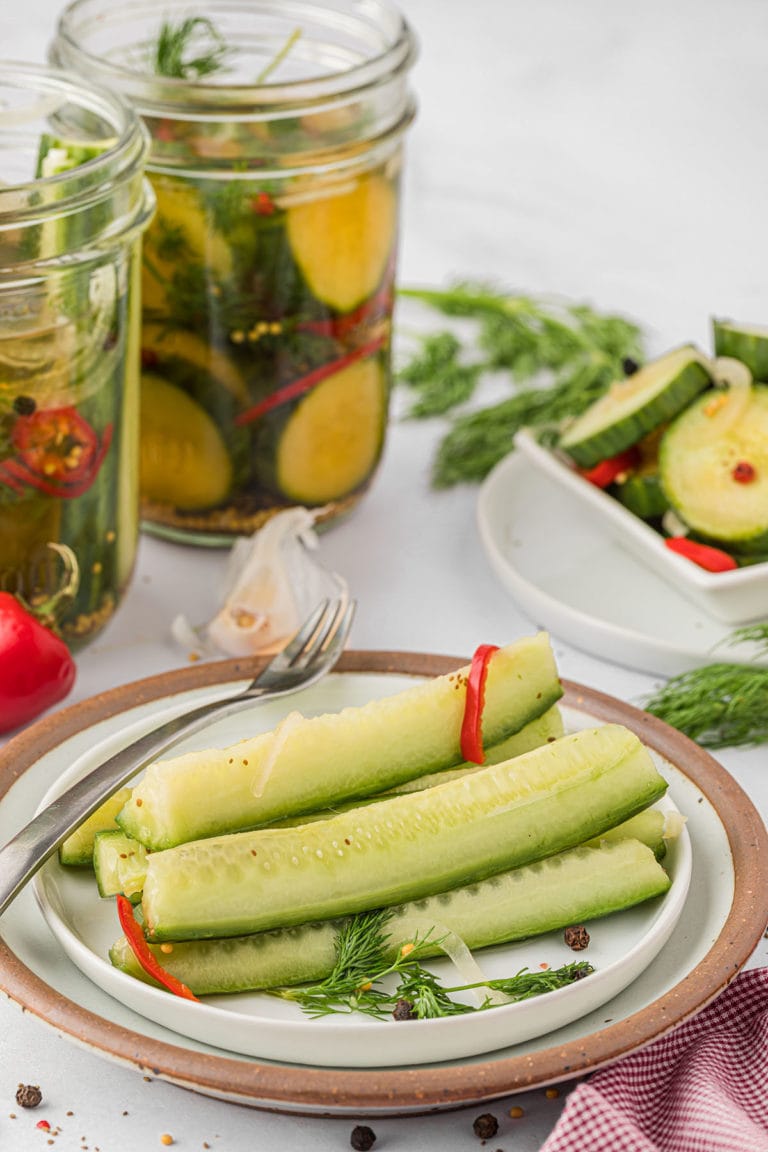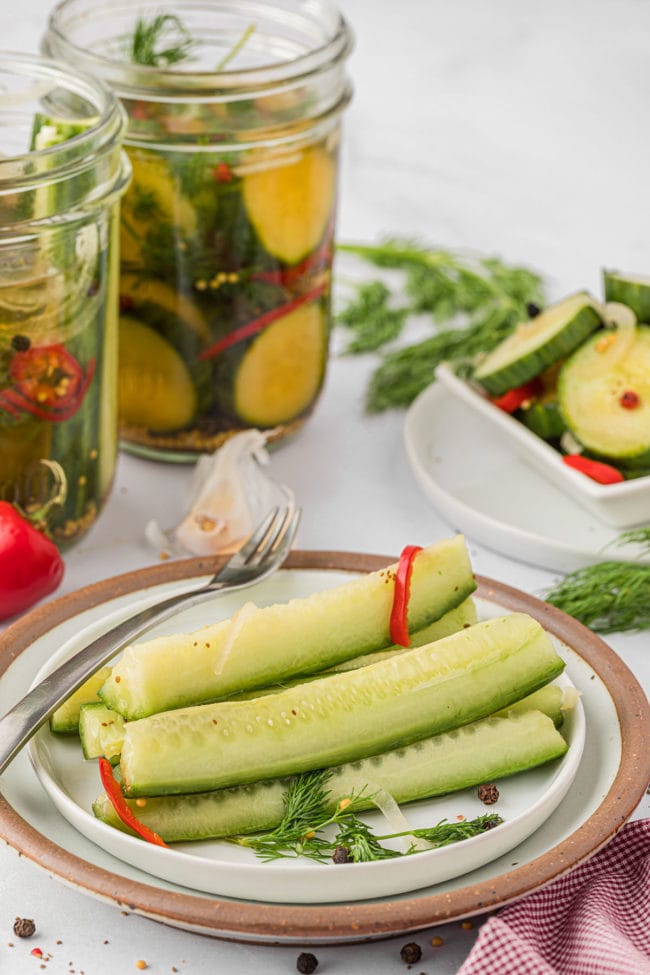 Recipe FAQs
Can I use regular salt to make fridge pickles?
The answer should be a hard no, but quickle newbies sometimes take a stab at it. Does that mean they get the best quality refrigerator pickle with a bright, crunchy texture in a beautifully clear brine? That is a hard no. Table salt is safe enough but isn't very nice to your pickles. Minerals and anti-caking agents are not friendly to pickled cucumber recipes either. Use pure canning or pickling salts for superior results.
Do you have to boil the brine ingredients?
Heating the brine intensifies the flavors of the seasonings and thoroughly dissolves the salt and sugar, which is essential for pickling. Cooled brine is poured over the cucumbers or other vegetables and refrigerated to continue the pickling process.
How are refrigerator pickles different from canning pickles?
In a nutshell, quick pickles require marinating, while canned pickles are made through fermentation. Refrigerator pickles are preserved in an acidic vinegar and salt brine and must be refrigerated to prevent spoilage. Canning pickles are preserved through a fermentation process where naturally occurring bacteria react with cucumber sugars to produce acids. This chemical reaction makes pickles shelf stable.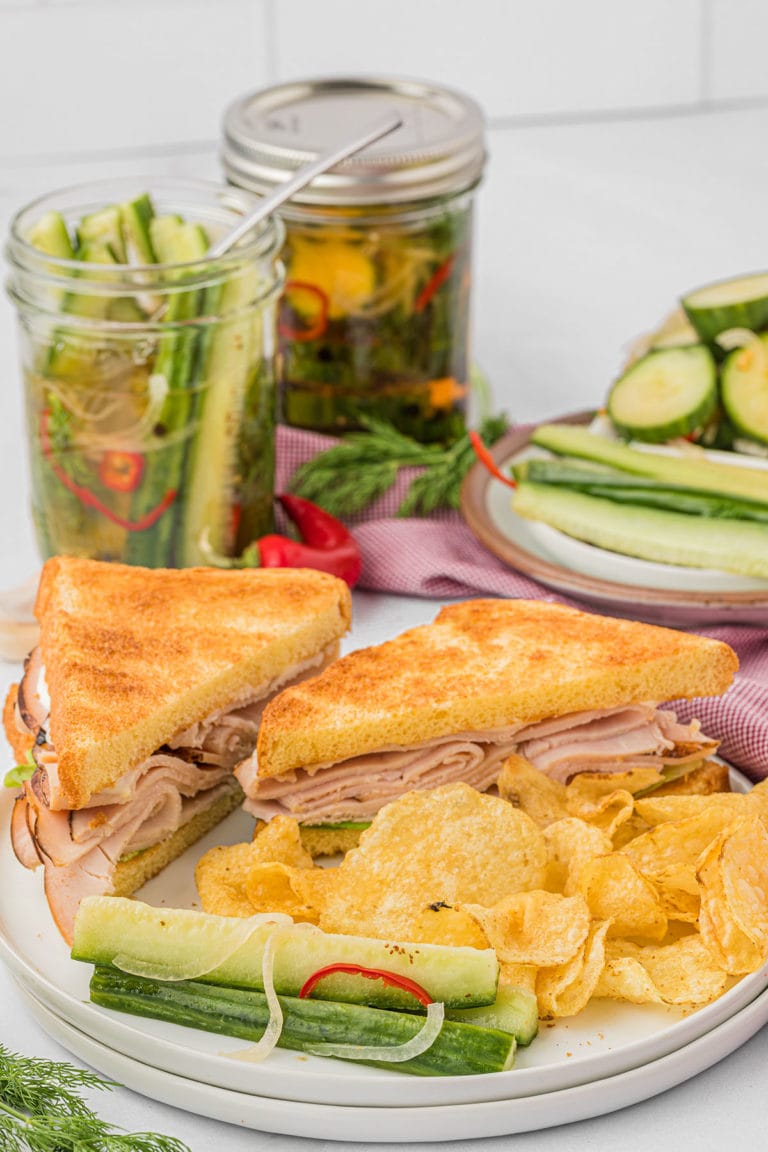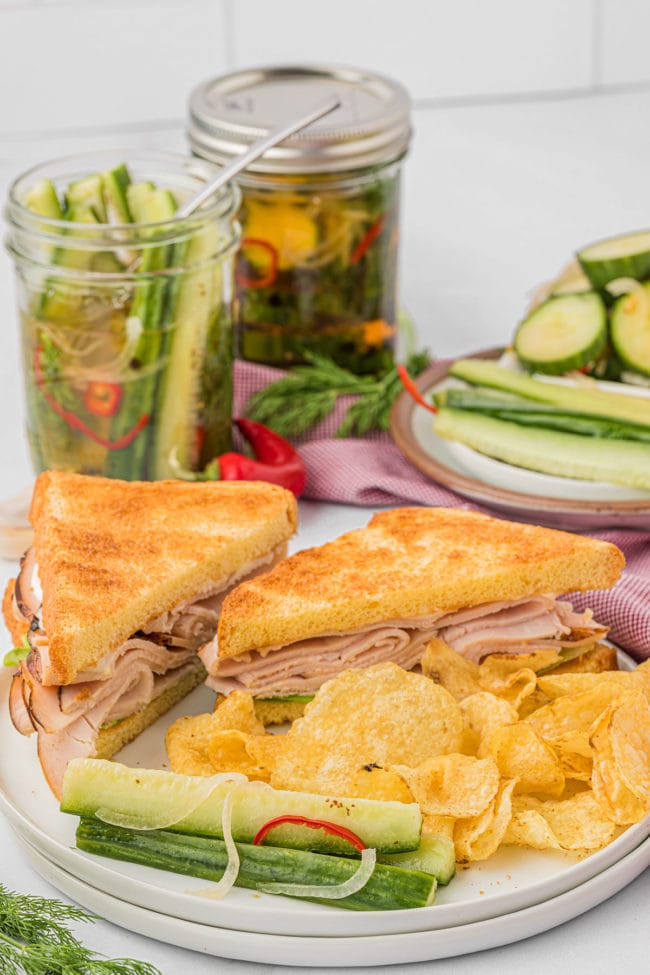 Serving Suggestions
One of my favorite ways to use fridge pickles is to chop them up and include them in recipes that call for relish, like an Egg Salad Sandwich.
Serve your quick pickles at a BBQ or with a California Chicken Club Sandwich and chips.
Use quick pickle rounds for burgers or chopped/relish-sized quick pickles on hotdogs.
Like This Recipe? Pin It!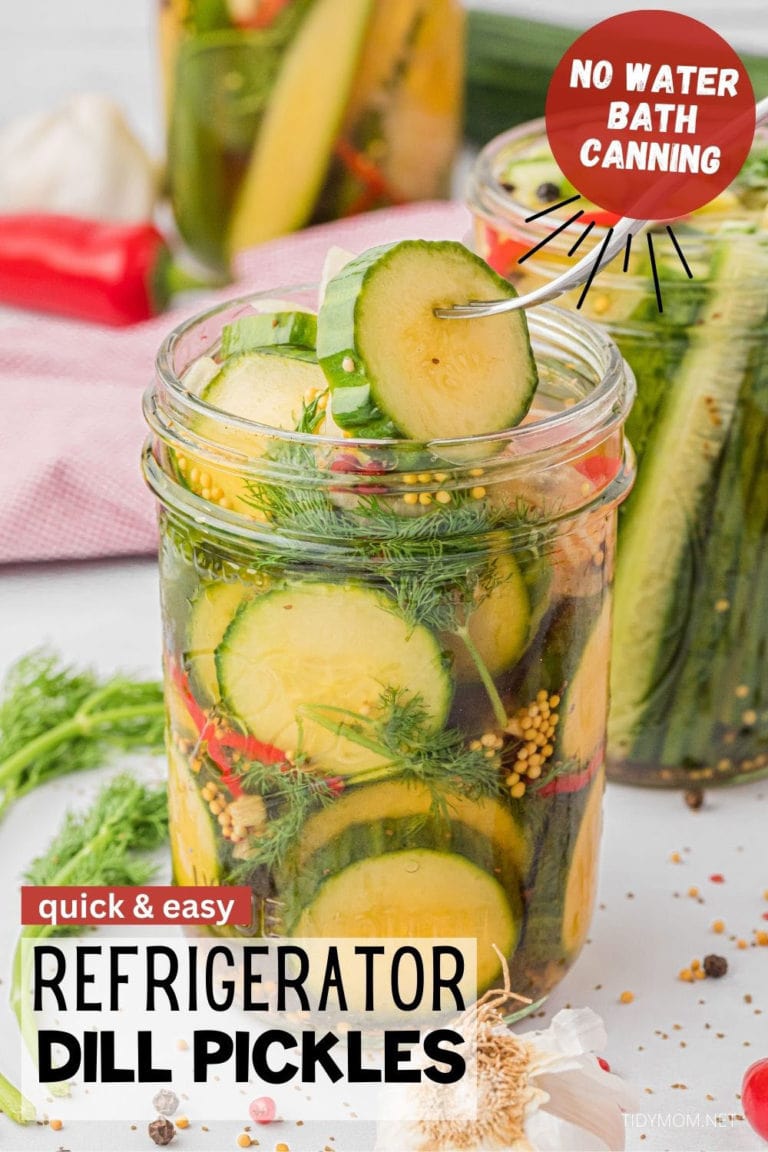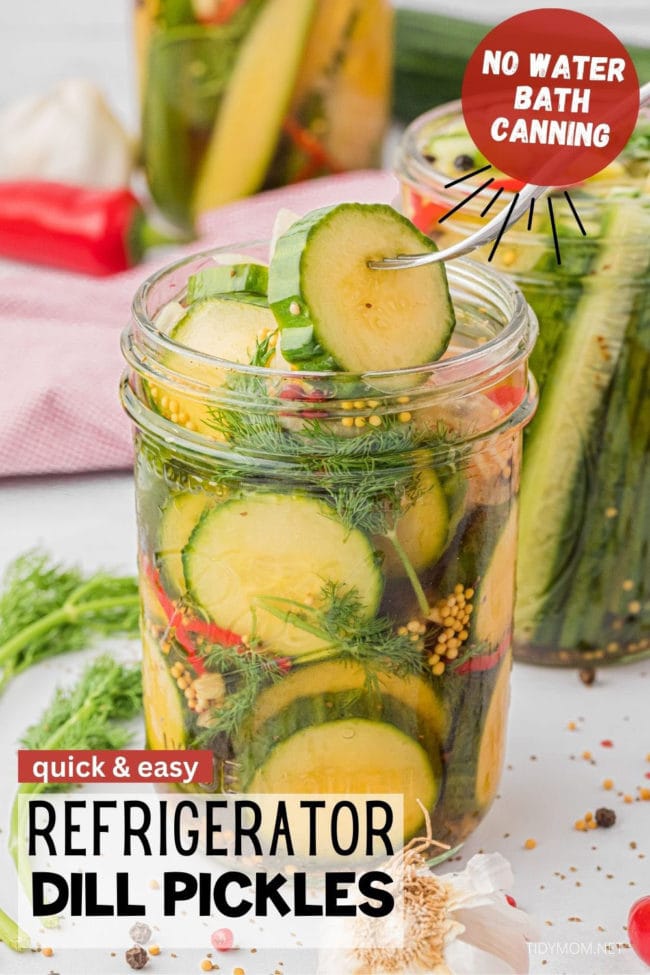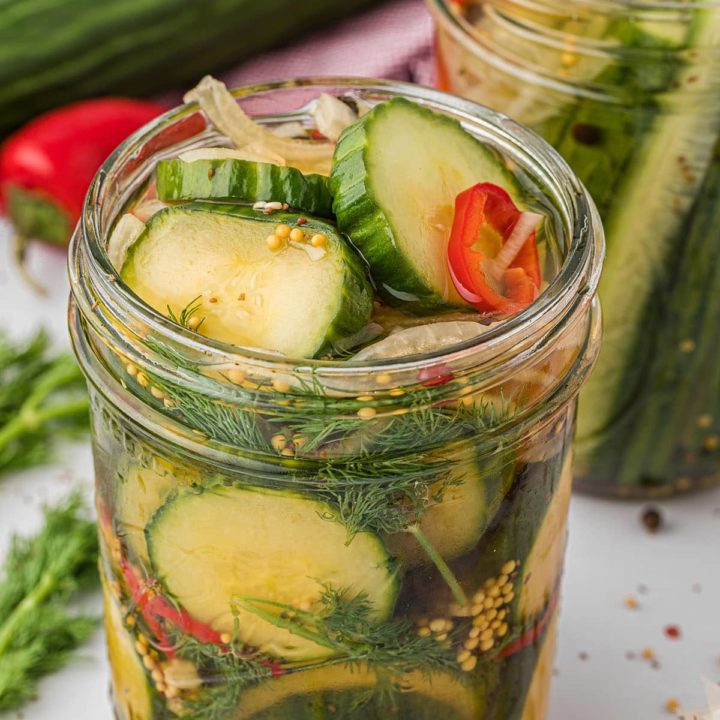 Quick and Easy Refrigerator Pickles
Yield: Two 1-pint jars (about 12 servings)
Prep Time: 20 minutes
Cook Time: 5 minutes
Total Time: 25 minutes
Crave tangy, crisp dill pickles? This quick, no-canning refrigerator pickles recipe delivers! Slice cucumbers, mix brine, refrigerate, and enjoy homemade quick pickles in hours.
Ingredients
1 cup water
½ cup white vinegar
½ cup apple cider vinegar
3 teaspoons pickling salt or kosher salt
2 teaspoons peppercorns
2 teaspoons mustard seed
½ teaspoon celery seeds
1 tablespoon sugar
1 pound fresh English cucumber
1 red jalapeno (optional)
½ small sweet onion
3 cloves garlic
4 sprigs fresh dill, roughly chopped
Instructions
Combine the water, vinegars, salt, peppercorns, mustard and celery seeds, and sugar, in a medium saucepan. Heat over medium heat, stirring occasionally, until the salt and sugar have dissolved. Let it come to a boil and turn off the heat. Remove from heat and allow to cool while prepping the vegetables.
Wash cucumbers, and slice into ¼-½ -inch thick rounds or into spears* (see notes on slicing into spears). Slice the jalapeno (removing the ribs and seeds and rinse with water to remove the heat if desired). Thinly slice or chop the onion. Peel and chop the garlic.
Tightly pack cucumber, jalapeno, onion, garlic, and dill sprigs into clean 1-pint jars leaving about 1-inch headspace.
Pour the brine over the cucumber mixture making sure everything is submerged leaving 1-inch headspace*(see notes). Wipe the rims and close the jars with lids. Allow to come to room temperature then refrigerate for at least 1-3 hours, or overnight for best flavor.
Notes
To slice cucumber into spears: slice the cucumber in half lengthwise, then slice the halves lengthwise into quarters, then slice the quarters lengthwise into eighths. If your spears are too long for the jar, cut them in the middle to fit.
If needed, press cucumbers down so they are fully submerged.
Headspace is the empty space at the top of a jar that is left to allow for the expansion of the food as it ferments.
Pour brine into a large glass measuring cup to make it easier to pour into jars
STORAGE: Quick pickles will keep for about 3 months in a sealed jar in the fridge, and 1-2 weeks once opened.
Nutrition Information:
Yield: 12
Serving Size: 1
Amount Per Serving:
Calories: 22
Total Fat: 0g
Saturated Fat: 0g
Trans Fat: 0g
Unsaturated Fat: 0g
Cholesterol: 0mg
Sodium: 78mg
Carbohydrates: 4g
Fiber: 1g
Sugar: 2g
Protein: 1g
Nutrition information is estimated based on the ingredients and cooking instructions as described in each recipe and is intended to be used for informational purposes only. Please note that nutrition details may vary based on methods of preparation, origin, and freshness of ingredients used and are just estimates. We encourage, especially if these numbers are important to you, to calculate these on your own for most accurate results.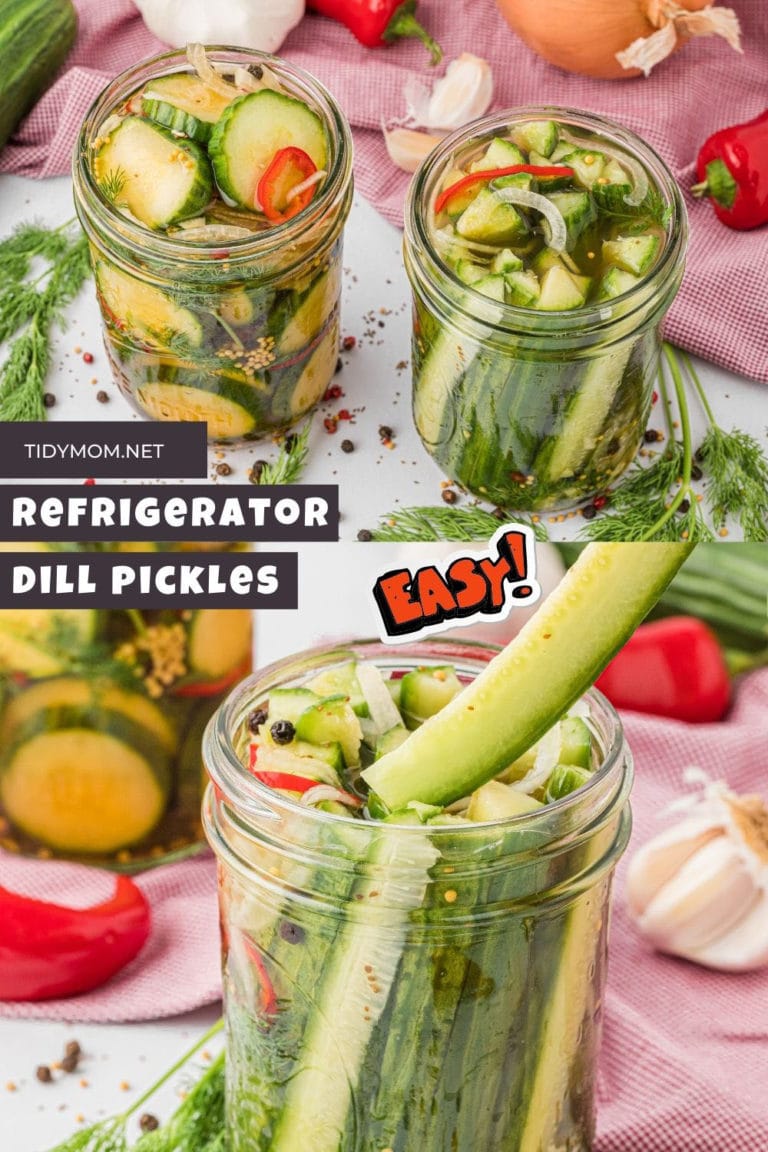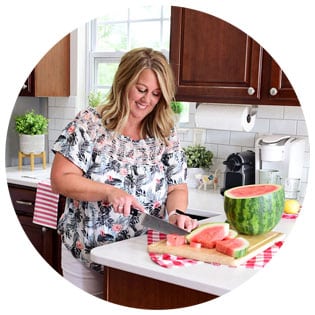 Hi there, I'm Cheryl!
As a wife, mom, and caffeine enthusiast, my journey has taken me from bustling mornings with my family to sharing delicious recipes, home care tips, and heartfelt decorating insights with wonderful readers like you. My love for baking, photography, and tidiness shines through every post I craft. Dive into my world and discover the art of homemaking, one tidy moment at a time. Read more...
Tidymom is a participant in the amazon services llc associates program, an affiliate advertising program designed to provide a means for sites to earn advertising fees by advertising and linking to Amazon.com.
Please respect my work, recipes and photographs. If you do use a recipe in your own writing, please give proper credit and link back to the original post.