Peanut Butter No-Bake Energy Bites
Peanut Butter No-Bake Energy Bites. Conquer your hunger guilt-free and snack on something healthy and delightful like these easy homemade protein balls, they taste like cookie dough! Who can say no to that?!
While we love oatmeal for breakfast — this baked Pumpkin Pie Oatmeal, Baked Peanut Butter Oatmeal, and Cinnamon Roll Baked Oatmeal are always a hit at our house — We like to bake it into our sweets, too. Some of our favorites are Oatmeal Cookies With a Chocolate Drizzle, Peanut Butter Oatmeal Cookie Pie, and Snickerdoodle Homemade Granola.
Be sure to sign up for my email… to get new recipes and ideas in your inbox!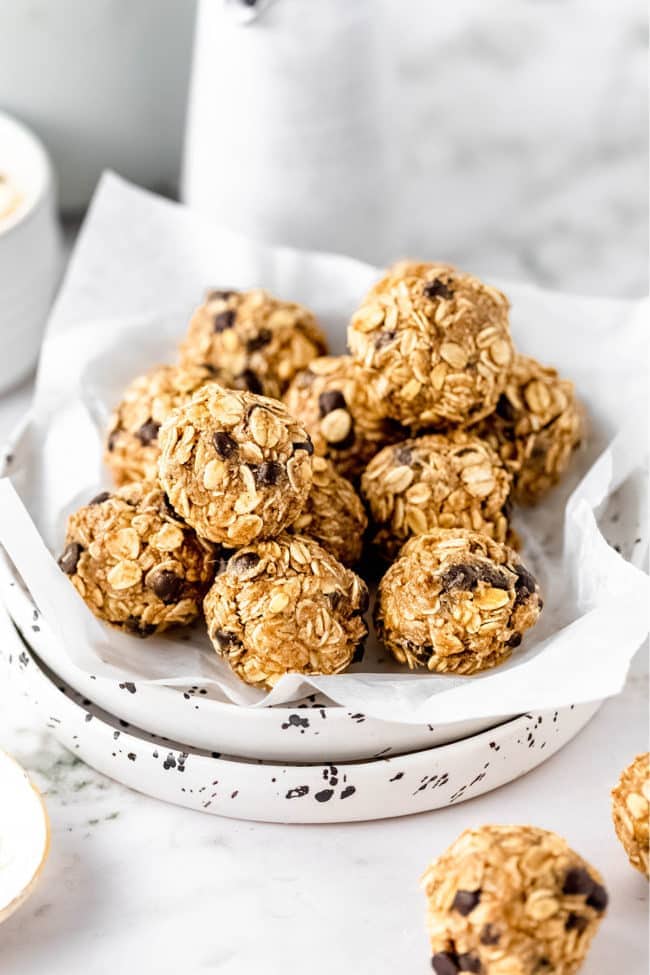 Why We Love Cinnamon Peanut Butter Protein Balls
Whether you call them protein balls, energy bites, power balls, or bliss balls, there's so much to love about these little no-bake bites of wholesome goodness!
Simple Pantry Ingredients: With just a few ingredients you probably already have on hand, these energy balls are an easy way to make a protein treat.
Easy To Make: Peanut butter oatmeal balls are incredibly easy to whip up any time you want a satisfying flavor-packed protein snack.
No-Bake Treat: This means there's no need to heat up the kitchen. No oven or microwave is needed.
Grab & Go: Grab one to boost your energy pre or post-workout, snacking throughout the day, or toss a few in your bag when you're on the go.
Healthy: No-bake energy bites are packed with nutritious ingredients keeping you feeling full and provide a sufficient energy boost. They taste like cookie dough so it's easy to help you through your busy day.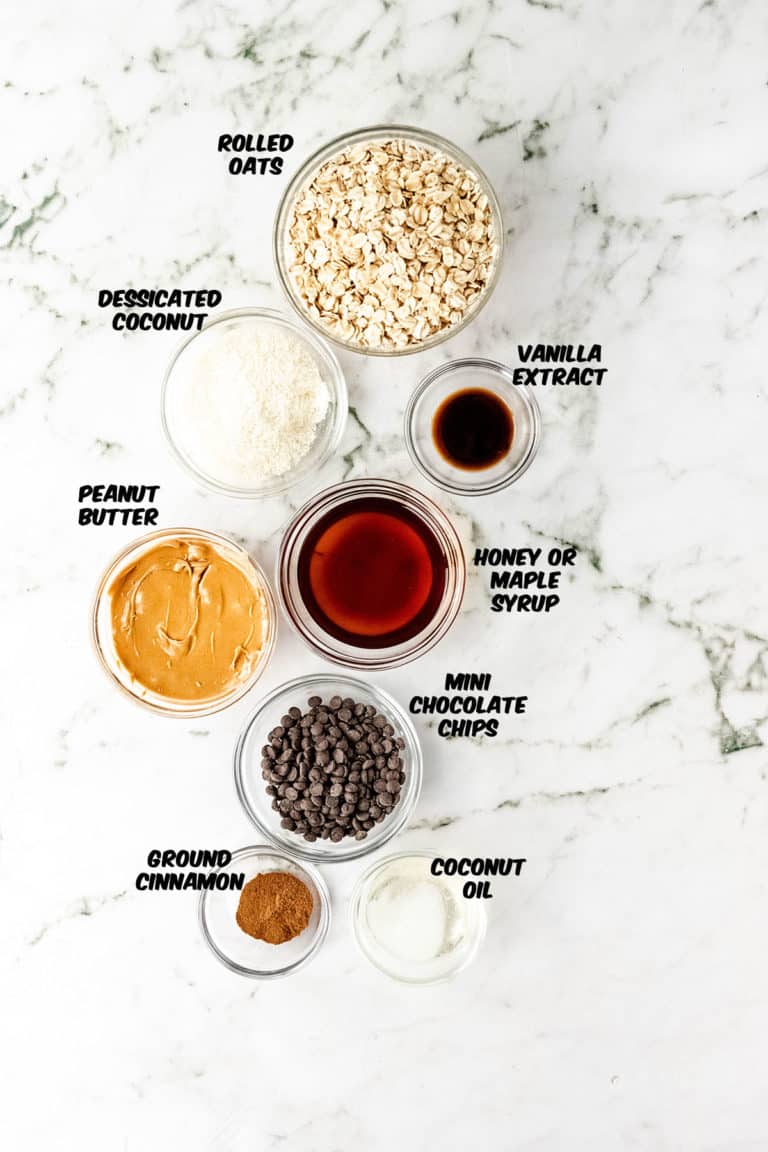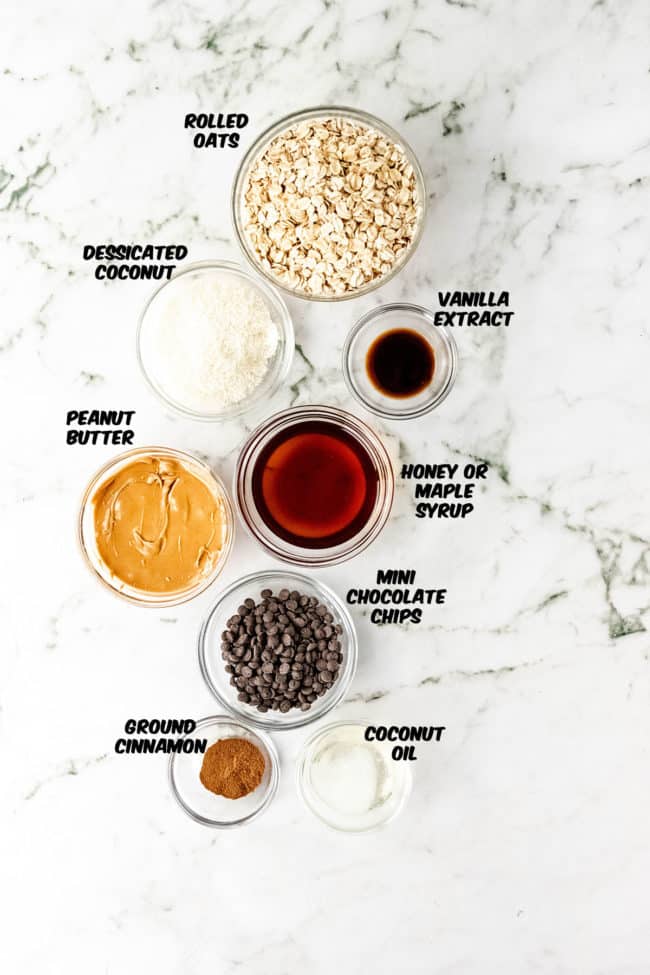 This post may contain affiliate links. Please read my disclosure policy here.
Simple Ingredients For Peanut Butter No-Bake Energy Bites
Sometimes you just don't have time for an Energy Lift Green Smoothie. With just a handful of simple ingredients, just like our homemade energy bars, these oatmeal protein balls come together quickly and make for a healthy, quick snack on hand any time.
For specific amounts, please refer to the printable recipe card at the bottom of the post.
Rolled oats – This style of oats is perfect for no-bake energy bites. The size and flat shape of the oats pair well with the other ingredients, providing just the right texture.
Desiccated coconut – Because of its fine texture, desiccated coconut is a better choice over shredded coconut (which has larger pieces). Unsweetened shredded coconut can be used in a pinch though.
Creamy peanut butter – binds everything in these protein balls together. If you're using natural peanut butter, be sure to thoroughly mix it before measuring. Feel free to use any kind of nut butter you prefer like almond or cashew butter.
Honey or maple syrup – add sweetness to energy bites. Honey imparts a lighter flavor while maple can bring a sweet earthiness to these treats. You can use whichever you prefer (or have on hand).
Coconut oil – Be sure to melt the coconut oil before mixing the ingredients together so that it is easily dispersed evenly throughout the mixture.
Vanilla extract – Make your own homemade vanilla extract or you can also use a store-bought version. For the best flavor, you'll want to use pure, instead of imitation vanilla.
Ground cinnamon – Cinnamon imparts warm flavor into these bliss balls.
Chocolate Chips – bring a little chocolatey sweetness and texture. I usually use semi-sweet mini chocolate chips because they are easier to mix in, but regular-size chocolate chips work too.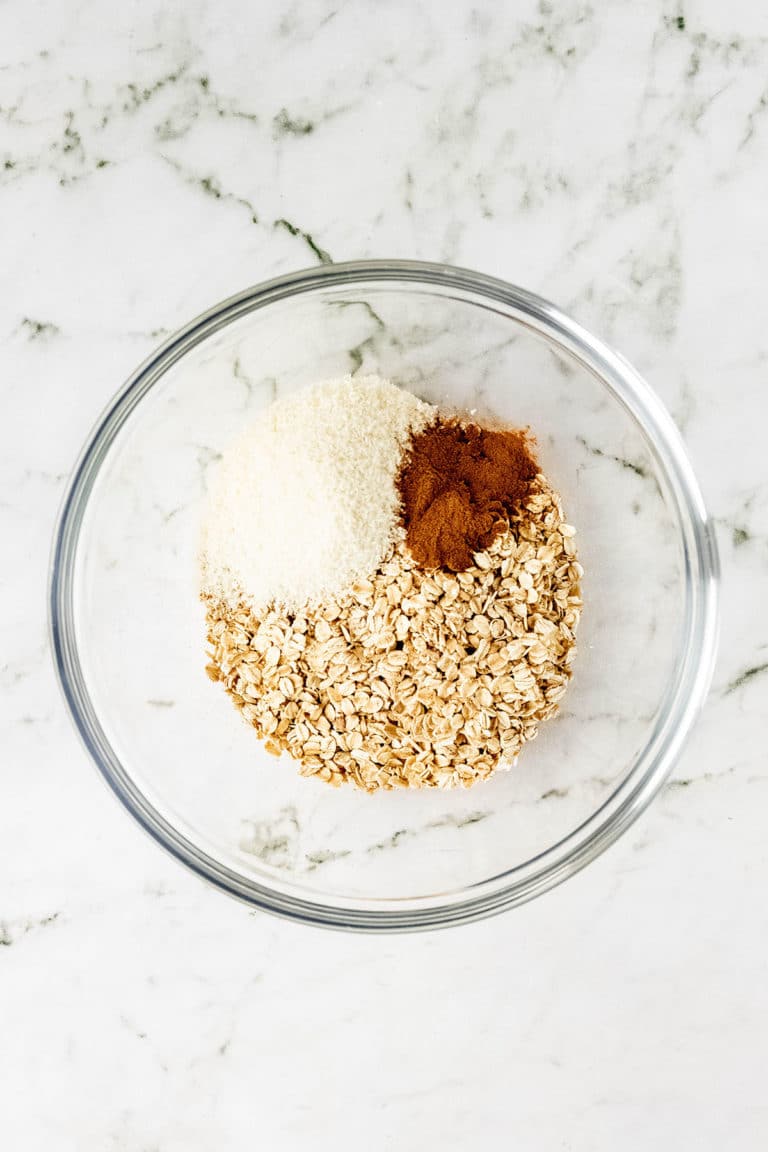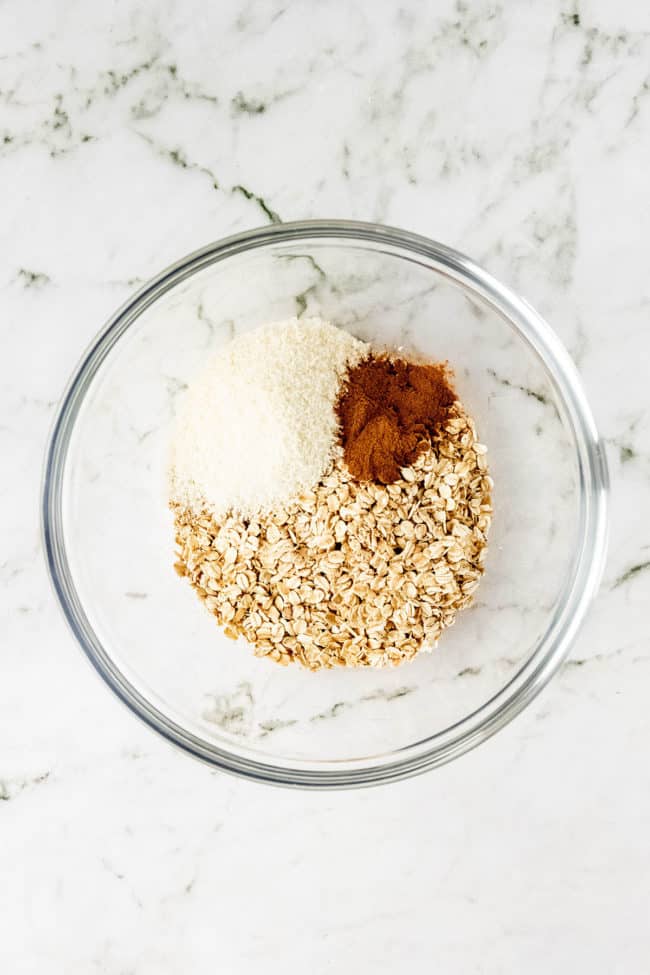 How To Make The Best Peanut Butter Energy Balls
Grab a large mixing bowl, a wooden spoon, and a cookie scoop (optional)….we're making peanut butter bliss balls!
When you are making these energy balls, you'll want to use the full recipe at the bottom of the page.
Mix together the rolled oats, coconut, and cinnamon in a large bowl.
Add the remaining ingredients and mix until completely combined.
Chill. Allow the protein ball mixture to chill in the refrigerator. This will make them easier to roll into balls.
Roll the dough between your palms to form smooth balls. A cookie scoop is helpful for getting equal portions if you have one.
Store in refrigerator or freezer.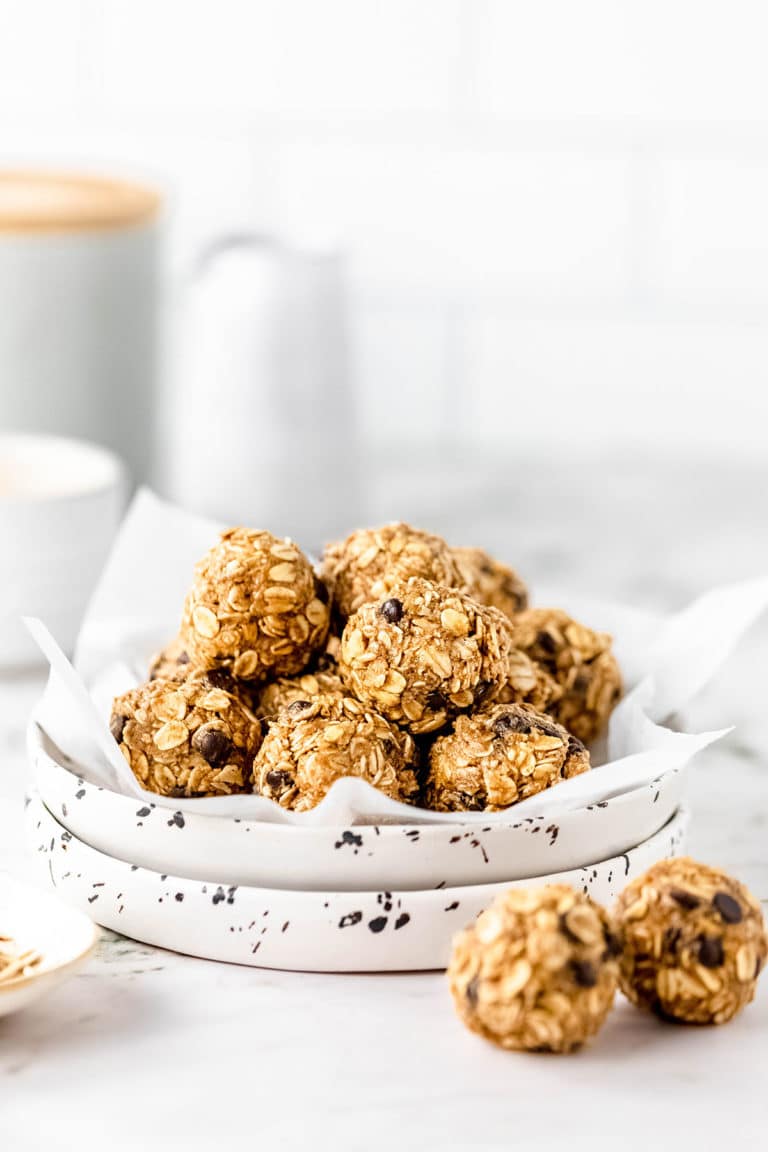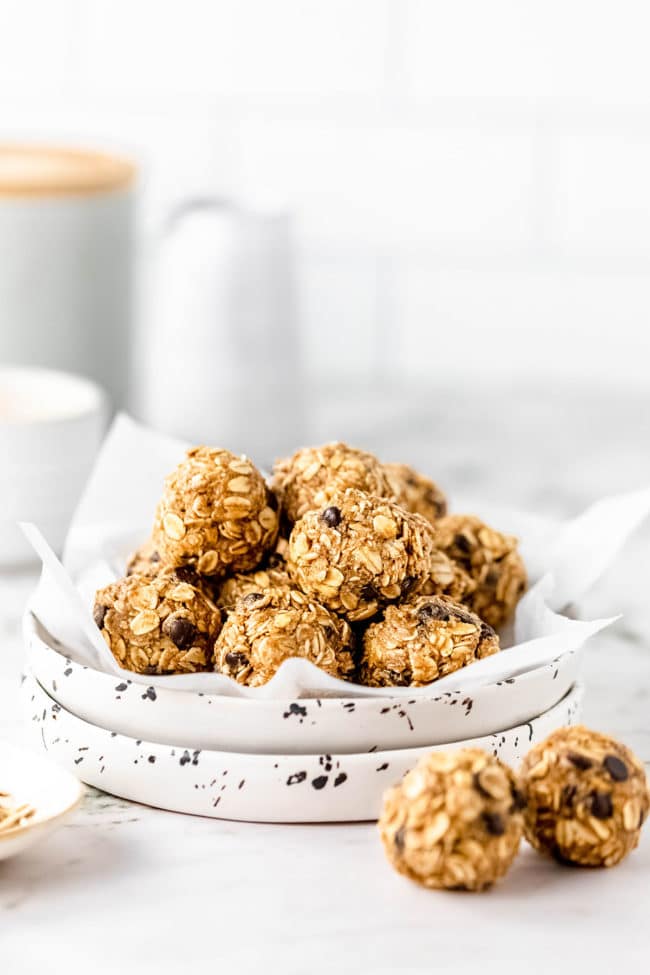 No-Bake Peanut Butter Energy Bites Recipe Tips
No-bake energy bites are fairly simple and easy to execute but there are a few tips to keep in mind when making them.
For smooth balls, and to prevent messy hands, wet your hands with water or lightly grease your hands with a neutral oil or cooking spray — this will keep the sticky dough from sticking to your hands. Always roll bites after the mixture has been refrigerated.
If you are having trouble getting the bliss balls to hold together into a ball, try adding a little more peanut butter to the mixture.
In a time crunch? You can just press the batter into a baking dish and cut into bars after chilling.
To create even-sized balls, try using a 1-tablespoon cookie scoop to portion out the dough.
If the peanut butter is too stiff when mixing, try softening it just slightly at 5-second intervals in the microwave.
To keep the balls from sticking to each other, store them in single layers or with parchment paper in between.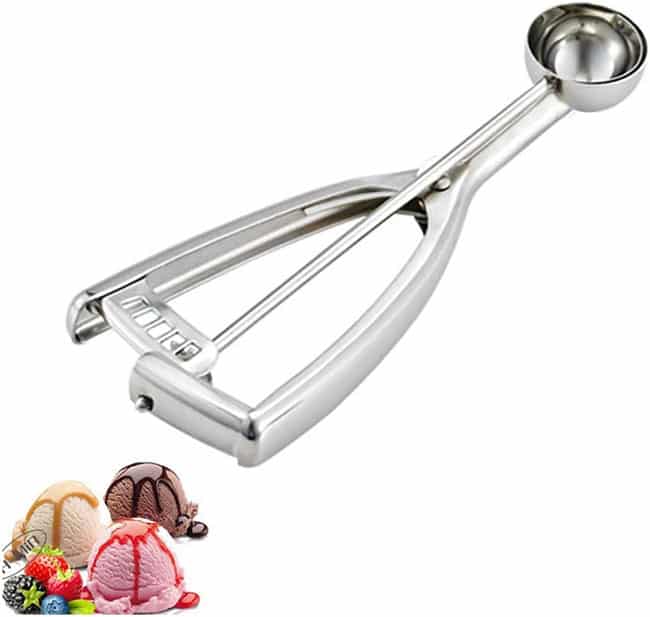 Featured Product Cookie Scoop
Perfect for creating beautifully rounded balls of cookie dough, ice cream, meatballs, cupcakes, melon balls, and more.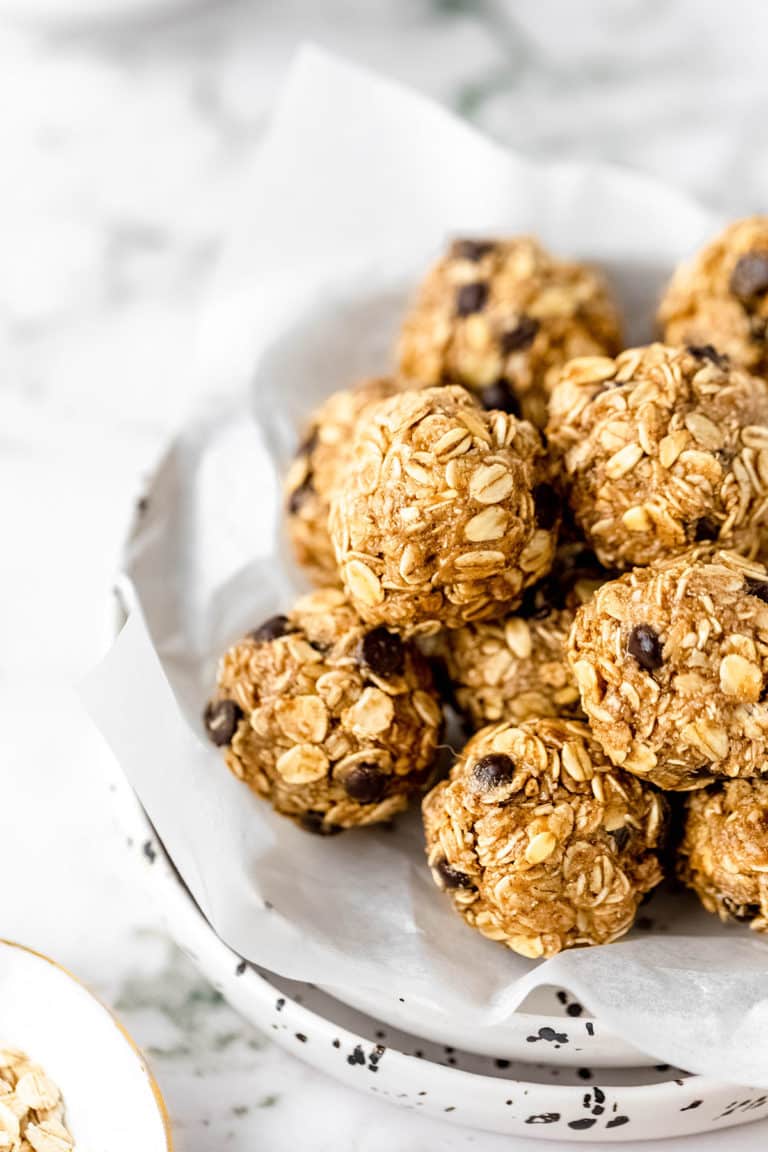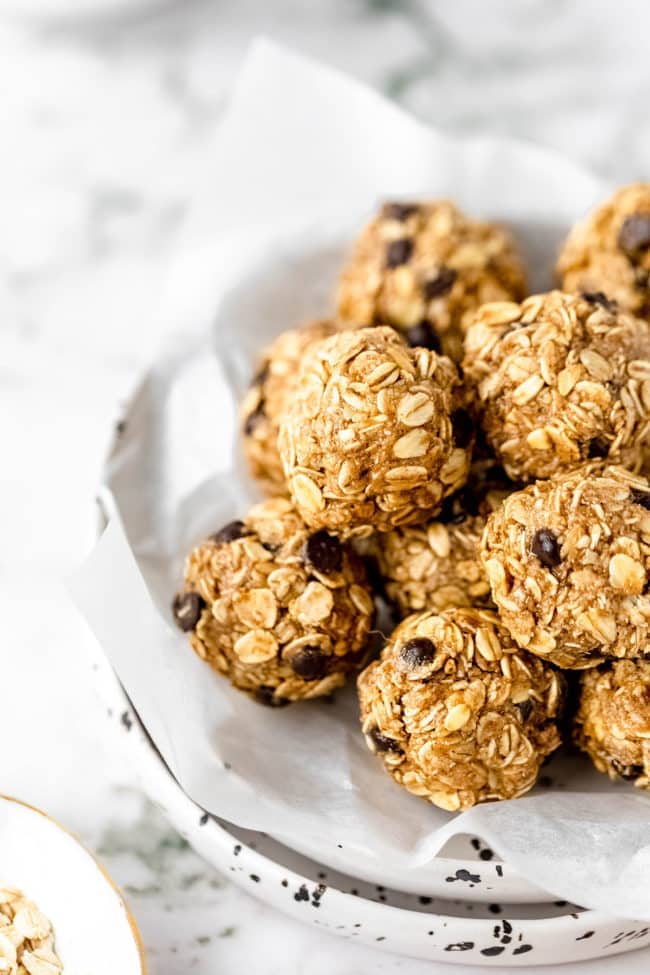 How To Store Energy Balls
Refrigerate/Leftovers
While you can refrigerate bliss balls for up to 2 weeks, it's not necessary. Just store them in an airtight container or ziptop bag and keep them at room temperature for up to 1 week.
Freeze
You can freeze peanut butter energy bites in freezer bags or a freezer-safe container for up to 3 months in the freezer. FYI: they are tasty right out of the freezer!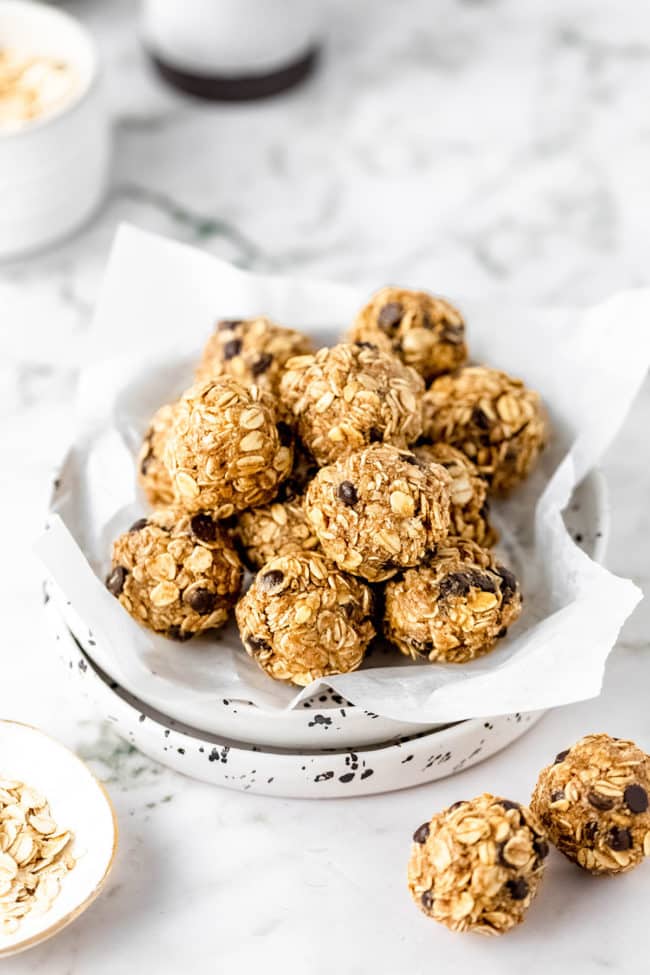 Quick FAQ for No-Bake Peanut Butter Energy Bites
Are these energy balls really a healthy snack?
Packed with oatmeal, peanut butter, and coconut peanut butter protein bites are loaded with protein, fiber, and healthy fats that will keep you full and energized throughout the day.
When is the best time to eat protein energy balls?
You can eat peanut butter protein balls anytime, but they can be especially useful if you eat them pre-workout, post-workout, or between meals when you're feeling hungry or need a little energy to make it through the day.
Can you use natural peanut butter in energy balls?
You sure can!! Just know it may make your batter extra sticky. In this case, just add a few extra tablespoons of oats and you should be good to go.
What can I use if I don't have coconut oil?
While coconut oil is the most ideal for this recipe, you can substitute any oil with a neutral flavor like sunflower or grapeseed oil.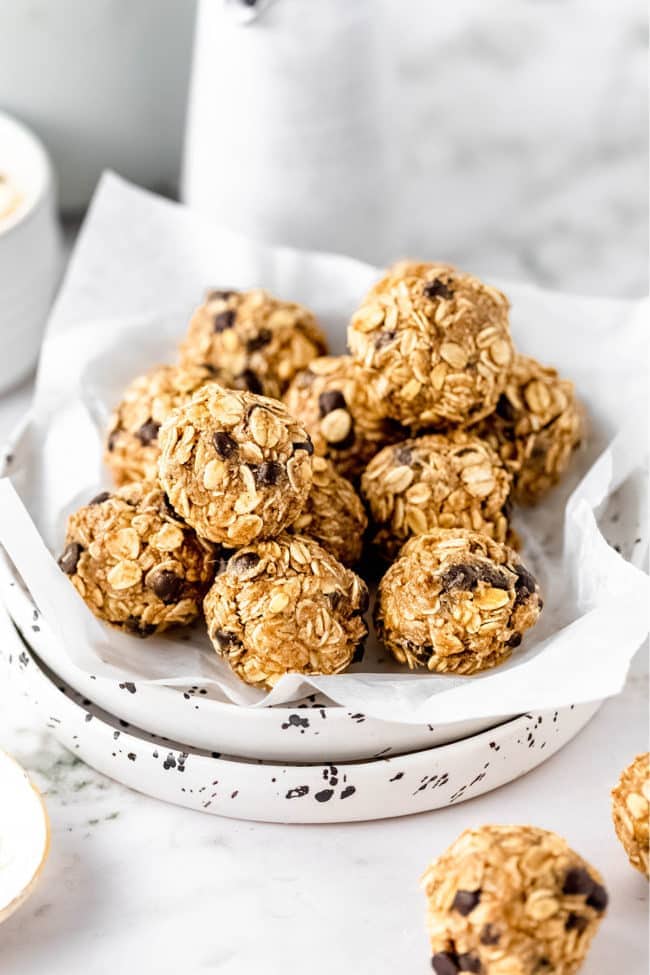 No-Bake Energy Balls Variations and Additions
While these little bliss balls are already chock full of wholesome ingredients, you can add some more to change up the flavor profile or the texture.
Dried fruit – try chopping up Medjool dates or using craisins or raisins for some extra goodness.
Chips – Instead of chocolate you can use peanut butter or butterscotch chips.
Spice – Experiment with other spices like nutmeg or allspice. You can also add a little heat to all of the sweetness with a tiny dash of cayenne.
Seeds – Small seeds like sunflower, flax seed, hemp seeds, or chia seeds are a great way to add extra crunch (and nutrients).
Nut butters and seed butters – If you can't have peanut butter, or don't like it, try using an alternative like almond butter, cashew butter, or sunflower butter instead.
Protein powder – To make some pre- or post-workout peanut butter energy bites, add your favorite protein powder to the dough.
Cocoa powder – To add rich flavor, pour in a bit of cocoa powder before mixing.
Salt – If you like a salty/sweet flavor profile, try adding a pinch of salt to the dough. Sea salt or coarse Kosher salt are two good options.
Like This Recipe? Pin It!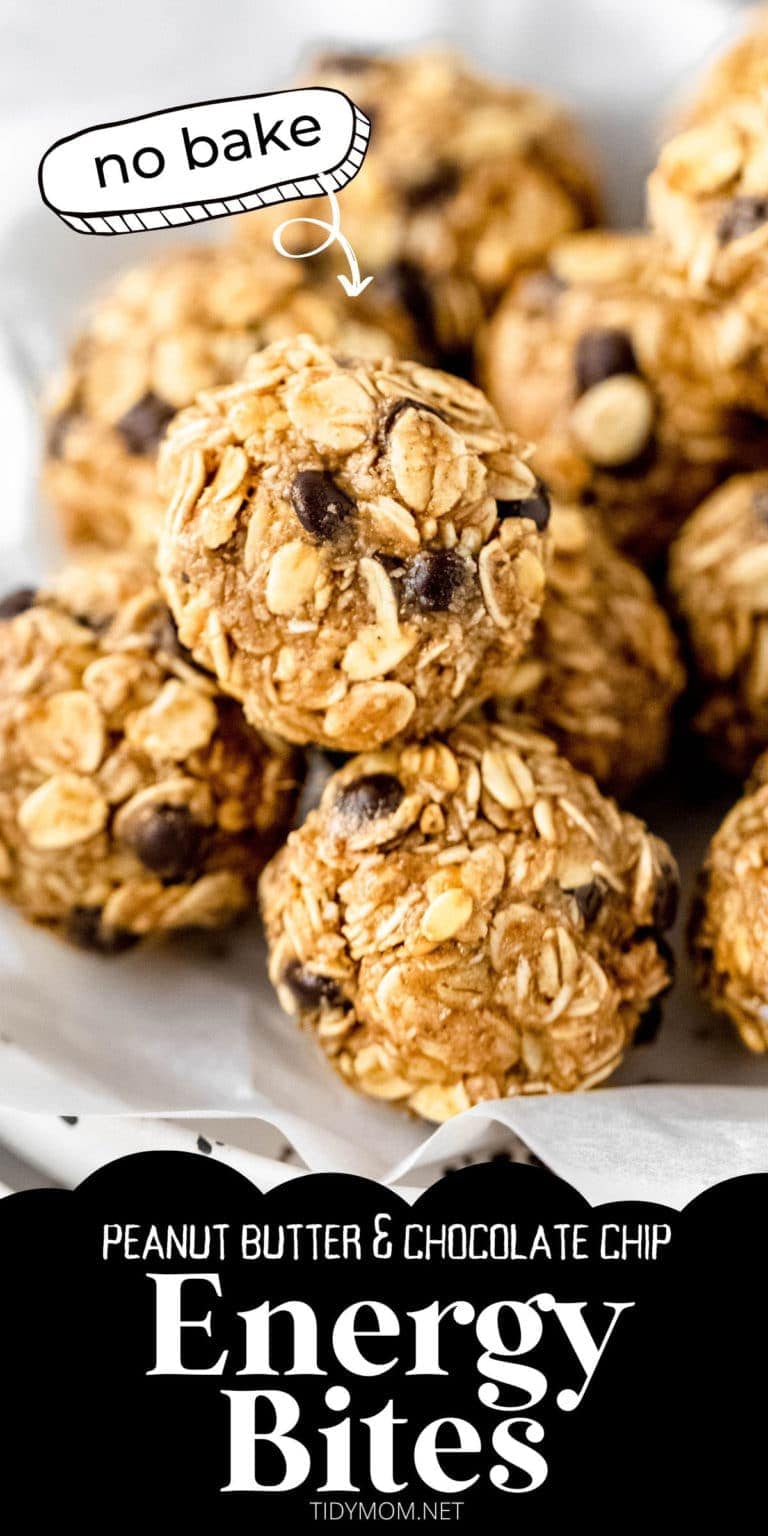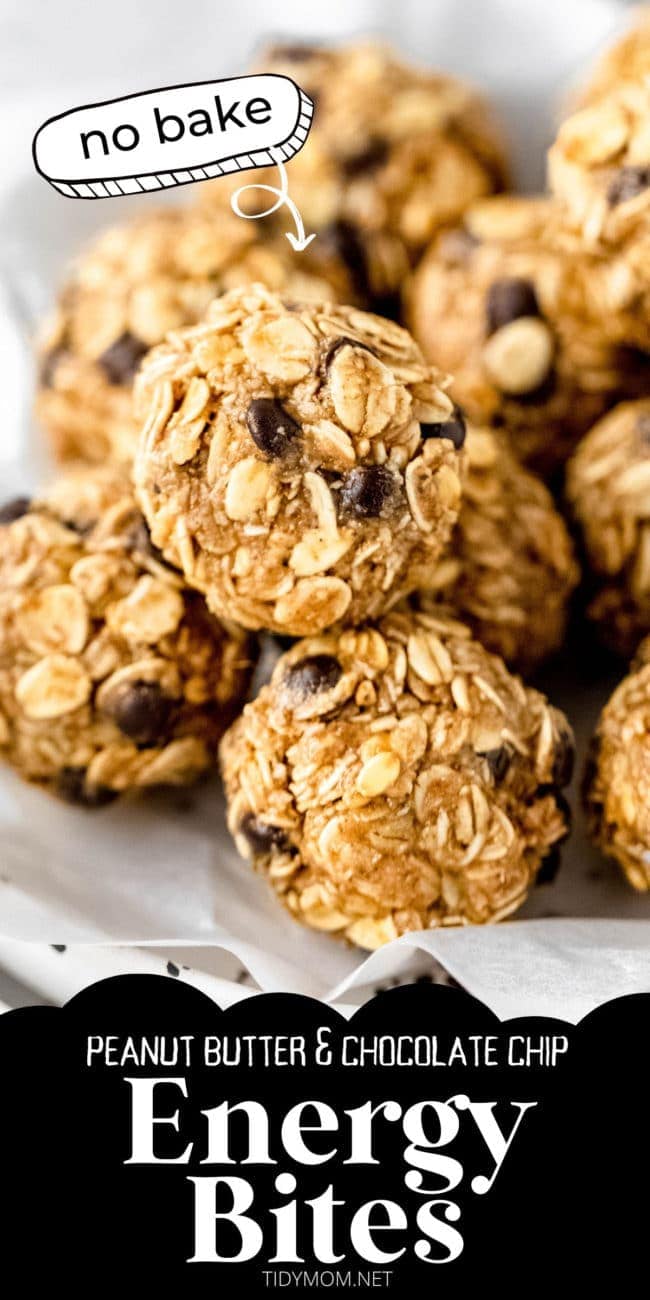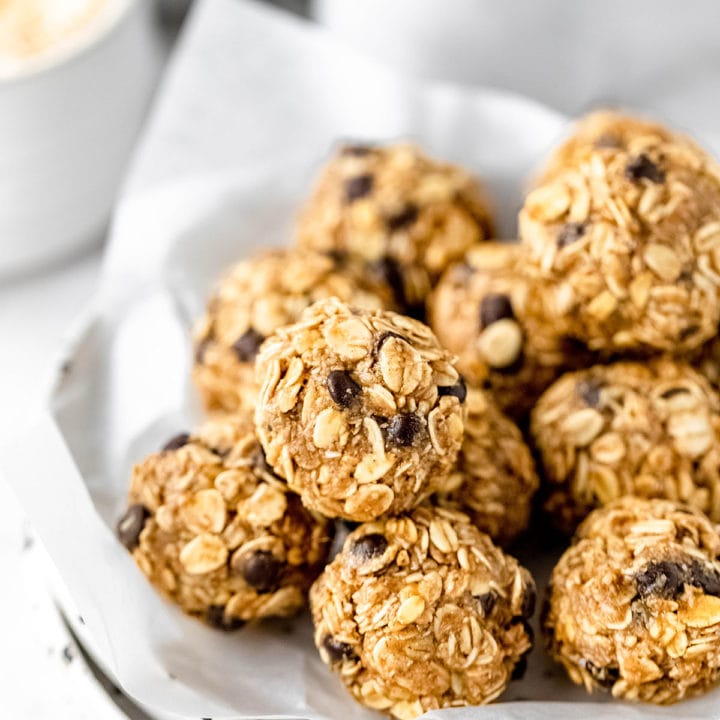 No-Bake Peanut Butter Energy Bites
Yield: 24-36
Prep Time: 10 minutes
Chill Time: 30 minutes
Total Time: 40 minutes
Peanut Butter No-Bake Energy Bites. Conquer your hunger guilt-free and snack on something healthy and delightful like these easy homemade protein balls, they taste like cookie dough! Who can say no to that?!
Ingredients
1 ½ cups rolled oats
1/3 cup desiccated coconut
1/2 cup peanut butter
1/3 cup honey/maple syrup
2 tablespoon coconut oil, melted
1 teaspoon vanilla extract
2 teaspoon ground cinnamon
1/2 cup chocolate chips
Instructions
Combine the rolled oats, coconut, and cinnamon in a large mixing bowl. Whisk together until combined.
Add the remaining ingredients and mix well. Ensure all the ingredients are thoroughly coated.
Place the bowl with the mixture in the fridge for about 30 minutes. This will make the balls easier to roll.
Using damp hands, roll the mixture into balls. I like to use a 1-tablespoon cookie scoop to scoop out the dough in equal portions.
Store in an airtight container in the refrigerator for up to two weeks or freezer for up to three months.
Notes
you should get anywhere from 24-36 balls, depending on the size you roll.
Nutrition info is based on 30 energy balls.
Nutrition Information:
Yield: 30
Serving Size: 1
Amount Per Serving:
Calories: 81
Total Fat: 4g
Saturated Fat: 2g
Trans Fat: 0g
Unsaturated Fat: 2g
Cholesterol: 0mg
Sodium: 24mg
Carbohydrates: 10g
Fiber: 1g
Sugar: 6g
Protein: 2g
Nutrition information is estimated based on the ingredients and cooking instructions as described in each recipe and is intended to be used for informational purposes only. Please note that nutrition details may vary based on methods of preparation, origin, and freshness of ingredients used and are just estimates. We encourage, especially if these numbers are important to you, to calculate these on your own for most accurate results.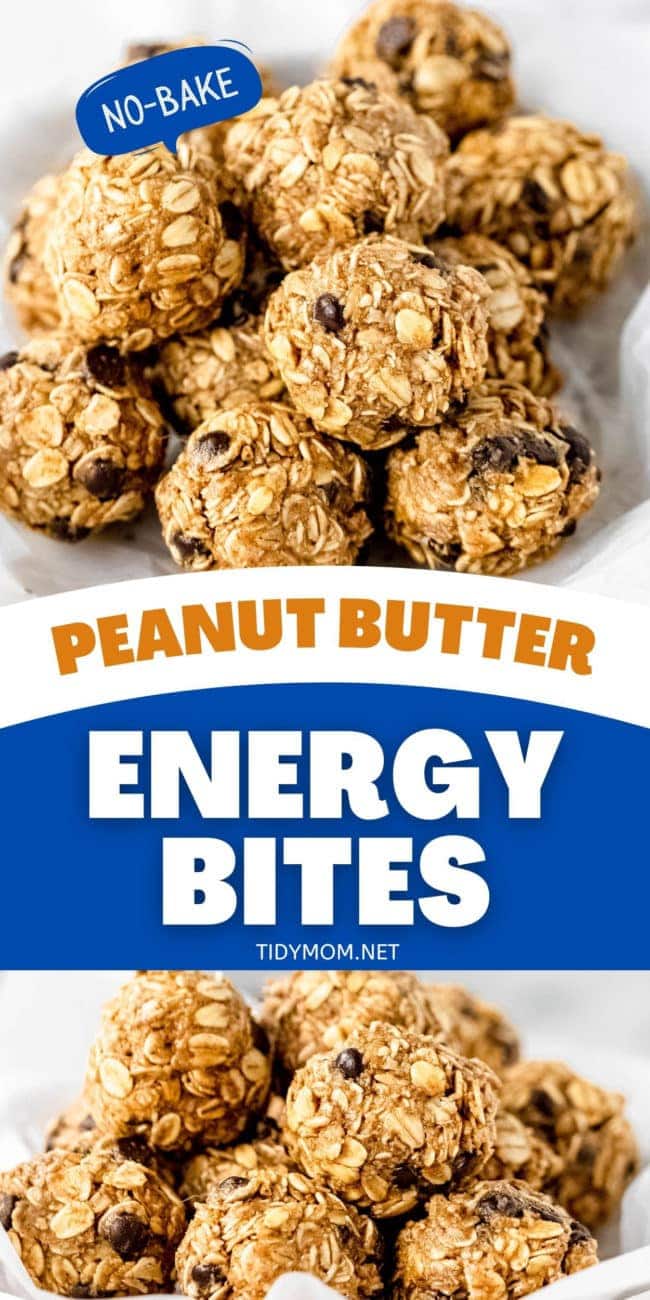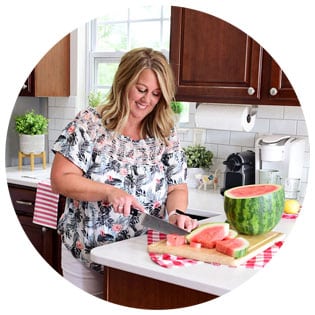 Hi there, I'm Cheryl!
As a wife, mom, and caffeine enthusiast, my journey has taken me from bustling mornings with my family to sharing delicious recipes, home care tips, and heartfelt decorating insights with wonderful readers like you. My love for baking, photography, and tidiness shines through every post I craft. Dive into my world and discover the art of homemaking, one tidy moment at a time. Read more...
Tidymom is a participant in the amazon services llc associates program, an affiliate advertising program designed to provide a means for sites to earn advertising fees by advertising and linking to Amazon.com.
Please respect my work, recipes and photographs. If you do use a recipe in your own writing, please give proper credit and link back to the original post.