Penne Frittata and Cooking with Cast Iron
When I first ran across this recipe on Martha Stewart Living, the ingredients and ease of recipe is what caught my eye.  I had no idea what Frittata was.
Just in case you don't know either, I'll share a little info I collected:
Frittata is an Italian dish, similar to an omelet.  Unlike an omelet, the egg mixture is not folded over.  Most frittatas are started on the stove and finish cooking in the oven.
The traditional Italian frittata was an important meal during observation of Lent, and not seved with meats, but would have cheeses and vegetables added.
Often served at room temperature
Makes a great meal for the nights that you think you have nothing to make for dinner, you can add just about anything to a frittata.
Great meal fast, any time of day; breakfast, lunch or dinner
Cook frittata in a heavy, flat-bottomed skillet, preferably a cast-iron skillet
it's pronounced Free-taaa-taaa
I had a hard time deciding between my LeCreuset skillet and my grandma's cast-iron skillet………I went with Grandmas, it was the perfect size for this dish.
Cast-Iron cooking tips:
Always preheat your cast-iron pan before adding the food you want to cook.
If food sticks to your cast-iron pan, your pan is NOT seasoned right and you need will need to re-season it. If it's seasoned correctly food WILL NOT stick!
Never put cast-iron in the dishwasher
Cleaning is easy if you 'boil' it out – 3/4 full hot water, let it boil and it cleans itself ..no soap necessary and because  cast iron gets above 400 degrees its totally sanitized
sources:  Simple Plate , What's Cooking America and Source Geek
Like I said, Frittata is great for when you have a fridge full of odds and ends and don't know what to cook.  You can throw just about anything in for a quick and tasty meal any time of day!  It was a huge hit and SO easy to make!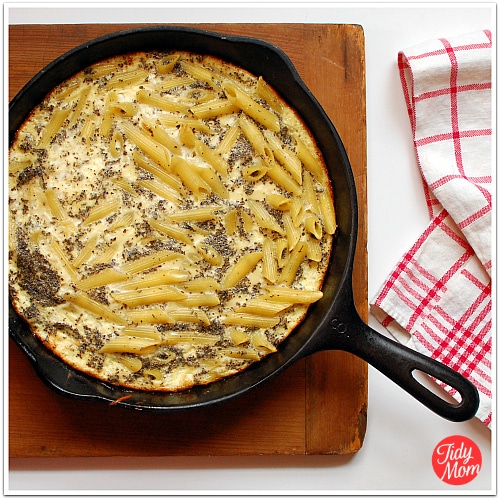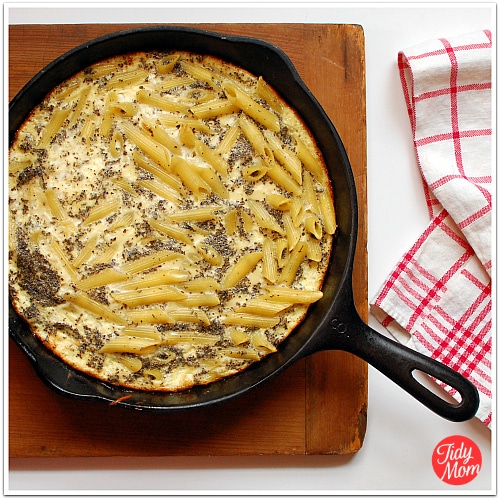 Ingredients
6 large eggs
1/2 cup milk (I used 2% because that's all we had)
1/2 c small curd cottage cheese
1/4 cup finely grated Parmesan cheese
1 tsp coarse salt
1/4 tsp freshly ground pepper
3 cups cooked and drained penne rigate pasta (from 7 ounces dry)
1/8 cup chopped basil (I didn't have fresh, but 1/4 cup fresh would be better if you have it)
1 tablespoon extra-virgin olive oil
Instructions
Preheat oven to 400°
Cook and drain pasta
Whisk together eggs, milk, cheeses, salt and pepper. Stir in cooked pasta and basil.
Heat a 10 inch cast-iron skillet over medium heat on stove. Add oil; swirl to coat bottom and sides of skillet.
Pour in egg mixture and cook until edges are just beginning to set (about 2-3 min)
Transfer skillet to oven and bake until eggs are completely set, 10-12 mins.
Invert onto a plate and re-invert onto a serving dish. Let stand for 5 minutes. Cut into wedges.
Notes
Serve with fruit for breakfast or brunch, or tomato soup, asparagus and a rustic Italian bread for lunch or dinner.
Slightly adapted from Martha Stewart Living.
https://tidymom.net/frittata-recipe-and-cast-iron-cooking/
Copyright© 2009-2013 TidyMom.Net