Favorite PUMPKIN Recipes!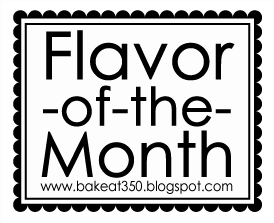 My buddy Bridget of Bake at 350 host's a party titled Flavor of the Month at the end of each month. (her party will start this evening – so I'll link this post up then)
This month's flavor is PUMPKIN!
I have been having FUN with Pumpkin this month!! It's one of our favorite flavors and can be used so many ways! I have several pumpkin recipes to share!
Actually the first Pumpkin recipe I tried, was one Bridget posted for
Pumpkin Cream Cheese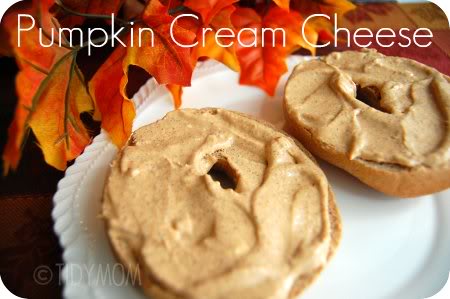 This was GREAT with my whole wheat bagels!
I adapted Bridget's recipe to what I had on hand, you can find Bridget's recipe here.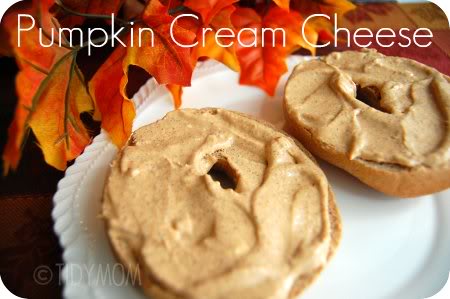 Ingredients
8 oz cream cheese, softened
1/2 c canned pumpkin (not pumpkin pie filling)
1 tsp cinnamon
1 tsp pumpkin pie spice
1 tsp vanilla
4 TBSP brown sugar
Instructions
Beat all ingredients together until smooth. Refrigerate.
https://tidymom.net/flavor-of-the-month-pumpkin/
Copyright© 2009-2013 TidyMom.Net

Next up, we made Pumpkin Pancakes!
These were a huge hit! We've made them twice already this month!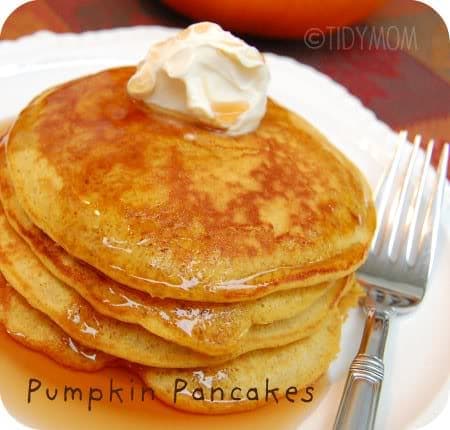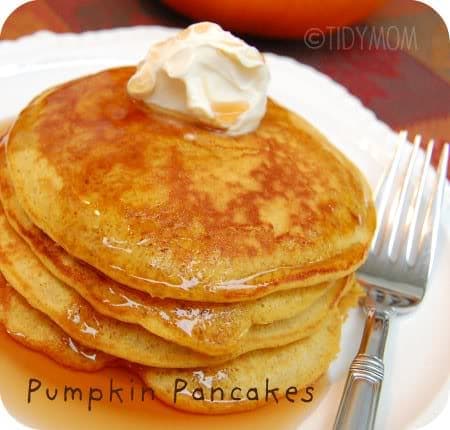 Ingredients
2 eggs
1-1/4 cups buttermilk (*I used powdered)
4 TBSP melted butter
4 TBSP canned pumpkin
1/4 cup granulated sugar
1/4 tsp salt
1-1/4 cup all-purpose flour
1/2 tsp baking powder
1/2 tsp baking soda
1/2 tsp cinnamon
1/4 tsp allspice
Instructions
Preheat a skillet over medium heat. Coat pan with no stick spray.
Combine eggs, buttermilk, butter, pumpkin, sugar, and salt in a large bowl.
Use an electric mixer to blend ingredients.
Add dry ingredients to wet ingredients and blend with mixer until smooth.
Pour or scoop the batter onto hot skillet, using approximately 1/4 cup for each pancake.
When the batter stops bubbling and edges begin to harden, flip the
pancakes. They should be golden brown. This will take from 1 to 2 minutes.
Flip the pancakes and cook other side for the same amount of time, until
golden brown.
Serve warm with syrup.
Notes
*TIPS

1. I used the powdered buttermilk, this way I always have some on hand – if you use the powdered – replace buttermilk with 1-1/4 cup water in the wet ingredients, and add 5 TBSP of buttermilk mix to the dry ingredients

2. My skillet makes 4 pancackes at a time, I heat my oven to about 180° and place cooked pancakes on a plate and place in oven while I cook the next batch, remove plate to add another batch to plate and place back in warm oven until all pancakes are cooked.

3. I plan to make a few batches and freeze them – Cool pancakes completely on wire rack, After they've cooled, stack them up between sheets up wax paper and freeze. Wrap pancakes securely in a moisture proof air tight freezer bag, then place in another bag (double wrapped). Freeze for no more than six weeks. Separate, then microwave to reheat – Stack 3 frozen pancakes on a plate, microwave uncovered on HIGH for 1-1/4 to 1-1/2 minutes or until pancakes are hot.
https://tidymom.net/flavor-of-the-month-pumpkin/
Copyright© 2009-2013 TidyMom.Net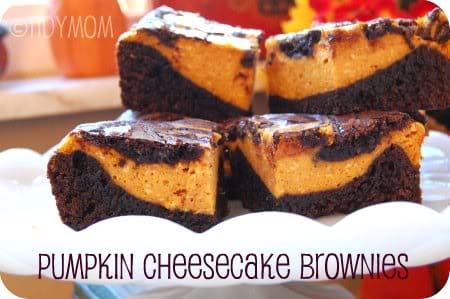 Pumpkin Cheesecake Brownies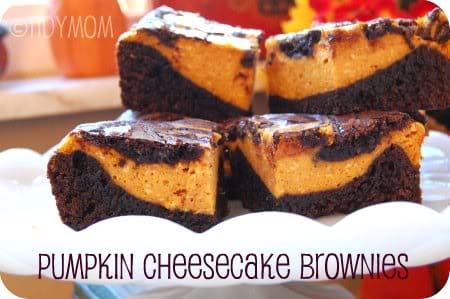 Ingredients
Brownie Batter

1 prepared Brownie Mix
1 tsp cinnamon
Mix according to box adding 1 tsp cinnamon. (I use Ghirardelli or Duncan Hines)
!Cheesecake Batter
6 oz cream cheese, softened
1 egg
1/3 cup sugar
2 TBSP flour
1/2 cup pumpkin
1/4 tsp pure vanilla extract
1/2 tsp cinnamon
1/2 tsp pumpkin pie spice
Instructions
Preheat oven to 350°. Grease an 8-inch x8 inch square metal pan.
Mix brownie batter and cinnamon in bowl.
In separate bowl, beat together cheesecake batter.
Spread about 2/3 of brownie batter into prepared pan, and spoon cheesecake batter over top. Dollop remaining brownie batter over cheesecake batter. Swirl together with a knife.
Bake for 40 minutes, or until center is set.
Cool completely on wire rack and chill before cutting and serving!
https://tidymom.net/flavor-of-the-month-pumpkin/
Copyright© 2009-2013 TidyMom.Net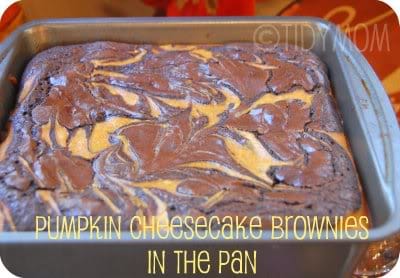 These were SO good!! Sunshine likes to pick which piece is her's when I make something she really likes, and sometimes she will "claim her piece!" LOL
I walked into the kitchen and there is a note on which piece she want! LOL

Chocolate Pumpkin Muffins
This is another yummy idea I got from Bridget! She made mini muffins here.
I made full size muffins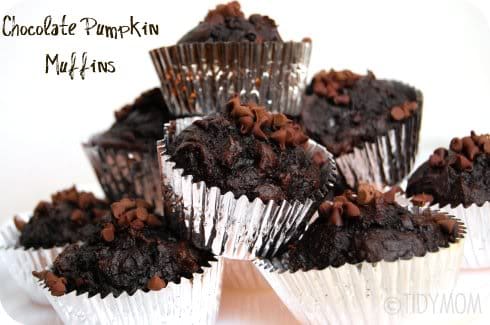 Chocolate Pumpkin Mini-Muffins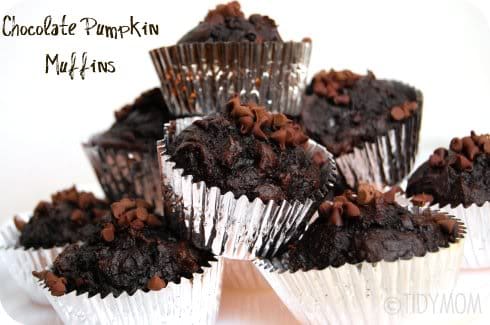 Ingredients
1 box chocolate cake mix
1 can (15 oz) pumpkin
1/2 c mini chocolate chips
2 egg whites
2 TBSP water
mini chocolate chips to garnish
Instructions
Preheat the oven to 375°.
Spray the insides of your muffin liners with no stick pray, otherwise the muffins will stick to the paper. Place in muffin tins.
In a large bowl, whisk the egg whites until a little foamy.
Add in the remaining ingredients and stir until well-blended. Use an icecream scooper to fill prepared baking cups. Bake for about 18-20 minutes until a toothpick comes out clean.
Sprinkle with a few mini chocolate chips as soon as they come out of the oven!
Remove from pans and let cool on a rack.
https://tidymom.net/flavor-of-the-month-pumpkin/
Copyright© 2009-2013 TidyMom.Net

More pumpkin recipes
Enjoy!!
If you have any pumpkin recipes to share,
be sure to link up over at Bake at 350,
or just head over there for more FAB recipes!