Chicken & Cheese Quesadillas
L
ast week I posted a YUMMY recipe for
Honey-Lime Enchiladas
that would be perfect for Cinco de Mayo, but if Enchiladas aren't your "thing" you may like these Chicken & Cheese Quesadillas.
They are quick and easy……and not as spicy as the enchiladas…..so kids may enjoy this meal a little more.
We make these ALL the time!
EDITED to say this recipe WON
Tuesday Taste Peoples Choice Award
over at Crazy Daisy!!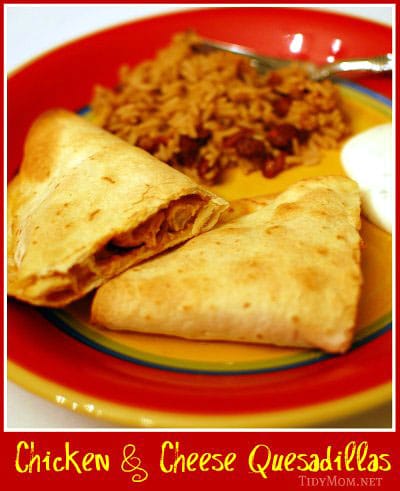 Chicken & Cheese Quesadillas
Serves 3-4 (*this can be easily adapted to however many servings you need, this is just what I usually fix)
Ingredients
1.5-2 cups cooked chicken (I use 1.5 bags of Tyson grilled chicken)
Taco Seasoning packet
water
4 flour tortillas (8 inch)
2 T melted butter
1.5 cups shredded Monterey Jack Cheese (or cheddar)
lettuce
Sour cream or Ranch dressing
Instructions
Preheat oven to 475°
In a skillet, heat chicken.
Add taco seasoning, mix with water according to package
Brush one side of each tortilla with melted butter; place buttered side down on a lightly greased baking sheet.
Spoon 1/4 of chicken mixture over half of each tortilla
Sprinkle each with 1/3 cup cheese
Fold tortilla over chicken and cheese.
Bake at 475 for 10 mins.
Cut in half with a pizza cutter and enjoy!
Notes
We like to open ours and add lettuce and sour cream, or dunk in ranch dressing.
https://tidymom.net/chicken-cheese-quesadillas/
Copyright© 2009-2013 TidyMom.Net