Easy Fabric Covered Canvas Wall Art
Can you believe I finally have a project for you today?
I recently changed the colors in our bathroom. I bought a new shower curtain, hooks, towels, rugs, but that left me with a problem……the walls.
I needed something for over the towel bar.
This idea first hit me when Becca did it. I did mine a little different, since I was only needing small wall art, I simply bought a two pack of Artist Canvas at Hobby Lobby for $4. But if you want a large piece, I would recommend the way Becca made hers.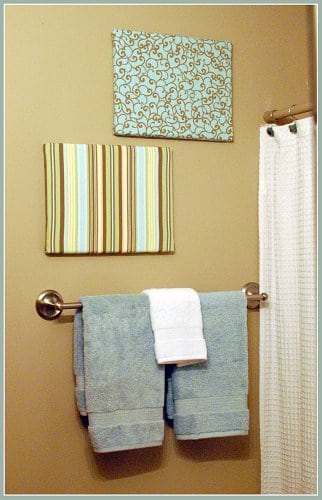 I love how they turned out! They were super easy…..and cheap!
What you will need:
Artist Canvas in the size you prefer (I used 2- 11″x14″)
Fabric that you ? (I got 1/2 yard of 2 coordinating fabrics- which was more than enough fabric, but I want to do a few other things with the fabric)
Picturing-hanging wire and screw set
Let's get started……..
With any size canvas and your choice of fabric, lay the right side of the canvas on the wrong side of the fabric. Measure your fabric and cut to size.
You will want to be sure to iron your fabric, or you will see creases in your finished piece.
Pull fabric tight and staple several times along two opposite edges. On the ends fold the corners as you would a present, pull up tight and staple.
To hang:
Attach the small screws and picture wire to the back of the frame. (I forgot to buy these, so I have not attached the wire to the back of mine yet)
Step back and admire!
This is an inexpensive way to decorate a wall, and when I get tired of this fabric, I'll rip it off and start over.
The possibilities are endless, and there are so many amazing fabrics available! This was fun, easy and quick…..I can't wait to make a large one for another room!
Wouldn't something like this be amazing?!

picture source: the style files