Bean and Avocado Salsa Tortilla Cups
Learn the quickest way to ripen avocados within 24 hours as well as the best cowboy caviar bean and avocado salsa recipe served in tortilla cups.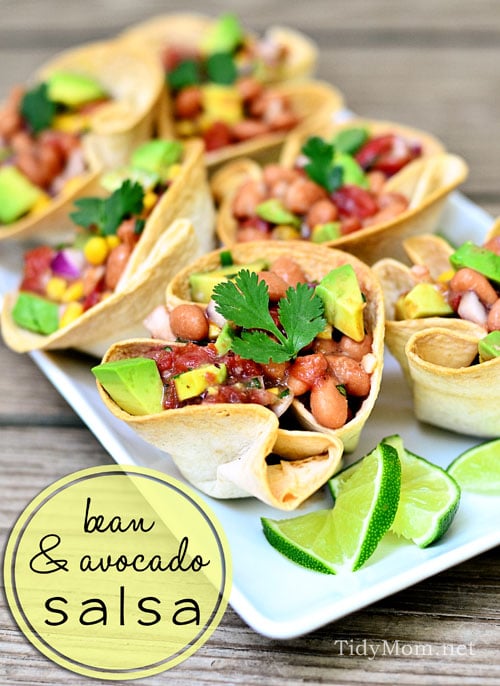 I absolutely LOVE avocados!  Ever since I had my first taste of guacamole about a year and a half ago,  I've been adding avocados to my salads, sandwiches and I recently added them to my new favorite bean salsa recipe, also known as cowboy caviar.
Since I haven't had a lot of experience with avocados, and I tend to buy them when they are still a little green, I decided to learn how to ripen an avocado quickly.
How to Pick a Ripe Avocado
When looking for a ripe avocado, choose one with a firm flesh, but gives a little when you squeeze.  Place the avocado in the palm of your hand.  Give it a gentle squeeze.  If it's hard, it's not ripe.  If it's soft and squishy, it's overripe.  If yields to gentle pressure, it's ready to eat.
Your best bet is to buy ripe avocados the day that you need them.
Ripening Avocados
According to The Kitchn you can quickly ripen avocados with the help of a banana!
Place an under-ripe avocado in a paper bag with a banana or apple.
Close the bag closed and leave it to sit on the counter.
The ethylene gas in the banana or apple will trigger ripening of the avocado in about 24 hours.
Bean and Avocado Salsa Recipe
This bean salsa is a simple dish to put together for any size crowd, and it will keep well for days after.  In fact, it actually gets better the longer you let it sit.  It will spice up your meal and make everything a bit more colorful!
I served it up in crispy tortilla cups as a special side when we grilled over the holiday weekend.  What I really love about this flavor-packed dish, is you can make it all ahead of time, just wait to place the salsa in the tortilla cups when ready to serve, otherwise the tortillas will become soggy.
This recipe is really flexible, you can use as much or as little of any of the ingredients as you wish.  It can also easily be doubled or more for a larger crowd.
Bean and Avocado Salsa Tortilla Cups
This colorful bean salsa is a simple dish to put together for any size crowd, and it will keep well for days after.
Ingredients:
8 fajita size(6") flour tortillas
16 oz can pinto beans, drained (I prefer Bush's)
1/2 cup sweet crisp canned corn
1 cup diced tomatoes (I like to use Hunt's Fire Roasted)
1/2 small red onion, chopped
1 small jalapeno pepper, deveined and minced
1 Tablespoons chopped fresh cilantro
1/2 lime, juice
salt and pepper to taste
2 Tablespoons extra virgin olive oil
1 small California avocado, cubed
Directions:
Place tortillas in cupcake pans. Bake for 20-25 minutes at 350°F until crispy. Set aside to cool completely.
In a large bowl, mix beans, corn, tomatoes, onion, pepper, cilantro, and lime juice in a large bowl and season to taste. Drizzle olive oil over top. Gently fold in avocados.
Spoon the bean salsa into the tortilla cups when ready to serve.
Enjoy.
Making this recipe? Share it with us on Instagram using the hashtag #TidyMom so we can see what you're creating in the kitchen!
Want more great recipes like this? Follow my TidyMom Easy Recipes Pinterest Board
 More avocado recipes you may enjoy:
Grilled Corn & Avocado Salad with Lime & Basil
Shrimp Tacos with Avocado Chimichurri Sauce
Stovetop Avocado Mac and Cheese
Grilled Cheese with Tomato, Avocado, Bacon, and Arugula
 Do you have a favorite avocado or cowboy caviar recipe?
Join Dine & Dish and Cookin' Canuck for the California Avocado 4th of July Blast, sponsored by the California Avocado Commission.