Oven-Baked Pineapple Chicken Quesadillas
Oven-Baked Pineapple Chicken Quesadillas are super easy to make and you'll have dinner in under 20 minutes. They are stuffed with southwest seasoned chicken, caramelized pineapple, sweet peppers and onions with lots of melty cheese.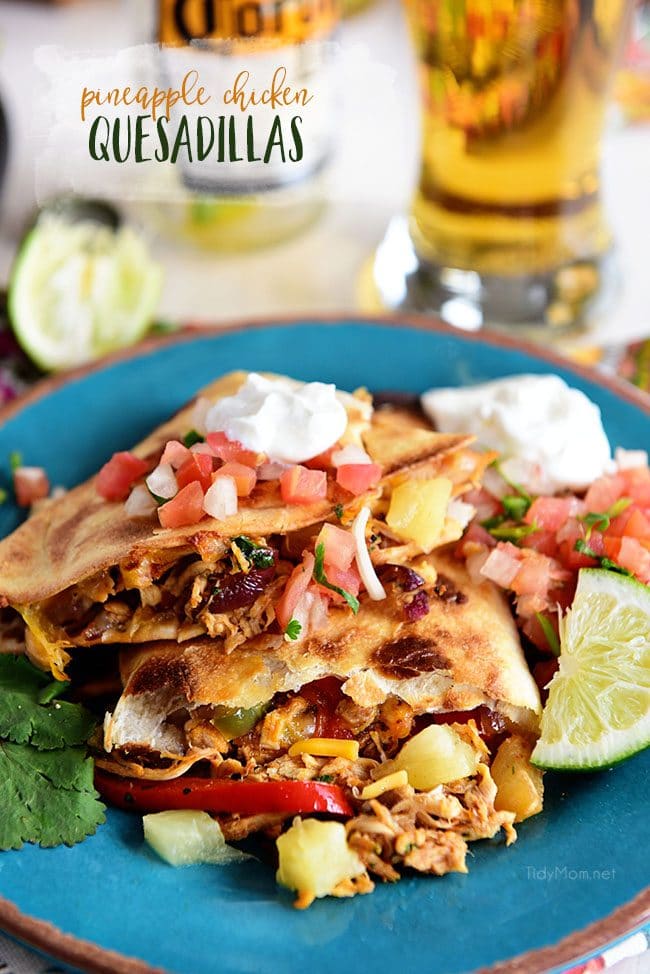 With the days getting warmer (finally) and longer I am always on the lookout for easy, yet super flavorful meals.  Oven-baked quesadillas are made in the oven, obviously, allowing you to make multiple Pineapple Chicken Quesadillas at the same time.  Perfect for making quesadillas for the whole family or a crowd.
Most weeks our meal plan includes a Mexcian themed meal and we love quesadillas.  But, I have to be honest, standing and cooking each one up individually doesn't cut it on busier nights or get-togethers.
I've shared pineapple on a Hawaiian burger and you all loved it!  I'm about to blow your mind with caramelized pineapple on a chicken quesadilla. It's a quick meal that needs to be on your summer meal plan or party menu. 
How to Make Oven-Baked Pineapple Chicken Quesadillas
(see full printable recipe at the end)
This post may contain affiliate links. Please read my disclosure policy here.
Grab your apron, a large nonstick pan and baking sheet and let's make quesadillas!
Lots of flavors here and something to keep your taste buds happy. I stuffed these tortillas with the caramelized pineapple, bell peppers and onions with rotisserie chicken, and tons of cheese and fresh cilantro. Then the whole shebang was crisped in the oven…… best idea ever!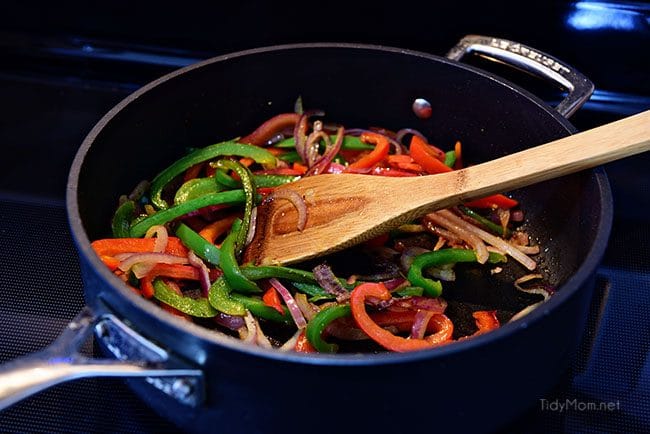 First, heat a large nonstick pan with a drizzle of olive oil over medium-high heat.
Add onions and bell peppers.  Cook for 4-5 minutes, tossing occasionally until softened.
Season with salt and pepper to your taste.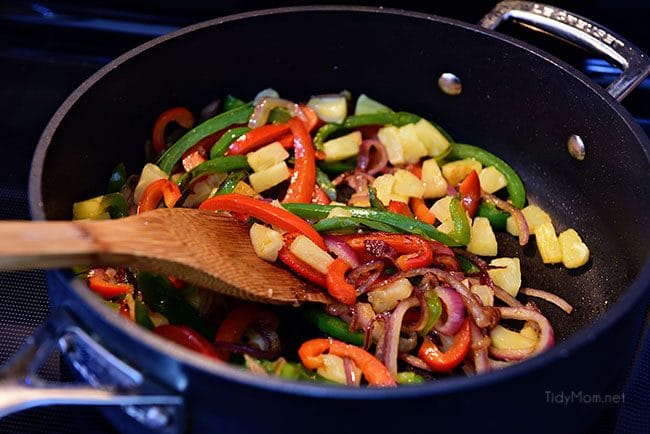 Then add drained pineapple and cook an additional 2-3 minutes until slightly caramelized.  Remove the mixture from the pan and set aside.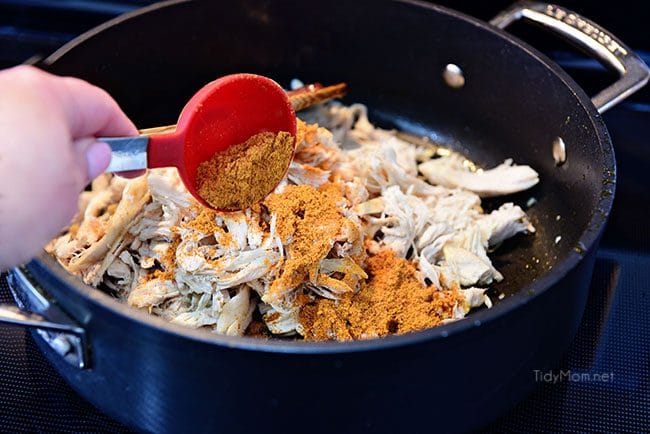 Now you're going to add chicken to the pan.
Any pre-cooked chicken will work for these quesadillas. If you're in the habit of buying shredded rotisserie chicken like I do that will work perfectly. But grilled, baked or leftover chicken will work too. Or you can just cook it up quickly in the pan first. Just aim for about 1.5 cups of cooked chicken.
Add water, and taco seasoning to pan with cooked chicken. Warm over medium heat, mixing occasionally until heated through, about 3-5 minutes.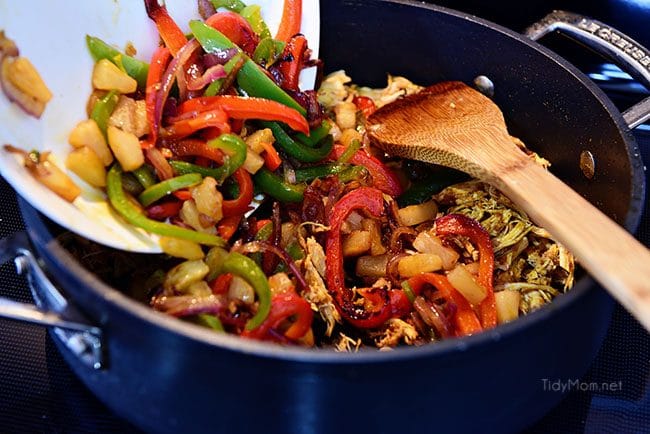 Return the pineapple mixture to the pan with the chicken and squeeze with lime juice, add chopped cilantro and stir to combine.
Here's the "trick" to getting crispy oven baked quesadillas.  Lightly brush one side of each tortilla with olive oil.  Place oil side down on a large baking sheet.  The oil will help the tortillas get brown and crispy.
We like lots of cheese on our quesadillas. LOTS 😉
Covering half of the surface of each tortilla, sprinkle with cheese, top with the pineapple chicken mixture and then add more cheese if you want cheesy quesadillas.
Fold the tortillas in half and place in a hot oven (on broil works best) for about 2 minutes, until golden brown.  Be sure to watch them VERY closely….they can go from barley brown to burnt in no time. I usually stand right by the oven.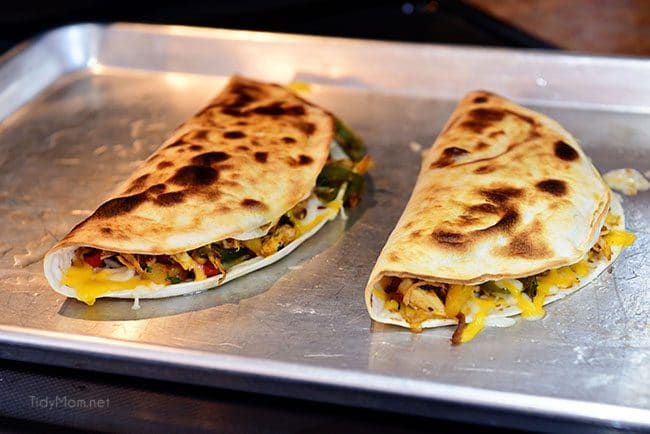 Flip the chicken quesadillas and broil another 1-2 minutes on the other side, again watching closely.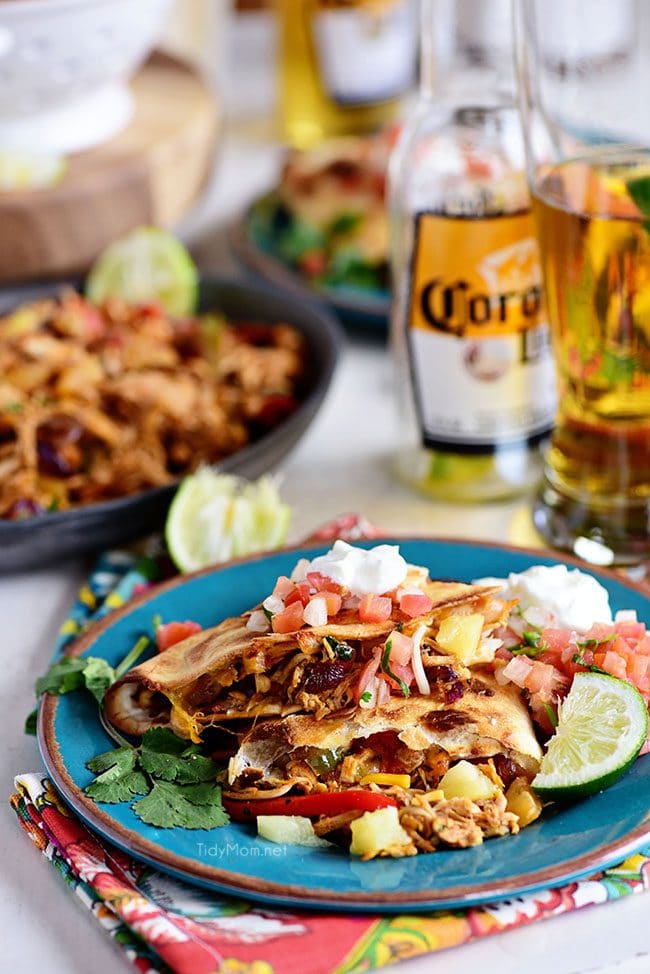 Remove from oven and enjoy immediately with your favorite toppings……like sour cream, guacamole, pico de gallo , homemade salsa, or avocado cream sauce.
Serve with Mexican Rice and your favorite beer or better yet…..a Beer Margarita for a complete meal.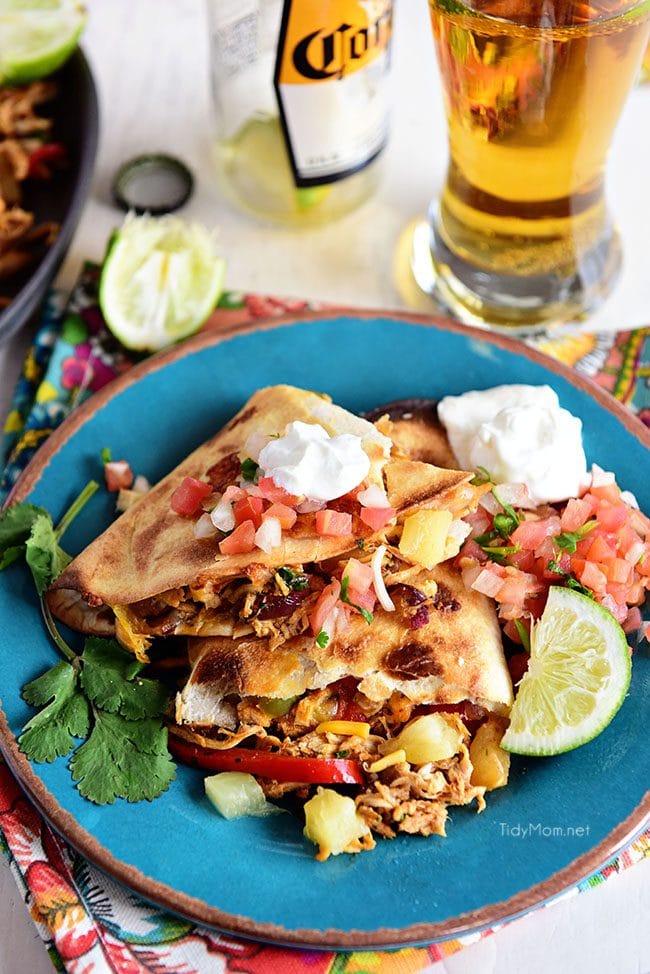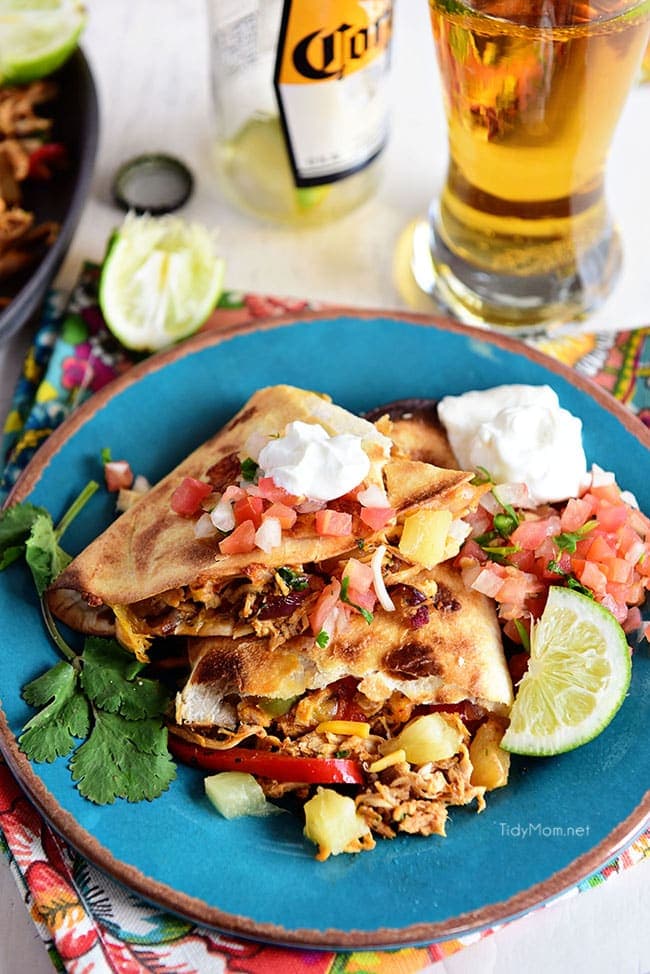 These Oven-Baked Pineapple Chicken Quesadillas will make your taste buds sing!
Want more great recipes like this? Follow my TidyMom Easy Recipes Pinterest Board
Like this Pineapple Chicken Quesadillas recipe? Pin It!