Avocado Cream Sauce Recipe
with Extra Crunchy Chicken & Cheese Taquitos
Creamy avocados, a little sour cream, and a whole lot of cilantro create a dreamy AVOCADO CREAM SAUCE that pairs perfectly with Extra Crunchy Chicken and Cheese Taquitos, for an after-school snack, party appetizer or meal.
I'm freaking out a little bit that we just sent Allison off to her 3rd year of college, and second year away from home.  She loves her apartment, not only because of the independence it gives her but she loves to be able to cook and eat what she wants, instead of hitting up the campus cafeterias or fast food.
She did a great job at keeping her pantry, fridge and freezer stocked last year and earmarked some of her favorite cookbooks with recipes she made for herself (cooking once, eating twice was her motto).  Before she left this year, we spent a few evenings coming up with some easy recipes and did a little meal planning.
Just like when she lived at home, when she walks into her apartment after a day on campus (sometimes she has no time for lunch), she's starving.  She wants something a little more substantial than yogurt or veggies every day. 
With a super busy schedule, I want to be sure she has something she could fix quickly while she studies and does laundry – and Mom can feel good about her eating. 😉 My friends at El Monterey have stocked our freezer with a variety of family-inspired Mexican food favorites and their Taquitos served with Avocado Cream Sauce for dipping fit the bill perfectly!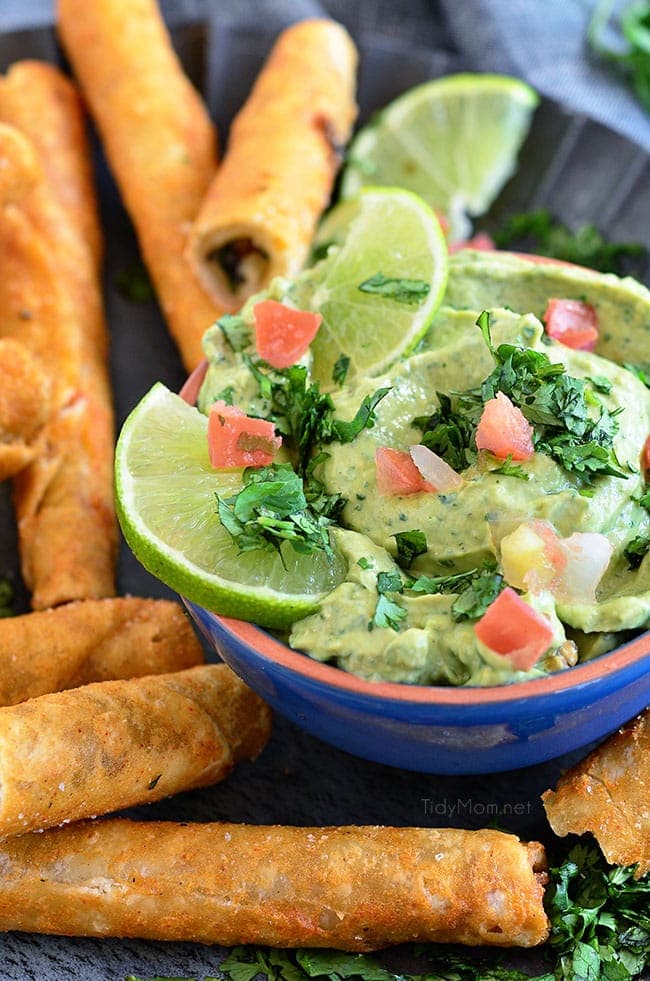 I love that El Monterey's frozen foods are made with real, fresh ingredients. Serving them along with a nutritious dip (hello avocado!) is a snack we both feel good about! #momwins
Guacamole is so versatile, you can adjust the ingredients a little, depending on how you want to serve it.
As a Side:  leave avocado mostly diced, add tomatoes and season with salt and lime
As a Dip: smash avocados and add sour cream to make it creamy
As a Sauce:  smash avocados, add sour cream and increase lime juice to thin for drizzling and pouring.
No matter how big they get, you can always get kids to eat more when they have something to dip their food in–am I right?!  Being the avocado lover I am, I couldn't get enough of this Avocado Cream Sauce as a dip for taquitos, chips or veggies. I knew it would be easy enough for her to make on her own. She can pop a few of her favorite Southwest Chicken Extra Crunchy Taquitos in the oven while she makes the Avocado Cream Sauce. The dip will keep for a few days in an airtight container in the refrigerator.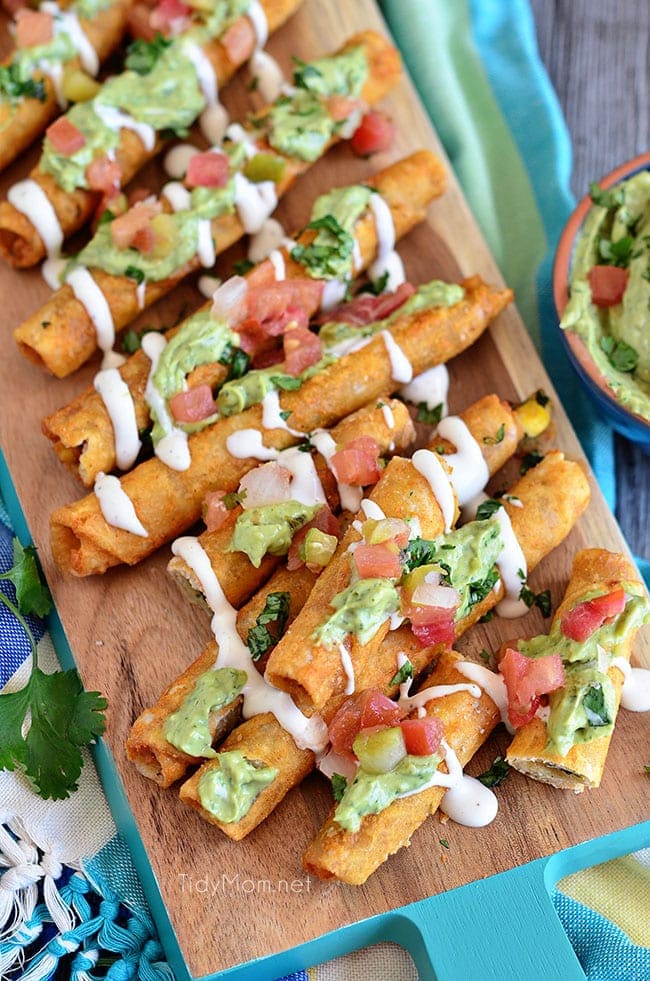 To mix it up a little, place taquitos on a platter and drizzle with the avocado cream sauce and ranch dressing for a party appetizer or even a meal. Taquitos are a such a great crowd pleaser.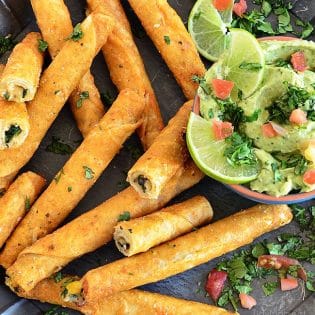 Avocado Cream Sauce
Ingredients:
2 avocados, diced
1/2 cup sour cream
juice of 1 lime
1/2 cup pico de gallo
3/4 cup chopped cilantro
1/2 teaspoon garlic salt
salt and pepper to taste
Directions:
Place all ingredients in food processor and pulse until smooth and creamy.
Serve as dip or sauce.
increase lime juice for a thinner sauce.
Making this recipe? Share it with us on Instagram using the hashtag #TidyMom so we can see what you're creating in the kitchen!
Want more great recipes like this? Follow my TidyMom Easy Recipes Pinterest Board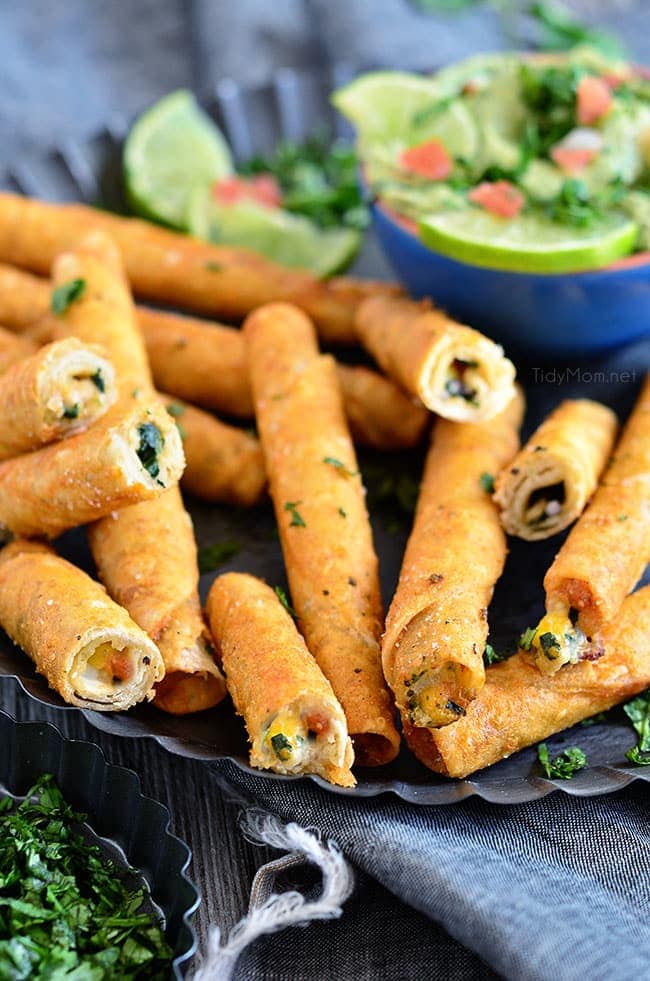 El Monterey has a variety of family-inspired Mexican food favorites to choose from that just make meal times easier! — just like you'd make in your own kitchen.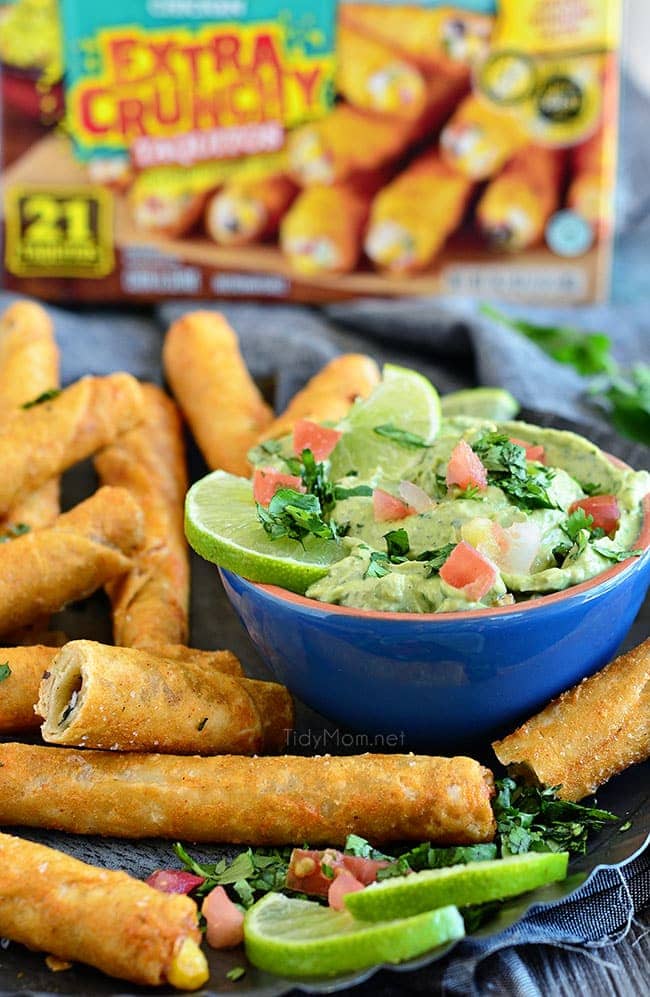 Be sure to follow El Monterey on Facebook, Twitter, Instagram and Pinterest.
Want more great recipes like this? Follow my TidyMom Easy Recipes Pinterest Board
Follow Cheryl Sousan | Tidymom.net's board TidyMom.net easy recipes on Pinterest.

Disclaimer: I have a working relationship with El Monterey as part of their Back to School #momwins campaign. Feeding my family real food is important to me, as always, all views and opinions are my own.   Thank you for supporting the amazing brands who make TidyMom possible!