Raspberry Lemonade Bars
Sweet and tangy raspberry lemonade bars are are bursting with flavor.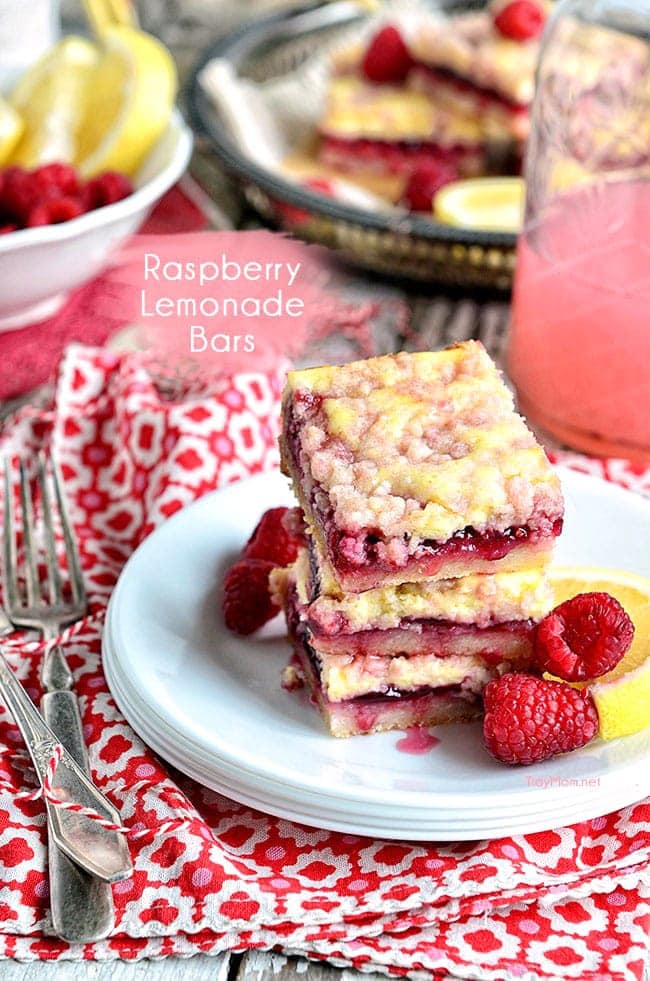 I've been craving fruit like nobody's business lately. It happens to me about this time every year. Maybe because it's the middle of the winter, and fruit reminds me of summer…….and since the groundhog says we have 6 more weeks of winter ahead of us, a summer filled dessert like, Raspberry Lemonade Bars is just what I needed!
They're bright, cheery, packed with raspberries and tangy lemonade to help beat the winter blues, and the best part? There's a little cheesecake tucked in too.
I firmly believe cheesecake makes every dessert better – am I right? 
These Raspberry Lemonade Bars were inspired by a recipe I bookmarked a long time ago.  That recipe starts with a Pillsbury Lemonade cookie mix, that is no longer available.  So I decided to recreate it using a sugar cookie mix and pink lemonade and it worked!!  There are four parts to this bar recipe:
tender pink lemonade sugar cookie crust
raspberry filling with juicy fresh raspberries
cheesecake filling
raspberry lemonade streusel/crumb topping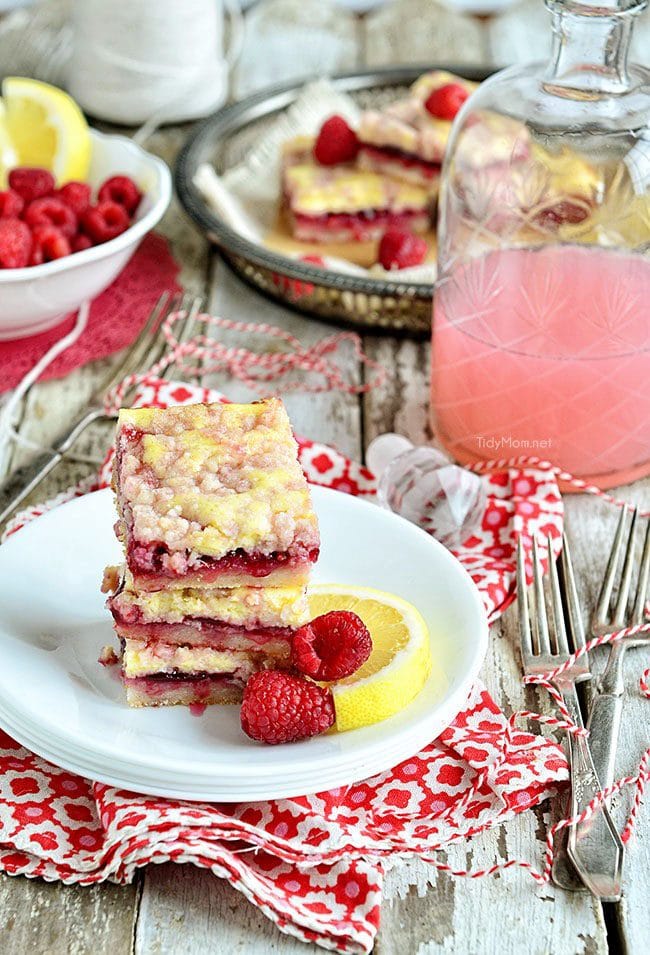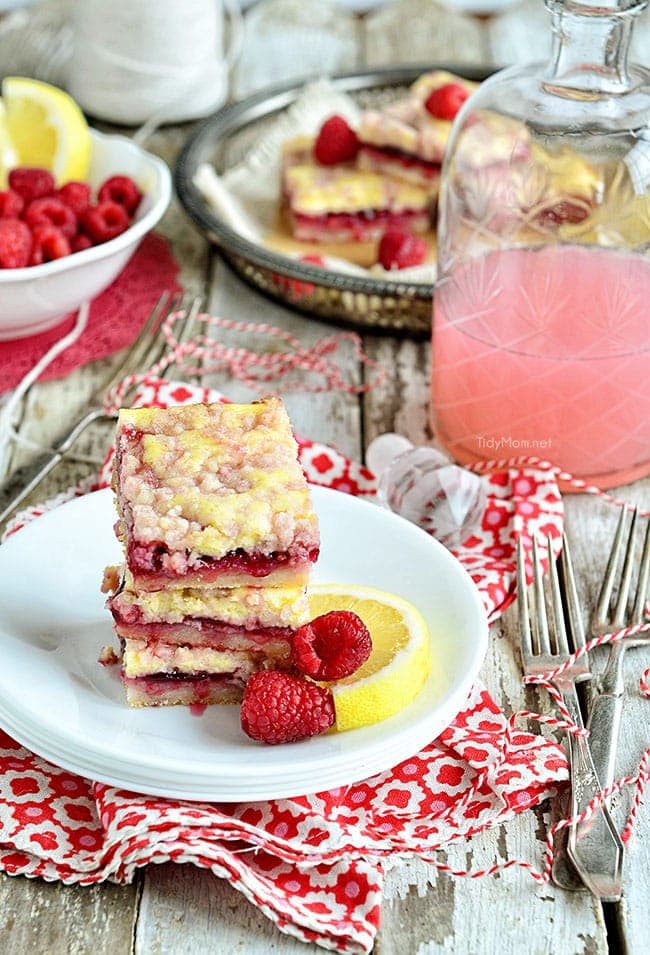 Four parts might seem like a lot, but it's super easy and all comes together in about 15 minutes!!  I did use a bagged cookie mix to start, but you could certainly use a shortbread crust recipe if you want to make it from scratch.
The raspberry filling is simply seedless raspberry jam and fresh juicy raspberries.
The streusel topping is made from a reserve of the  lemonade cookie crust mixture with a little raspberry jam added for more flavor.  Simple……..and there's no sweeter way to start February.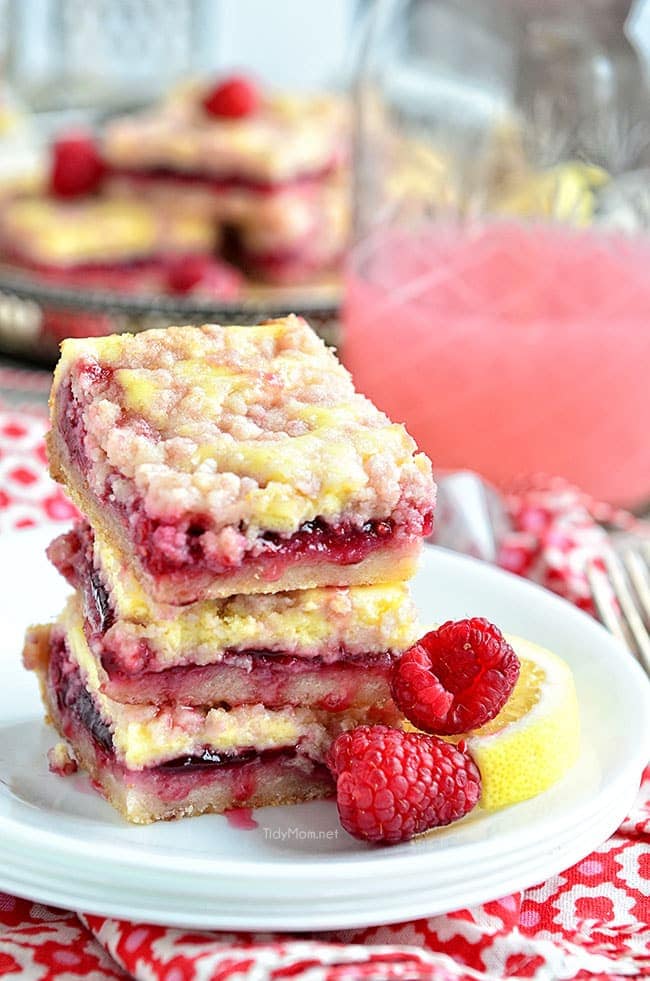 Finding the delicious balance between sweet and tangy can be tricky when it comes to lemon desserts, but these bars nail it!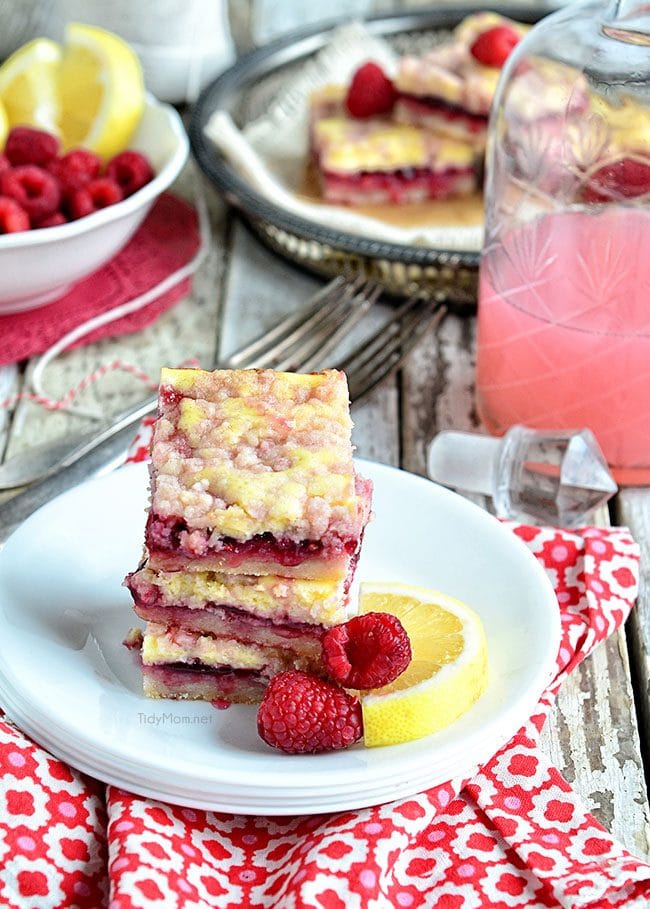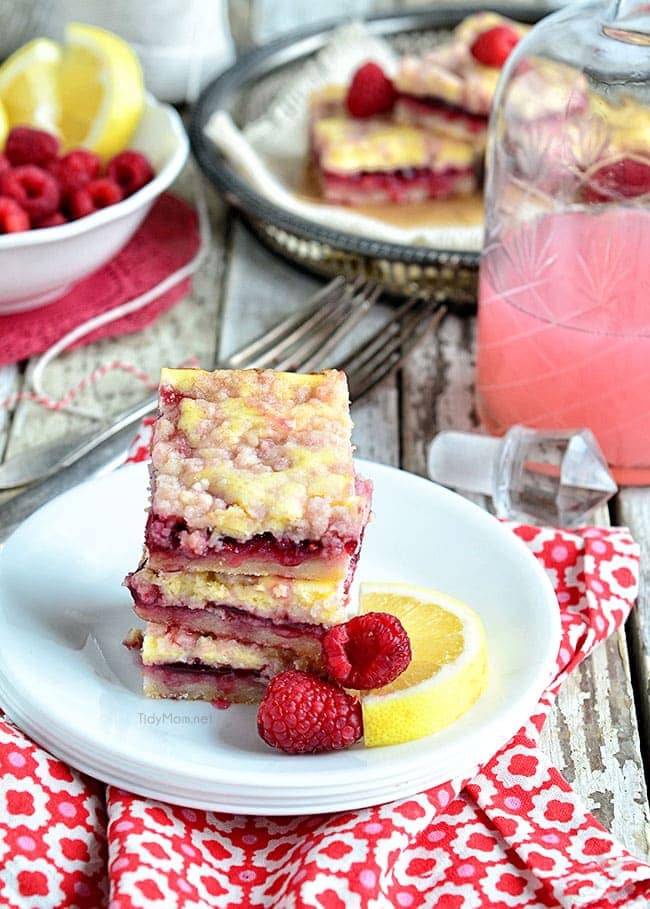 Want more great recipes like this? Follow my TidyMom Easy Recipes Pinterest Board
Want more great recipes like this? Follow my TidyMom Easy Recipes Pinterest Board
Follow Cheryl Sousan | Tidymom.net's board TidyMom.net easy recipes on Pinterest.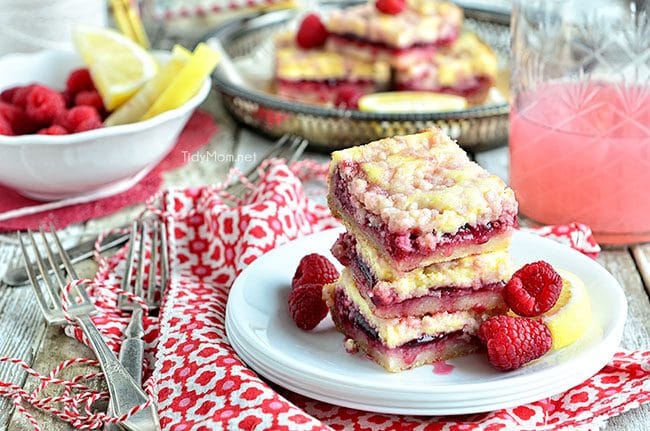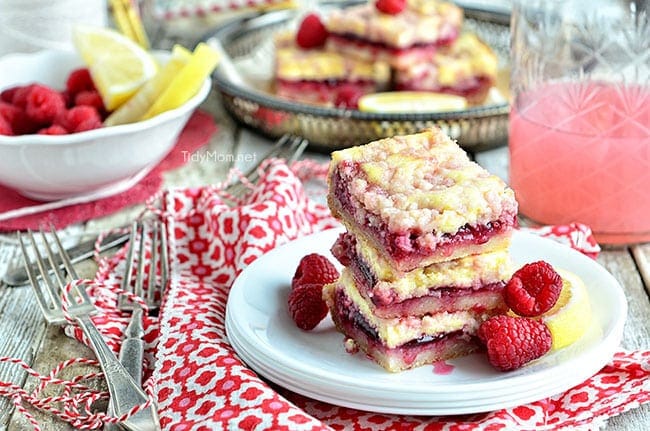 Like this Raspberry Lemonade Bars recipe?  Pin It!



More Lemon and Raspberry recipes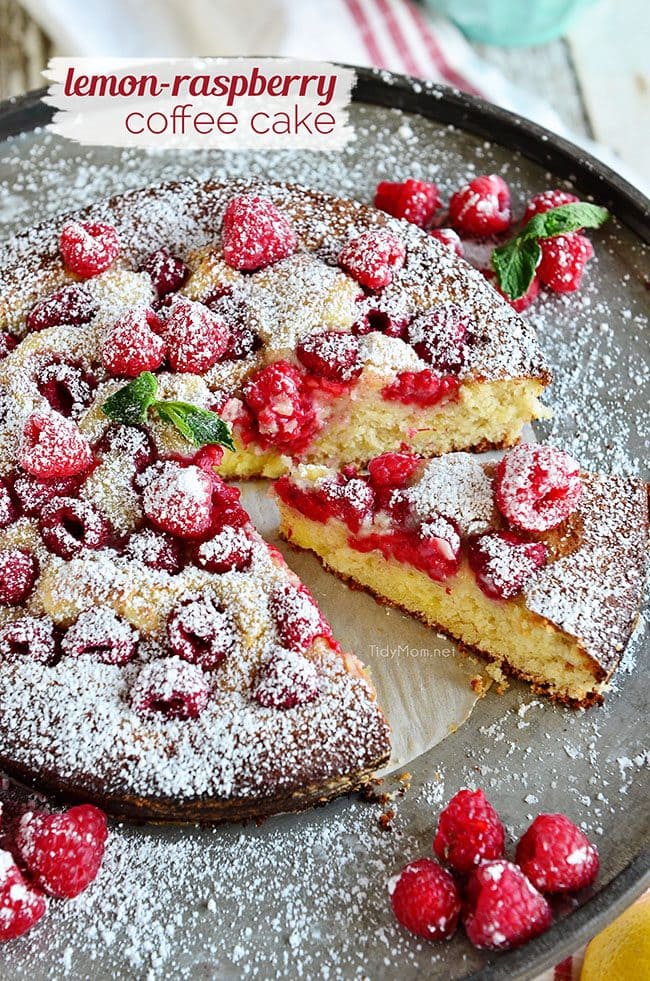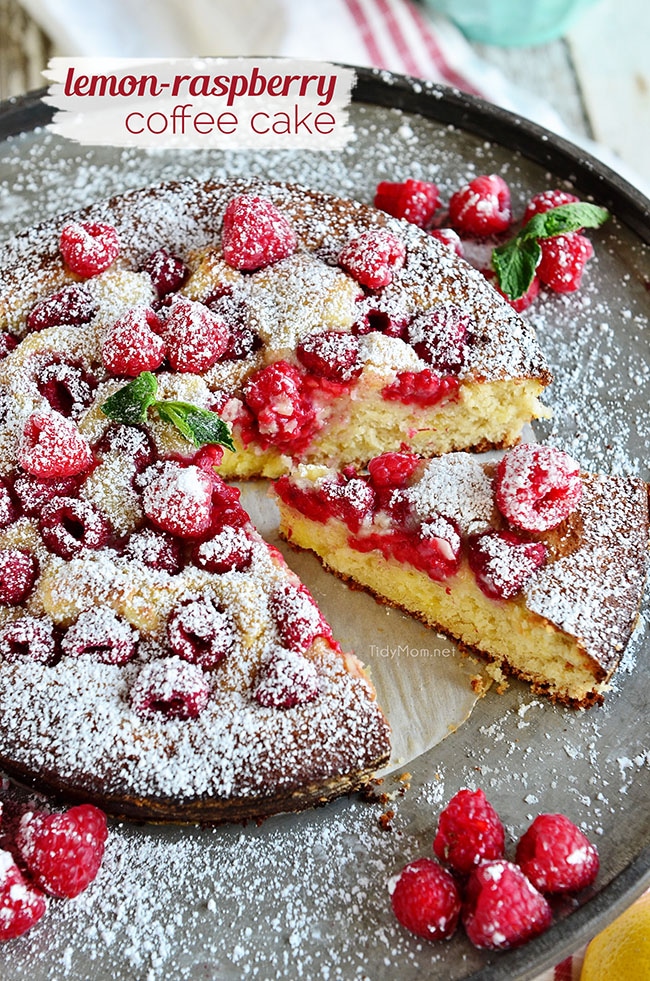 Black Raspberry & Lemon Crush Ice Cream Cupcakes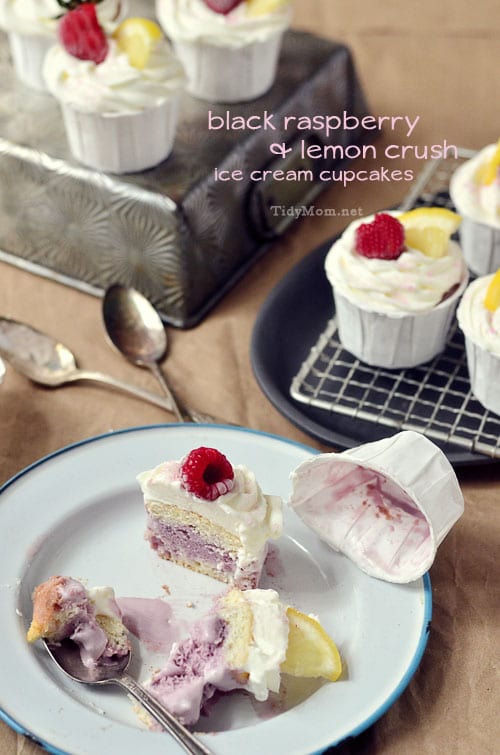 Caramel Raspberry Banana Napoleon