Caramel Raspberry Banana Napoleon
Layers of crescent roll pastry, vanilla pudding, bananas and raspberries topped with a caramel sauce for a perfect Valentines Day dessert.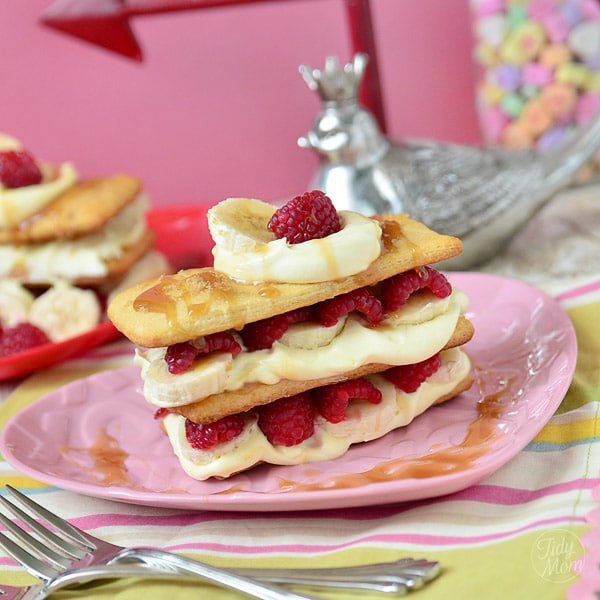 You may recall that when I shared the recipe for the Banana Flips, I said I have been on a banana kick lately.  It could be bordering on obsession (therapy could get expensive lol) , so I'll be sure to space them out and hope no one notices.
This dessert may look fancy enough for Valentines Day, but your sweetheart will never know how easy it was!  Refrigerated crescent roll dough and pudding mix lets you turn out a pastry shop-style napoleon in a flash!
Caramel Raspberry Banana Napoleon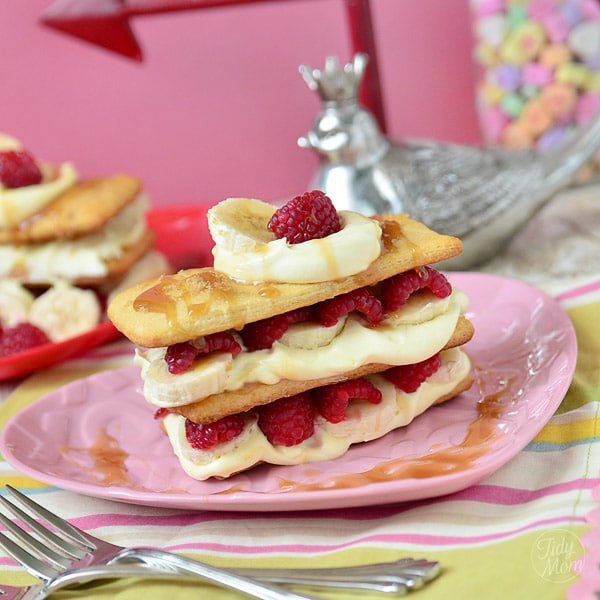 Refrigerated crescent roll dough and pudding mix lets you turn out a pastry shop-style napoleon in a flash!
Ingredients
1 can (8 oz) refrigerated crescent rolls
3 Tablespoons brown sugar
1 cup milk
1 box (4-serving size) French vanilla instant pudding and pie filling mix
1 cup Cool Whip or whipped cream
3 large bananas
1 1/2 cups sliced raspberries
Instructions
Heat oven to 375°F.
Unroll dough and separate into 4 rectangles. Pinch perforations to seal. Use rolling pin to smooth out pinched perforation (optional)
Cut each rectangle into four pieces, forming 3x2-inch rectangles . Place on ungreased or parchment lined cookie sheet. Sprinkle each with brown sugar.
Bake 8 to 10 minutes or until golden brown. Cool completely, about 15 minutes.
Meanwhile, in medium bowl, beat milk and pudding mix with wire whisk until mixture begins to thicken and refrigerated for 30 minutes until nice and set.
Fold in whipped topping. (for advanced preparation you can stop here, cover pudding and refrigerate for several hours until ready to serve)
To serve, build each napoleon by starting with one of the crispy crescent squares. Dollop on the vanilla pudding mixture. Top with sliced fruit. Add a second crescent crisp and more of the pudding and fruit. Top with a third crisp, a spoonful of pudding, one raspberry and banana slice and drizzle with caramel topping.
Notes
For kids, you may want to skip the layering. Serve in a bowls. Tear up 2 baked crescent squares, add pudding mixture, top with fruit and drizzle with caramel topping. - Not as pretty but much easier to eat!
Recipe slightly adapted from Sams Club
https://tidymom.net/2012/caramel-raspberry-banana-napoleon/
Copyright© 2009-2013 TidyMom.Net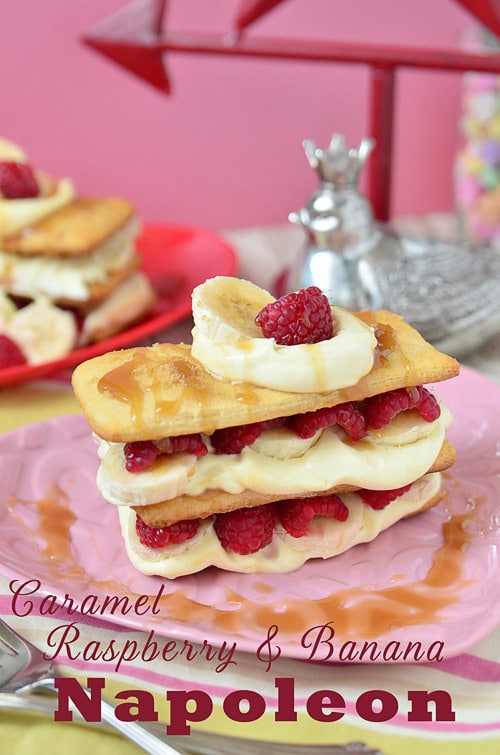 More banana recipes you may enjoy:
Best Mom in the World Banana Bread
How about you? Are you a lover of all things banana?
I'm linking up with these parties.......please visit them!Made by You Monday, Mingle Monday,  Get Your Craft on , Weekend Wrap Up Party, Pity Party   , Decor Chick Valentine Party