Banana Buster Brown Cupcakes
Banana and chocolate is a sweet flavor combination that's sure to please any sweet tooth.
To me, cupcakes are all about FLAVOR !  Give me an ordinary looking but delicious cupcake over a cute bland cupcake any day.
I know I talk about doctoring up cake mixes for cupcakes, and for most of the time, they really are very good……but still nothing beats the texture and flavor of  home made cake batter, except when it's topped with a frosting that's so good it makes your head spin!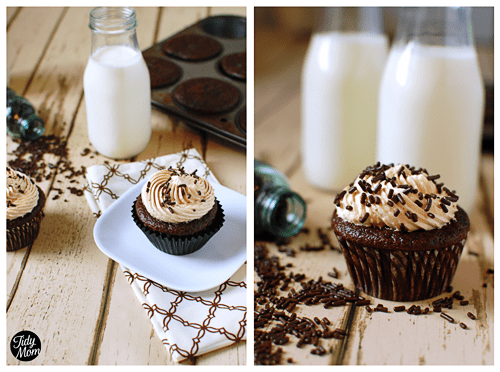 I have been thinking hard about a cupcake that would have a flavor combo that would knock our socks off……I know how much my family loves my banana bread with chocolate chips…..so banana chocolate cupcakes it would be!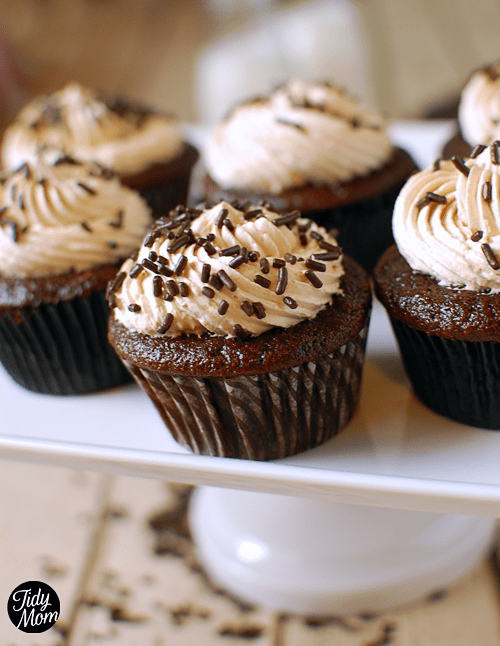 Next  I  wanted to top them with a frosting that oozes "come to mama"…… maybe add just one more flavor to this dynamic duo.   I found Martha Stewart brown sugar butter cream and it was love at first site!  I knew it would be the perfect companion……….if I added a touch of peanut butter! Peanut Butter Brown Sugar Buttercream
May I introduce to you………. Banana Buster Brown Cupcakes
Want more great recipes like this? Follow my TidyMom Easy Recipes Pinterest Board
Cupcake Decorating Supplies: