Black Raspberry & Lemon Crush Ice Cream Cupcakes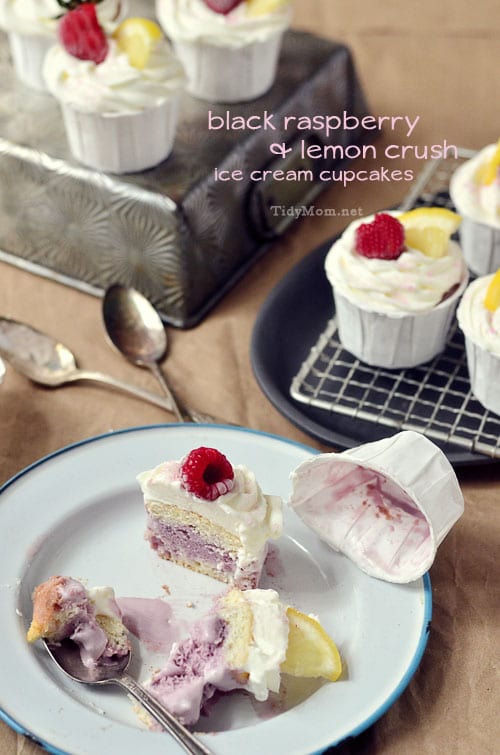 Cupcakes gone wild! That's what I'm calling it when you layer your favorite cupcake with your favorite ice cream and top it with a mouthwatering marshmallow cream frosting all in a perfect little cup!
I'm not one to shy away from a challenge, especially one that involved cupcakes!! My friend Stef over at Cupcake Project, along with Scoopalicious is holding the 5th annual Ice Cream Cupcake Challenge. 
I quickly started coming up with ideas, but just couldn't narrow down the flavor combination, so I took it to facebook.  I asked for help choosing a flavor for the ice cream cupcake contest and the overwhelming response was Lemon & Raspberry – perfect summer time flavors!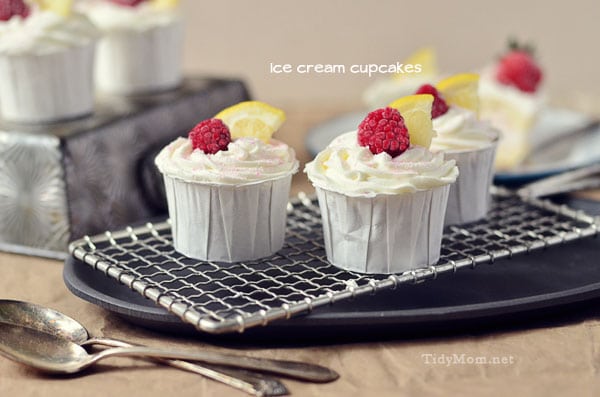 So, I made Black Raspberry & Lemon Crush Ice Cream Cupcakes for Father's Day and they were a huge hit, even got a big thumbs up from my husband who will usually only eat a white or yellow cake with chocolate frosting.
They're pretty simple to make, you just need to plan ahead, because, of course since there is ice cream involved, there will be freezing involved. So make these a day ahead if you can!
What's really fun is, you can use this technique with any flavor cupcakes and ice cream you desire – the frosting will work with any flavor and freezes wonderfully!
Let's get started………….
What you will need to make ice cream cupcakes:
(click links to see where to buy)
30 cupcakes wrappers or 2″ nut cups to bake cupcakes (these will be removed and discarded, so no need to be fancy)
30 2″ nut cups for ice cream cupcake (use white, or pretty decorated ones here, but they must be the nut cups)
favorite cupcake batter (lemon crush cupcake recipe below)
favorite ice cream (I used Edy's Limited Edition Black Raspberry and I made some with Blue Bunny Double Strawberry)
marshmallow ice cream frosting (recipe below)
1 16″ disposable decorator bag and 2D tip
fruit and sprinkles to garnish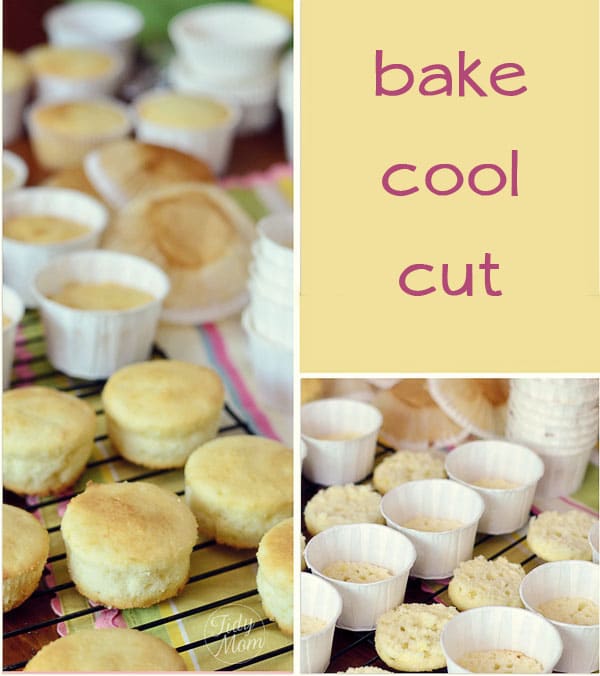 Fill cupcake wrappers or cups 1/2 full and bake cupcakes 15-20 minutes.  Cool completely.
remove cupcakes from wrapper or cup
cut cupcakes in half and place bottom half of cupcakes in to a new nut cup (you can NOT use cupcake wrappers on this part, I tried a few just to see if it would work, and it doesn't, you need the stability of the nut cups)
Remove ice cream from freezer to soften, about 20 minutes (you can do this while cutting cupcakes in half)
Working quickly, spread ice cream over cupcakes, then place top half of cupcake over ice cream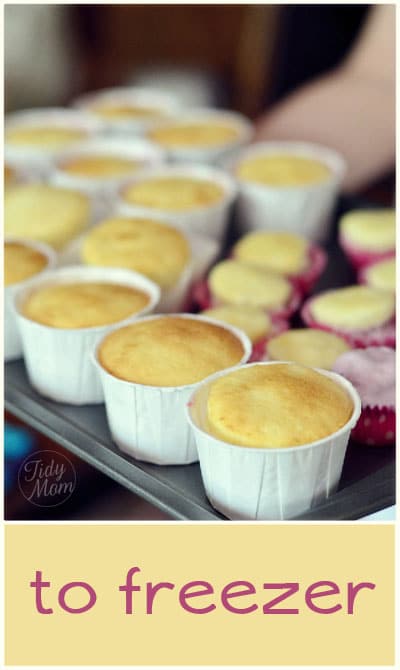 Place ice cream cupcakes in freezer for at least 2 hours.
do you follow me on Instagram?  If so, you had this sneak peak over the weekend
remove from freezer and quickly frost and garnish (you may want to remove only a few at a time while working)
store in freezer until ready to serve (freeze at least 4 hours before serving)  *I just left them on the pan, we at them pretty quickly, but if you are making a day or two ahead of time, you may want to store in a plastic container in the freezer)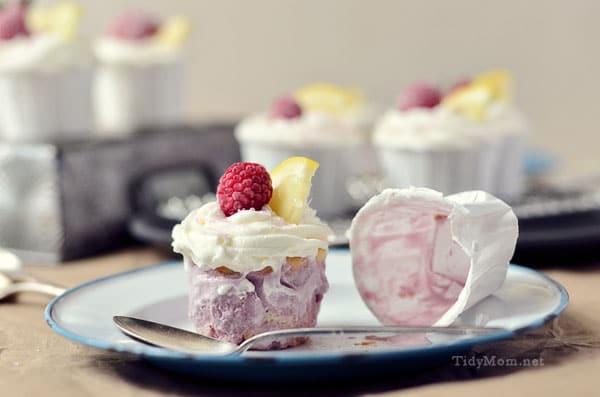 serve frozen, have lucky recipient remove from wrapper (or you can eat right out of the cup – I just think it's pretty to look at out of the cup)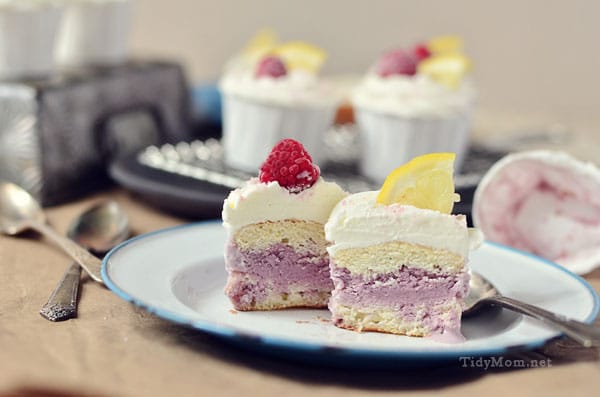 See what I mean?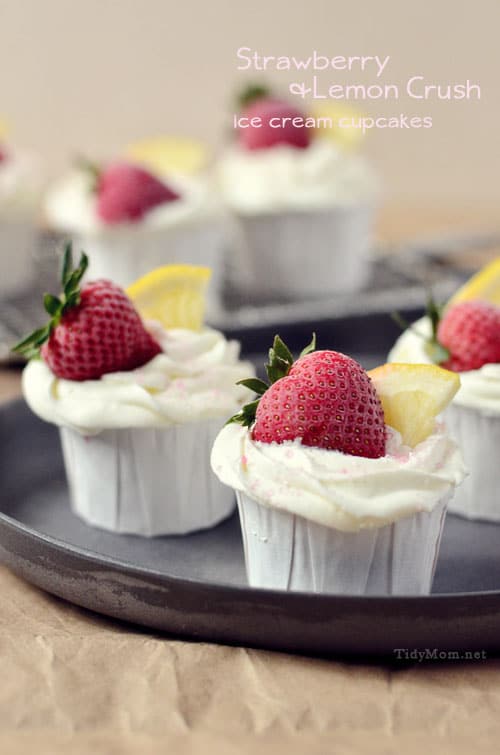 I made some with Strawberry Ice Cream too – they were delicious too, but I liked the Black Raspberry better *wink*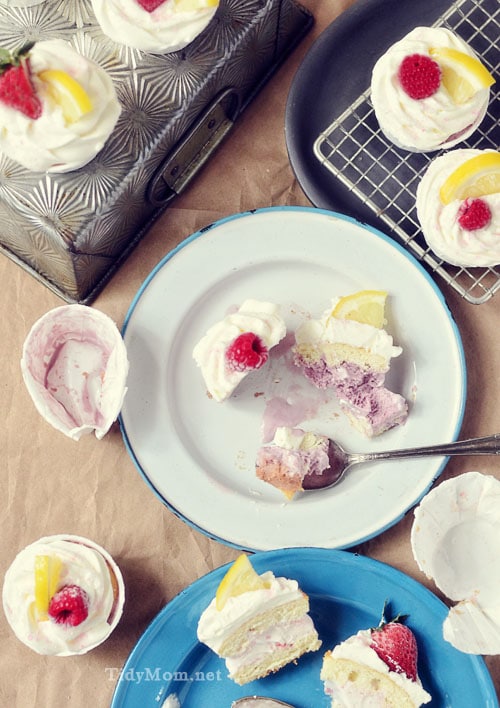 So there you have it! My entry for the Ice Cream Cupcake Challenge!……..go check out the other entries, and the previous years entries too! – there's a WHOLE lot of cake and ice cream going on over there……… and for all my pregnant buddies, you may want to check out Stef's Pickle's and Ice Cream Cupcake! It was even featured in People Magazine!
What's your favorite cake and ice cream combination?
Black Raspberry & Lemon Crush Ice Cream Cupcakes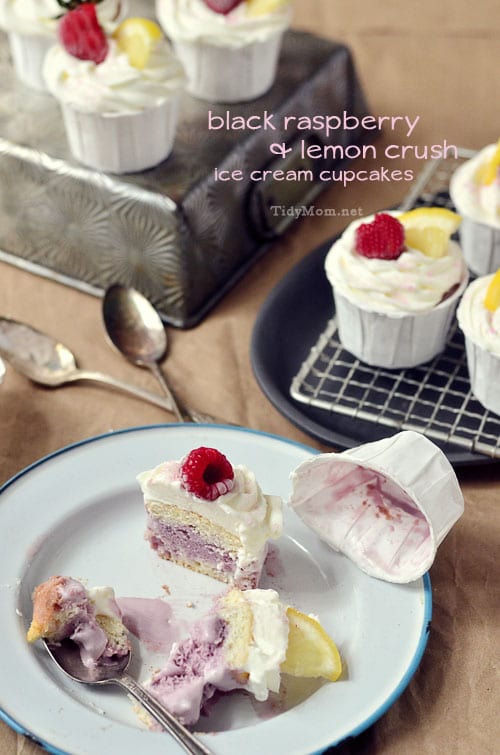 Nothing says summer like ice cream and cake! Eat them together with an ice cream cupcake topped with marshmallow frosting!
Ingredients
1 box French Vanilla Cake Mix (I use Duncan Hines)
3 large eggs
1/2 cup melted butter (1 stick)
1 cup water
rind from 1 large lemon, grated
juice from 1 large lemon
Black Raspberry Ice Cream (just as yummy with Strawberry too)
3 cups Heavy Whipping Cream
1-1/2 cups Marshmallow Cream
raspberries, lemon slices and sprinkles to garnish
30 cupcake wrappers
30 nut cups
Instructions
For Cupcakes:

Preheat Oven to 350° and line cupcake pans with cupcake papers.
Melt butter in microwave.
Using large blow, add cake mix, eggs butter, water, lemon rind and lemon juice; using electric mixer, mix on low for 1 minute, then on high for one minute.
Fill cupcake papers 1/2 full (a little smaller than you normally fill for cupcakes)
Bake for 15-20 minutes, until toothpick comes out clean. Cool completely

For Ice Cream Cake Frosting:

Using electric mixer and large bowl, whisk whipping cream and marshmallow cream on low and gradually move up to high as it thicken - mix until stiff peaks form.

To Assemble:

Remove cupcakes from wrappers and slice in half.
Place bottom half of cupcake in new nut cup.
Working quickly, spread ice cream over cupcakes, then place cupcake tops over ice cream
Place ice cream cupcakes on pan and freeze for about 2 hours.
Working quickly and with a few cupcakes at a time, pipe frosting on cupcakes and garnish, place back in freezer.
Freeze a minimum of four hours before serving.
Store in freezer in plastic container. Will keep for 1 week.
Serve frozen and enjoy!
https://tidymom.net/2012/ice-cream-cupcakes/
Copyright© 2009-2013 TidyMom.Net