Peach Sherbet | 2 ingredients 2 minute recipe
Peach Sherbet is ready to eat in two minutes! Sherbet, is sorbet's creamier cousin — it's cold, creamy and SO easy to make at home! All you need is frozen fruit, a can of sweetened condensed milk and a food processor or blender. No machine, no churning, all creamy fruity deliciousness.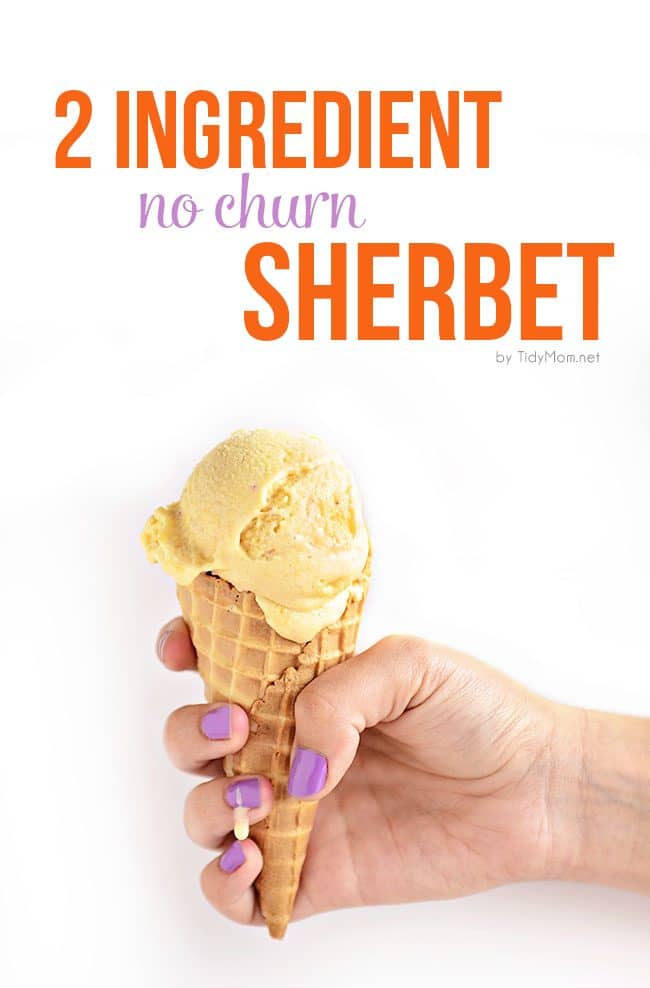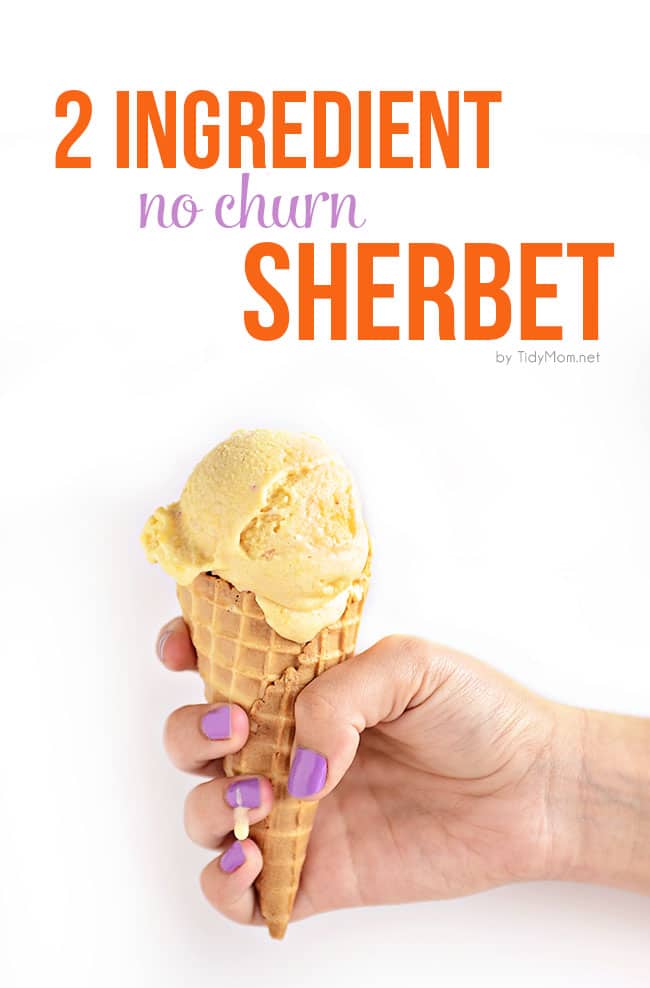 I've been on a peach kick lately, just can't get enough of that sweet juicy fruit.  The great thing about making sherbet is that you need frozen fruit, so you can make it any time of year.  If peaches are in season, you can certainly use fresh, just slice them up and freeze and you can have peach sherbet in the middle of winter!!  No fresh fruit to freeze?  no problem,  a bag of frozen fruit from the grocery store works just as well.
Either way, you can turn plain old good-for-you fruit into a creamy frozen treat any time of the year.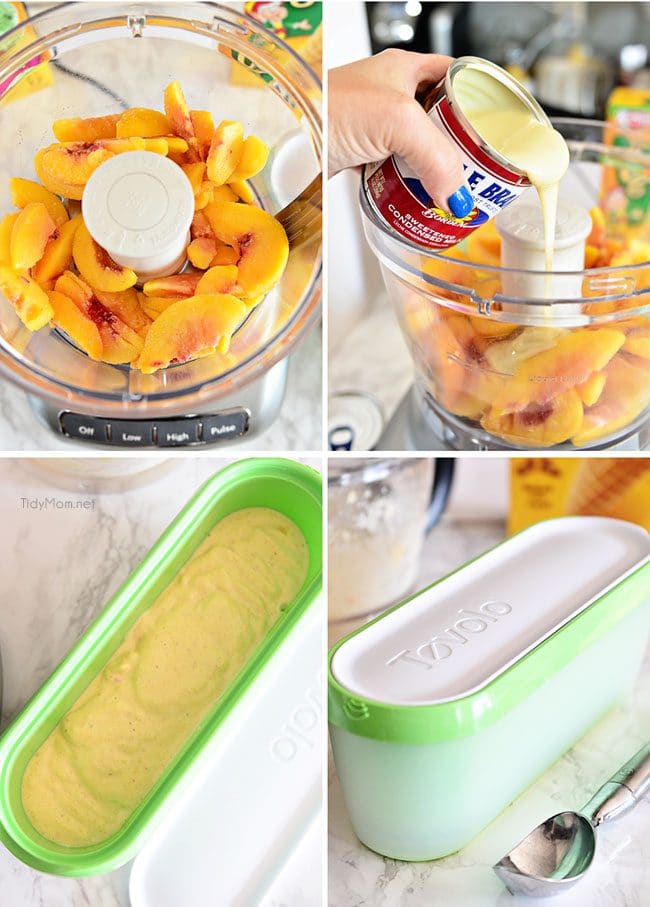 This post may contain affiliate links. Please read my disclosure policy here.
Not everyone has the space for an ice cream maker, and sometimes you just don't want to deal with the mess of making ice cream at home.  That's why we make so much peach sherbet, it's quick, simple and just 2 handy ingredients you can keep on hand to make any time the mood strikes you 😉 – know what I'm sayin'?  The trick to this no-churn peach sherbet is a combination of frozen fruit and sweetened condensed milk.
Now that you know the little secret, you too can look forward to peach sherbet treats any time you feel like it. You don't have to stop at peach…. try this 2 ingredient sherbet recipe with blueberry, strawberry, pineapple, even mixed berries! This stuff is so good — like, magically good and the flavor possibilities are endless.
2 Ingredient Peach Sherbet recipe + video
click to see more of my recipe videos
Want more great recipes like this? Follow my TidyMom Easy Recipes Pinterest Board
**Making this recipe?  Take a picture and share it on Instagram! Make sure to tag it #TidyMom so we can see what you're creating in the kitchen!
I love my Tovolo Ice Cream Tub, no freezer burn – yay!!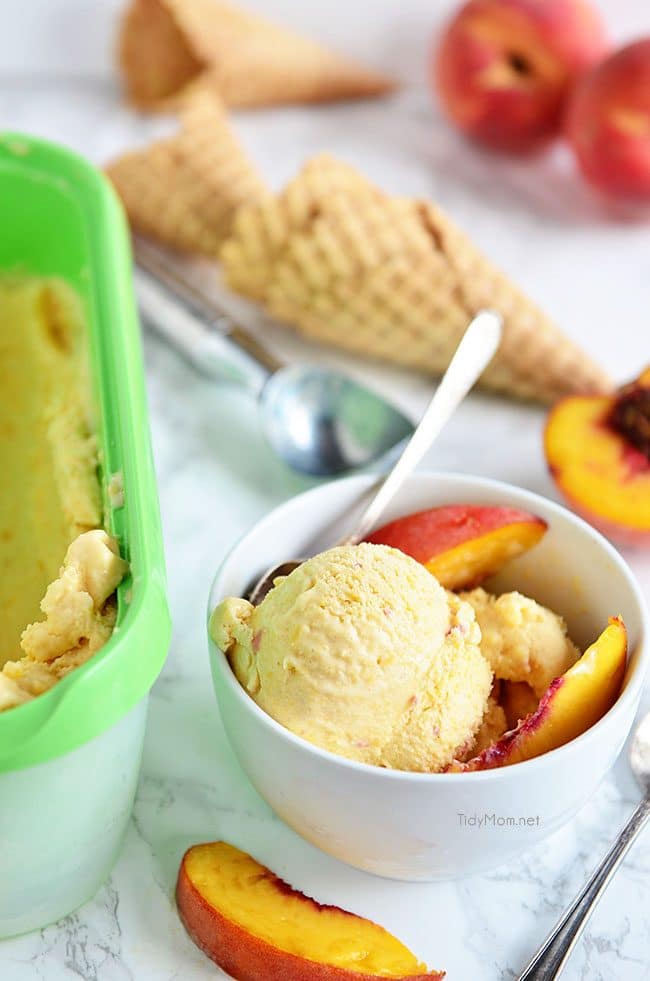 No-churn Peach Sherbet is a wonderful fruity dessert, it's not overly sweet and the fruit flavor is front and center.  I can't image how incredible this would be on top of a cobbler!!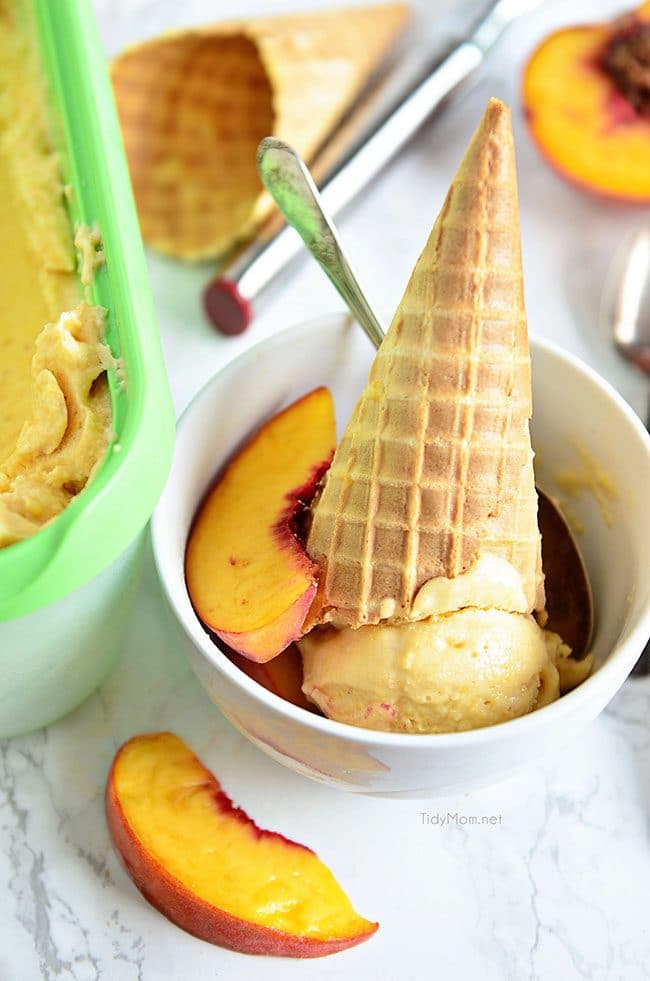 LIKE IT…. PIN IT!