Black and Blue Berry Cobbler
Cobbler is the messy sister to pie and is imperfectly delicious.
Berry Cobbler is a dessert classic everyone loves!  Blackberries and blueberries are topped with a delicious biscuit-like dough and baked in ramekins for the perfect single-serving dessert.  Serve fresh out of the oven with a scoop of ice cream and they are irresistible!
I'm excited to tell you I have recently partnered with Scotch-Brite Brand , and in the months to come we will be covering clean up after the recipes and around the house!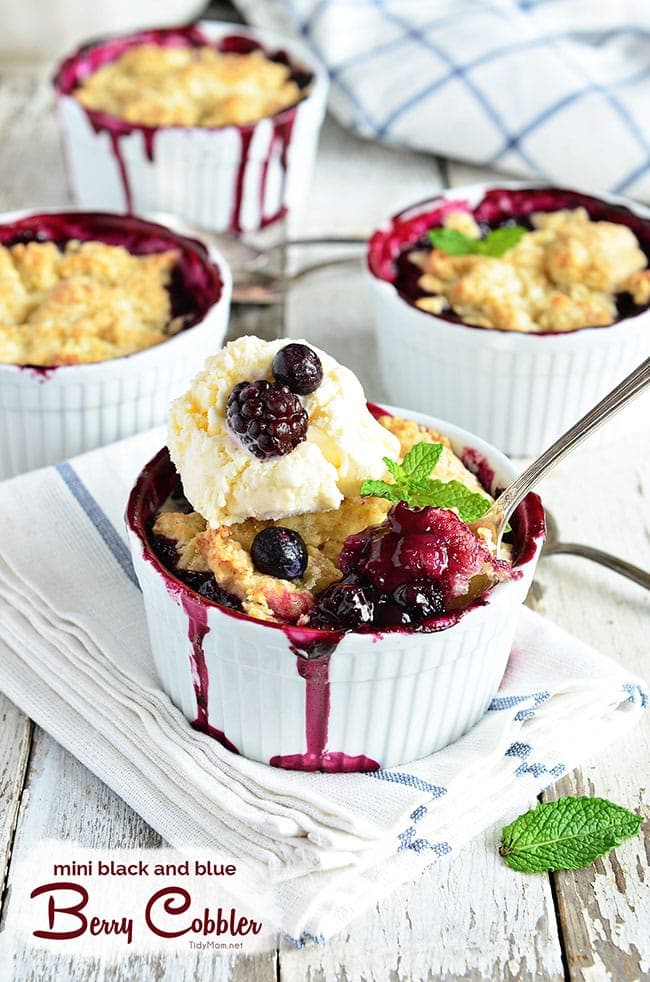 This is a very simple dessert, which is easy enough to make about any night of the week, but is fancy enough for company!
I just love blackberries.  Growing up, blackberry pie was one of my favorites.  My grandma was always baking pies, and I'd choose pie or cobbler over cake any day. When I was in middle school, with braces, blackberry pie was off limits, so that only made me crave it more.  For two long years, blackberry pie was all I thought about (and maybe that cute Darryl Weinrich 🙂 ).
Now that I'm all grown up, I don't just casually pull out my rolling pin and make pies every day (like my 13 year old self dreamed I would).  Cobblers are great for those who aren't much of a pie baker, and I love that you can bake cobbler in ramekins for individual servings. I encourage you to make this Black and Blue Berry Cobbler …… I wish you could taste it right now because I know you will love it. Big Time.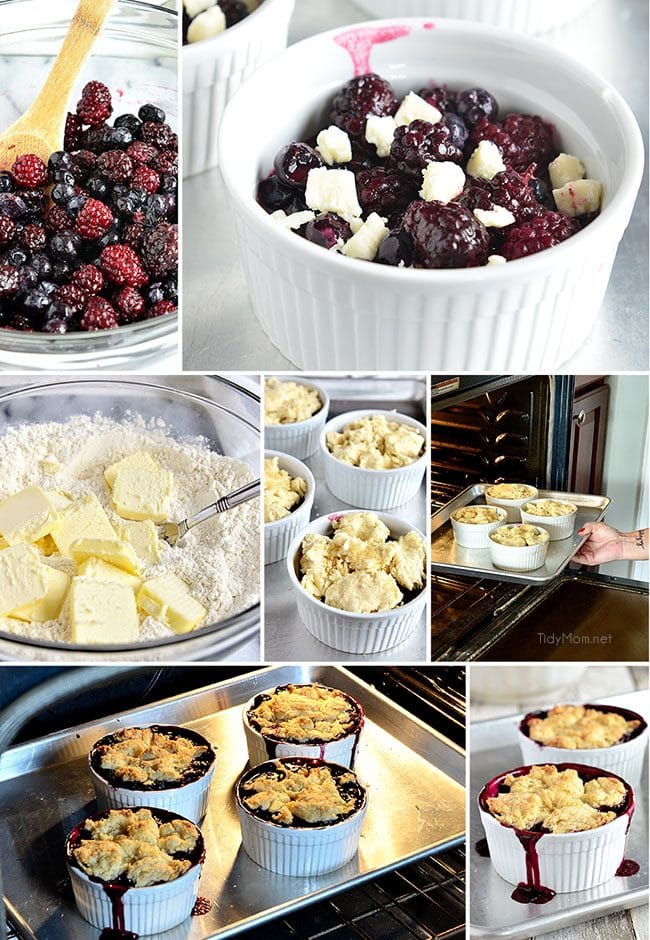 Pies take time (and a bit of talent)…cobblers are so much easier and quicker.  For this berry cobbler, I mixed some blueberries in with the blackberries, added a little sugar (I like to keep them tart) and a little flour to soak up some of the juice and divided them up into ramekins.  My berry cobbler was topped with a biscuit-like dough, which is so much easier than pie crust, and every bit as buttery and delicious.
Eating a berry cobbler warm from the oven topped with ice cream is ideal.  As the ice cream melts, it comes together with the juicy, baked berries on the bottom.  The biscuit on top provides a nice buttery complement to the sweet juicy berries and ice cream.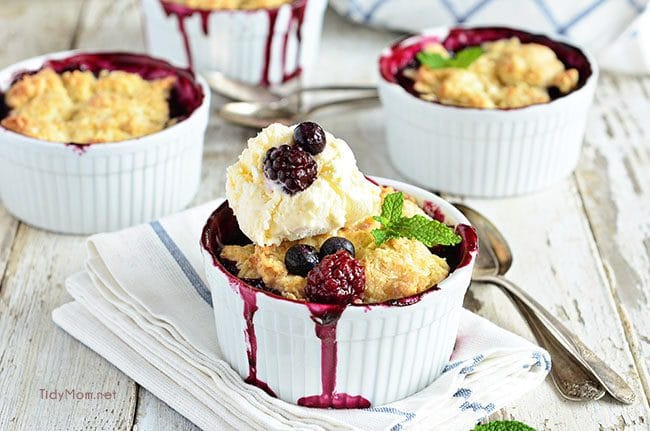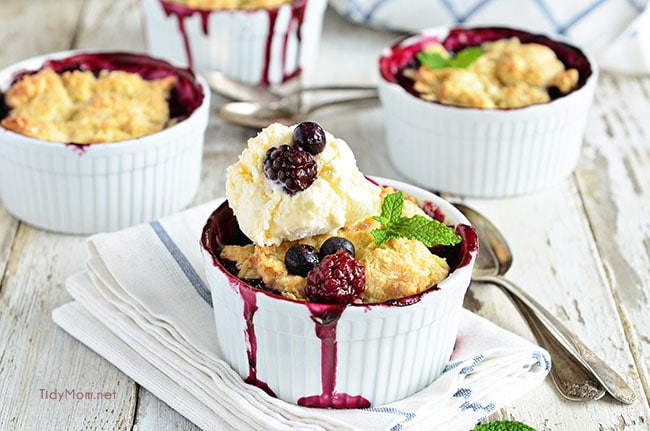 I love the rustic feel of the berry juice bubbling out over the sides.  Does that not just scream eat me?!!
**You can also bake them in wide-mouth canning jars, screw on a lid after they cool to take to a picnic, bbq or just keep them in the fridge, for snacking 😉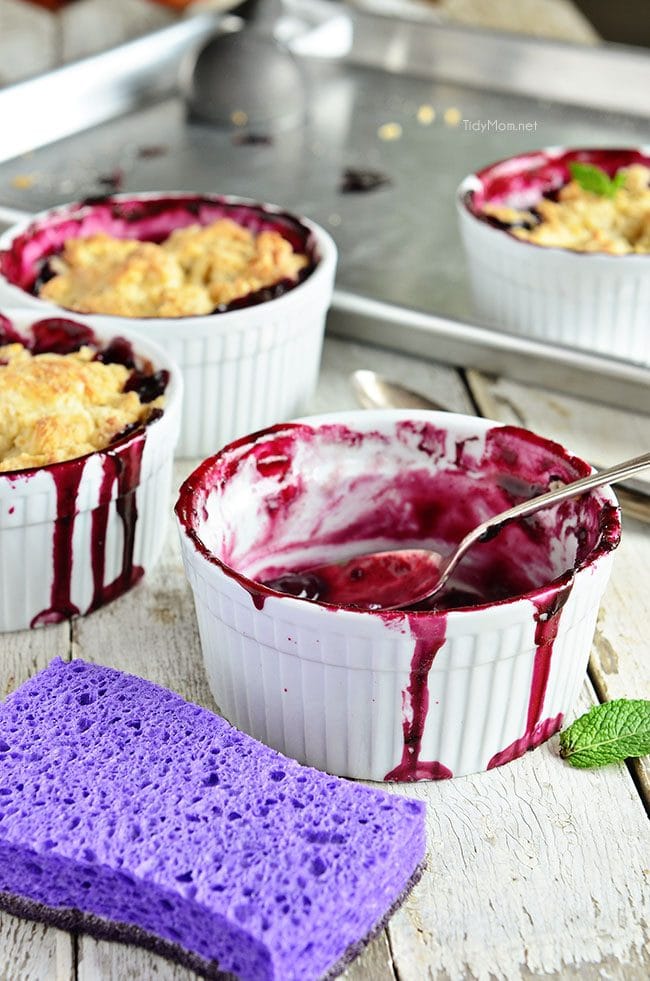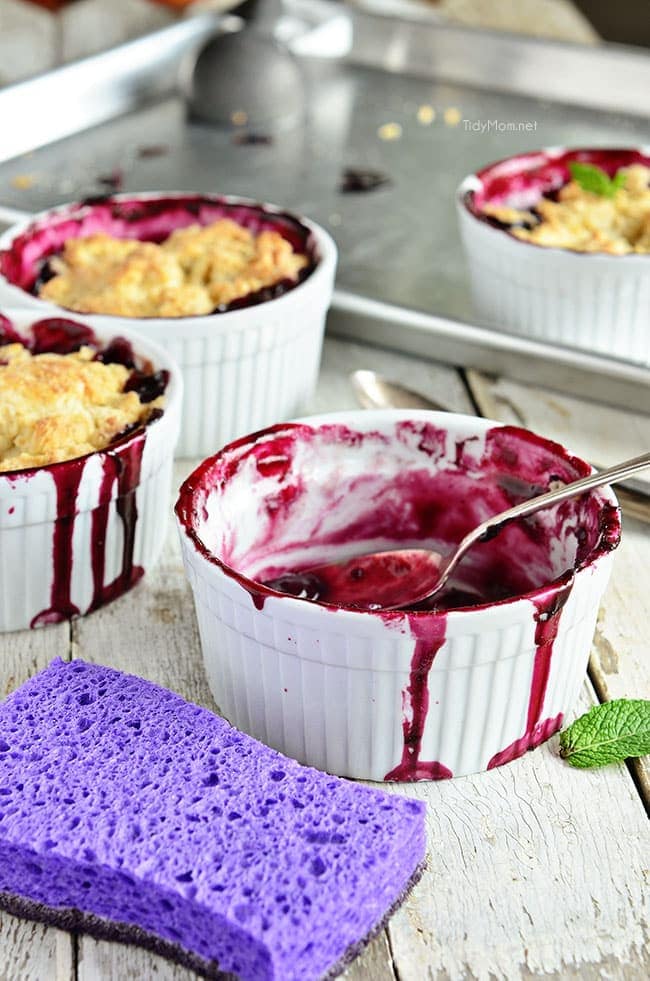 The Clean Up
Cobblers might be quick and easy to make, but clean up can be another story.  With filling steeped over the edges and the nonuniform biscuits, berry cobbler is definitely not a tidy looking dish, now is it? In fact, it can be quite messy if you use a little too much filling, as it can easily bubble over as it bakes.
I always put pies and cobblers on a baking sheet to catch the drips and keep them from going to the bottom of my oven.   No matter how careful you are, you can be pretty certain you will have some messy dishes and pans to clean up after baking fruit cobbler and pie………but they are SO worth the mess.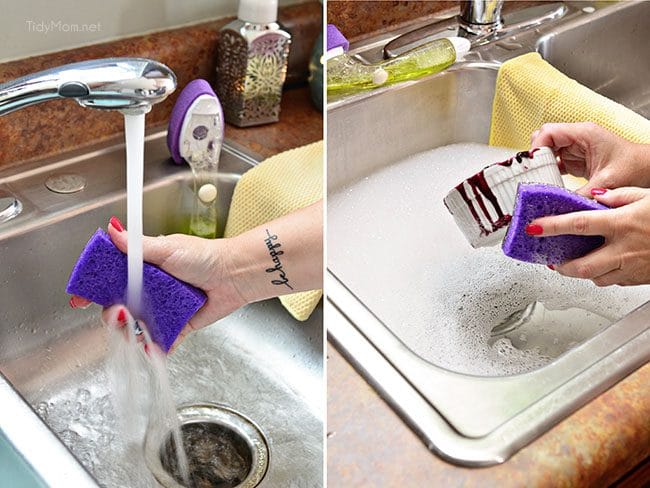 As with all cleaning, I try to get to it as soon as possible.  The longer you leave it sit, the harder the cleanup.  If I remember, I try to line my baking sheet with parchment paper or foil, for easy cleanup.
Thanks to my favorite little cleaning tool, the Scotch-Brite Extreme Scrub Sponge, clean-up can be a breeze. It's treated to resist bacterial odors and has 4x the scrubbing power than the next leading brand at removing tough baked-on messes allowing me to clean easier and avoid smelly sponges.  A smelly sponge = bacteria.  Did you know the kitchen sponge can be one of the biggest sources for germs in the house. YUCK! The Extreme Scrub Sponge features a long-lasting antimicrobial agent in the sponge and scrubber that provides product protection against bacterial odors.  Now that's a sponge I want in my kitchen!!
Scotch-Brite Brand cleaning tools help me get the job done right. And………… clean feels good!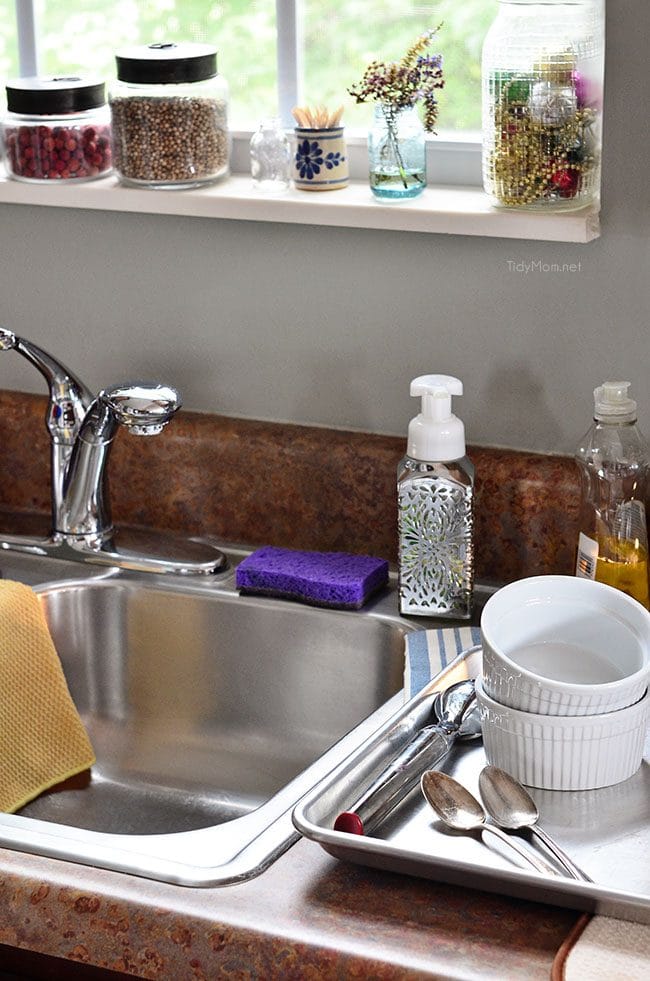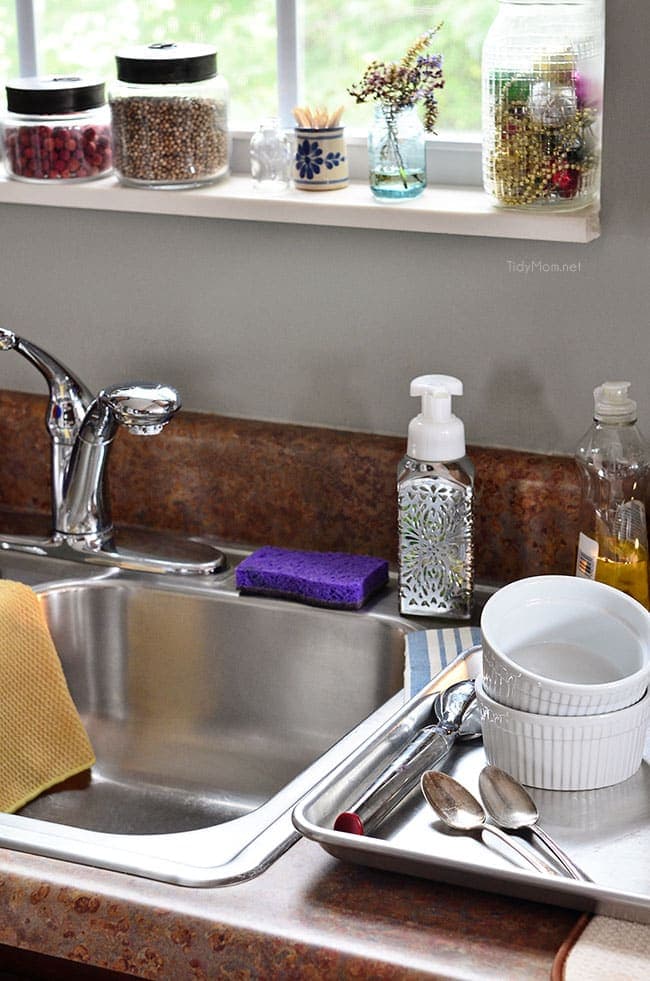 Now, how about that recipe?
I should also tell you, this berry cobbler isn't overly sweet and lends a nice amount of tartness (you can add extra sugar if you prefer) which I find compliments the "buttery" biscuit perfectly.
**Making this recipe?  Take a picture and share it on Instagram! Make sure to tag it #TidyMom so we can see what you're creating in the kitchen!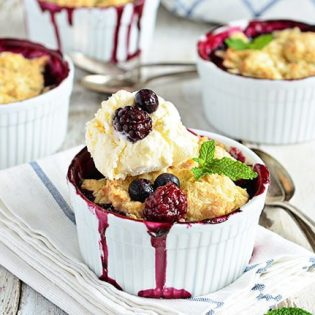 Black and Blue Berry Cobbler
Cobbler is the messy sister to pie. It's imperfectly delicious. You can use fresh or frozen berries, and you can choose your favorite. I went with blackberries and blueberries, but peaches, raspberries,strawberries or a mix of any/all would be just as wonderful. Baked in ramekins, black and blue berry cobbler is the perfect single-serving dessert.
Ingredients:
2 cups blackberries (if frozen allow to thaw before use) 2 cups blueberries (if frozen allow to thaw before use) 1/3 to 1/2 cup sugar 1/4 cup flour 1 tablespoon lemon juice 1/4 teaspoon cinnamon dash of nutmeg pinch of salt 2 tablespoons cold butter, cut into small pieces for Biscuit topping: 1½ cups flour 1 tablespoon sugar 1½ teaspoons baking powder ½ teaspoon salt ½ cup cold butter, cubed ½ cup milk vanilla ice cream (optional)
Directions:
Preheat oven to 350°. Place ramekins on baking sheet evenly spaced.
In a medium bowl, gently stir together blackberries, blueberries, sugar, flour, salt, lemon juice, cinnamon, nutmeg and salt. Evenly divide amongst ramekins and dot with butter.

For biscuit topping, in a small bowl, combine the flour, sugar, baking powder and salt. Cut in butter until mixture resembles coarse crumbs. Stir in milk just until moistened. Drop by spoonfuls onto berry mixture.

Bake for 40-45 minutes or until filling is bubbly and topping is golden brown. Serve warm with a big scoop of vanilla ice cream
Instead of making individual cobblers in ramekins, you can follow same directions, just fill a 8x8 pan instead of ramekins.
Making this recipe? Share it with us on Instagram using the hashtag #TidyMom so we can see what you're creating in the kitchen!
Want more great recipes like this? Follow my TidyMom Easy Recipes Pinterest Board

Disclosure:  I have a working relationship with Scotch-Brite Brand, but as always, all views, opinions……and my love of a clean home are all my own.  Thank you for supporting the brands that support TidyMom.