Easy Meyer Lemon Pie perfect for Spring!
This Meyer Lemon Pie packs a ton of sweet lemon flavor with a fluffy texture. A simple homemade dessert perfect for spring. The pie is not overly sweet and has plenty of citrus love all the way through to the homemade whipped cream on top!
Stop everything you're doing.
We need to talk about this Meyer lemon pie!! It's kind of amazing, and I won't lie……I've eaten several slices, since I made it yesterday.  When I'm not eating it, I'm dreaming about this lemon pie!!
I'm always in the mood for a delicious lemon recipe, like lemon filled cupcakes, lemon raspberry coffee cake, and lemon burst cake mix cookies, to name a few.  My lemon craving was kick started the other day when I was inspired by Todd and Diane's gorgeous citrus pie.
Because I'm a big fan, I made my lemon pie in a buttery flakey pie crust.
Once you have your crust baked, it's time to move on to the lemony filling!!
Have you heard of Meyer lemons?  They're sweeter than a regular lemon, a cross between a lemon and a mandarin orange.  Since they don't have the tang of a lemon, you might even enjoy them in a salad or atop a dessert.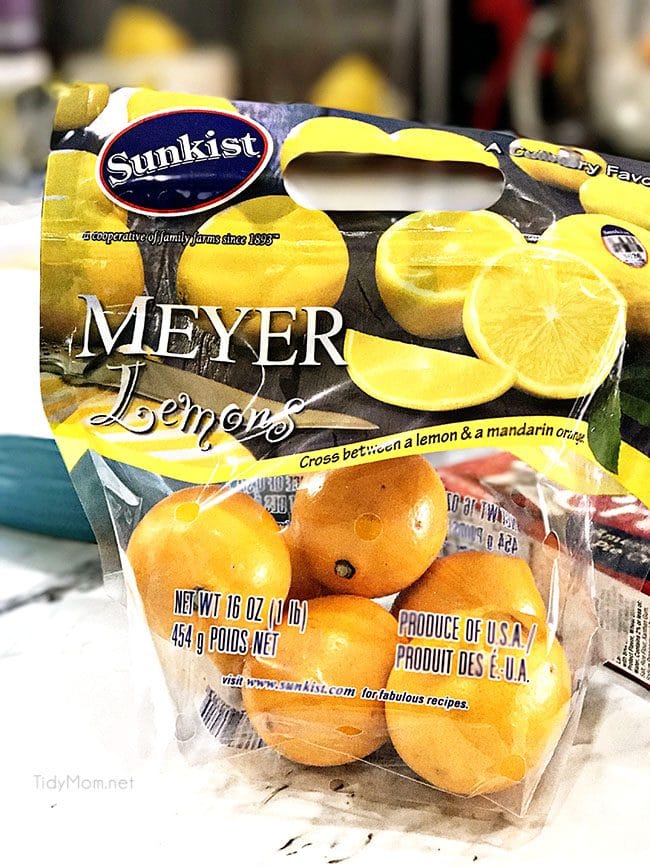 This post may contain affiliate links. Please read my disclosure policy here.
They are more round and smaller than a regular lemon, and their color is a dark yellow to orange.
Note: This recipe calls for a cup of  lemon juice.  I squeezed nearly two pounds of Meyer lemons with my lemon juicer to get one cup.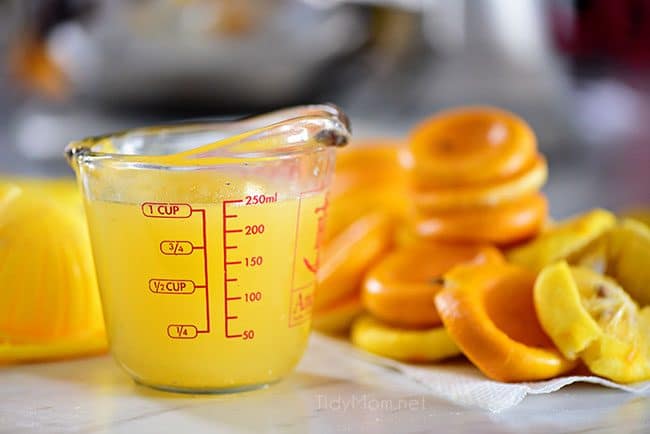 Meyer lemon season is December through May, but they can sometimes be hard to find. But I beg you, it's worth the extra effort to see if you can find Meyer lemons.  Their sweetness just hooks you. If you can't find them, you can use regular lemons and add 2 tablespoons of granulated sugar to the pie filling.
Because of the sweetness of the citrus, this dessert doesn't have any added sugar, other than the decadent whipped cream on top, making it sinfully delicious, but not nauseously sweet.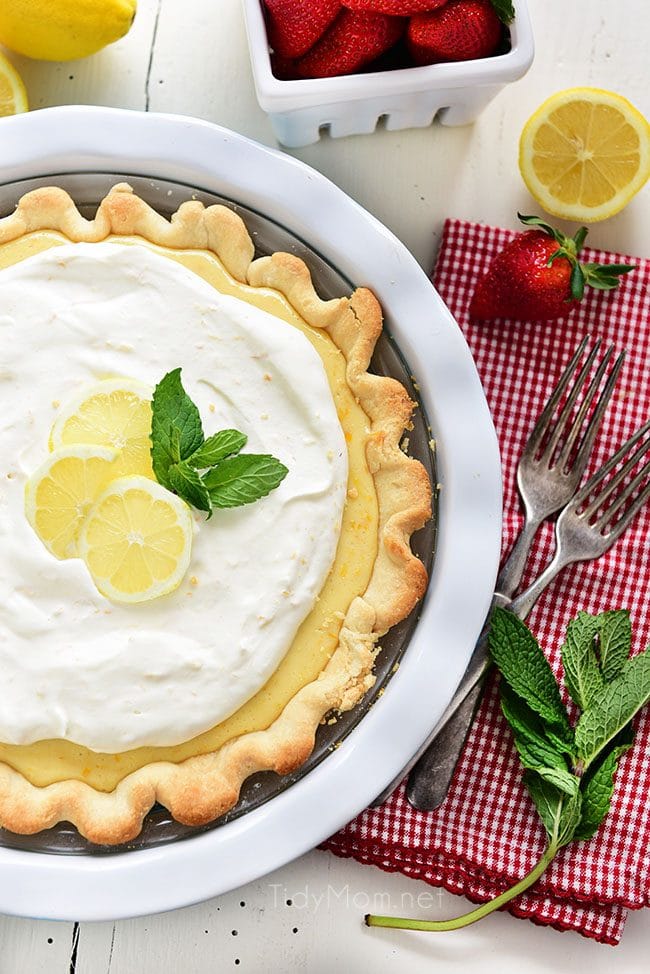 My pie is garnished with regular lemons, because I used all of the Meyer lemons for the juice. 😉
This is a pie that I will be making again and again.  It's simple enough for any day and perfect for a pot-luck, or an Easter or Mother's Day dessert.
Want more great recipes like this? Follow my TidyMom Easy Recipes Pinterest Board
Like this recipe for Meyer Lemon Pie?  Pin it!
More Meyer Lemon Recipes from my friends:
Meyer Lemon Creme Brulee recipe from She Wears Many Hats
Meyer Lemon Pudding Cake recipe from Two Peas and Their Pod
Mini Meyer Lemon Bundt Cakes recipe at The Little Kitchen
Meyer Lemon Tarts recipe at A Beautiful Plate
Meyer Lemon-Rasberry Scones recipe from Brown Eyed Baker