German Mulled Wine | Glühwein
Perfect for a holiday gathering, this warm mulled wine recipe is ready to serve in 30 minutes. It's so easy to make on the stove, or mull it in the slow cooker.
It's kind of like mulled cider……only better!  Mulled Wine, or Glühwein as it's called in German-speaking countries, is a traditional beverage that is offered during the Christmas holidays.  I'm serving mulled wine today for a Thanksgiving Cocktail Bloghop .
Be sure to sign up for my email… to get new recipes and ideas in your inbox!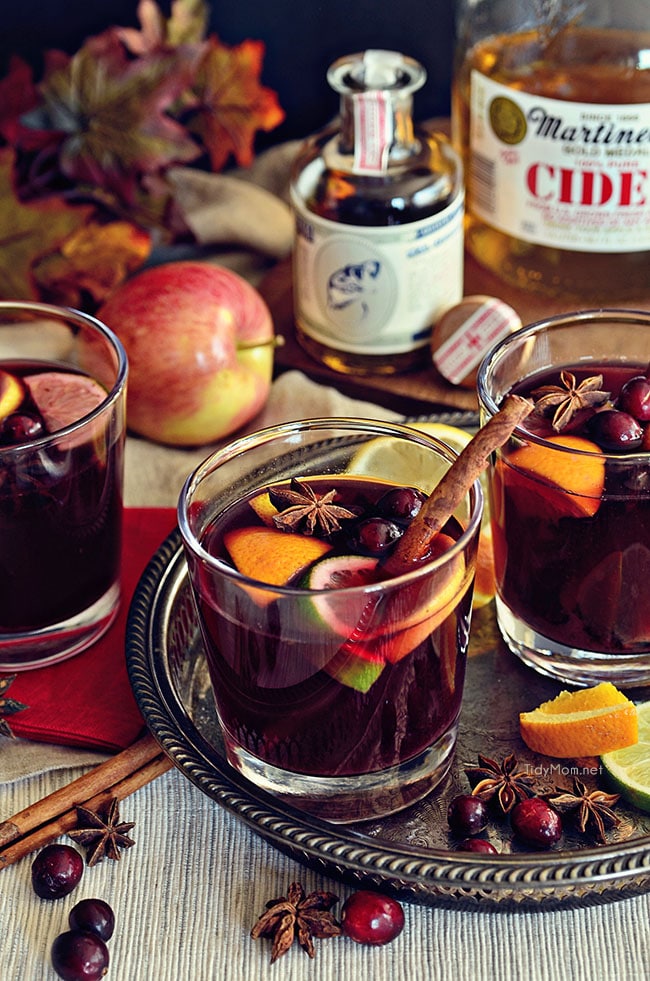 I recently learned about Mulled Wine at a wine tasting event at our local grocery store.
I was chatting and sampling wine with the fun lady at the yellow tail table when she told me about Glühwein or mulled wine.  She said mulled wines have been warming people for centuries.
Typically mulled wine is made with red wine, the wine is sweetened, spiced and heated.
She assured me that the mulled wine is a delightful alternative to traditional coffee, cider or a hot toddy at holiday gatherings or just on a cold winter's night.
I wrote down everything she told me to make German spiced wine, bought a bottle of yellow tail sangria and figured I'd make it for one of our holiday gatherings. 
What is Mulled Wine?
I was told the secret to a good mulled wine, is to toast the spices in a pan for a bit to intensify their flavors, and to add a little apple cider, honey and brandy to the wine.
Mulled wine is like a mix of a spicy mulled cider, sangria, and a  punch. It's sweet and tangy and tastes just like Christmas in a glass! Hot wine it's guaranteed to warm you up on a cold winter day.
 RELATED: CARAMEL APPLE MOSCOW MULE
I made mine on the stove top, but it can also be kept warm in a slow cooker to serve at your next holiday party.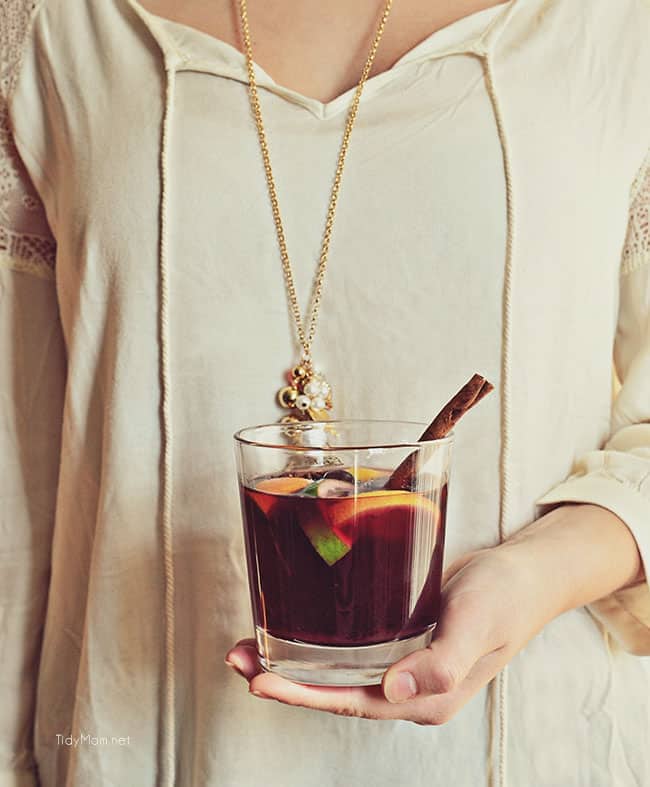 How to Make Mulled Wine
Mulled wine is cheap easy and forgiving.
No need to break the bank. Use a cheap red wine, that is fruity.
Whole spices – I picked mine up in the bulk section at Whole Foods, that way you can just buy a small amount.  Heat/toast the spices in a pan for a bit, add them to the pot of wine, with a little honey and apple cider.  And let it simmer.
How simple is that?  I added some lemon, lime and orange slices before serving and just a little brandy.  You could omit the brandy and add it to each glass if you'd prefer.
Now you're ready to fill up your glasses and snuggle by the fire or party!
Be sure to check out more Holiday Cocktail Recipes from the other bloggers.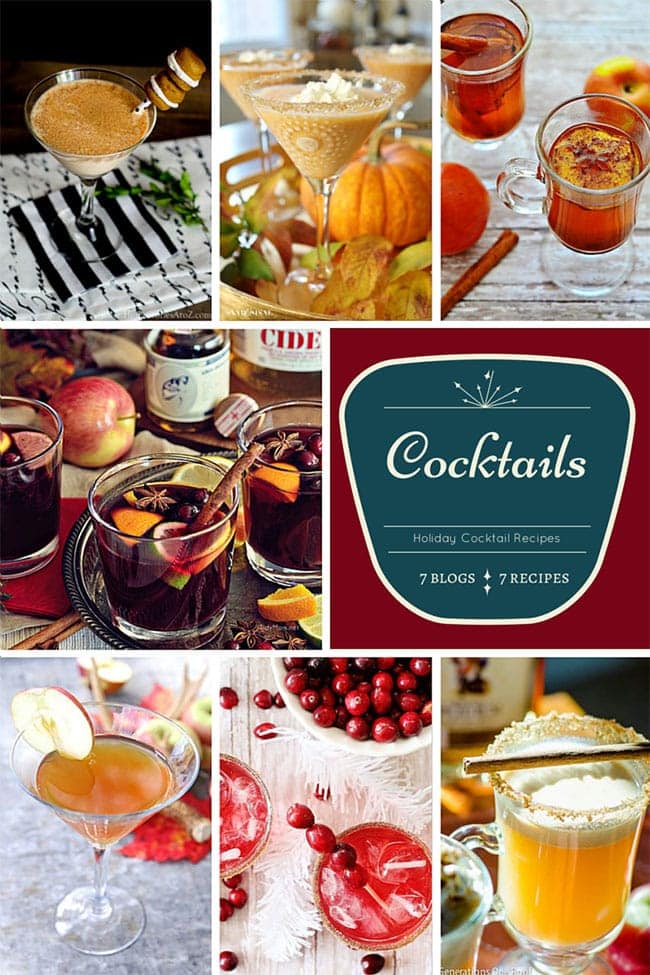 Pumpkin Whoopie Pie Cocktail – Home Stories A to Z | Pumpkin Pie Martini – Sand & Sisal | Low Calorie Hot Apple Pie Cocktail – The Picket Fence | Mulled Wine – TidyMom | Maple Cidertini Martini – Finding Home | Cranberry Fizz Mocktail – Thistlewood Farms | Quick Hot Apple Cider – Four Generations One Roof
I created a fun little group on facebook and I'd love for you to join in! It's a place where you can share YOUR favorite recipes, home tips, creative ideas and ask questions and see what's new with TidyMom! If you'd like to check it out, you can request to join HERE. Be sure to follow me on Instagram and tag #tidymom so I can see all the wonderful TidyMom recipes YOU make and tips YOU use!
Connect with TidyMom! Facebook | Twitter | Google+ | Pinterest | Instagram
Sign up to receive an email in your inbox for each new recipe: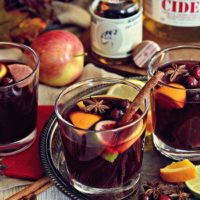 Mulled Wine
Mulled Wine or Glühwein is a warm winter German version of sangria that tastes like Christmas. Start a new family tradition with this belly-warming hot holiday punch recipe
Ingredients
1 bottle red wine (750ml) - use an inexpensive fruity red that's on the sweet side try Cabernet Sauvignon, Merlot, Zinfandel or yellow tail Sangria
3 cups unsweetened apple cider
1/4 cup honey
3-4 cinnamon sticks
1 vanilla bean, cut lengthwise
4-5 star anise
1 teaspoon cloves
1 teaspoon, fresh ground nutmeg
1/4 cup brandy
1 lemon, sliced
1 lime, slice
cranberries (optional for garnish)
1 small orange sliced
Instructions
Combine wine, cider and honey into a pot or slow cooker and heat over low to medium heat.
Place cinnamon sticks, vanilla bean, star anise, cloves and ground nutmeg in a small sauce pan and roast over medium heat for about 5 minutes, tossing occasionally with a wooden spoon. Add spices to wine mixture and continue to heat for about 25-30 minutes, making sure it doesn't come to a boil and stirring occasionally to make sure the honey dissolves.
When the wine is steaming and the ingredients have been well blended it is ready to serve.
Just before serving add brandy and about 1 cup of the sliced fruit to the mulled wine(reserve remaining for garnish). Ladle the mulled wine into mugs (leave seasonings behind) and a cinnamon stick, a few cranberries and some of the sliced fruit to each glass for garnish, and enjoy!
Mulled wine can be left on the stove to heat for many hours. It can also be stored in the fridge and reheated the next day.