Gooey Butter Peanut Butter Cookies
with recipe video
There are a lot of peanut butter cookies out there, and I love them all! I've said this before, and I'm going to say it again……you know it's a good cookie when they disappear fast! That's exactly what happened when I made Gooey Butter Peanut Butter Cookies!
Be sure to sign up for my email… to get new recipes and ideas in your inbox!

Gooey Butter Peanut Butter Cookies
What's not to love about a cookie with butter in the name TWICE?! That's enough to make me say……YIPPEE!
My friends at SKIPPY® recently asked if I would create a peanut butter cookie recipe for an ultimate peanut butter-filled holiday. I'll share with you how you can enter to win a lifetime supply of Skippy Peanut Butter or thousands of dollars a little later in this post. I don't know about you…..but that would totally make our holiday fun.
It's no secret how much I LOVE all things gooey butter, and my husband practically bleeds peanut butter, so I thought I would make a Peanut Butter Gooey Butter Cookies, and it worked.
WHAT MAKES GOOEY BUTTER PEANUT BUTTER COOKIES SO DELICIOUS?!
In the past, I've made Red Velvet Gooey Butter Cookies, so this time I just swapped out the red velvet cake mix for a yellow cake mix and added 1 cup of SKIPPY® Creamy Peanut Butter (I used their Roasted Honey Nut flavor) and it worked!
I love that this peanut butter cookies recipe produces a soft cookie, unlike most peanut butter cookies that are usually crispy. Not that there is anything wrong with a nice crisp peanut butter cookie, but what I love most about this cake mix cookie is, how soft, delicate and almost cake like it is.
I know they will make the perfect addition to our holiday cookie trays this year.
It wouldn't be the holidays without our favorite gooey butter cake and now we can enjoy gooey butter peanut butter cookies as well.
If these gooey butter peanut butter cookies don't make you say YIPPEE I don't know what will! 😉
What does a perfect YIPPEE holiday mean to you?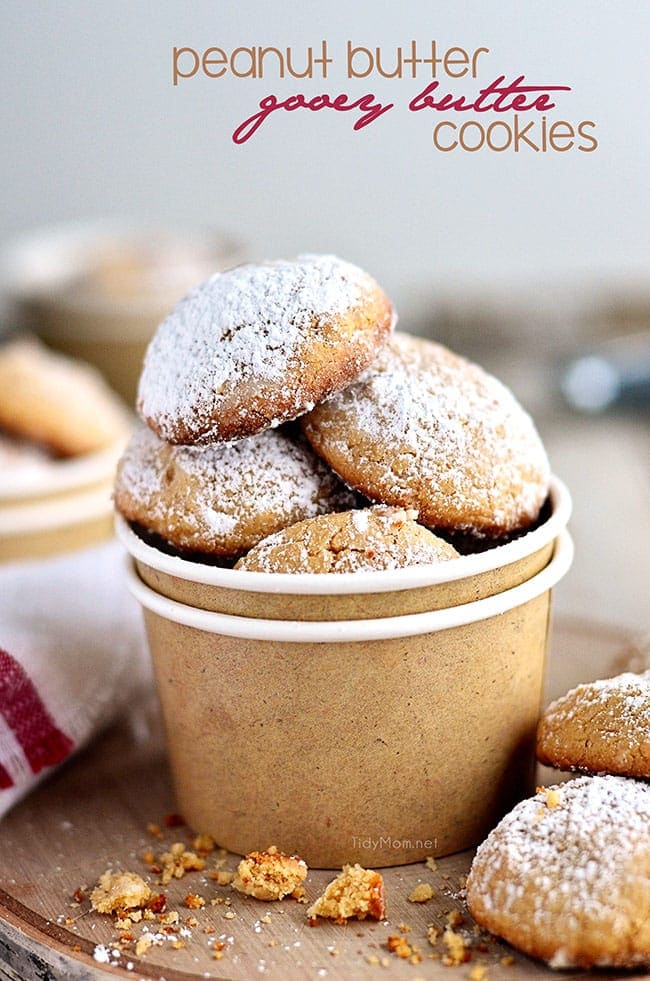 Like this Gooey Butter Peanut Butter Cookie Recipe? Pin It!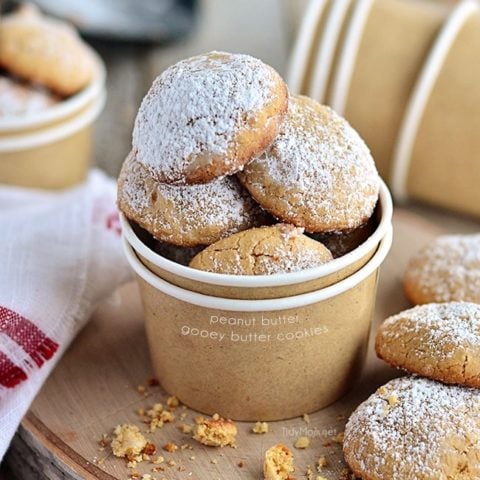 Gooey Butter Peanut Butter Cookies
Yield: about 48 cookies

Cook Time: 10 minutes

Total Time: 10 minutes

A peanut butter twist on the gooey butter cake made into a soft delicious cookie.
Ingredients
1 (16 ounce) package yellow Cake Mix
1 cup Skippy Peanut Butter
8 ounces cream cheese, softened
1/2 cup butter, softened
1 large egg
1 teaspoon vanilla extract
1/2 cup powdered sugar
Instructions
Heat oven to 350°
In a large bowl, using an electric mixer, combine peanut butter, cream cheese and butter until fluffy.
Add egg and vanilla, mix until completely incorporated, then add cake mix and continue mixing until a sticky dough forms.
Place powdered sugar in a small bowl.
Using a cookie scoop, form one inch dough balls and roll into powdered sugar to coat.
Place cookies 2 inches apart onto a parchment lined cookie sheet and bake for 10-12 minutes until centers are set.
Let cool on pan for 1-2 minutes, then transfer to a wire rack to cool.
When completely cooled, dust with powdered sugar.

Disclaimer: I have a working relationship with Skippy Peanut Butter. As always, all views and opinions, and love of peanut butter are my own.