Easy Smoked Sausage & White Bean Soup
This crowd pleasing Smoked Sausage and White Bean Soup is the perfect fuel for a Halloween Dinner!
Fall has finally arrived in St. Louis, the trees are stunning right now, chilly day time temps are perfect for boots and scarves and we built our first fire the other night while we watched the World Series!  It's been nearly 20 years since we had a fireplace in our home! I can't tell you how excited I am about having one.
As the seasons change, just like my closet, my recipe box changes from summer to winter.  All those light and refreshing salads, grilled pizzas and ice creams are tucked away and I unfold all the soul warming comfort food, soups, chilis , like buffalo chicken white chili and other hearty dishes.
Chili and soups are the ultimate cold weather food that everyone loves.  They are simple to make and are perfect for feeding a crowd, or Halloween Dinner!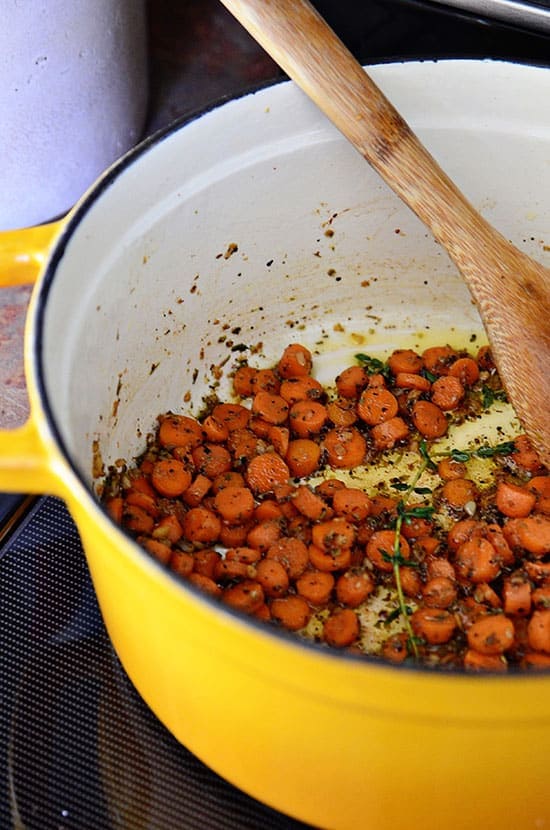 Halloween can be exhausting (and fun!) You can easily make this filling soup ahead of time.  So, even with the craziness and excitement of the day, you still have a hearty meal that is little mess, easy cleanup, delicious reheated and super satisfying!
RELATED:  Creamy Chicken and Wild Rice Soup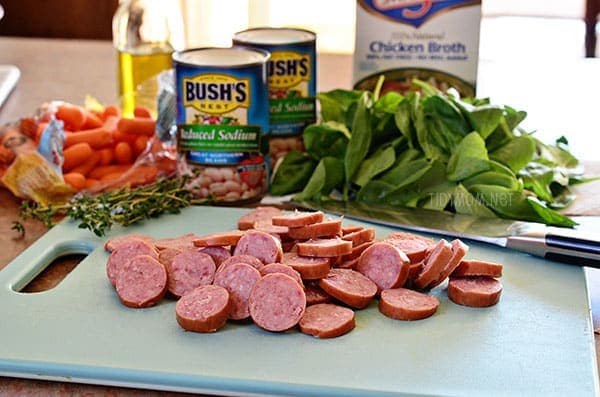 The original recipe from Bush's Beans calls for Italian sausage and diced tomatoes, but I changed it up a bit by using smoked sausage and omitted the tomatoes.  We all loved my version and I'm certain it will be making an appearance a few more times this season.
Serve with a loaf of homemade Artisan Bread in 5 minutes and Creepy Halloween Fingers
Does your family have any Halloween dinner traditions?
Want more great recipes like this? Follow my TidyMom Easy Recipes Pinterest Board
More Soup and Chili Recipes you might enjoy!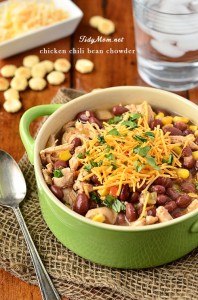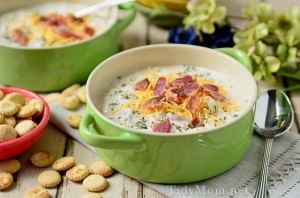 Bacon Potato Soup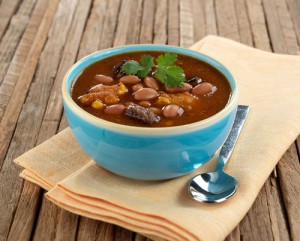 Pinto Steak and Dumpling Soup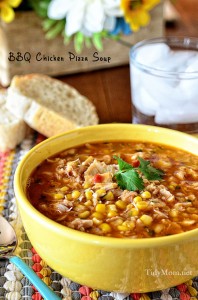 BBQ Chicken Pizza Soup

Cremay Chicken and Wild Rice Soup

White Chicken Chili

Disclaimer:  I grew up in a house who used Bush's Beans, I am now proud to be a brand ambassador for them for over three years and counting! As always, all opinions and views are my own.