Creamy Italian Skroodle Salad
We love pasta at our house.  You can usually find it on our dinner plates at least once a week in some variety or another.  I love that you could mix almost anything with pasta and it would be delicious.
Lately I've been trying to make sure I eat lunch.  For some reason when I work at home, I tend to skip lunch, usually because I don't want to stop and make something.
Last week I remembered a creamy pasta salad my mom used to make all the time after Thanksgiving with left over turkey. It was a family favorite I hadn't thought about in years.  I knew if I had a big bowl of flavorful pasta salad sitting in my fridge, I'd have no trouble grabbing a bowl full for lunch. 
This is a creamy tangy pasta salad,  thanks to the centerpiece of the recipe, Marzetti's Sweet Italian Dressing.  The dressing creeps inside every rotini noodle, so each bite is delicious.  It features a medley of chopped cucumber, celery and green onion, combined with black olives and a cup or two of chicken or turkey (your choice).   It makes a unique, mouthwatering dish that you are sure to love.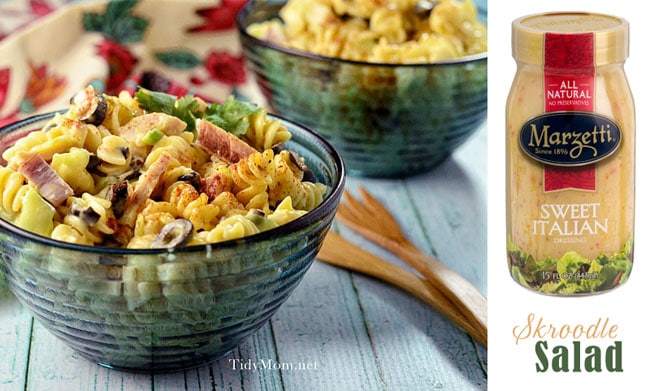 Tip: For pasta that is going to be served cold or room temperature
1. Cook pasta in heavily salted water. Pasta for a cool pasta salad should be well-seasoned while it cooks, use 4 tablespoons of salt per 4 quarts of water.
2. Cook it just a little beyond al dente, so that the pasta stays soft when it cools. Let pasta cook for an extra minute than what you normally would for al dente. Then run the drained pasta under cool water to stop the cooking.
3. Dress warm pasta. The dressing will coat the pasta better if placed over warm pasta, rather than cold.
It can be enjoyed as or main dish or sans the meat and serve as a side dish. This pasta salad is perfect for picnics, potlucks, parties, or everyday eating—-like lunch! Enjoy!
Creamy Italian Skroodle Salad
This pasta salad can be enjoyed as or main dish or sans the meat and serve as a side dish. It's perfect for picnics, potlucks, parties, or everyday eating.
Ingredients
1 pound rotini pasta
1 cup Marzetti Sweet Italian Dressing
1/2 cup real mayonnaise
6 tablespoons lemon juice
2 tablespoons mustard
2 cups cucumber, chopped
1/2 cup celery, chopped
1 cup sliced black olives
1 bunch green onions, sliced
2 cups cooked turkey or chicken
salt and pepper, to taste
sprinkle with paprika, optional
Instructions
Bring a large pot of water to a boil. Heavily salt the water and stir in the pasta. Cook one minute past al dente. Rinse with cold water, and set aside.
While pasta is cooking chop vegetables.
In a large bowl, combine warm pasta with all other ingredients, stir until well combined.
Serve room temperature or chilled.
https://tidymom.net/2013/creamy-italian-skroodle-salad/
Copyright© 2009-2013 TidyMom.Net
NEW FEATURE: Save recipes to your personal recipe box with the

Once you have your favorite recipes in your Recipe Box create a Meal Plan with them and the ingredients will automatically be added to a Grocery List!
So tell me………do you eat lunch every day?  If so, what's your favorite "go to" lunch?

Disclaimer:  This post is sponsored by by T. Marzetti Company as part of a compensated partnership.  All views and opinions are my own.