Chocolate Peanut Butter Shortbread Bites
Two of my favorite flavors come together for a wonderful treat: Chocolate Peanut Butter Shortbread Bites. Great for an after school snack or a delicious holiday treat.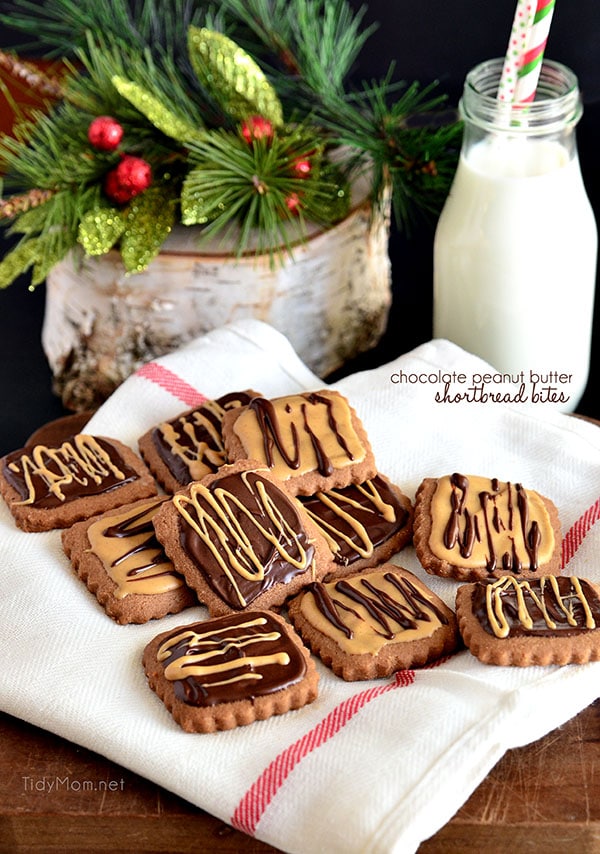 It's December 2.  WAIT!  How on earth did that happen?  Life is going WAY to fast these days.  Allison and I knocked out quite a bit of Christmas shopping on Black Friday, my husband put up lights on the house over the weekend, and we are going to work on decorating the house this week!  I'm really looking forward to decorating a new house this year!!
But what I'm looking forward to even more is……. the official cookie baking season!!  Ok, maybe not "official" but I'm calling it the official cookie baking season! and let's be honest……..you can never have too many cookie recipes!  
Steve is especially excited about this recipe!  you see, he could live off peanut butter alone…….ok, he actually bleeds peanut butter and coke.  If you, or someone you know is a  fan of chocolate and peanut butter you are going to want this recipe!  Its really pretty simple and you only need a handful of ingredients.
 I've always been a fan of shortbread cookies.  They just sort of melt in your mouth.  Pure buttery, sweet goodness.  If you haven't made shortbread before, then you are in for a treat! Shortbread requires very few ingredients but yields a tender cookie with maximum flavor. There are no eggs or baking soda, just flour, sugar, salt, butter and in this case, Dark Chocolate Peanut Butter! (the chips and shortening are for the top of the cookies)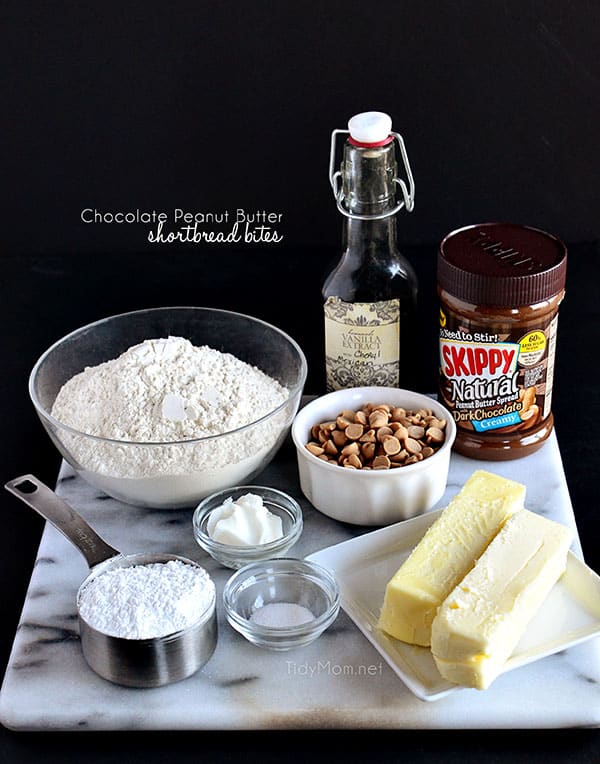 Can I just eat the  Skippy Natural Dark Chocolate Peanut Butter Spread with a spoon please?! Image if you mixed some dark chocolate in with your peanut butter!..It's not a hazelnut spread. This natural spread is not as overly sweet and has 60% less sugar than Nutella!  The  "no-stir" on the label refers to the fact that there is no puddle of oil floating to the top of the jar ……..it made a perfect companion to this shortbread recipe!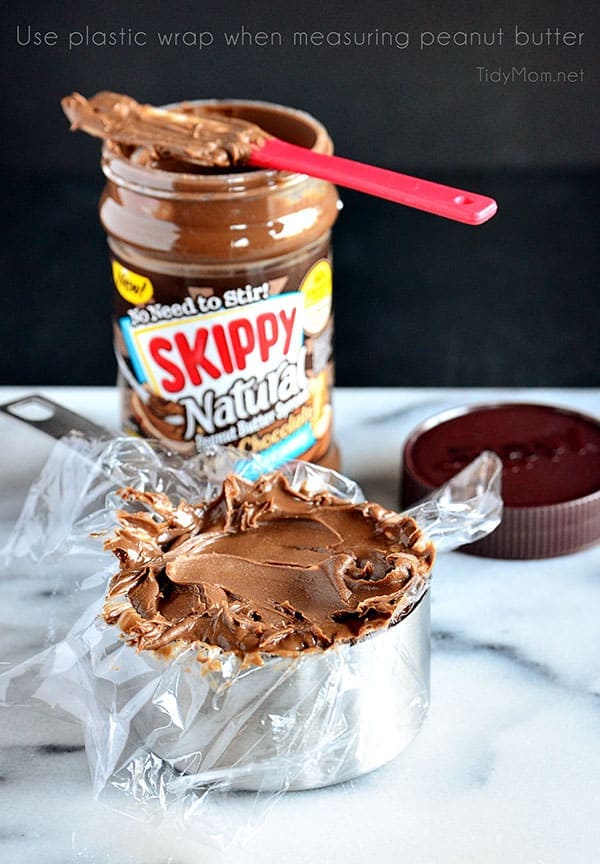 While measuring out the one cup of chocolate peanut butter for the recipe, I realized that I have never shared this little tip for measuring sticky ingredients like peanut butter, or shortening.  
Kitchen Tip for measuring sticky semi-solids:  Simply line your  measuring cup with plastic wrap, fill with peanut butter (works with shortening as well).  Then lift the plastic wrap out of cup and dump peanut butter in to bowl.  No sticky measuring cup to clean either!!
While we are talking cookie tips, I have a few more to share.
When rolling out any kind of cookie dough, I like to use powdered sugar to dust my work surface (instead of flour)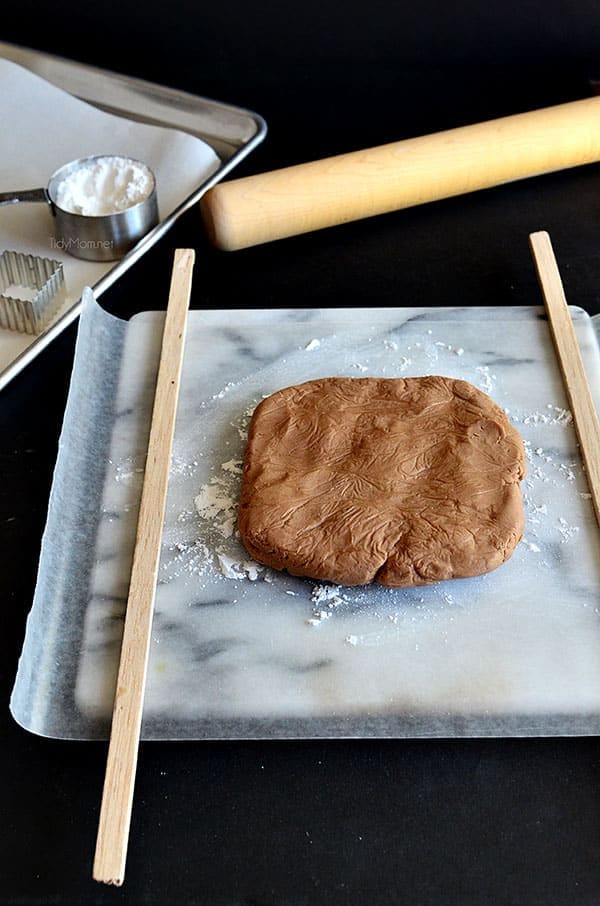 To roll out dough to and even  1/4″ thickness, I place a 1/4″ balsa stick on each side of my dough (you can get these at most hobby/craft stores)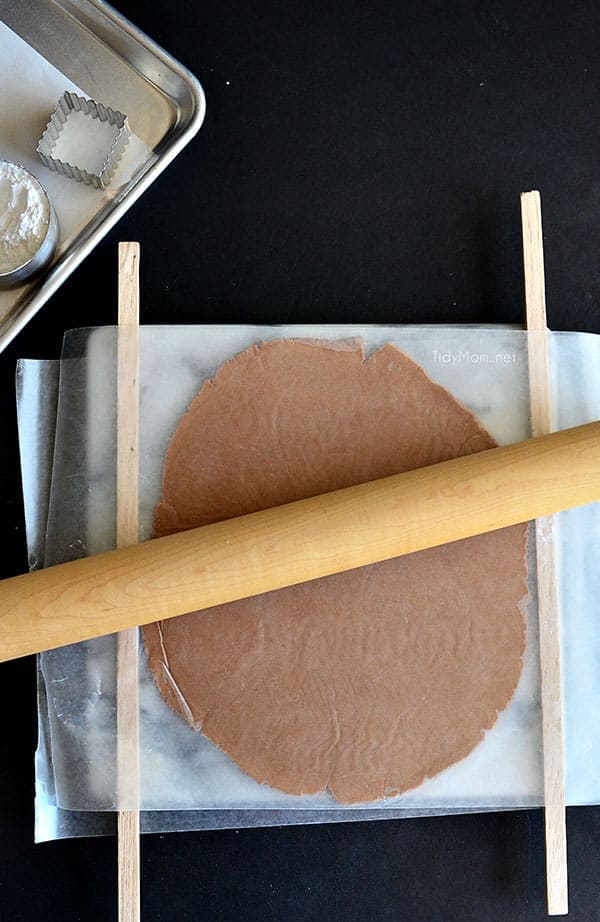 Then place a piece of waxed paper over the dough to avoid any ticking to my rolling pin.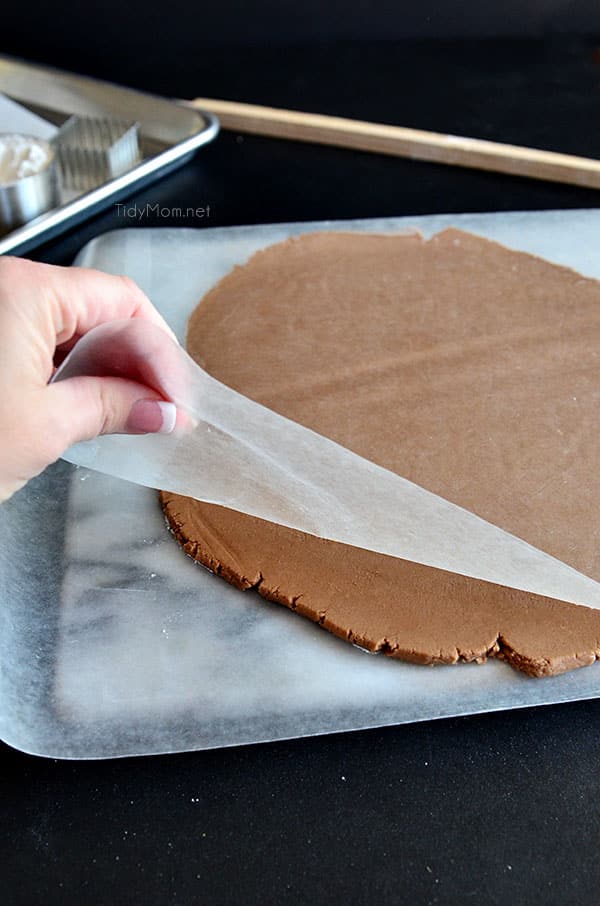 Remove waxed paper and you will end up with a nice even piece of cookie dough ready to cut!
For these shortbread bites, I used a 2 inch scalloped square cookie cutter, but you can use any shape you'd like, just try to keep the size close to 2 inches.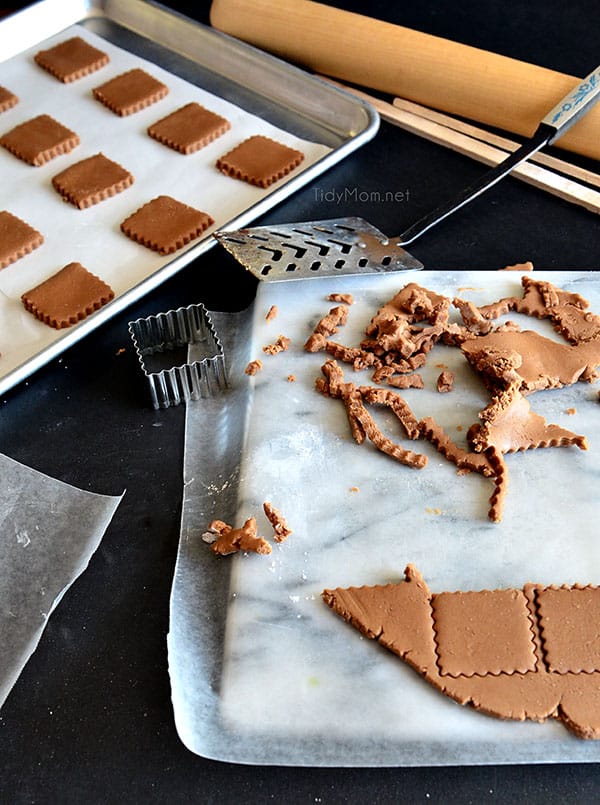 Place the cookie cutouts about an inch apart on a parchment lined cookie sheet, and bake for 14-15 minutes at 350˚.  
After they cool completely I just melted some peanut butter chips and shortening as well as come chocolate chips and shortening to spread on top of the cookies.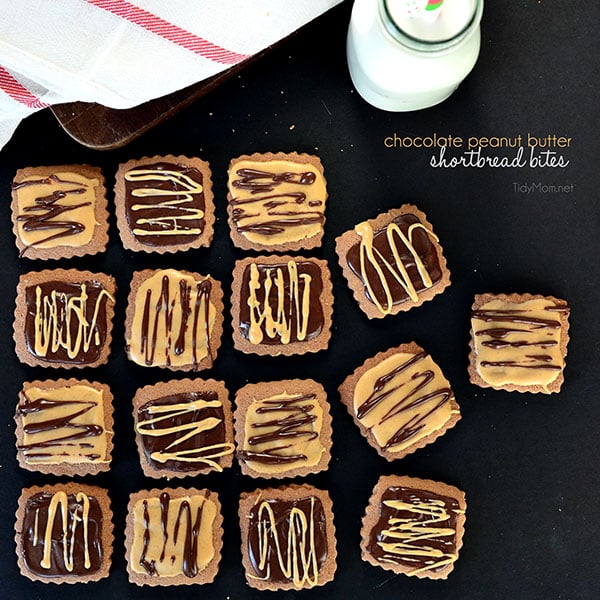 Chocolate Peanut Butter Shortbread Bites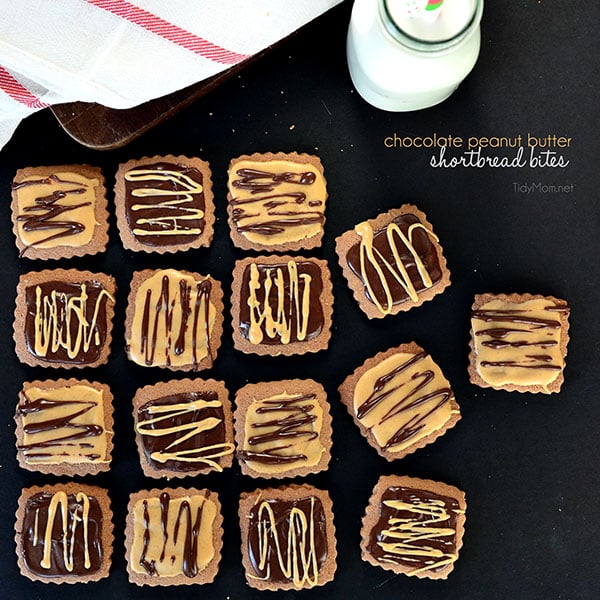 A melt in your mouth peanut butter and chocolate shortbread cookie.
Ingredients
2 sticks unsalted butter at room temperature
1 cup Skippy Dark Chocolate Peanut Butter
1 tsp vanilla extract
1/2 cup powdered sugar
2 1/2 cups flour
1/2 tsp salt
1/2 cup peanut butter chips
1/2 cup semisweet chocolate chips
1 tablespoonn shortening
Instructions
Sift sugar, flour and salt into a large bowl and set aside.
Using a large bowl and electric mixer, cream butter and peanut butter until thoroughly combined. Add vanilla and continue beating.
Slowly add flour mixture and beat until the dough comes together and is no longer dry and crumbly.
Remove mixer and form dough into ball with hands and knead until smooth. Divide it in two equal pieces, and pat into flat disks. Wrap tightly in plastic and refrigerate for about an hour, or longer.
When you are ready to roll out, heat oven to 350 degrees
On lightly floured surface (I use powdered sugar to flour my surface), roll out dough until about 1/4" thick. Using 2" cookie cutter, cut dough into desired shape. Place cut-out cookies 1 inch apart on parchment lined cookie sheet.
Bake for 14-15 minutes. Centers should be set, but cookies will be soft (they firm up as they cool). Cool on cookie sheet for 5 minutes. Transfer cookies to a wire rack to cool completely.
In a small microwave-safe bowl microwave peanut butter chips and 1/2 tablespoon of the shortening on 50 percent power about 30 seconds, or until melted, stirring after 30 seconds.. Use another microwave safe bowl and same method to melt chocolate chips and 1/2 tablespoon of shortening.
Spread half of the cookies with melted peanut butter mixture and the other half with melted chocolate mixture. Drizzle cookies with the mixture opposite of the spread.
Notes
To Store: Layer cookies between sheets of waxed paper in an airtight container and cover. Store at room temperature for up to 3 days or freeze for up to 3 months.
https://tidymom.net/2013/chocolate-peanut-butter-shortbread-bites/
Copyright© 2009-2013 TidyMom.Net
NEW FEATURE: Save recipes to your personal recipe box with the

Once you have your favorite recipes in your Recipe Box create a Meal Plan with them and the ingredients will automatically be added to a Grocery List!
Chocolate and peanut butter are made for each other.
And who can say no to a chocolate peanut butter shortbread cookie. I sure can't!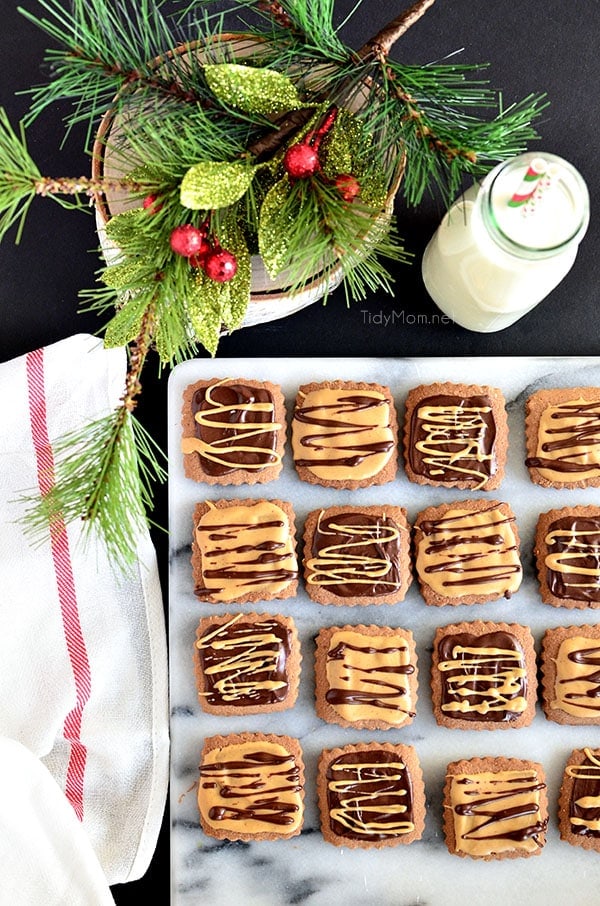 What's your favorite kind of peanut butter cookie?
Be sure to check out the first-ever Skippy Peanut Butter virtual peanut butter cookie exchange on Facebook for more peanut butter cookie recipes and fun!
More Peanut Butter Recipes you might enjoy:
Peanut Butter & Chocolate Fudge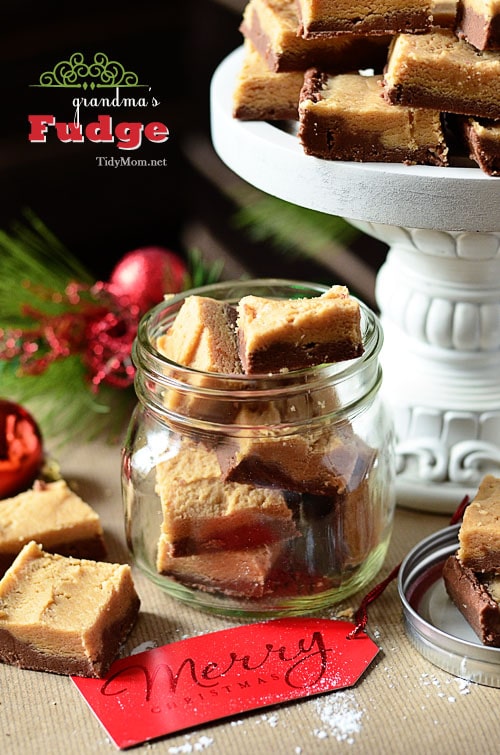 Cinnamon Raisin Swirl Peanut Butter Cookies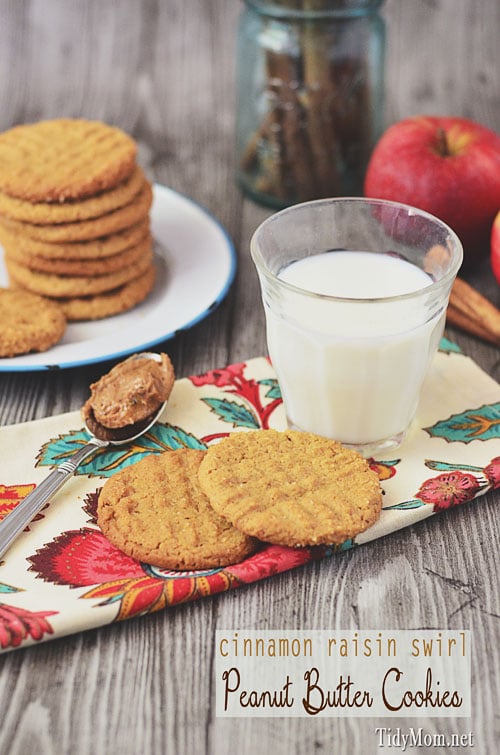 Peanut Butter Oatmeal Cookie Pie
Buckeye Peanut Butter Fudge Cake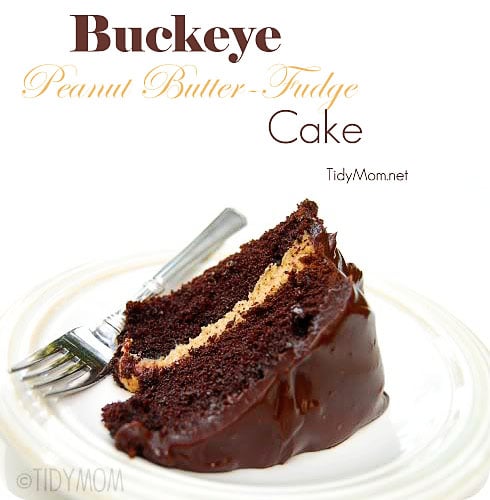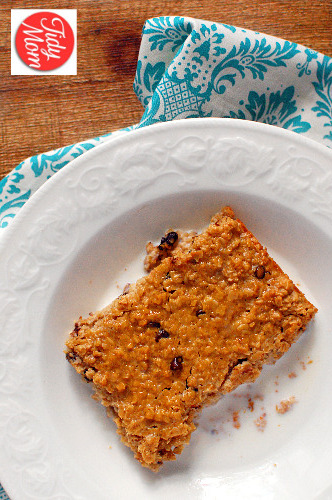 Disclaimer:  This post was sponsored by Skippy Peanut Butter.  As always, all views and opinions, and love of peanut butter are my own.