Buckeye Peanut Butter-Fudge Cake
If you like buckeye candies you will fall in love with this combo of peanut butter and rich chocolate cake.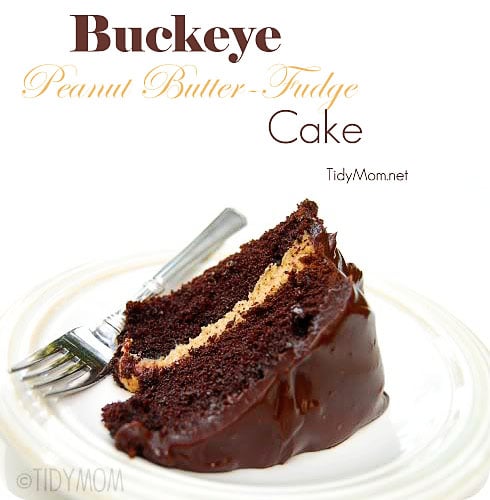 D

o I have a dessert for you today!!
Do you like Chocolate? How about Peanut Butter? How about together in a CAKE?
I can't take full credit for this cake, I adapted it from the
King Arthur blog
.
In all it's glory, the original recipe is  made from scratch and is 4 layers high!
But I like easy, and adapted the recipe a little.
Just because it's easy, doesn't mean this cake won't knock your socks off!
Grab your aprons, and let's get started
Buckeye Peanut Butter-Fudge Cake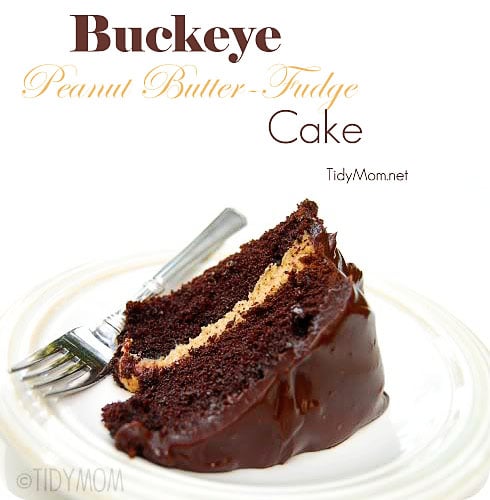 Ingredients
Cake

Duncan Hines Moist Deluxe Dark Chocolate Fudge Cake Mix

Peanut Butter Filling:

4 cups (1-lb. box) confectioners' sugar
1 1/2 cups peanut butter
2 teaspoons vanilla extract
3/4 cup milk

Chocolate Ganache (icing)

12 oz. semi-sweet chocolate morsels
3/4 cup heavy whipping cream
6 Tbsp butter
Instructions
Cake

Mix and bake cake according to the box in 2 round cake pans. Let cool.

Peanut Butter Filling

Mix first 3 ingredients until well combined. Gradually add milk. It will taste as good as it sounds!

Chocolate Ganache (icing)

In a small saucepan, heat cream and butter until just before the boiling stage.
Pour over the chocolate morsels.
Stir until smooth.

Put it all together

I only made 2 layers, mainly because a 4 layer cake will not fit under my cake saver. But if you'd like, you can slice your 2 layers into 4 layers.
Top your layer(s) with peanut butter filling.
Pour warm ganache over top of cake, spread it and encourage it to dribble over the sides!
Notes
Don't use just any chocolate cake mix, use Duncan Hines Moist Deluxe Dark Chocolate Fudge Cake Mix. This is THE BEST! I promise!
https://tidymom.net/chocolate-fudge-peanut-butter-cake/
Copyright© 2009-2013 TidyMom.Net
If this cake won't put you over the edge, I don't know what will!!
If you'd like to make the King Arthur Flour version, you can find it
here
.