Mini Lemon Meringue Pies
These simple, fun, mini lemon meringue pies from scratch are fresh, tangy and perfect for summer picnics, parties, and BBQs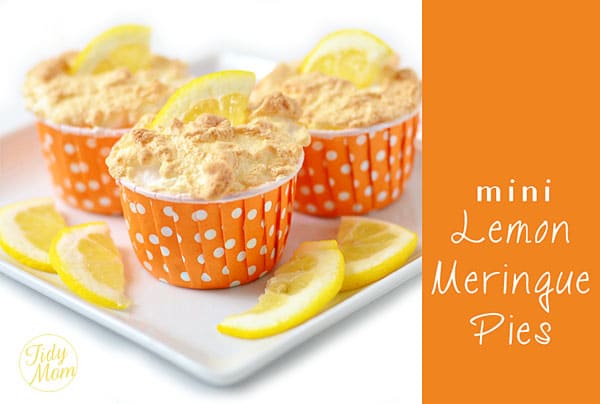 This is such a great time of year to be in the kitchen baking and cooking with ingredients that are bright and fresh! Nothing beats a lemon dessert, like Meyer Lemon Pie or Lemon Sheetcake in the summertime – make it a mini version and it's even better!
Tiny desserts are always great party food, so I made Mini Lemon Meringue Pies a few weeks ago for Memorial Day! They would be perfect for a picnic, BBQ or pool party this summer.
These little pies are a super simple homemade dessert that can be assembled in no time.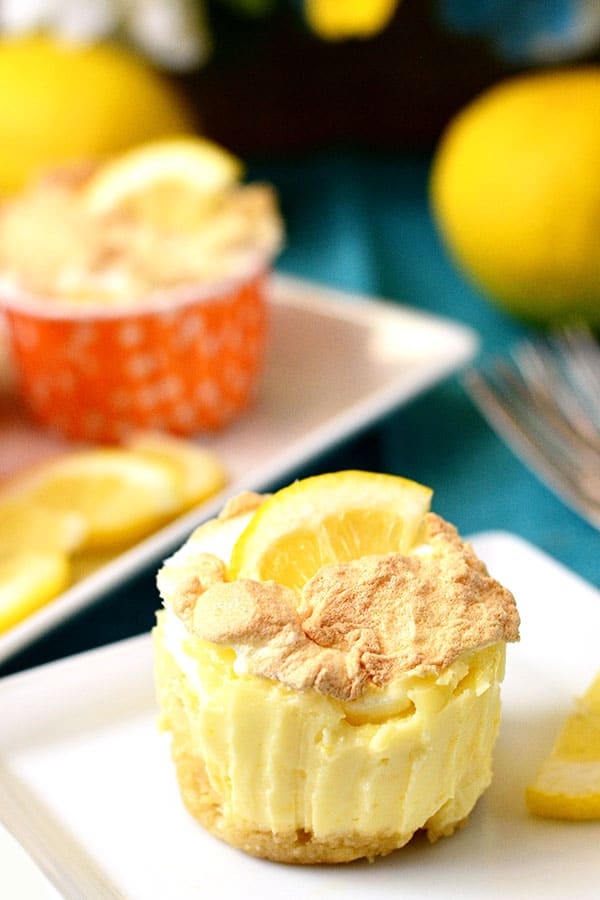 This post may contain affiliate links. Please read my disclosure policy here.
Tips for Making Perfect Meringue
Don't be intimidated by meringue, if you're armed with a few good tips, you'll have no trouble achieving the perfect meringue for your pies.
Making the perfect meringue can be a little tricky, but not difficult, as long as you follow a few tips:
Make sure the sugar is fully dissolved in the meringue.  Test to make sure sugar is dissolved by feeling meringue between your fingers before you stop whipping.  If you can get and use superfine (caster sugar) even better.
Be careful not to over bake or under bake the meringue.  Egg whites will tighten and squeeze out moisture if they are baked too long.
Make sure the meringue is spread all the way over the edge of the pie so that it forms a tight seal.
Allow the pie to cool gradually after baking by leaving the pie to cool in the oven with the door open.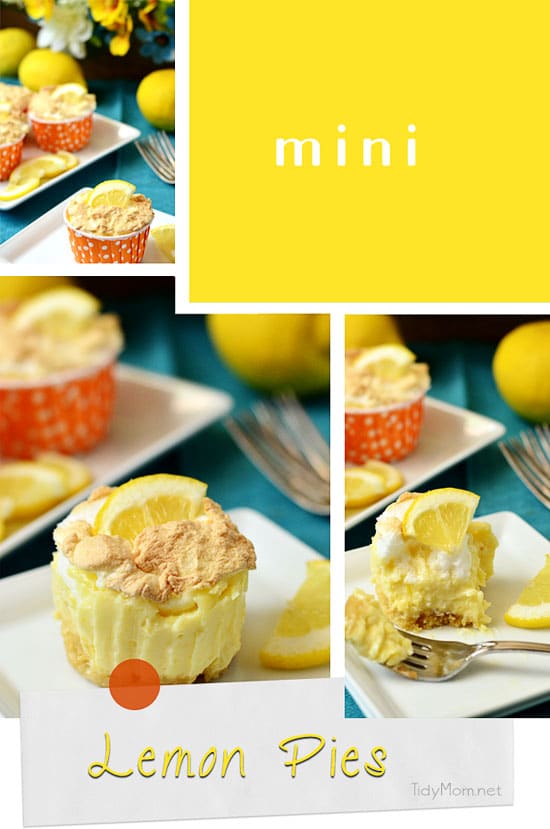 Grab your apron! We're making Mini Lemon Meringue Pies
One of the best parts about making these mini lemon pies vs a whole lemon pie is there is no pie crust involved. just crushed shortbread cookies.
The filling has double the lemon flavor, with freshly squeezed lemon juice as well as lemon zest. It will tickle your taste buds for sure!
Nut cups make the perfect vessel for these little pies. Fill them with the crushed cookies and sweet tangy lemon filling and meringue.
Once you top the filling with a dollop of meringue it's into the oven they go for just 10 minutes until lightly browned.
Just to warn you, these things are insanely delicious. I made a batch and everyone downed them in no time.
Mini Lemon Meringue Pies
This simple, fun, mini lemon meringue pie recipe from scratch tastes fresh is perfect for summer picnics, parties, and BBQs
Ingredients:
5-6 ounces shortbread cookies (I used one package of Walkers Shortbread Fingers) finely crushed
3 eggs, separated
1 (14 oz) can sweetened condensed milk
1/2 cup lemon juice
zest from 1 lemon
1/3 cup sugar
Directions:
Preheat oven to 350°
Line muffin tin with cupcake papers, or baking cups
Divide shortbread crumbs into 9 cupcake papers. Use the bottom of a glass to press crumbs firmly into muffin well.
In a medium bowl, combine egg yolks, condensed milk, lemon juice and lemon zest. Stir until well combined then spoon on top of shortbread crusts.
Using an electric mixer, whisk egg whites until stiff. Gradually add sugar and continue to beat several minutes until sugar is completely dissolved.
Spoon meringue over lemon filling, be sure to go past the edges of your pies.
Bake for 10 minutes, or until the meringue is golden.
Turn oven off, and leave pies to cool inside the oven, with the door open.
Serve pies when completely cool - or store in the refrigerator until ready to serve.
I prefer these pies cold, so they are perfect to make up to a day ahead of time!
Making this recipe? Share it with us on Instagram using the hashtag #TidyMom so we can see what you're creating in the kitchen!
Want more great recipes like this? Follow my TidyMom Easy Recipes Pinterest Board
Like This Mini Lemon Meringue Pies Recipe? Pin It!

More Lemon Recipes you may enjoy:
Lemon Filled Cupcakes with Lemon Buttercream
I'd love to hear about some of your favorite lemon recipes!!