Lemon Sheet Cake is Pure Lemon Bliss in Every Bite
This no-fuss Lemon Sheet Cake is super moist and makes a wonderful spring or summer dessert that easily feeds a crowd. It may not be a fancy cake, but each slice is pure lemon bliss!
Nothing says Spring and Summer like a lemon dessert! Just the smell of lemon adds a spring to my step and puts me in a good mood.
A few weeks ago I shared the wonderful Meyer Lemon Pie I devoured made for my family.  Today I'm sharing a no-frills, no-fuss lemon sheet cake that is perfectly lemony. This lemon sheet cake is truly something special and it has nothing to do with the fact it starts with a box cake mix.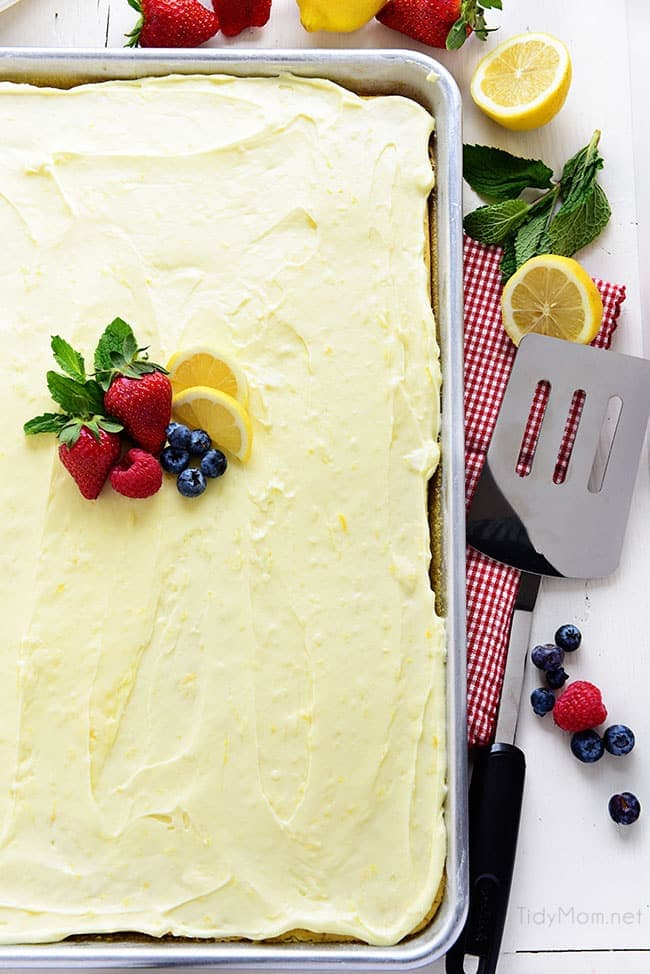 Some bakers consider sheet cakes to be a lazy cake.  Sure there are no fancy layers, or decorations, but what's wrong with simple?  And, a sheet cake is perfect for feeding a crowd at pot-lucks, birthday parties, office parties or basically anywhere you need dessert for crowd of any size.
A sheet cake requires a 18×13 inch half sheet pan. If you don't already have a rimmed half sheet pan, you'll want to get one or two.  I use mine for baking cookies, oven baked buffalo ranch chicken, roasting vegetables and more!  You'll wonder how you ever lived without one.
More Sheet Cake Recipes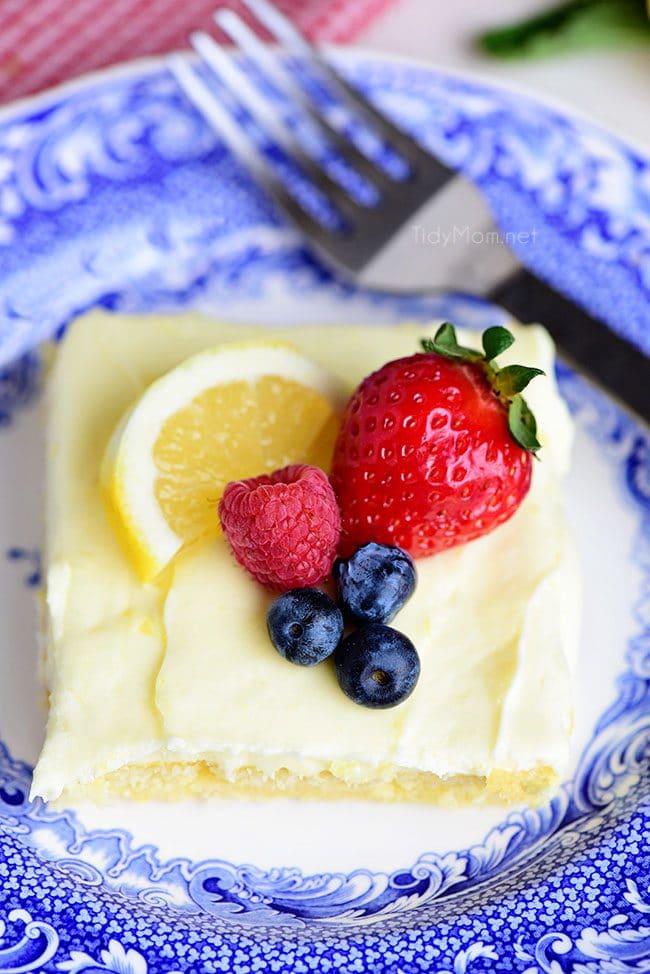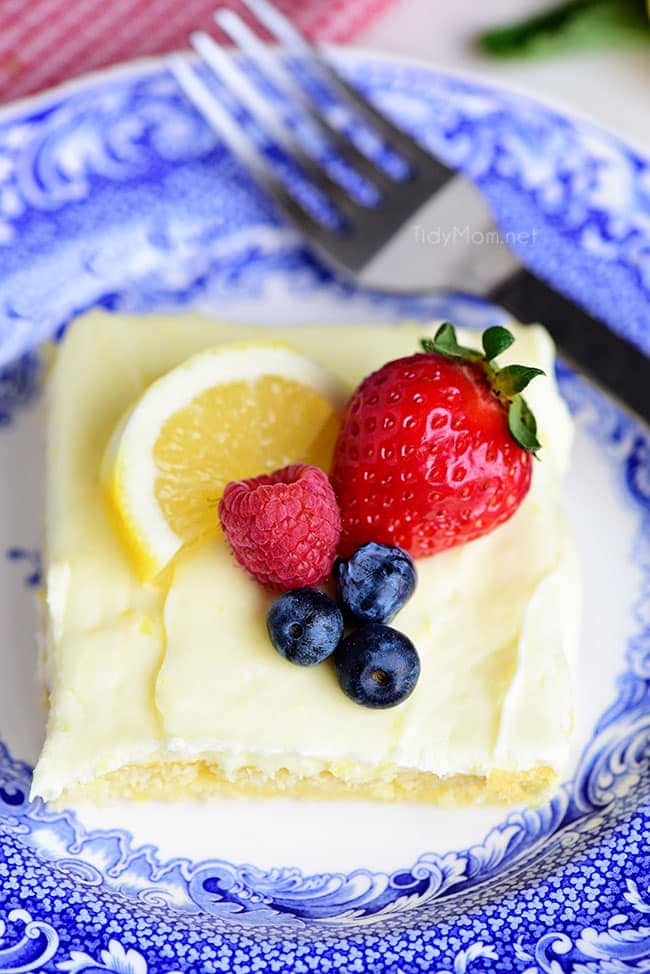 This is not a "whoa, HELLO lemon" kind of cake. The cake it's self it not super lemony, thanks to the French vanilla cake mix. But the lemon pudding in the mix definitely makes it a "hey, it's lemon!" kind of cake.
The dreamy lemon spiked cream cheese makes the frosting a little zippy. If you want more punch of lemon, you can use a lemon cake mix instead of vanilla. It will kick that lemon flavor up several notches.
I like to call this a happy yellow sunshine cake 😉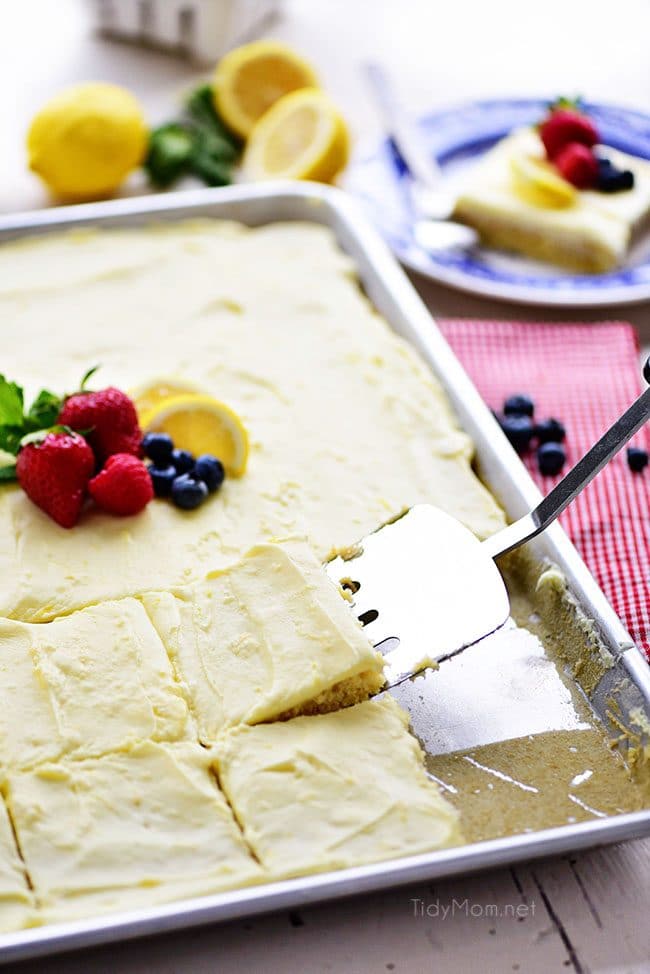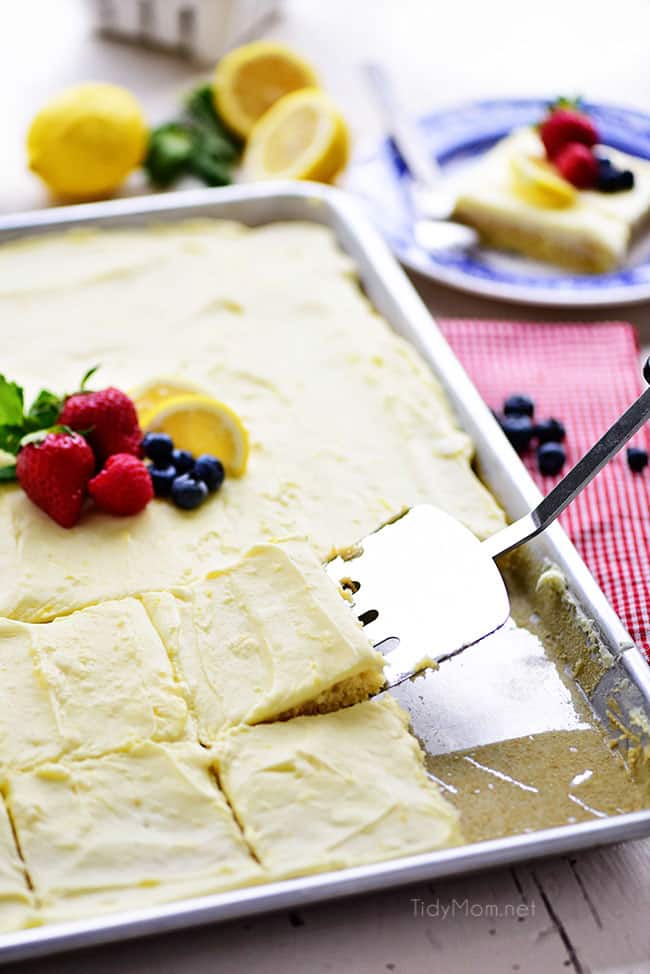 There is just enough frosting to get the creamy tangy sweetness in every bite, but not too much to take away from the moist cake underneath.  All 24-36 pieces have the perfect cake to frosting ratio and are a slice of pure lemon bliss!
Watch how this Lemon Sheet Cake is made (full recipe below)

click to see more of my recipe videos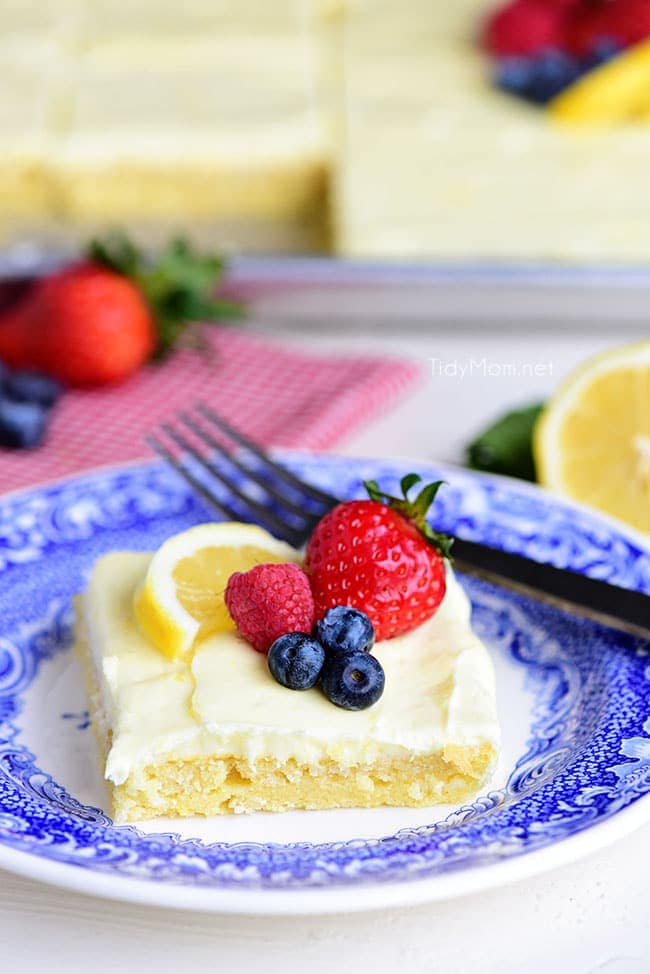 So if you're looking for the perfect spring or summer dessert to serve a crowd (or just yourself, what's better than left over cake!), you definitely need this Lemon Sheet Cake recipe.
It didn't stand a chance in our home and it won't last long in yours either. Enjoy!
Want more great recipes like this? Follow my TidyMom Easy Recipes Pinterest Board
Like this Lemon Sheet Cake Recipe?  Pin It!