Pringles Nutty Bark: I'm Lovin' It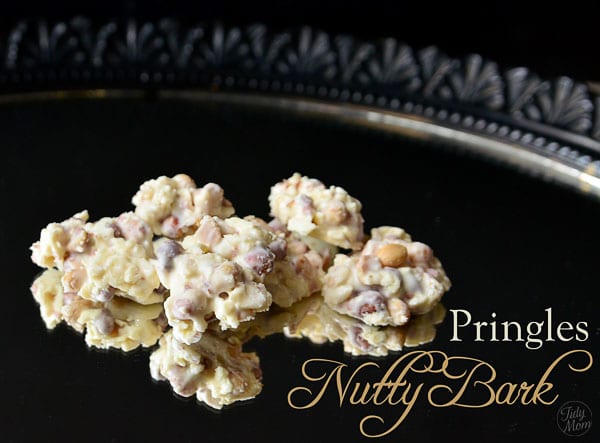 See that?!  It's pure heaven!!
It's sweet and salty, crunchy and creamy all rolled into one "I need my fat girl pants" fantastic little treat!
My soon to be new sister-in-law gave us this nutty little snack for Christmas.  I was afraid to try it.  I knew I'd like it…..but I discovered I LOVE it.  Like, you can't stop eating it kind of love.
You wont believe how simple it is to make, and that could be dangerous! VERY dangerous.
Please make some, and eat it all, so I don't feel so ashamed any more.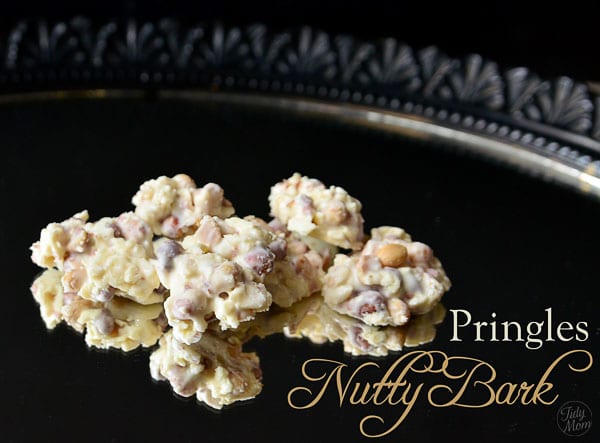 Potato chips and peanuts add the crunch to this sweet treat you can whip up in no time.
Ingredients
1 pound white chocolate, or almond bark
2 cans Pringles potato chips, crushed
2 cup Spanish peanuts
Instructions
In medium bowl crush potato chips and mix with nuts and set aside.
Melt the chocolate (or almond bark) in microwave for about 2-3 minutes, stopping every minute to stir.
Combine nut mixture with chocolate and stir together.
Pour onto wax paper and spread. Let cool, then break into pieces.
Or, you can drop by spoonfuls onto wax paper. Let sit until cool and set.
Store in airtight container.
https://tidymom.net/2011/pringles-nutty-bark/
Copyright© 2009-2013 TidyMom.Net
NEW FEATURE: Save recipes to your personal recipe box with the

Once you have your favorite recipes in your Recipe Box create a Meal Plan with them and the ingredients will automatically be added to a Grocery List!
I'm Lovin'……Pringles Nutty Bark

Now it's your turn! Please remember to link back to http://Tidymom.net
Let us know what you're lovin' this week!
Share your recipes, crafts, diy's, photography, printables, products..anything you are loving!
If you have something to share with us on your blog, add your link below.
What is I'm Lovin' It Fridays? get all the info, how to's trouble shoot and button here